Sat, 21 May 2022
330: 25 Ideas for Enjoying British Culture in Your Everyday Life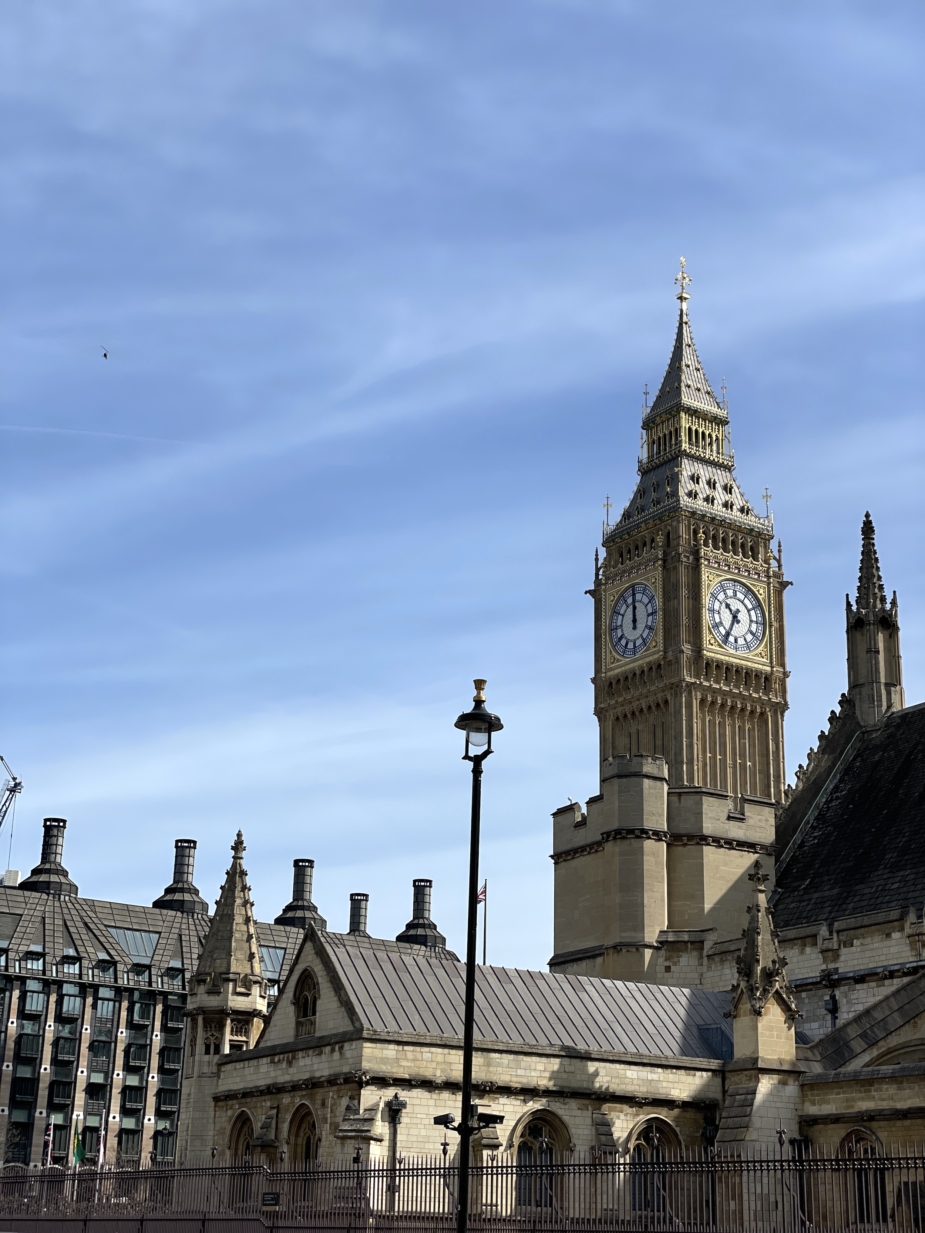 The British culture is varied and vast and while one person's affection for the culture may include punk rock along with their love for the Beatles, another's affinities may gravitate toward the gardening and afternoon tea. While my predilections lean more toward the latter, whenever a culture speaks to us that is not the one in which we grew up in or were raised entirely, we owe it to ourselves to continue to explore because our intuition is speaking.
As many readers of TSLL and listeners of the podcast know, TSLL derives much of its content from two cultures, the French and the British, specifically the ways of life that invite us to slow down, savor and invest in quality moments and approaches rather than quantity and superficial living to gain approval. Instead the only approval we seek is from within.
In episode #144 I shared 20 ways for welcoming the French culture into your everyday life, and so it is well overdue that I should share a similar list for welcoming the British culture into your everyday life. After having now visited London on three separate occasions and the English countryside on two separate occasions, I enjoyed compiling this list as my life in Bend is a marriage of both my love of the French and British culture, incorporating from both the everyday rituals I love, savoring approaches, tastes, décor and ways of life that reminds me of two cultures that tickle my curiosity and nurture my true self most sincerely.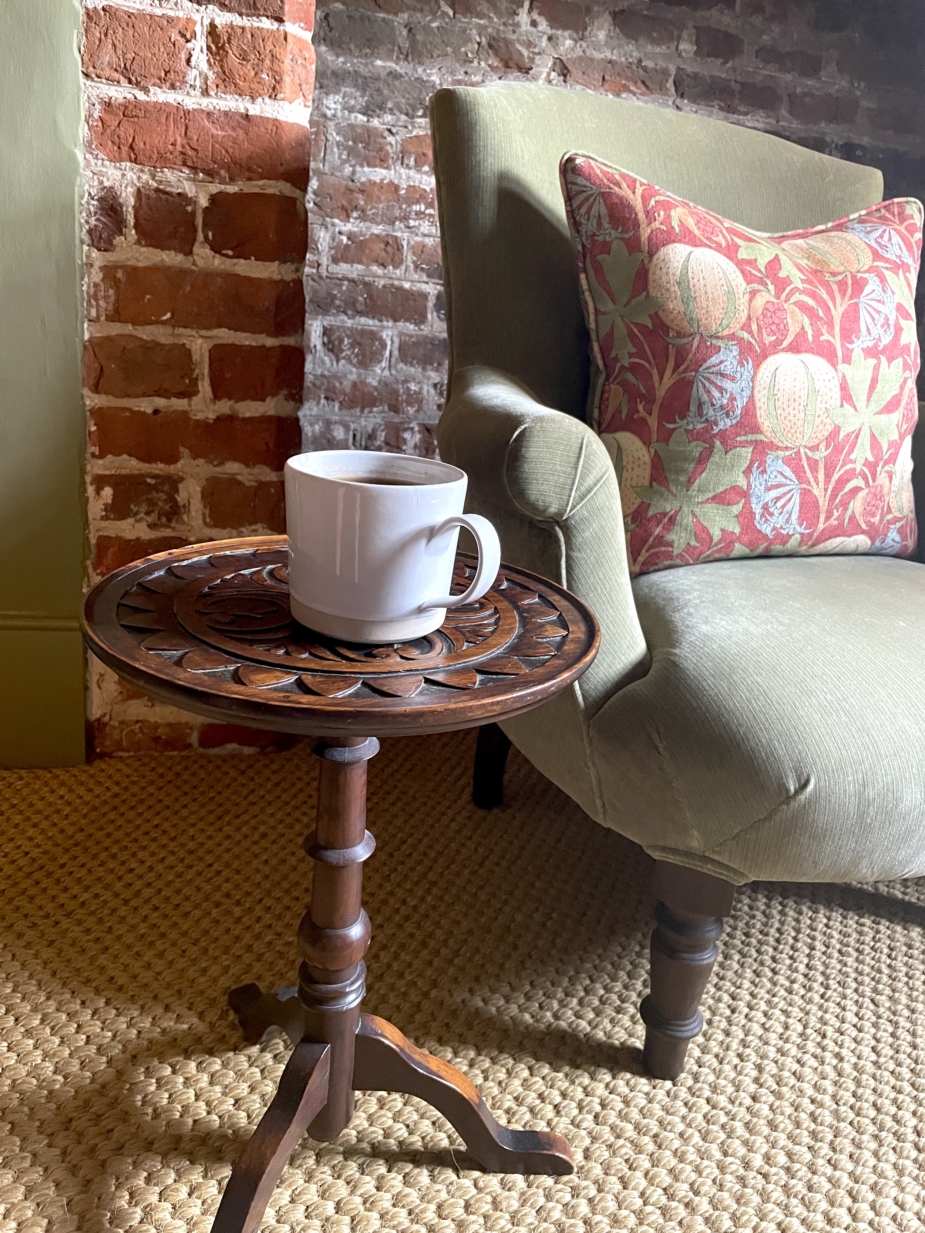 Inspired by my most recent visit, but also drawing upon all of my experiences and fortunate opportunities to explore Britain, let's take a look at how we can welcome different ideas into our everyday life the British culture.
~Note to readers: Be sure to listen to the episode as each item listed below is discussed in much more detail in the audio version.
1. Create a tea ritual in your everyday routine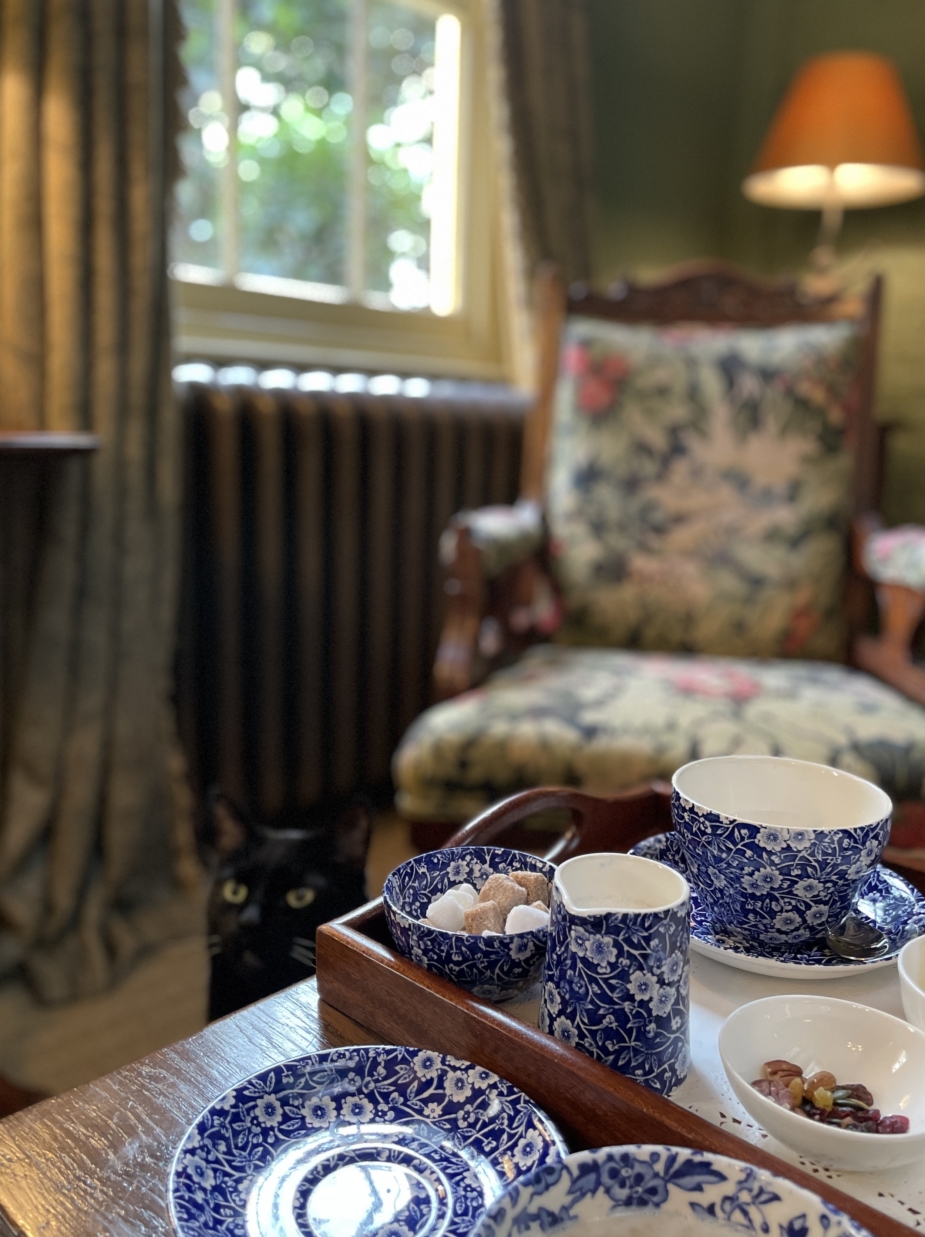 The feline host at The Rookery in London, Bagheera, joined us for our morning tea.
2. Know, use correctly with confidence and be able to explain the difference in conversation between saying England, Great Britain/Britain and the United Kingdom
~tune in to the audio version for this episode where the differences are explained
Check out this detailed and easy to follow post about the clear differences.
3. Subscribe to either AcornTV or BritBox (or both), and enjoy multiple series, films and BBC programs, some within hours of their airing in Britain
4. Grow a garden no matter how large or small your outdoor space or balcony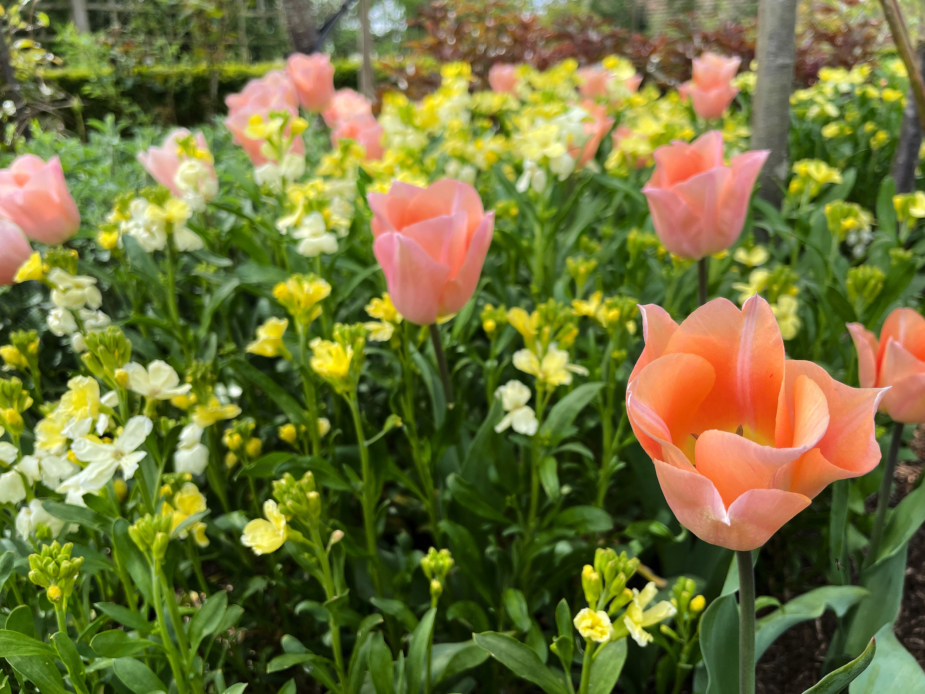 Touring gardens was a primary focus on this most recent trip, and Sissinghurst Castle Gardens inspired many ideas as well as soothed the mind and being as I wandered the grounds for hours.
5. Invite others to 'tea' at your home or for a Cuppa
6. Celebrate the Queen's Platinum Jubilee this year
~Have you entered the Grand Giveaway for your chance to win Fortnum & Mason's Jubilee Hamper? Click here to do so.
7. Welcome cozy upholstered furniture (reupholstered an old favorite) into your home décor
~Staying at The Pig at Bridge Place introduced many ideas for cozy upholstery inspiration.
8. Watch football (aka soccer), or not and instead watch tennis or cricket or rugby
9. Have biscuits (shortbread cookies) or something simple to nibble on when having tea with guests at your home
10. Tune in via television or radio to the BBC
"The oldest national broadcasting organisation in the world with a global reach, covering world events 24/7 and producing world-class entertainment".
11. Watch Ted Lasso on AppleTV+
A new season will likely be released this late summer/early fall. The first two seasons can be streamed in entirety now.
12. Acquire a high quality umbrella (and use it when it rains)
~James Smith & Sons in London on New Oxford was a must-stop during my recent trip to London.
13. Layer with pillows, let go of matchy-matchy
Instead keep in the same color tone, and mix large and small prints with the occasional solid.
14. Find time to spend time at the oceanside
15. Make and enjoy scones with clotted cream and strawberry jam
16. Watch Come Dine With Me (on Channel 4)
Premiering in 2005 and running for 27 seasons, so far, this reality series is a hit across Britain.
17. Find your favorite color of a pair of wellies and have them on hand
18. Make and enjoy a traditional Cornish Pasty
19. Watch The Great British Bake-Off each late summer/early fall
20. Enjoy a proper English Breakfast
What exactly is a traditional English Breakfast (we're not talking about the tea here)? Sausages, back bacon (not a crispy version, but rather more hearty as it consists of a little bit of the loin and is smoked), eggs, tomatoes - pan seared and seasoned with salt and pepper, mushrooms, fried bread, and beans.
21. Practice your French
Did you know that the Queen looks over the weekly menu given to her by the chef who writes the menu in French, as has every chef dating back to Queen Victoria's reign? Yep, and just another lovely reason to incorporate both cultures in some way into your daily life. :)
22. Practice thoughtful manners
Give personal space (an arm's length distance), use both a fork and knife when dining, don't ask nosey questions, please and thank you, respect the queue, refrain from superlatives (i.e. the best, greatest, worst, tallest, shortest, most exciting, etc.)
23. Make and enjoy Yorkshire pudding (and it isn't a 'pudding')
24. Welcome trays into your everyday for serving tea, meals, courses, etc.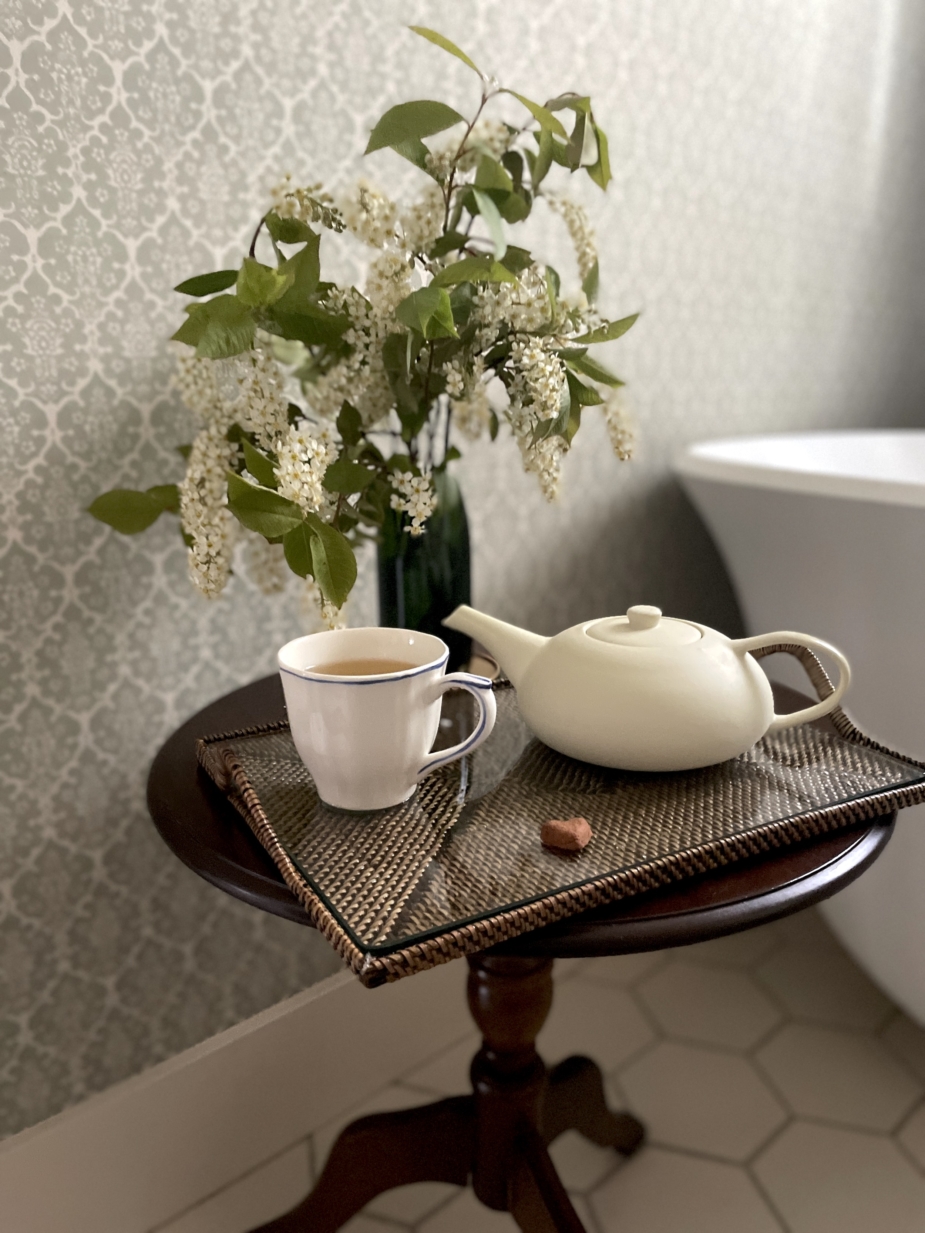 ~Be sure to enter this giveaway to win a high quality, handmade rectangular tray with glass top.
25. Enjoy daily walks with your pups and say hello to passing pups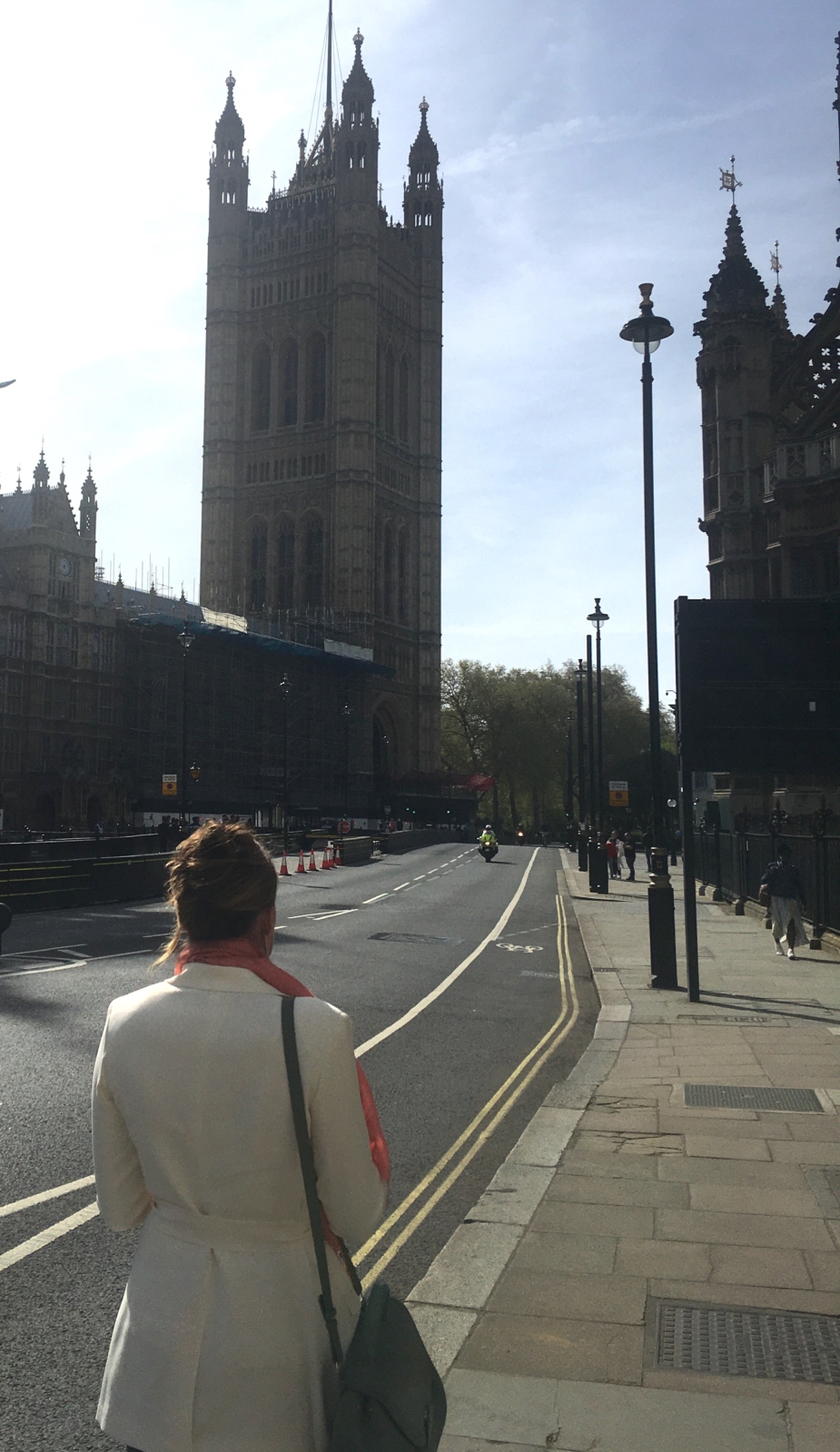 During this trip walking was done both in the heart of London (seen here with Big Ben in the background) and in the English countryside as we toured Sissinghurst Castle Garden. This photo was captured after just having departed from The Tube in the morning on our way to Westminster Abbey, followed by a visit to The National Gallery and then to Claridge's for Afternoon Tea. Needless to say, Norman was missed, and our reunion upon arriving back in Bend was quite sweet.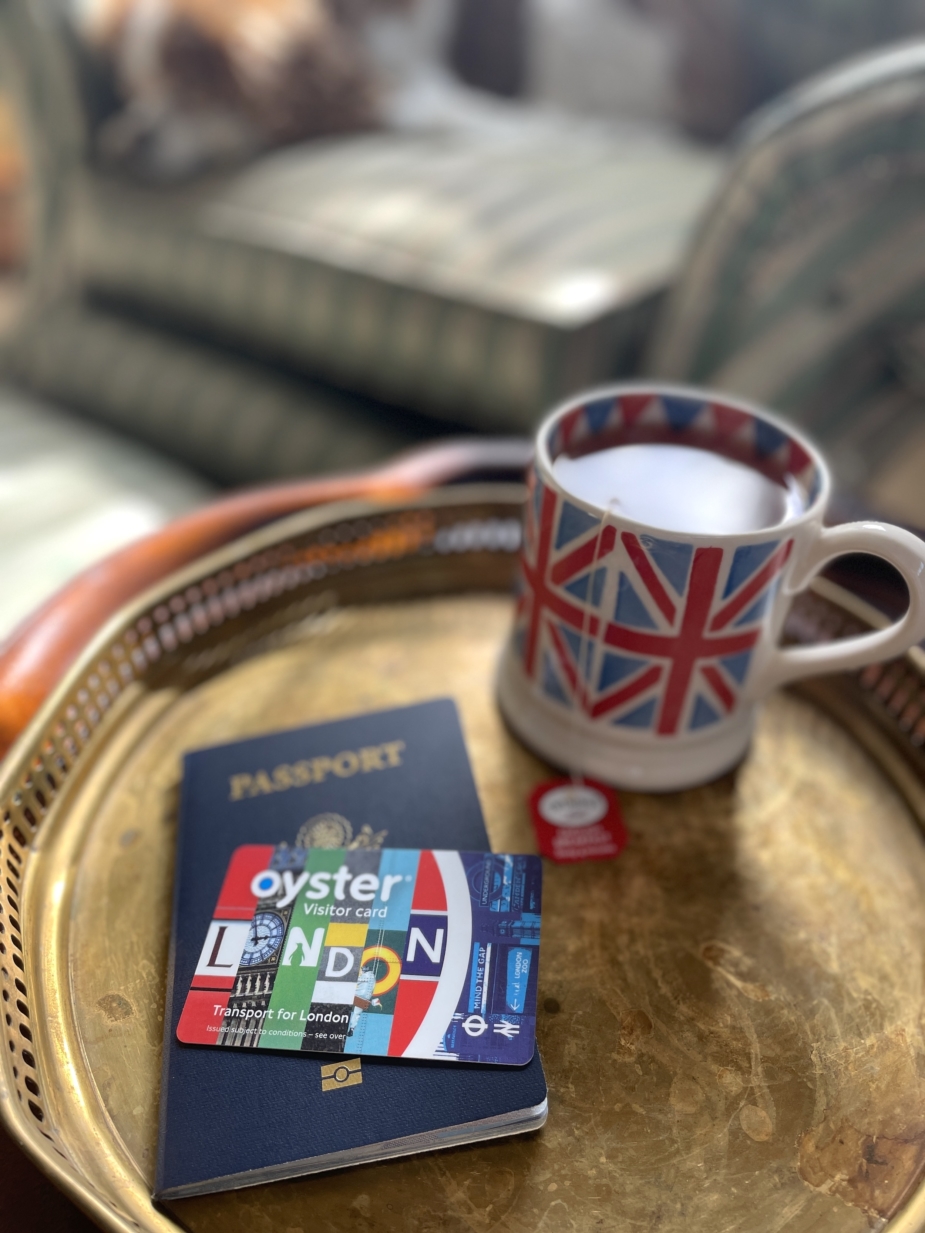 Enjoy English tea at home in Bend, Oregon, with Norman as my companion. Bliss.
SIMILAR POSTS YOU MIGHT ENJOY:
Petit Plaisir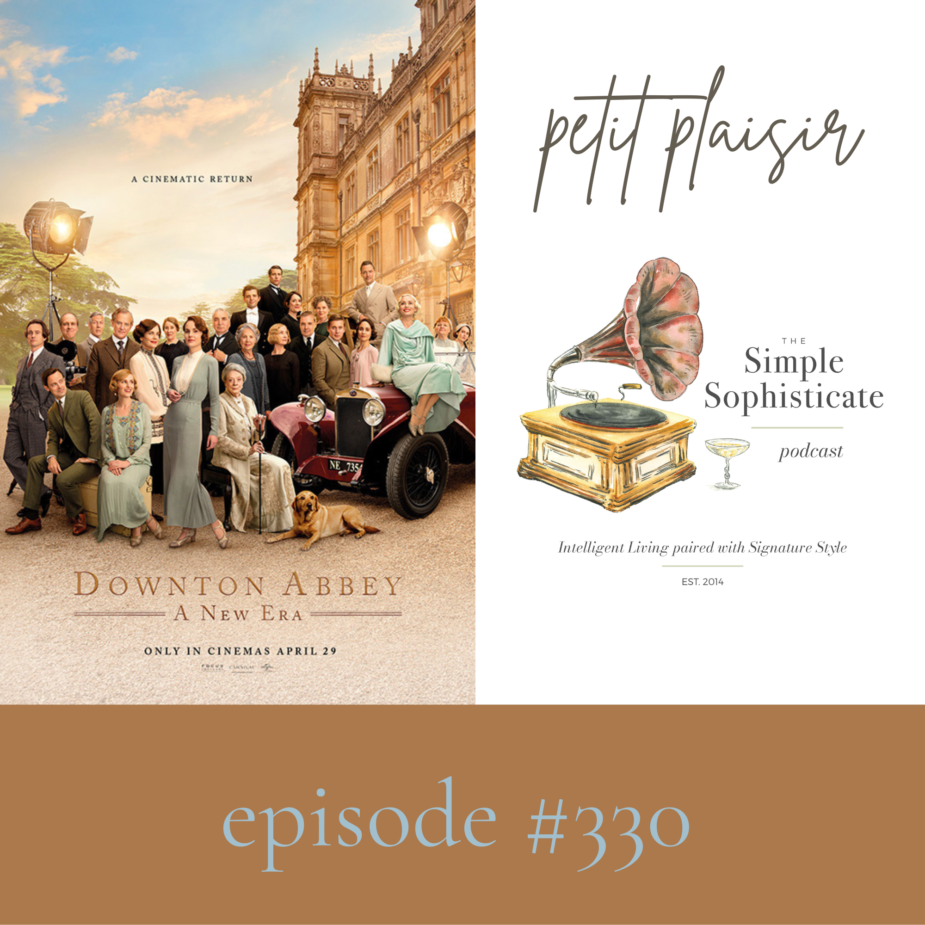 ~The Simple Sophisticate, episode #330
~Subscribe to The Simple Sophisticate: iTunes | Stitcher | iHeartRadio | YouTube | Spotify | Amazon Music
~Explore all of the posts shared during this year's Annual British Week. Today's episode wraps up all of the new posts that will be shared (16 in total), and be sure to enter to win all of the five giveaways by 4pm (Pacific) today. All winners will be announced in a detailed post tomorrow on the blog. Thank you to everyone who stopped by this week. What a fun week it was! To talk all things British's and reminisce and hear your stories of travel as well as future trips, I am excited for everyone as each of us welcomes the British culture in our own way of everyday life continues. Have a wonderful weekend.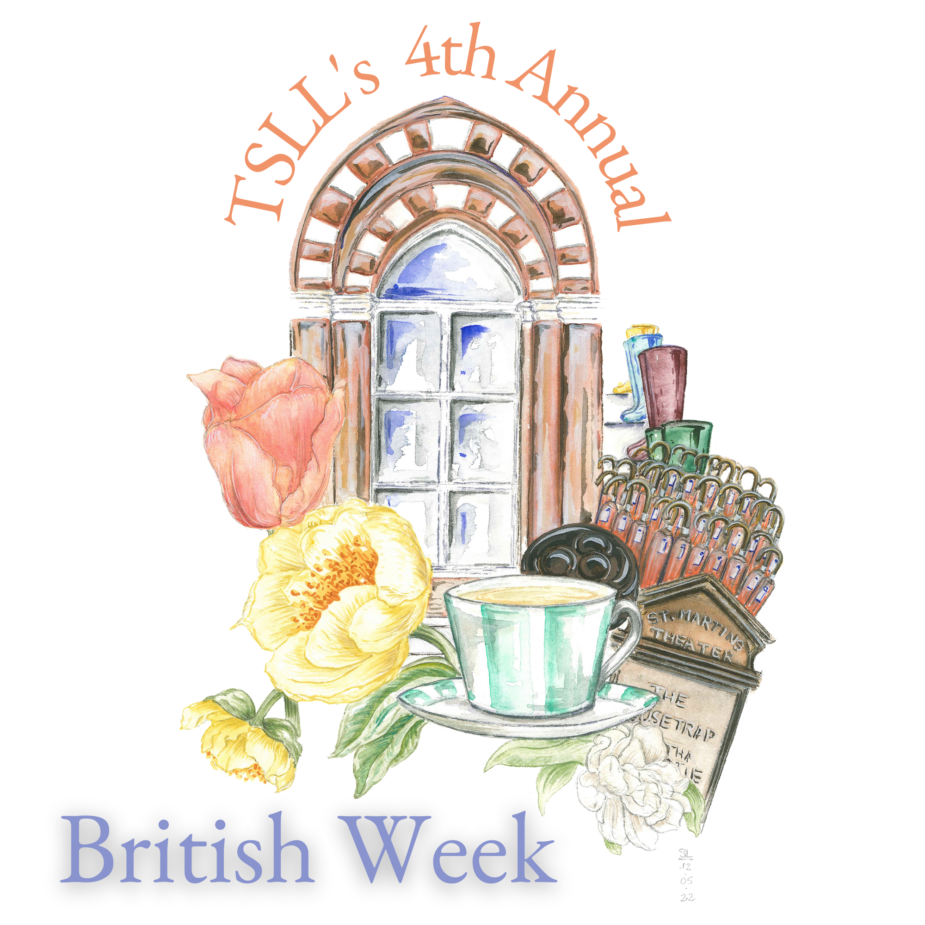 ---
Sun, 15 May 2022
329: 20 Life Lessons Learned on My Recent Trip to England
To feel intrinsically connected with a culture other than the one you were raised involves the feeling of a coming home. A 'coming home' in a way that seems impossible until you feel it first-hand, deep in the marrow of your bones. As I share in detail in the introduction of the month of May in my new book The Road to Le Papillon: Daily Meditations on True Contentment, my first trip and time spent in the English countryside spoke to my inner most true self in a way I didn't expect, but completely understood.
Returning to England this past April was life lifting. Noting not having visited since 2017, which I didn't realize consciously is nearly 5 years, ended a drought of British culture seen with my own eyes that I needed more than I realized. It was a figurative deep breath of fresh air that upon taking in, immediately brought a smile to my face and a calm to my being. While I didn't spend my time as I most enjoy for most of my days when I am in England, which is to rent a vacation rental out in the countryside and go about many days just savoring the everyday routines and visiting an occasional destination of interest, I was in Britain, and that was all that mattered. I saw places and spent time partaking in activities that further introduced a culture to me I had not done before, and for that I am grateful.
In today's episode/post, I'd like to share with you 20 Life Lessons learned during these 3 1/2 days in Britain - both in London and in Kent as we took a train ride out to the southeast countryside of England and spent the night as we were intent to visit Sissinghurst Castle Garden, and oh what a treat that was.
Let's take a look at the list:
~Note, if you tune in to the audio version, I share much more detail about each item on the list. Be sure to check out the podcast wherever you enjoy your favorite shows.
~The Simple Sophisticate, episode #329
~Subscribe to The Simple Sophisticate: iTunes | Stitcher | iHeartRadio | YouTube | Spotify | Amazon Music
---
Sun, 1 May 2022
328: 15 Ideas to Savor Paris
Today I would like to share with you 16 ideas for savoring Paris fully no matter how short your stay may be. As I have written about in my first book and referred to in my third, the Paris Syndrome is real, but the magic of Paris is real as well.
Admittedly, I thoroughly enjoy the French countryside and appreciate and utilize my time in Paris for punctuating my visits as my trips begin and then as I conclude them before making my way to the airport or heading to England via the Eurostar. While in Paris, I give myself a day or two to soak up opportunities to explore exhibits, try new and different restaurants, step inside places I am most curious about as there is always something I have yet to see with my own eyes or simply sit on a terrasse and watch the city go about its day. The energy, the city itself is like no other, and it does seem to breathe new life, excite new ideas and bring them to the forefront for my attention to cease.
My recent trip found me traveling with my mother who I invited to join me as I wanted to get my feet back onto the terra firma of the two countries I adore and write about here on TSLL after the nearly three year hiatus. With this being my mother's first trip to either country (France and Britain), I decided against stepping outside of Paris and instead tried to give her a taste of what makes the City of Light so special. Seeing so much in the span of just under three days was a bit overwhelming, but each experience was quite special. However, with this being my seventh visit to Paris, it solidified even more concretely what I enjoy spending my time doing when I visit no matter how much time I have and what enables me to truly savor, appreciate and revel in any opportunity to be there in person. Let's take a look at the list.
~The Simple Sophisticate, episode #328
---