Tue, 22 November 2022
345: 13 Simple Ideas for Adding Luxury to Your Home, Part Deux
The concept of luxury at its core is what brings you comfort.
A space, piece or item that brings ease, calm and perhaps a sigh of letting go and being able to fully relax and savor the present moment. In 2013 I shared a list full of ideas exemplifying what true luxury is; the items on that list are worth exploring as we become more in tune withwhat luxurious living is. It is important to note that a fundamental element of what constitutes something as being luxurious is the effort and dedicated intention to bring your idea to fruition. In other words, you have taken the time, expended the effort, energy, investment, so that when whatever it is that has been reached (tangible or intangible), you appreciate it and will by no means toss it aside blithely for the next 'new' or 'better' model, version, trend, etc.
When it comes to decorating our homes to create luxurious living spaces, while most certainly, luxury when it comes to interior design can be expensive, it need not always be that way, and it is important to note that size - a grand, large abode doesn't guarantee the space will be luxurious if the details are not tended to well.
To walk into a luxurious space, small or large in scale is only part of being truly luxurious; it is when you engage with the space, live in it, sit down in the chairs, sleep in the beds, pour yourself a hot cuppa, that you then discover whether or not the home is truly luxurious.
In today's episode/post I want to tend to those simple ideas that when you tend to them can elevate the luxury in a room immediately upon a guest or yourself living in the space.
Three years ago, I began this series with a post sharing 10 Simple, Significant Decor Ideas to Add Luxurious Touches to the Home inspired by interior designer Cathy Kincaid's new book at the time, The Well Adorned Home. And as you will discover in that list, while the simple touches may be investment decisions, they significantly elevate the luxurious presence of the room, beckoning the inhabitants to relax and stay awhile.
In part two (deux) of this series, I am sharing 13 ideas that while simple are also quite affordable and don't require a contractor or even the expert eye of an interior designer (all except #12). There is something almost impossible to describe with words but felt by our nervous system when we step into a decorated space that to our eye is luxurious, as well as to our other senses. Immediately there is a noticeable decrease in our stress levels, dopamine may even be released, and we let our guard down and sigh, exhaling a deep breath as though we are 'home', we are safe, comforted, we have found a place to unwind and be rejuvenated.
---
Tue, 8 November 2022
344: The Importance of Investing in Key Décor Items and What Items Are Worth Investing In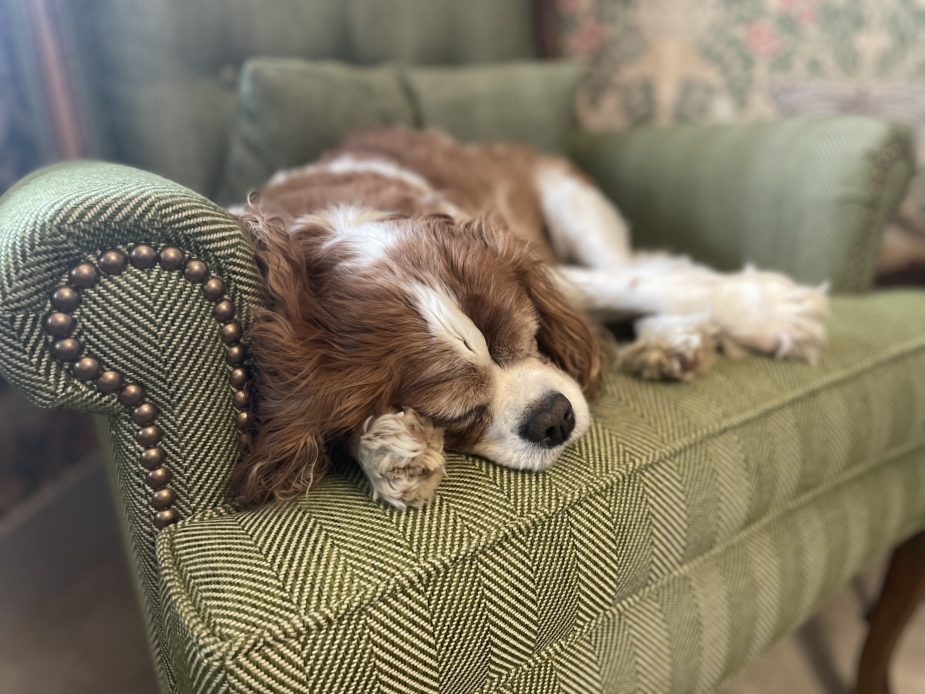 "I am sure there are [trends], but I don't really like them because I think trends come and go very rapidly." —Nina Campbell
Creating a sanctuary takes time.
But it need not take the same amount of time each time you set up a new home.
Similar to getting to know ourselves, unconsciously from day one we may be drawn to certain tastes, preferences, aesthetics, etc., and this is where we can begin both in understanding ourselves and in curating a sanctuary that rejuvenates, comforts and welcomes us home, even if the location of our home changes over the years.
However, unlike our wardrobe, the sizes of the types of furniture or décor items we are drawn to will not change, even if the colour palettes do which is good news because that means you can begin investing in the items for your sanctuary before you even have a penny in your bank account saved up for a down payment or the first month's rent.
Decorating our homes doesn't have to begin from scratch each time we move into a new home; in fact, if we are starting from scratch each time, we are wasting money, time and harming the planet (unless we are leaving all of our furniture for the new buyer). And you actual liberate yourself when you invest in quality décor pieces initially which enables you to never have to start from scratch again. Why does it liberate you, especially, you might be saying, because you just spent all of your extra money on a custom sofa for example? Well, that is exactly what today's episode is all about, sharing the many reasons why investing in key décor items will help you curate a sanctuary that is tailored to you and the life you love living.
1.Endurance to last a lifetime or at least a few decades
"[It was] good in the first place, and [is] still good today." —Nina Campbell
Similar to well-made clothing with high quality fabric, furniture that is made well from the inside out - structurally sound sofa, chairs, beds, tables, etc. will go the distance, many lasting your entire lifetime. I will include stoves in this as well because if you are someone who spends regular time in the kitchen, invest well in a stove and yes, it can last your entire lifetime.
The quote above was shared by renowned British interior designer Nina Campbell in a podcast episode in which she shared an experience of working with a client for the second time, about 10-15 years removed. Many of the primary pieces did not need replacing because they were made well. Below in #5 we will talk more about the benefit of having high quality furniture and large appliances, but generally speaking, you save yourself an extra step of having to go shopping for yet again another item. If you purchase a cheap item that looks good today, but isn't made well, no matter how many times you recover it, it will still not work nor last, or be comfortable.
The idea of starting from scratch is eliminated when you buy well, yep, paying more, up front for the first time purchase, so that you don't have to pay for it again down the road when your tastes change, or what is more likely, the piece falls apart or you realize it doesn't fit well or is not comfortable.
---
2. Sustainable
The sustainability choice in buying a quality piece of furniture or large appliance for your home ensures you won't be clogging up landfills. Mass produced furniture that is typically inexpensive also enables us to be less attached to the items and thus make the item easier to toss. Granted some may take their items to Goodwill or have a garage sale, but when you purchase furniture you love and is well made, and that you need as it provides a function in your home, you are able to keep it and use it for decades to come and also often become invested in it to take care of it well.
As I will share in #7 on our list in detail, part of why buying antiques and consignment and vintage is worth doing is because of the sustainability approach, and while it may take more time to find what you need, when you find it, again, you will become more invested in taking care of it well, thereby keeping it in your home for a longer duration.
---
3. Saves Money in the Long-Term
The price you pay for the high quality armchair today will be the cheapest price that armchair will be sold for if you were to shop for it again 10, 15, 20 years down the road. A well-made piece of furniture, if cared for well, will actually increase in value, a cheap sofa or chair will do exactly the opposite. In other words, it is not easy to plunk down a large sum of money on a dining room table for example, but if it is well made, fits your home and lifestyle, you will have it with you for your lifetime and perhaps hand it down to the next generation, only needing to have it refinished or re-stained when it exchanges homes.
Try to think long-term if you are struggling to pay the price tag of a custom Howard & Sons London sofa or armchair, and instead think about how you will be able to have a trusted and loved piece of furniture for decades to come, even being able to hand it down and doing so with it in great condition even if the upholstery changes.
~Read British interior designer Rita Konig's advice on buying the perfect sofa (Konig is Nina Campbell's daughter)
---
4. Potential to change exterior, but value is retained due to high quality craftsmanship
When you invest well in furniture you both love, as it speaks to your aesthetic tastes and lifestyle, and that is made well, as mentioned in #1, when your life changes, when your color preferences change, all you have to do is change the exterior as the skeletal, foundational components are doing just fine. Even if you have to replace and refurbish the seat cushions, you still have the well-built original frame which will save you money.
From changing the upholstery or refinishing the wood of a beloved desk, dining room table or side table, this is where you save money and time, because you already have what you love, now you are just taking good care of it, which reduces stress to have to find something that works for what you need.
---
5. Pay no mind to trends
"I am sure there are [trends], but I don't really like them because I think trends come and go very rapidly." —Nina Campbell
To repeat Nina Campbell's quote from above, as someone who began working under the wing of John Fowler, I will heed her wisdom when it comes to trends. Sure, we all have an aesthetic we are drawn too, but that is separate from a trend. Nina Campbell, for example, has a particular aesthetic that draws clients to her, but what she does is not trendy and each client's home, when complete, will be different. The difference is when an interior designer creates spaces for different clients that all look somewhat similar but neither reveals an individual, then that is trendy. In other words, an interior designer brings their expertise, but listens to the client's needs (lifestyle) and what brings them comfort and rejuvenation (personal tastes and life journey), and designs a home that reflects their client.
You want to see yourself and the people who live in your home in the interior design you create in your sanctuary. This most definitely takes time, but from day one you can begin including something you love, that speaks to you. For me, I have always been drawn to cozy, deep armchairs and sofas, wingbacks and wallpaper. I can remember going to the interior design store in our small town with my mother when I was a young girl, being able to select the wallpaper for my bedroom for the first time. I was so excited to be able to have a say in the decision making and flipping through all of those wallpaper books was a joy and most curiously good time. As well, I also know what I am not drawn too, and that also plays a role in where we begin. When we don't know, we try out things, and we learn along the way. I once thought a blue painted bathroom would be a great look, feel and aesthetic, but for me, I learned it was not. Lesson learned and carried forward to my next apartment or house.
With each home we step into, or each new redecorating project we begin, we bring with us the knowledge and experience from our past projects, homes and interiors. To be guided by a trend, as was mentioned in episode #341, is not entirely a bad thing. "If an aspect of a trend speaks to you, there is a reason, and that is how we hone our understanding of what will work for a long duration of time in our homes as we decorate for the life we love living, [but] if you are not decorating in an approach that honors you, but rather following what others approve of, and in such an approach to life in any arena – decor, fashion, life choices – this is never an approach that will lead to true, lasting contentment."
---
6. You can move to other rooms or arrangements, and expand upon what you have, rather than starting from scratch
Having furniture you love and that is well-made gives you the liberty to change where the piece is placed in your home. Perhaps a chair that was in the office now is moved to the new bedroom for guests. Or maybe the bed frame in your primary bedroom is moved to the guest room of your new home as you have one more room to furnish and as your tastes have changed, you can welcome in a new frame.
Ultimately, what you are doing is giving yourself options and saving money, reducing what you need to add to your space because you already have very nice pieces to work with.
---
7. When you cannot purchase custom yet
"I strongly believe that people may not want, or may not be able, to start again from scratch, so giving old furniture a new lease of life is at the heart of my philosophy." —Nina Campbell
When we begin furnishing our homes, beginning in college for many of us, buying new and high quality is just not possible. Often we begin with hand-me-downs from family members and that is just perfectly fine. As you begin to purchase items, you likely still will not be able to purchase high quality brand new, let alone custom pieces, so head to the consignment and vintage shops and go treasure hunting. Scour the estate sales in your new hometown, but be patient, ask questions, and don't be afraid to barter. My first antique purchase was in college, an oak pub table that at the time cost a fortune for me - $400. I still have that table and it has been well cared for and functions and looks beautiful.
Purchasing consignment and/or antiques when we can and want to is a sustainable approach as well to decorating our homes. It may take time to find what we are looking for, but remember, you can always update or adjust certain finds. If the items I made well, but the upholstery needs to change, that is easy to do, and you've saved money and helped the planet.
~Why Not . . . Shop Consignment Décor?
---
What Décor Items to Invest In
The first two items are recommended by Nina Campbell as most definitely worth investing in from the start:
Sofa — customize with your preferred fabric as well
Bed — mattress, headboard, frame, etc.
Upholstery — chairs, sofa, ottomans, benches, etc.
Window Treatments — fabric, hardware, customizing length and amount of fabric to hang properly open or closed
Flooring — hardwood or tile, rugs, carpet, etc.
Wallpaper — high quality wallpaper will hang well and simplify the process if you are doing it yourself.
Stove Top/Oven — if you cook regularly in your kitchen
Hardware & Kitchen and Bathroom Fixtures — door handles, faucets, hooks (for heavy use areas)
Decorating our sanctuary in many ways resembles putting together an incredibly large jigsaw puzzle, and over the years I have come to thoroughly enjoy putting together my own puzzle. Knowing what the right pieces are takes less time, but because I don't want a mass produced item, or know where what I am looking for might be found but it is not where I am at the moment, the time it takes to acquire these pieces takes longer, and that is okay. Because in the moment that we find and purchase and then welcome home the piece that fits just as we had imagined, it was worth it and our comfort and pleasure in our home deepens, and we become more rested and rejuvenated.
Of course the journey of decorating our homes is forever on-going just as our capsule wardrobe is and knowing ourselves and learning about the world and how we partake and engage with it, but that is the fun part of being alive, and our homes stay alive because of this regular awareness of how to live well, tweaking, adding, layering, editing, etc.
Wishing you a wonderful and most enjoyable journey of curating your sanctuary, and may your puzzle tickle your mind and bring many smiles to your days as you discover what would be right at home in your abode.
SIMILAR POSTS/EPISODES YOU MIGHT ENJOY
Petit Plaisir
~Parisian by Design: Interiors by David Jimenez by Diane Dorrans Saeks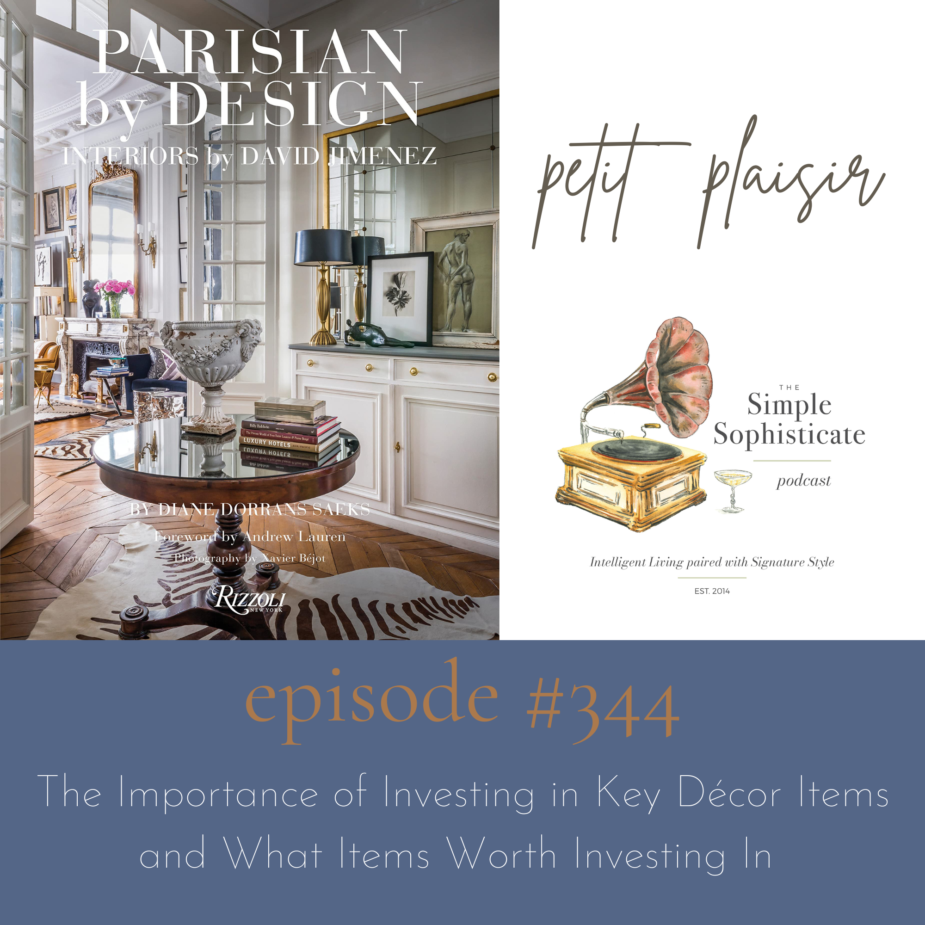 ---
Tue, 1 November 2022
343: How Setting Healthy Boundaries Contributes to True Contentment
"Creating healthy boundaries is how you ensure that you're happy and well in your relationships and in life." —Nedra Glover Tawwab, Set Boundaries, Find Peace: A Guide to Reclaiming Yourself
To have boundaries that are respected is to give your life and your days peace of mind.
Just as a sovereign state provides the foundation for its citizens to thrive instead of merely surviving due to the absence of worrying if what they need to live well might not be theirs tomorrow, so too do the boundaries we assert, communicate and actively uphold. But as is alluded to, we must engage consciously, intentionally and consistently.
Licensed therapist for more than 14 years, Nedra Glover Tawwab wrote a book, a highly successful and praised both by readers and critics book, titled Set Boundaries, Find Peace: A Guide to Reclaiming Yourself, that is exactly what her book provides - a guide. A guide sharing the tools, but also the reasons to motivate readers to welcome boundaries into their daily lives, whether with their friendships, work, children, parents, romantic partnership and even regarding our use of social media and technology. Boundaries, healthy boundaries, as she explains the non-healthy boundaries and why they are destructive and deteriorate the quality of our lives, are an essential piece of our everyday life if we wish to live a life of contentment. And her book is a hands-on step-by-step guide teaching you how and which boundaries you need.
Upon reading this book, I immediately knew I had found a valuable resource, one to not only utilize now for different aspects of my life, but no doubt in the future either when I want to be reminded or discover what I need to do, how to communicate and validate my decisions to honor my needs. As well, just as importantly, is to understand and honor what others needs as well and to not take their boundary setting personally.
In today's episode/post I would like to share with you how setting the right boundaries contributes, and exclusively contributes an essential ingredient that elevates the quality of our lives, thereby deepening our true contentment experienced in our everydays. If what is shared today speaks to you, I highly recommend picking up a copy of the book where you will find the specific examples of what to do/say, what not to do/say in very specific, as well as different situations.
~The Simple Sophisticate, episode #343
~Subscribe to The Simple Sophisticate: iTunes | Stitcher | iHeartRadio | YouTube | Spotify | Amazon Music
---