Sun, 19 January 2020
274: Quality Friendships = Quality Life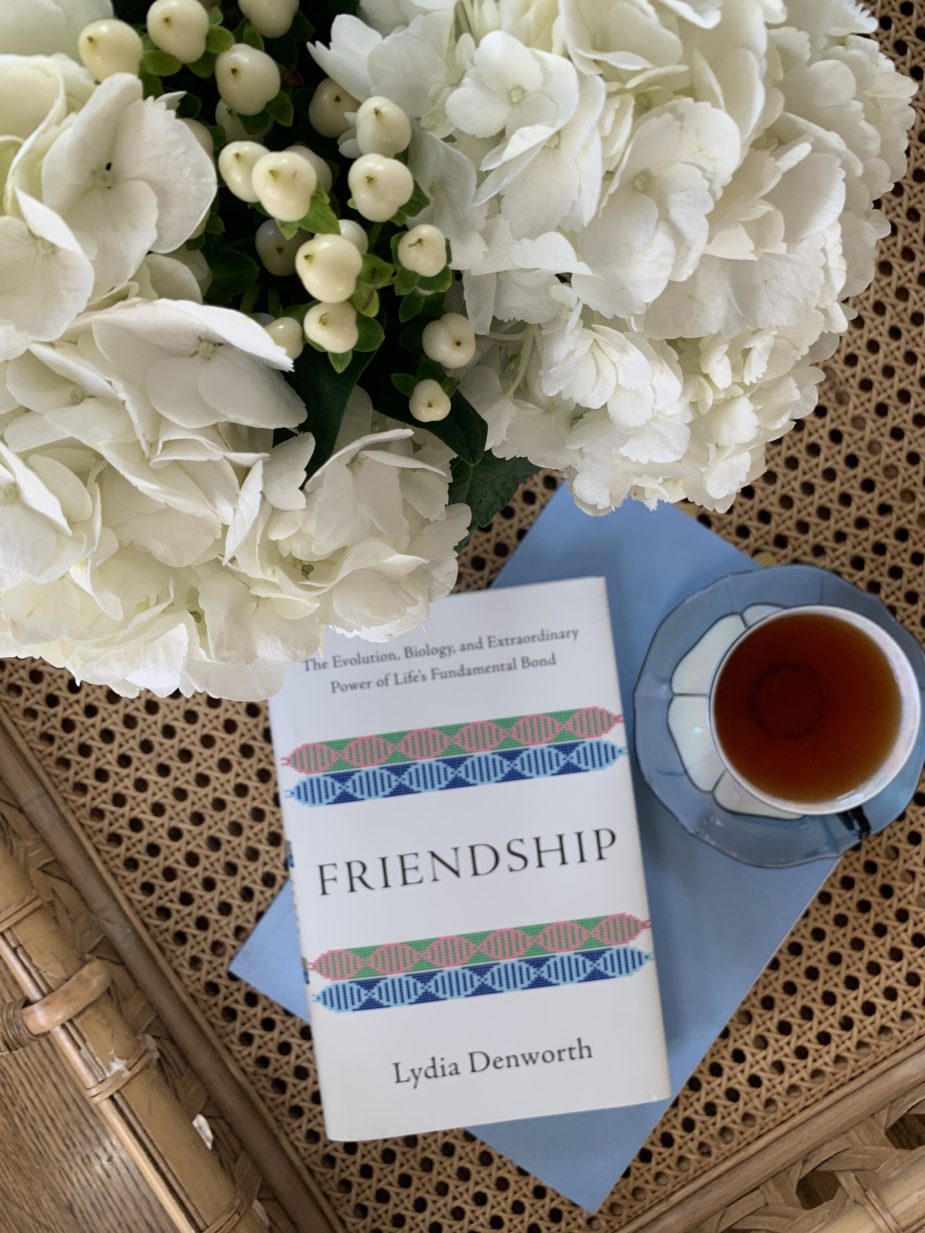 "By comparison with relationships forged in blood and love, science has historically given friendship short shrift . . . biologists ignored friendships because unlike romantic or mating relationships they were thought not to affect reproductive success . . . most of us are as guilty as scientists of failing to take friendship as seriously as it deserves. We pay lip service to it but prioritize family and romance, ditching our friends when we fall in love, or letting time with them be the first thing to go when we get busy . . . eacg of us is contrainted by time. But we may want to rethink how we apportion the time we have . . . It turns out that friendship does have survival value in the most literal sense—more socially integrated people live longer than those who are less well connected." —Lydia Denworth, author of Friendship: The Evolution, Biology and Extraordinary Power of Life's Fundamental Bond
Perhaps due to the media I consumed in the 80s and 90s, there was an unconscious understanding that romantic relationships were paramount to platonic. Don't misunderstand me, friendships were clearly portrayed in sitcoms such as FRIENDS, Blossom, Seinfeld, The Golden Girls, Will & Grace, Felicity, The Wonder Years just to name a few, but it was clear that the writers were directed to have their leads be in constant pursuit of the desired romantic relationship predominantly and perhaps more importantly.
Subsequently, not aware of the subtle influence of media, in my youth, I made the assumption that friendship was nice, but romance was best. It does appear today, and admittedly maybe due more to my own awareness, that such media portrayals are shifting and broadening to bring to the screen and the pages as well as other media mediums an array of life paths and journeys to find contentment and social connectedness.
The value of quality friendships is arguably one of the most important social components of our lives. For each of us, our quilt of friendships will be unique and include amongst it our acquaintances and community (work and personal) connections as well. It seems to me good, healthy relationships of all types - romantic or platonic - benefit when we have a healthy social well-being which fundamentally rests on our social connections. Of course, a social well-being requires first and continually that we include ourselves as part of the social circle; in other words, we need to honor and respect our true selves and not try to cultivate relationships that are contrary to our true temperament, but rather complement and strengthen.
When we remember to default to regularly checking in with ourselves, we will know when it it best to repair and invest in certain relationships and when it is best to move on. We will respect ourselves enough to know what boundaries to put in place and how to place them.
The great loves of our lives, even the moderately good and life-changing-for-a-period-before-we-both-must-go-our-separate-ways relationships that will hold a special place in our life's journey don't cross our paths frequently. We are fortunate to experience these relationships when we have the courage to step forward and say yes without knowing what the future will hold, but throughout the duration of our lives, it is the friendships, even with those we may fall in love with along the way as we come to know each other intimately, yet honestly, that offer so much more than "filler". They offer love, support, encouragement to step into our best selves and step away from limiting habits. They offer kindness and the reminder when we may doubt it that we are lovely and loved.
Author, Brooklyn-based science journalist and a writer who has contributed to Atlantic and the New York Times, Lydia Denworth has just released a book on Friendship that I was eager to receive as I find it helpful to explore the context of the research we have accepted as absolute truth and that which has thus gone on to influence how we choose to live and construct our lives. Denworth dives deep into the historical and established science and then examines what has been misunderstood or dismissed or ignored. Moving forward she explores the brain and how it learns to be social and then the majority of the book explores how friendship, the desire for it, our ability to connect or not connect plays a role in the quality of our lives and ultimately, how to live a healthy social life full of sound friendships.
Today I would like to share a taste of what I learned as I read Lydia Denworth's new book Friendship: The Evolution, Biology and Extraordinary Power of Life's Fundamental Bond
~Listening Note: Each of the items shared below are discussed in more detail in the audio version of the episode.
1. Our overall health reveals the quality of relationships we have in our lives
"As we age, the effects of the life we have lived—including our relationships—inevitably show up in the body. Some are cumulative, some are short term."
"The strength of your friendships at 50 predicts your health at 80."
2. More education and income leads to having more friends
"Education, physical health, years living in the same place, and the number of daily contacts with friends all predicted friendship style. More education, for example, often leads to better social skills, and higher education makes it easier to socialize more widely (at restaurants and concerts, say)."
3. Friendships help buffer life stress
"After puberty, parents no longer buffer stress for children; friends can take their place."
4. A good friendship can be a template for all other relationships
"At its simplest, as in animals, friendship is positive, long-lasting, and reciprocal. Bonds with these traits have the strongest effect on our health and longevity."
5. Welcome a diversity of types of friendships
"There are three main styles of friendship: discerning, independent, and acquisitive."
6. Friendship circles will evolve, grow, change — and that's okay.
7. Social media isn't as bad for relationships as people believe; in fact it's a net positive
8. Ambivalent relationships ("frenemies") are bad for our health
9. It takes about 50 hours of togetherness to make a friend, 200 to make a best friend.
10. Retirement is something to be savored when we invest in friendships
In a study shared in Robert Waldinger's TEDx Talk about friendship and good relationship that has since garned nearly 30 million views he shared "the people who were happiest in retirement had worked at it. They valued and tended to their relationships. They activiely worked to replace coworkers with new playmates. They put in the time."
Similar to so much of our lives that enrich the quality, it is the conscious choices we make that make a difference in our overall contentment and joy as we go about our everyday lives. Friendship is an undercurrent that when tended to can elevate and bring tranquility or cause unsteadiness and make for a rough journey when neglected or ill-tended.
Knowing more, understanding how, is one of the first components to a strong cultivation of what we wish to grow. Certainly, it is not the only step or the final step, but it is important, and then we must be patient with ourselves and those we are building relationships with. In time, good things and a good life will grow.
"Social bonds have the power to shape the trajectories of our lives. And that means friendship is not a choice or a luxury; it's a necessity that is critical to our ability to succeed and thrive. It can even be a model against which other relationships should be measured."
SIMILAR POSTS/EPISODES YOU MIGHT ENJOY:
---
Petit Plaisir:
~Lentil and Kielbasa Salad, adapted from Barefoot Contessa's recipe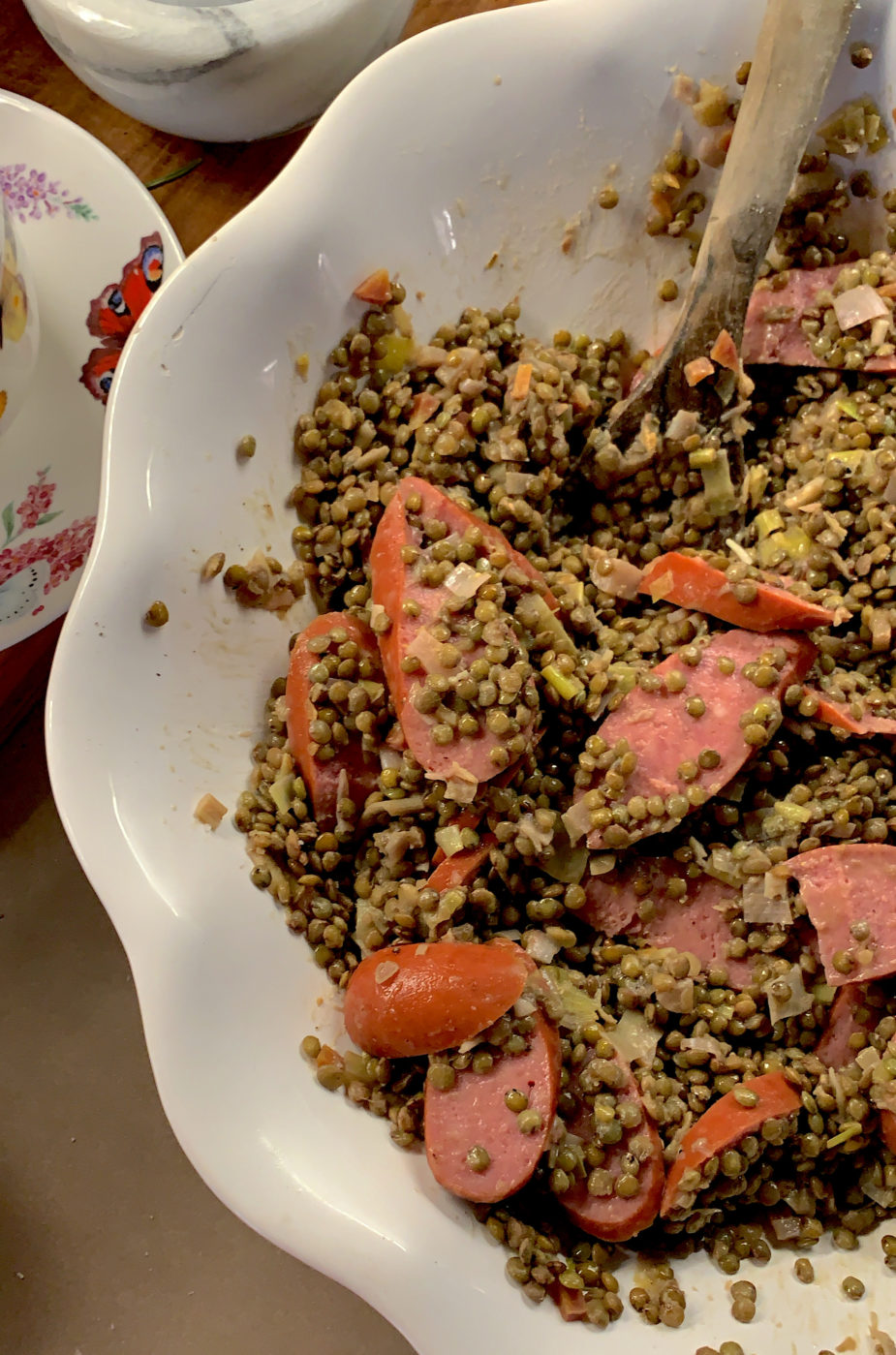 ---
~Subscribe to The Simple Sophisticate: iTunes | Stitcher | iHeartRadio | YouTube | Spotify
---
Sun, 12 January 2020
273: 12 Key Factors to Life-Long Physical and Mental Good Health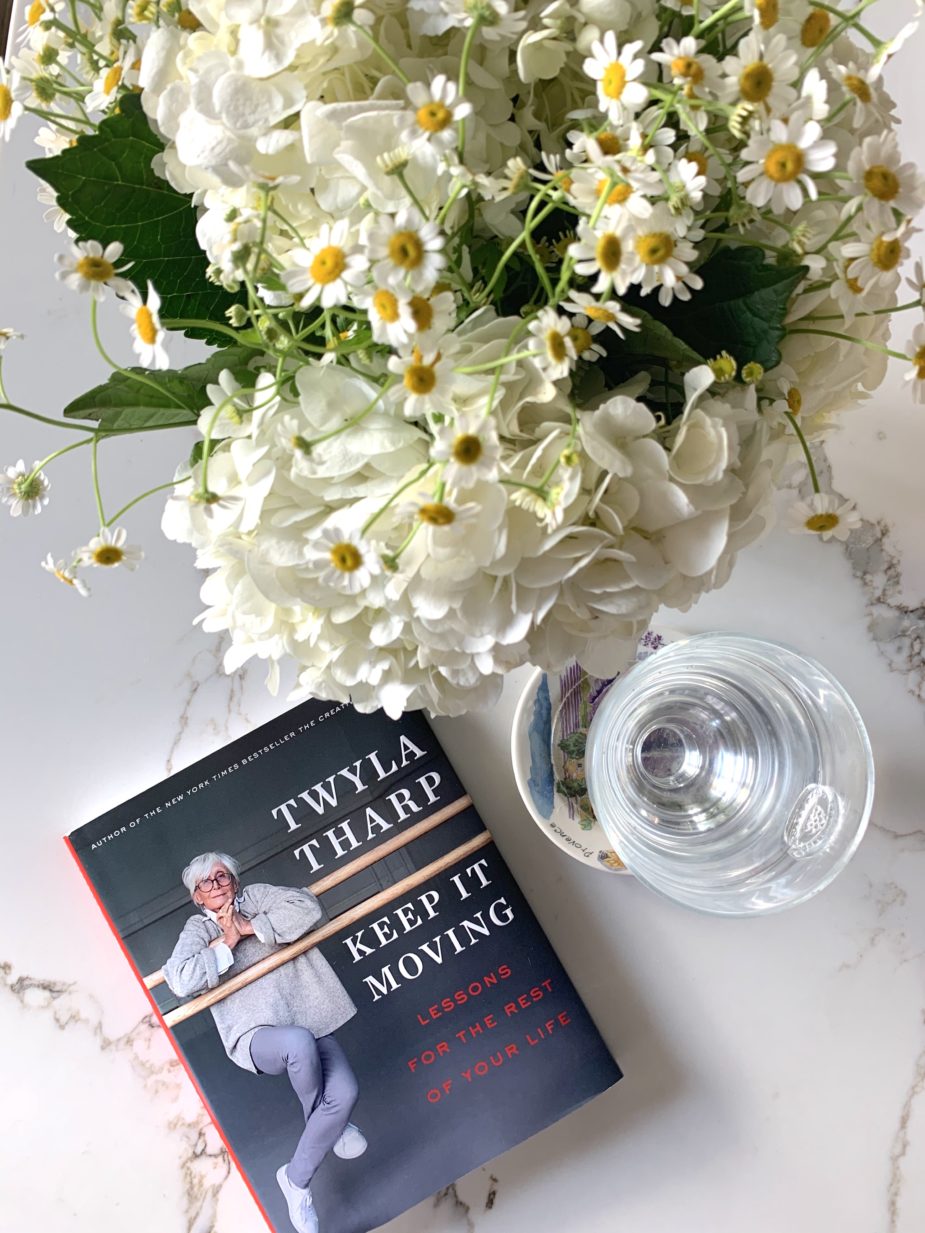 "Vitality means moving through life with energy and vigor, making deliberate choices and putting to good use the time and energy that we have been granted." —Twyla Tharp, author of Keep Moving: Lessons for the Rest of Your Life
Knowing how to care for our body which we must not forget includes the mind is a lifelong course of learning. Beginning with the basics of how food is fuel and energy expends said fuel to understanding which fuel is best and how our body repairs itself and ultimately what the body and mind truly are capable of regardless of our age, understanding and then apply this knowledge will have a powerfully positive effect on the overall longevity as well as quality of our life.
Highly decorated and revered American dance choreographer, Twyla Tharp released a new book this past fall, and as I appreciated her insights in her previously published book The Creative Habit, I was especially curious to read her new book Keep Moving as she herself is in her mid-seventies and more fit than most adults in their prime. However, what I quickly discovered is that Keep Moving is not only about the physical movement we must continue throughout the duration of our lives, but the continual movement of our thoughts, ideas and way of living and thinking about the world that is as well ever-changing and evolving. Below are 12 key factors for living and enjoying a physical and mental well-being for the entire length of your life.
1.Practice Growth
"Age is not the enemy. Stagnation is the enemy."
Both physically and mentally, choose to perpetually be a dynamic individual. Instead of becoming complacent or resigned that certain capabilities are no longer possible once we hit a certain age, vow to always keep your body moving, as well, and perhaps most importantly, your mind. Rather than reminiscing about the past, make sure it is celebrated and/or learned from and then put your focus on moving forward well, learning something new in your next venture into something that provokes your curiosity. Let go of past hurts and anger that may be lingering to liberate yourself to create a better present and then a greater future will unfold. Assess your daily routines: Are they working for you? If not, whip them into shape (listen to episode #272 for help on how to accomplish this change).
"Attempting to maintain the status quo, smoothing our skin, and keeping our tummies trim become distractions that obscure a larger truth. Attempting to freeze your life in time at any point is totally destructive to the prospect of a life lived well and fully. All animate creatures are destroyed when frozen . . . This is not a worthy goal."
2. Choose and then Cultivate the Life You Want to Live
"I chose my life, it did not choose me."
Inevitably, life will throw onto your journey's path trauma, loss and pain, but how you choose to work with these life events will determine the overall quality of your life. You can choose to wallow and seek out sympathizers that allow you to remain in your pain or frustration or anger, or you can acknowledge the pain, let yourself work through it in a healthy manner and continue to strive forward.
"The life we choose pays dividends. The life that we let choose us will bankrupt us."
Contrarily, you will need to find the courage within yourself to choose to step away from the group when it feels limiting or confining or not aligned with the life you wish to live or dare to create. Nothing need happen that is negative, just a instinctive feeling that something does not work for you. Heed your instincts, explore them gradually, and when you have some footing (it need not be a perfect stance), step away from the group. I am confident you will be grateful you did, more and more so with each passing day.
You may be wondering, how does #2 correlate with our physical health? Any time we choose a life that we want to live, we energize ourselves; oppositionally, when we follow, when we go along to appease or to not create conflict, our energy lessens, so much so that we find it hard to motivate ourselves to care for our overall health. It may not occur, and most likely will not occur initially as we follow, but with time, our excitement about living life is dulled, and when we no longer see the joy in living life (because we haven't chosen this life, it has chosen us and we feel 'stuck' within it) we do not, consciously or unconsciously, invest in it. And tending to our health is a fundamental investment.
3. See Your Body's Good Health as a Full-Time Job for a Lifetime
Much of society may appear to be modeling that as we age, we become less physical, but the reality and what needs to be realized, Tharp argues, is that "the older we get, the more we should commit to physical activity". Ironically, we could have moved less in our youth as our body was helping us out far more naturally than it is able to do on its own as we age. But the benefit of being an active child and young adult is that we can take these good habits and let them be the foundation of our physical activity throughout our lifetime.
The benefits of physical activity have been researched and proven time and time again, from sharpening our mind to "expanding our social, emotional and intellectual well-being". A shift in how we view physical activity can help tremendously to finding infinite wells of motivation to move our bodies on a regular basis. First, make it enjoyable. Find something you love doing. I used to be one of those gym rats who would visit my neighborhood gym (at this point in my life I was in NW Portland) nearly every day, hop on the treadmill and walk or run for 20-30 minutes. Granted, any physical activity is absolutely applaudable, but I will admit, I felt as though I was in a cage. My lifestyle has certainly changed over the past 14 years as my physical exercise is outdoors nearly every time, and the only indoor physical practice I do, and thoroughly enjoy, is the weekly yoga class I attend. Most importantly, I have found a way of staying physical that I enjoy. Find what works for you and how you can incorporate your physical and natural environment into your playground. And then just do that, play!
Tharp reminds readers of the importance of why we choose to exercise, "Let's not burn calories. Let's use our calories . . . You're burning calories to acquire skills". When we make this shift of why we are exercising, the motivation is more likely to remain and become habituated.
"Here's what I know: a life that gives the body its due is a happy life."
4. Pull up the Anchor of the Past and Sail
"Unless we embrace the condition of change, the past will act as an anchor, preventing growth. I've always been an advocate of habit—but with time, unchecked or unnoticed habits will hold you back."
Life has many chapters, and not one will be exactly like another. Living consciously gives us the daily practice of assessing what is working and what is not. As Tharp suggest above, habits are helpful . . . when they are helpful to living the life we wish to live. However, habits that go unassessed are the anchors we need to pull up so that we can sail toward and eventually fulfill our true potential.
There are many examples in our lives in which a habit worked exceptionally well for a period, but too continue would harm our progress and need to grow. If you are a parent whose children have left the nest, there will be new habits to add and other established habits that will need to be "pulled up". If you are an individual who needed to work with great dedication to complete a degree or complete a project or establish themselves in their career requiring long hours as there were deadlines to meet, etc., the habits that enabled you to be focused and strong in dedication will need to be relaxed so that you can find the balance to enjoy the life you have worked hard to secure.
5. Choose Optimism
Tharp acknowledges that "aging can promote a condition identified by psychologists at the University of Pennsylvania as learned helplesslness . . . believing we cannot change our outcome leads to lethargy. Negativity and stagnation go hand in hand". The remedy is actually quite simple, but it does require us to become clear about the life we wish to live, to do the homework of living, living well and being conscious of our instrinstic motivators as well as the external motivators and determining which truly align with our most sincere self.
Tharp suggests, and I concur, what we need to do is align our actions with our values. Often we say we wish to live one way, but our actions speak differently. Sometimes it will take grand courage as we will have to speak up to those in our lives who will be affected if we change our routine, our way of engaging, etc., but often it is how we speak to ourselves, how we allocate our time and where we spend our money. When you begin to see how to better align your actions with your values, it becomes easier to be optimistic because you are now fully supporting the life you wish to live and not unconsciously fighting against it. Momentum happens more freely without resistance.
The primary point is we have more control over the quality of our lives. We are not helpless. And we need not accept that things cannot be different. They can be, and will be when you choose to shift how you live your daily life. A simple way to begin being more optimistic is to see the simple beauty and awesomeness in the everyday. When you focus on the good, on the positive, on the beauty, you begin to see more of it, inspire those around you to see more of it and ultimately begin to create more of what you wish to see than what you do not. Check out my IG account and the hashtag #tsllelevatetheeveryday for simple visual reminders of everyday beauty.
6. Plan - Put Your Hopes into Action
Currently, I find myself moving into the planning part of customizing my home, but admittedly, it is easier to dream and hope that it will all come together. But hoping and dreaming won't bring it to fruition. While certainly, the first part of the journey may be a hope or a dream, it cannot be where we remain.
Referring back to the premise of Tharp's book and #1 on this list, growth needs to be perpetually occurring in our lives, and so, we must step forward and put our hopes into action. How? By planning, and tending to each step listed in the plan. Sometimes it is hard to actually make the step toward our desired goal, but the momentum provided with each step, makes the next step easier. Seeing your money being spent on whatever detail, item or necessary piece of the journey needs to be spent can be initially hard to do, but if your plan is clear and your goal is in alignment with your values, you will reflect upon the money spent as an investment and be thankful for your courage to step forward and put your hopes into action.
7. Strengthen and Maintain Your Stamina
"While many of our physical tools diminish noticeable as we age—speed, flexibility, and power—we don't have to lose stamina."
Moving your body, keeping your muscles strong, on a regular basis will fundamentally keep your stamina strong. And what helps build and strengthen and maintain your muscles? Repetitions done regularly. It may not be fun initially, but in reference to #3, find an approach that engages you, and cultivate it into a habit that is part of your daily/weekly routine. Tharp has a handful of suggestions on pages 96-7. Eventually, the stamina turns into endurance which is "a combination of willpower, focus, intention and grit—essentially a matter of character and mental toughness".
"The wonderful thing about stamina: it doesn't deplete through a long period of grinding work; with sustained commitment, it builds and builds, up to the moment when you need it most".
8. Small changes can make a big difference
"When I can't build a cathedral, I build a bridge to get there."
Whether you are trying to welcome new habits into your life as the new year begins, trying to build a dream that will take time to materialize, the small steps, the small actions and small everyday dedicated efforts will eventually lead to the grand change and actualization you seek.
9. Build a foundation for your future
Compound interest plays a role in our physical and future physical lives as well as in our financial lives. When we "work hard now to reap greater rewards in the future instead of finding [ourselves] in a panic at your dwindling account", we are building a future of a wealthy good healthy life well into our later years. The working hard is doing what you can now as early as you can in your life physically to maintain the three pillars of a healthy body: strength, flexibility, aerobic (view more Health & Fitness posts in TSLL's Archives). Start where you are, but push through the necessary discomfort, aka as challenging pain (but be aware of the difference between that and warning or chronic pain).
Each time I have taken a week off from yoga or the first time I hop on my skis in the new winter season, 48 hours later my muscles are talking to me. It is not a bad pain, in fact, I applaud myself for pushing myself further, but I also am reminded to get back on the regular schedule so that I do not have to feel it everytime for the same reasons.
10. Dekludge
Tharp introduced the term 'kludge' to me in Keep Moving which is any short-term inelegant solution. In other words, it is using a convenient 'fix' for a hiccup or problem, but not the best fix.
To dekludge is to check our ego at the door, and this is not easy for most of us, and especially hard for some of us. As the pages of our book are turned and new chapters arise, "you have to be willing to find other ways of being in the world beyond those that have served you well throughout your life". In other words, we have to self-assess (which is a good skill to hone no matter where we are in life's journey and to practice it regularly). We have to become aware and then challenge unproductive behaviors in order to live our most fulfilling and best life.
Tharp suggests our kludges are "all trade-offs and allowances [we] make to deal with deflating circumstances—by ignorning, tolerating, or avoiding the situation. Sometimes we're aware that we're settling for less than optimal. Sometimes we believe we don't have any other choice. We treat them as systematic, the way things are. These kludges shackle and slow us down." Any time you adhere to "the way you've always done it" as your sole reason for doing something, most likely, you've found a kludge that needs to be let go.
The good news is that with maturity, dekludging has the ability to be far easier.
"[With maturity], we've learned that no one else is responsible for our success or survival. It's up to us to erect a stable scaffolding that's not stressed by temporary fixes and what is left can be pretty amazing."
11. Adjust to Improve Your Life
"All master adjusters learn to push their strengths and drop everything else—resentment, insecurity, doubt, physical handicaps."
With life, we have the opportunity to gain experience, and with that experience we can handle new life experiences far better than without the earned experience. And perhaps life's difficulties never become easier, only different, but because we have the past experiences, we are able to better and more easily navigate through them without working ourselves up into a frenzy or racheting up our stress-levels unnecessarily. In other words, we become better able to soar through life and not be knocked down by the gulls and gusts that will inevitably happen because we know how to foresee their coming further from a distance and either avoid them altogether or when caught by surprise, dance with them rather than fight them so as to preserve our energy to better enjoy the many good moments that await on the other side of the storm.
12. Become Keepers of the Quotidian
"Finding absolute beauty in the humble, the everyday, the living, the growing, the becoming is a skill that can be practiced with more than just the eye."
Using all of our senses as we go about our day is a skill to master for living well. Sometimes being so acutely aware can be heartbreaking which means we need to live consciously and choose how we engage with the world and who we engage with. However, once we are aware of the power of engaging all of our senses, our everyday (quotidian) lives magically appear to be in brilliant Monet-esque color. From the scent of the rain that falls on the dry ground, to the feel of the fresh, seasonal produce picked up at the market to the sound of chirping birds enjoying their morning meal in your yard's bird feeder, when we pay attention to these details with our whole being, our appreciation and love of life rises.
Good health asks of us to invest each day, but the investments need not be expensive or back-breakingly painful. How wonderful to understand that simply by instituting enjoying daily habits we can improve our overall well-being to further ease our mind that not only is our present more enjoyable to experience but so too will be our future.
I highly recommend Twyla Tharp's new book, Keep Moving. I whizzed through it during my two week holiday this past month as she offers her own experience as a renowned dancer and choreographer who is now in her 70s as evidence of what indeed does work, as well as introduces readers to many others who have inspired her journey of good health and wellness of mind and body.
SIMILAR POSTS/EPISODES YOU MIGHT ENJOY:
---
---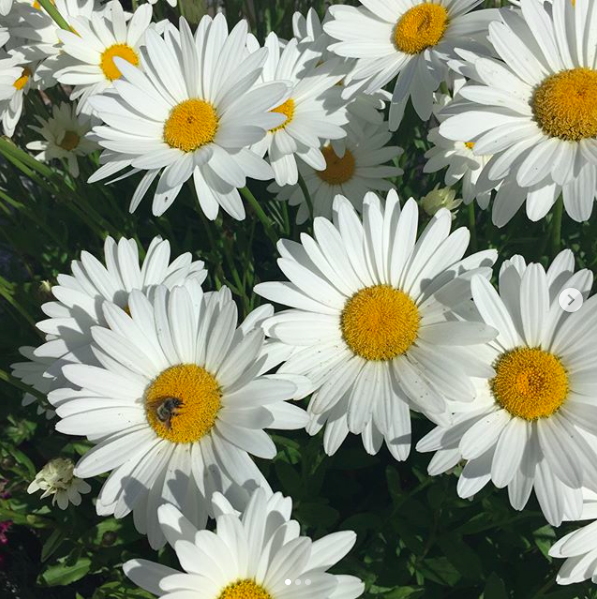 ---
Petit Plaisir:
—Simple Bouquets combining two different textured, but similar hued floral varietals - one more formal, one more whimsical. Not only will this save money, but it will add a depth of intrigue and beauty beyond a single varietal bouquet.
~See a couple of examples below from my own home.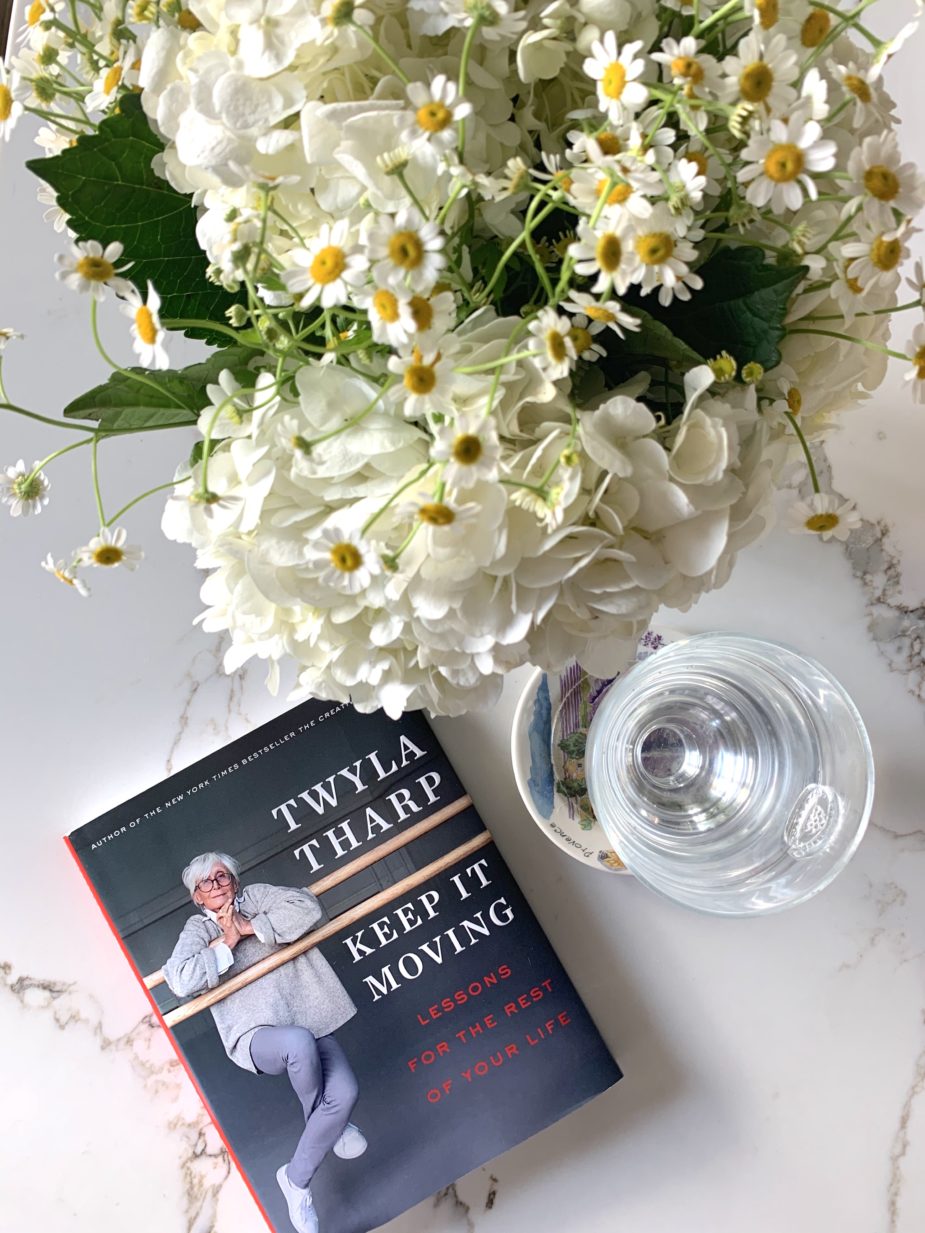 ---
Sun, 5 January 2020
272: 8 Ways Tiny Habits Will Welcome the Grand Changes You Seek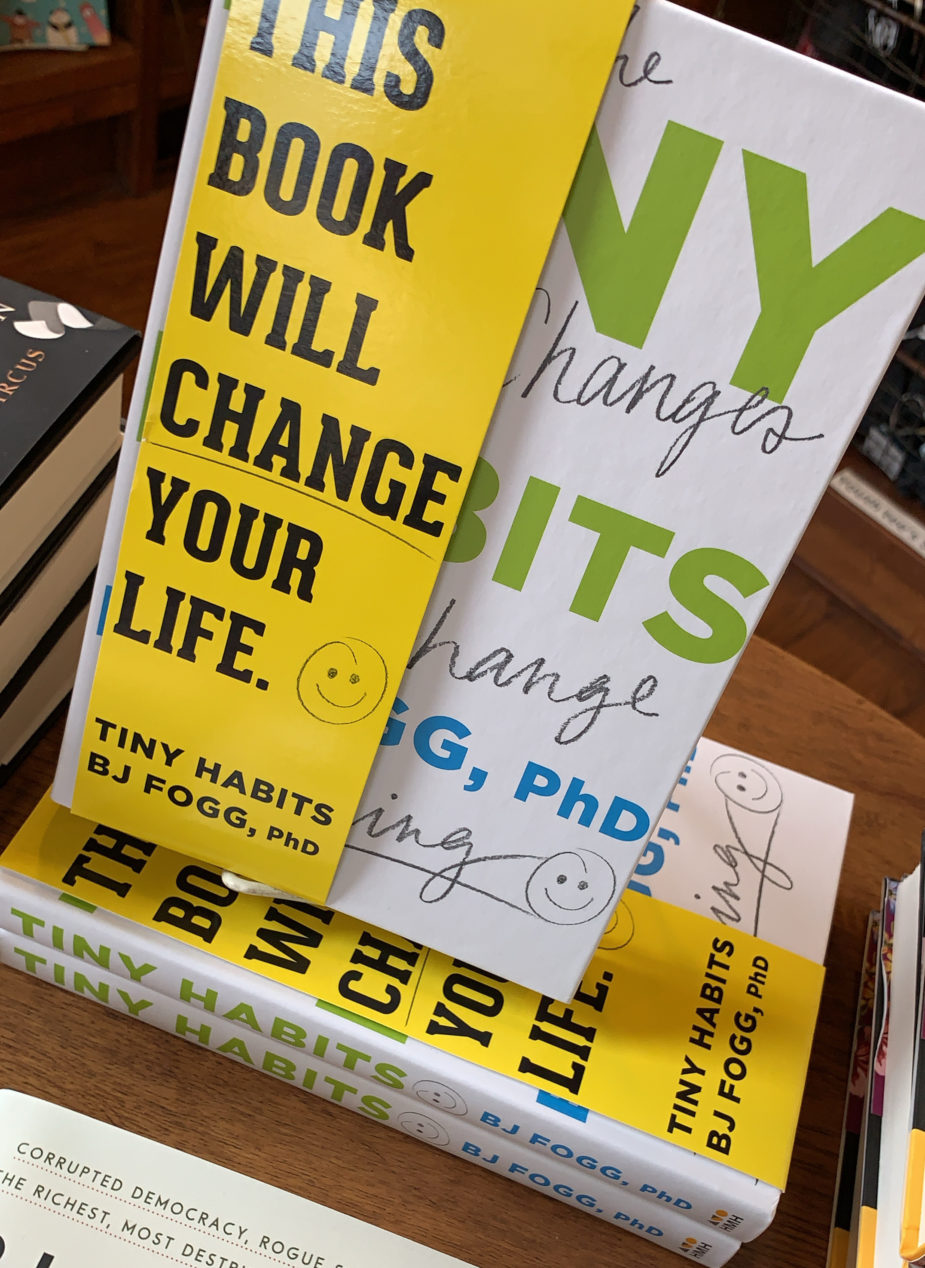 The new year rolls around and there is much talk about resolutions and cultivation of a life we wish to live. It is old news to share that many resolutions are unfulfilled; however, BJ Fogg argues that perhaps we have had a faulty instruction manual to be successful in our pursue of lasting change.
Released just this past Tuesday, December 31st, Tiny Habits: The Small Changes that Change Everything asserts in fact that it is the small, seemingly easy changes of habit we make in our lives that will lead to grand transformation of ourselves and therefore our overall lives, even our relationships and especially our health and overall contentment.
After devouring the book in two days during my getaway to the coast, I wanted to share with you eight takeaways that will introduce you to this shift in approach. I have already begun to implement two new tiny habits into my daily routine and look to add a third when my teaching schedule resumes this week.
The good news, if you have already written your 2020 resolutions, is that upon reading the book, you will be able to look at them more closely and construct and approach them in such a way, according to Tiny Habits to ensure their success. And if you have not created resolutions, maybe you have decided due to previous frustration that doing so is just a waste of time, taking a look at the list of takeaways below may shed some light on why past years were less fruitful than you would like and even encourage you to try again and see better results.
1.All behaviors happen due to the occurrence of a prompt
"The Fogg Maxim #1: Help yourself do what you already want to do by designing a good prompt"
Fogg shares many different examples of how prompts permeate all areas of our lives. The example that resonated with me was his example regarding taking a shower, "After a shower, I always dry off. After I dry off, I always walk into the bedroom", etc. etc. etc. There are three different types of prompts that we can choose from and that we are guided by in our behaviorial routines: person, action and context prompts. Action prompts, such as the one shared above are the most useful because they serve as an anchor. Attach the behavior you want to happen to a behavior/action that is already happening and will happen habitually. One I have incorporated over the years and have continued to do without fail (which surprised me at first how quickly it took hold) whether I am in my house or traveling is upon going to bed (which will happen every evening), I take a glass full of water with me and place it by my bed. Upon waking in the morning, the only way it is returned to the kitchen is if it is empty. A hydration habit that encourages me to drink more water.
Fogg also discusses what he titles "Pearl Habits" which are habits that are prompted by an irritant outside of our control. As I shared in the first post of the year, we can only create the change we seek when it involves ourselves and internal responses or behaviors; in other words, to set a goal that involves the behavior of someone else is a futile goal as we have no control over the other person without manipulation. When it comes to Pearl Habits, use the irritant as a prompt to do something that is positive or helpful for your everyday life. The example shared in the book is an ex-wife who coparents with a husband who is quite negative and her response each time his unwanted behavior or comments arise is a prompt to her to practice a mini moment of self-care in her daily routine. Each of our irritants and habits will be unique to our situations and lives, but even the unwanted events beyond our control can be helpful in pursuit of the change we seek in the new year.
2. Remove unwanted prompts
"You can disrupt a behavior you don't want by removing the prompt."
From removing unhealthy food and drink from your cupboards or refrigerator to moving the television into another room to inspire more conversation and gathering in the main living area, removing the prompt that tempts us to return to behaviors and habits that are not helpful is one of the simplest solutions to instituting the permanent change we seek.
3. Understand this truth: You change best by feeling good — not by feeling bad
"What happens in your brain when you experience positive reinforcement isn't magic —it's neuro-chemical."
Fogg refers to Instagram in his example of how positive emotions help to quickly create a habit. We snap a photo, we easily filter the image, we share. The feeling of sharing a "unique artistic creation" bolsters your sense of capability and thus inspires you to continue to use the app. Not only was the Ability part taken care of as it was very simple to do, it was also positively rewarding - the must-have ingredient of emotion. "Emotions create habits. Not repetition. Not frequency. Not fairy dust. Emotions."
4. Celebrate to permanently integrate the habits you want into your life
"Celebration is the best way to create a positive feeling that wires in your new habits . . . in addition, celebration teaches us how to be nice to ourselves — a skill that pays out the biggest dividends of all."
In episode #163, the show shared how improving happiness in your life is a rewiring of the brain, a creating of new neurological tracks. We truly can change how we see the world and go about our days and thus experience more happiness and contentment if we consciously choose to do so. This is where celebrating comes in, and I LOVE this component. :)
Quickly, celebrating is not equivalent to rewards (Fogg explains this in detail), but after reading his explanation: celebration need not be a giving of something to yourself (that is a reward), but celebration must come immediately after you have completed the new behavior you wish to become a habit - that is when the rewiring in your brain begins to take place. It is possible for a reward to simultaneously be a celebration, but not easy to do as it must come immediately afterward. The good news about this distinction is that it will cost you nothing. Celebration is just as it sounds - a burst of exultation, a happy dance, a humming of a happy tune that just makes you happy each time you sing it, a jump into the air with a grand grin on your face.
It may sound silly at first, but think about instances with young children who are learning any skill, even when I think about my pups and training them, when we give immediate praise to those who are under our care, we demonstrate what is wanted and thus makes them feel good due to the praise. This is nurture at its most basic, and we've been nurtured by others our entire lives whether we knew it or not - applauded for certain choices and behaviors, etc. Once we realize we can do this for ourselves to incorporate positive habits into our daily lives, we can be the cheerleader for ourselves, and we need to be. The simple act of celebration begins to gradually and then significantly rewire our brains to seek out the space for the behavior to happen as it actually will prompt the release of dopamine, the feel good hormone.
5. Improve relationships by understanding Fogg's Behavior Model
What is Fogg's Behavior Model (the book provides many helpful visuals), simply it follows this equation: Behavior = Motivation & Ability & Prompt. When these three components converge at the same time, the habit takes root, and Fogg disputes the claims that have been made endlessly, (even here on TSLL, so I am correcting myself now) that there need to be a particular amount of repetitions of a new habit for it to become habituated. Not so, he states because if it feels good to engage in the new behavior (#3), the habit will form very quickly (he brings the readers attention to a teenager receiving a new smart phone and their habit of checking it incessantly if given the freedom to do so without practice).
When we understand the model, and how it works in our lives, we can better observe and therefore, understand the behavior in others. We may not be able to change the behavior as other people need to make their own choices, but if we are providing the prompt, or if we are making the ability easier or if we are providing the motivation, that is what is in our control, and we can change each of these if we do not like the behavior that is the result. Similarly, as a parent or a partner or a loved one, we can have conversations that are based on logic and reasoning allowing the emotion that may have caused electricity in prior conversations (and not the good kind of electricity) for potentially a more productive dialogue.
6. Cultivate an environment that prompts the change you seek
"The skill of redesigning your environment makes your habits easier to do."
Earlier I shared how removing the negative prompts is helpful, but so to is cultivating an environment that encourages the change you seek. If you are working on improving your eating habits, create as Fogg and his partner have done - a SuperFridge - glass containers filled with food ready to eat - food that is healthy, delicious and beckons them to enjoy it. Not only is the food supportive of the healthy habits they seek, but it is also aesthetically pleasing to look at, inviting to the eye. The Motivation component of Fogg's Behavior Model is tended to which then adds to the Ability component and the Prompt is as simple as being hungry and opening the door of the fridge. Boom! A new positive behavior begins.
7. Master your mind, and step into the identity you wish to embody
"When you can let go of old identities and embrace new ones, you will soar in your ability to go from tiny to transformative."
Fogg explains how psychologically "all humans have a strongly rooted drive to act in a way that is consistent with their identity . . . there is a good evolutionary reason for this —when food, shelter, and other resources depend on group unity and collaboration, it is critical to reliably predict what a person is going to do." Simply by understanding why our current identity is something that may be hard to step away from, but also knowing that when we "successfully embrace an identity shift in one area [we] often prompt change in other areas", we increase the skill of mastering our mind.
Fogg suggests going to events or learning the language or spending time or reading books by experts in what you are trying to learn, understand or improve. Simply by shifting your environment, you begin to shift your identity. For example, if you are want to improve your skills in a particular sport or physical activity, attend events or read books or attend lectures by experts in the field. If you wish to improve your ability to cook with ease in the kitchen without recipes, seek out those chefs or cookbooks or even watch Chopped which shares people doing exactly what you hope to do so that you can with ease step into your kitchen each day and cook a delicious, yet far-less-time-consuming meal.
8. Tiny successes, when cultivated consistently, will lead to transformative change
"Start where you want to on your path to change. Allow yourself to feel successful. Then trust the process."
Chapter 6 focuses on the transformative change that can take place when you grow your habits through the Tiny Habits process (a confluence of Motivation+Ability+Prompt). But more importantly, we must begin with a clear idea of the change we wish to make. Fogg uses the analogy of designing a garden we wish to grow into a beautiful and abundant space of Mother Earth in our own backyard. Once we know what want to grow, we can then begin cultivating the behaviors that will enable what we plant to successfully reach their fullest potential. Where to begin? Start small (refer back to the quote above). Start so small, it is almost too easy to think, you are creating new habits. Fogg began his flossing habit, but simply flossing one tooth at a time. Yep, one tooth. This allowed him to feel successful from the first attempt. And as he reminds, "Success leads to success". The reason for the first attempt to be successful is that you want to create momentum, so remove the "demotivators. This allows the natural motivator (often it's hope) to blossom, which in turn can sustain the new behavior over time". Once your motivation begins to rise, you begin to see your confidence in your own ability to make the necessary change rise, and you begin to understand you can do harder behaviors as well.
The more I read Fogg's book and came to better understand his Behavior Model, the more I realized what he claimed to be true in the introduction: Many of us have had the wrong instruction manual all along, and while some of us may have been successful in spite of the misdirection, none of us should blame ourselves for not being successful in our pursuit to welcome positive change into our lives. I am of the understanding that as Marie Forleo shared and titled her new book Everything is Figureoutable, and as Tiny Habits reveals, we just need to understand more fully how the mind works when it comes to habit creation. Thankfully, it truly can be more simple than we may have thought. We can feel good throughout the process of improving our health, relationships, daily routines, etc. We do not have to punish ourselves and we do not have to have an expensive reward to motivate us to try to do something that seems difficult. We need only to increase the motivation, remove the unhelpful prompts, chose an easier task so we believe we can do it from the beginning and then celebrate immediately when we complete the new behavior each time.
I am confident we can each apply this method.
I shared at the top of the post that I have already begun to implement two new tiny habits into my daily routine after reading the book, so I wanted to share:
Removing all tech from my bedroom (I had removed my phone a handful of years ago, but my iPad snuck into my sleeping space as it provides an alarm and my music in the morning, and then, you guessed it, scrolling in the morning as well). How? I am removing the prompt - the iPad will be placed outside of my bedroom, but still be able to be heard and then be placed on a sleep timer at night (I enjoy listening to music to fall asleep).
Incorporating more ab strength exercises into my routine. My busy schedule has found me being inconsistent in my strength routine, so I am scaling back, but doing only one rep each work day morning upon getting out of bed. The motivation is that it seems easy and insignificant (but it's not!) and the prompt will be stepping out of bed each morning to let the boys outside (while they are outside, I will quickly tend to one rep of strength).
And then the celebrating takes place immediately after each successful behavior. :)
If you are determined, as I am to institute changes into your life that will fundamentally support the quality life you wish to live, I highly recommend BJ Fogg's new book Tiny Habits. Hopefully today's episode gave you insight into what the book entails. I appreciated his detailed explanations and visuals, and his ability to share a multitude of examples helped tremendously.
~Learn more about the book: —BJ Fogg, PhD., author of Tiny Habits: The Small Changes that Change Everything (Dec. 31, 2019)
~SIMILAR POSTS/EPISODES YOU MIGHT ENJOY:
~Learn How to Truly Savor Everyday Moments & Watch It Elevate Your Life, episode #163
~The Road to Success is Paved with Happiness, episode #194
~Attaining the Change You Seek in the New Year, episode #241
~15 Everyday Habits to Live a Life of Contentment, episode #93
~3 Crucial Components to Acquiring New Habits
---
Petit Plaisir:
~Little Women, the film, Greta Gerwig's adaptation
95% - Rotten Tomatoes; Roger & Ebert 4/4 stars
~Listen to Audible's new version of Little Women, read by Lauren Dern (I highly recommend after listening during a 7 hour car ride over the holidays - multiple character voices and sound effects). Remember to go to audible.com/simplesophisticate to earn a 30-free trial AND one free audio book.
Opening weekend and Christmas Day release earnings: $16.5-million weekend and a five-day total of $29 million since its Christmas opening, a major performance for a smaller-audience film with a budget dwarfed by the top two films. —U.S. News, source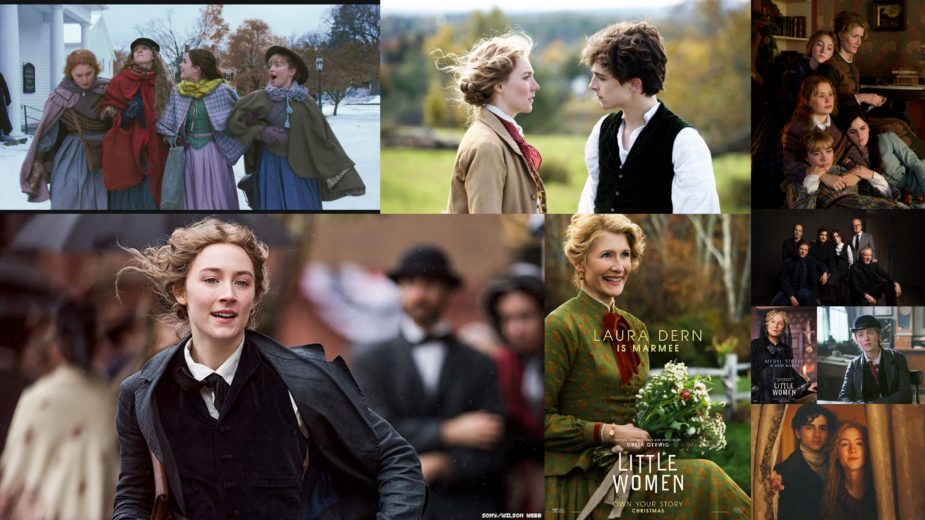 ---
Thu, 2 January 2020
263: Timeless Seasonal Style — Autumn in Britain
"Autumn seemed to arrive suddenly that year. The morning of the first September was crisp and golden as an apple." —J.K. Rowling in Harry Potter and the Deathly Hallows
~The Simple Sophisticate, episode #263
Style and comfort. Knowing how to achieve this combination while we travel enables each of us to relax and fully enjoy our excursions wherever our wanderlust might take us.
As would not surprise TSLL readers, many of you, including myself, love to journey to Europe, in particular France and Britain, and while I have primarily traveled to France in the summer, and London during the summer months as well, it was during the fall of 2017 that I had the good fortune to travel back to Britain. Expectedly, the suitcase's contents were far different than for the warmest months of the year.
So when a TSLL reader recently reached out and asked for style ideas for her upcoming trip to London this October, I came up with the idea to share a seasonal style episode/post for Anglophiles.
In the coming months and seasons look for the remaining three seasons for both Anglophiles and Francophiles as having a resource to help simplify the packing process so that we travelers can focus on creating an itinerary that surpasses our dreams.
Admittedly, and unsurprisingly, I enjoy selecting the perfect outfit for whatever the occasion might be, but equally as desiresome is to not have to worry about my clothes while I am traveling. Just trusting that what I have packed is exactly what I need frees my mind to absorb the many new sightss, sounds, tastes and interactions which enrich the trip all the more.
So with that introduction, I'd like to share with you Style Essentials for Traveling to Britain in Autumn, the city and the country.
City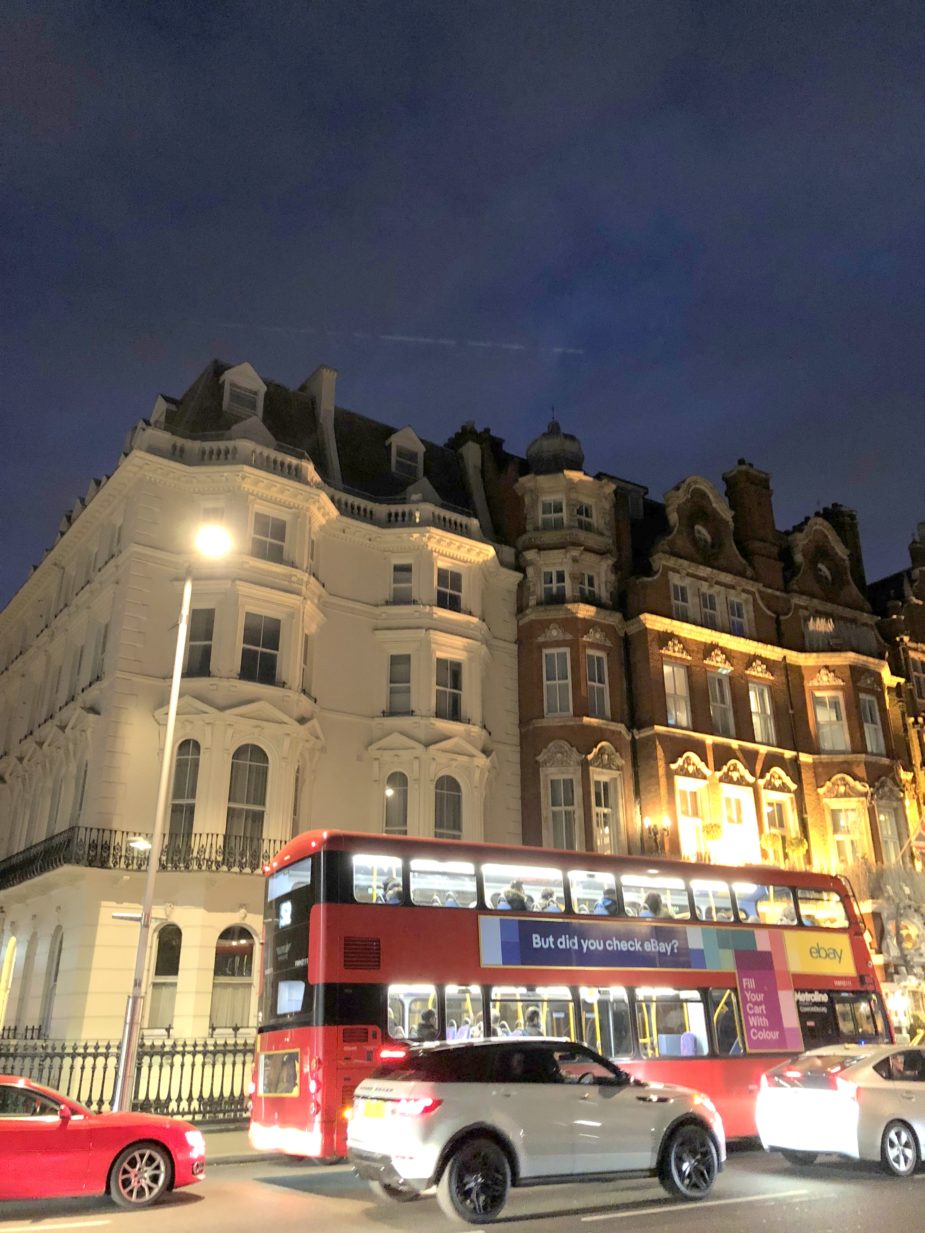 GOAL: Layers of style that provide warmth when necessary from the rain and chill, but walkability as you make your way about the city on foot, the tube, bus or taxi.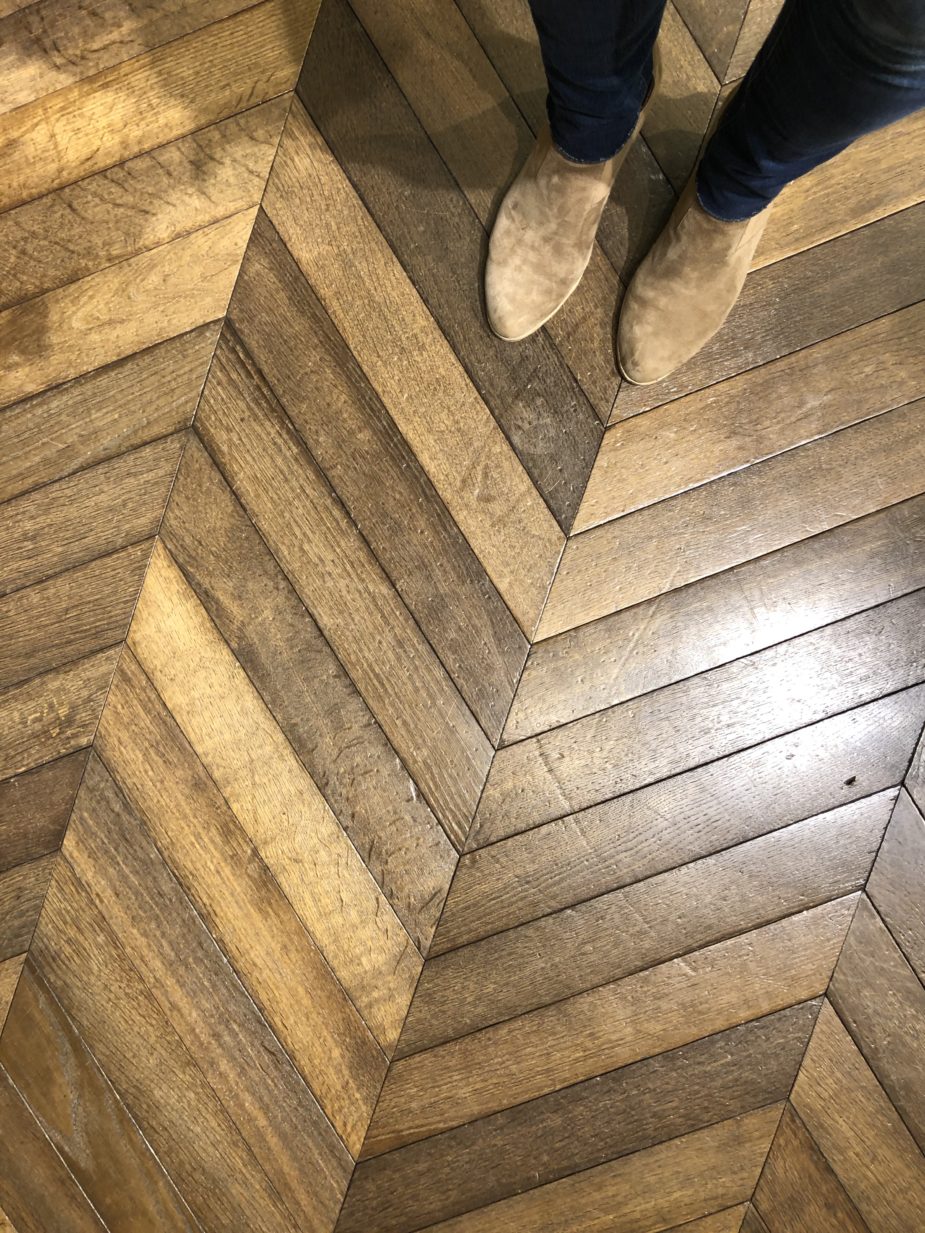 1.Ankle boots (flat or with a slight heel) to wear with jeans or pants (my Eileen Fisher suede pair seen on the chevron floors of Burberry - here is a similar pair)
2. A short trench, works well with jeans (more casual outfits) and over midi dresses if the quality is top-notch (use promo code RLFAMILY to save 30% site-wide through October 15, 2019). For a full trench, or how to find the perfect trench for you, read my post after visiting the Burberry flagship store in London - The Perfect Trench is Personal.
3. Light-weight high-quality sweater (for layering)
5. Scarves - light-weight, yet autumnal hues (these scarves offer many color options and are well-priced)
6. Pants or dark denim jeans
7. Midi dress, wear with #8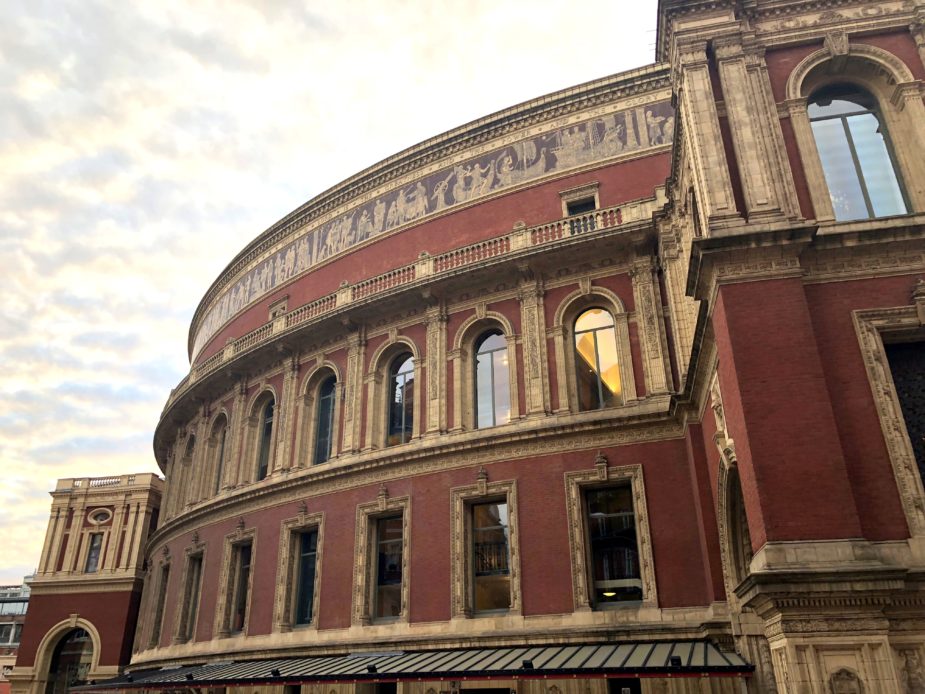 ~The Royal Albert Hall~
8. Knee-high boots with a slight heel (pack your toiletries and beauty styling utensils inside your boots to save space in your suitcase)
9. A sturdy pocket umbrella (James Smith & Sons are one of the longest running British umbrella businesses and used by the Royal household). You can order online (5-6 color options), or visit their shop in London for even more colors and patterns.
10. Short or long sleeve blouses (silk or light-weight material for layering)
11. Worn in, yet stylish walking shoes for those days when you will be visiting many places and be on your feet most of the day.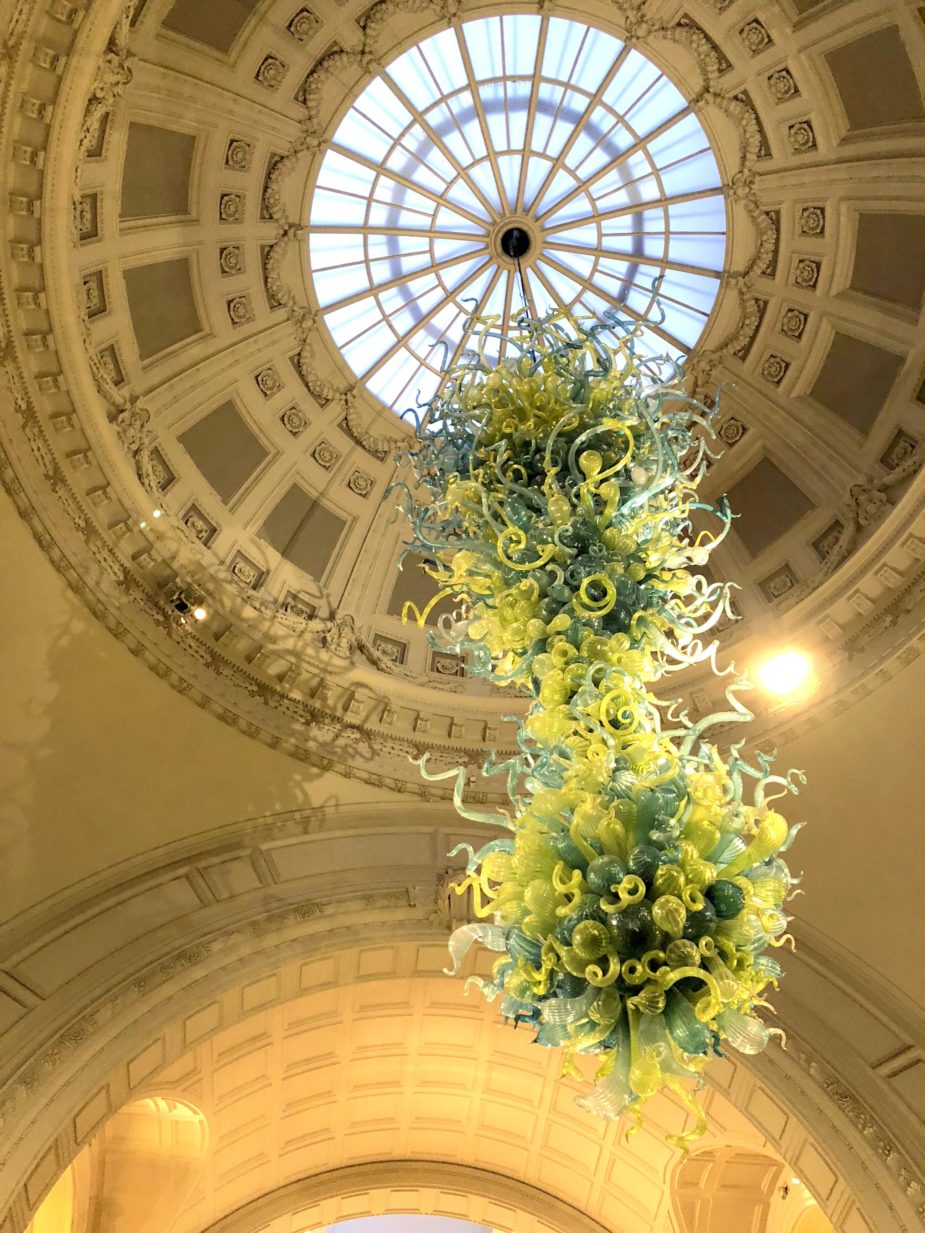 ~the Dale Chihuly scultipure see in the entrance in the Victoria and Albert Museum~
Country
GOAL: Layers for warmth when the rain fall in misty waves never-ending and days and evening strolling about the many towns and shops you come across as well as hikes about the hills and along the coastline.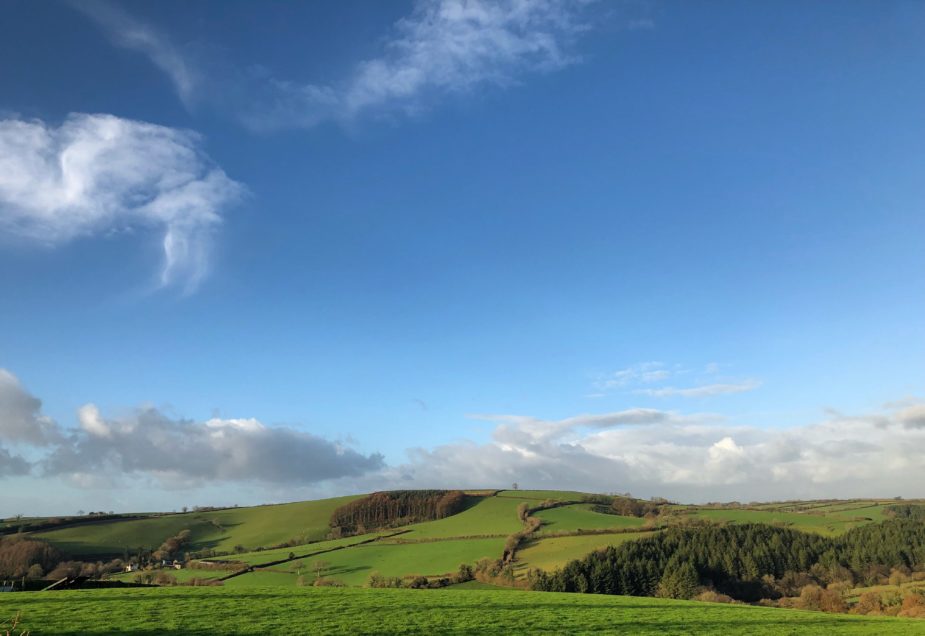 ~the rolling hills in Northern Devon~
1.Wellies, choose a size and shaft height you feel most comfortable wearing
2. A light-to-medium weight coat that is rain-resistant. I brought my Patagonia coat, and it was perfect.
3. A stocking cap. Primarily it misted often, but when it rained heavily, I stayed inside. If you will be outside when it rains heavily, bring a raincoat with a hood, such as these from Columbia available in many different colors and figure flattering.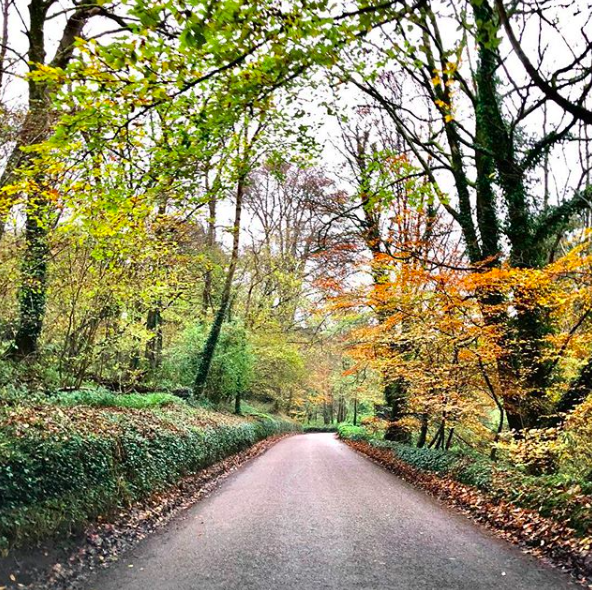 ~a quiet country road in northern Devon~
4. Jeans, comfortable for walking, but also capable of transitioning for a nice, casual outing. These J Brand jeans are a classic style - straight-leg - in a timeless color (darker blue is available).
5. Button-up collar shirts, I gravitate toward Shirtini's for their variety and classic cuts and colors
6. Gloves, water repellant, yet warm also
7. Flat or low-heel ankle boots
8. Light-weight sweater or long-sleeve tee
The lists shared above were based on my own travel experiences in the city and the countryside during my trip in November 2017. If you will be traveling in early autumn, bring a few lighter and shorter layers (sleeves, even shorts perhaps), but no matter when you travel during this season, if you pack items that layer well, you should be prepared for any occasion.
Of course, your go-to handbag for day and one for evening is a good idea to pack as well, and I have even purchased a blow-dryer, rather than worry about adapters as blow-dryers often have more wattage than my adapter can handle. This was a choice I made, and it just made it simpler as the blow-dryer was not all that expensive and I just stow it away in my closet for my next trip to Britain.
May you have the opportunity to visit Britain soon, and when you do, feel free to stop back by and share what worked for you!
~Click here for the SHOPTAGR App and to be entered automatically for a giveaway to win $250.
---
SIMILAR POSTS YOU MIGHT ENJOY:
~10 News Items & Inspirational Ideas for Anglophiles (September 2019)
~episode #185, Give Yourself Permission to be Awkward
~TSLL's Latest British Week Round-Up of Posts (May 2019)
~You Might Be An Anglophile If . . . (30 signs)
~London Perfect: A Traveler's Sanctuary
~My Discoveries in the Devon Countryside
---
Petit Plaisir:
~Floret's Flowers, purchasing bulbs in the fall for spring!
~Starting today (and they go fast, so shop soon), Floret's Flowers is selling their bulbs (daffodils, tulips, ranunculus and more) until they are sold out. Last year I purchased two packages of daffodils (40 total) that I fell in love with this past spring and have since brought with me to my new home. I am looking to pick up some tulips this time, and cannot recommend the quality of her bulbs more highly. Unfortunately, she does not ship internationally, but wherever you purchase bulbs, the fall season is the time to plant them so that in the spring you will be greeted from the long winter with their beautiful fresh colors.
---