Mon, 25 May 2020
10 Ways to Set Your Home Like a Luxury Travel Accommodation
Today's episode is a favorite from Season 1 of The Simple Sophisticate.
Episode #45 was the sixth top episode of the first season and continues to be a favorite with listeners as it shares 10 Ways to Set Up Your Home Like A Luxury Travel Accommodation.
In the times we find ourselves, I thought this might be just the episode to return to as we are still spending more time at home that we had anticipated especially as summer nears. Cultivating a sanctuary that beckons us to linger and we long to return to and spend ample time in has much to do with the details. And the details, the luxurious details, need not be all that difficult to acquire and welcome into our home.
I do hope you enjoy today's episode, and look for a new episode next Monday and for the month of June.
Click here for the detailed Show Notes of the original episode and listen to the audio version above.
~The above image is Chateau de la Barre located in the Loire Valley where I had the opportunity to stay three nights in the summer of 2018. Read this post—A Traveler or Tourist? The Difference —to see many more pictures of the interiors and the grounds, as well, have a look below at more images I shared on Instagram.
---
Sun, 17 May 2020
281: 18 Ways to Welcome English Country Decor Ideas into Your Home
British country homes evoke an image of comfort, cosyness and warmth. Partly, yes, because such warmth is mandatory living in a rainy environment, but also because they look and feel like such a welcome inside hug which is given immediately when the quintessential details are tended to.
Granted the above image is not an actual cottage as it was the set designed for Nancy Meyers' film The Holiday, filmed in part in Surrey. However, I chose the above image because when we design our homes to evoke the English country charm, Meyers achieved so much of it spot-on right. From the tufted ottoman, to the ottoman itself as the coffee table of choice, mixed prints, oodles of books and exposed beams, these details, as you will see in the list below resounding remind onlookers of English country style, and in this case a cottage.
In my own home I have been perusing frequently through The English Home magazines I have saved over the years, saving images that speak to me, images that offer a similar size or design of space and offer ideas for how to create an English cottage aesthetic.
I have begun to embrace wholeheartedly #1 on today's list in both my mudroom and foyer, and I look forward to welcoming even more wallpaper into my home. Hopefully if you too are wanting to welcome decor touches of the English countryside into you home, today's list will offer plenty of ideas to choose from.
Visit the full Show Notes on The Simply Luxurious Life — thesimplyluxuriouslife.com/podcast281
---
Sun, 10 May 2020
232: 28 Life & Style Tips from a Parisian Woman (top episode of Season 5)
Today's episode of the podcast is the top downloaded and viewed episode from Season 5 of The Simple Sophisticate podcast, and it's one I think you will enjoy whether you are hearing/reading it for the first time or the second or third time.
Full of oodles of life and style tips from Parisian women inspired by a book read in 2018, it also melds my experiences and observances from my travels and conversations and engagements with women in France.
Have a look at the detailed Show Notes from the original airing of the episode in November 2018.
As shared in today's episode, TSLL's 2nd Annual British Week will begin in six short days - Sunday May 17th. I cannot wait to share with you what I have come up with for the postings (two each day) and the giveaways (four in total).
During the intro of today's episode of the podcast, I shared how the giveaways will work. Two giveaways will be open to EVERYBODY and Two giveaways will be exclusive: One to Ad-Free Subscribers and One to TSLL's Weekly Newsletter Subscribers (those who have subscribed prior to British Week commencing this year).
If you are wondering what TSLL's Annual British Week is all about, I encourage you to check out last year's inaugural event. (click on the image below, or just click here.)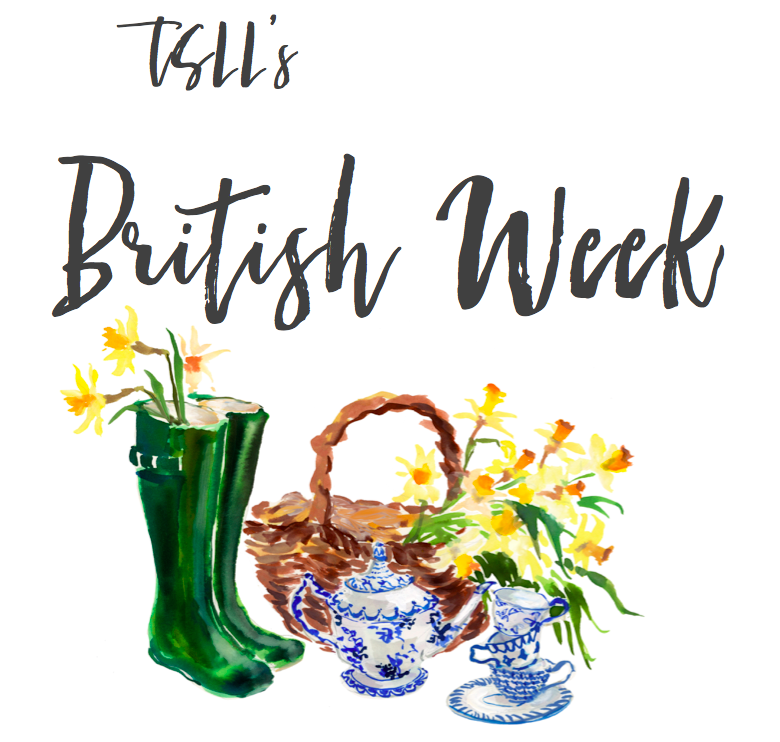 ~TSLL's 2nd Annual British Week: MAY 17 - 24, 2020~
SUBSCRIBE to The Simple Sophisticate podcast:
~The Simple Sophisticate, episode #232
---