Sun, 16 February 2020
277: Winter in Paris — The 15 Essentials for Timeless Seasonal Style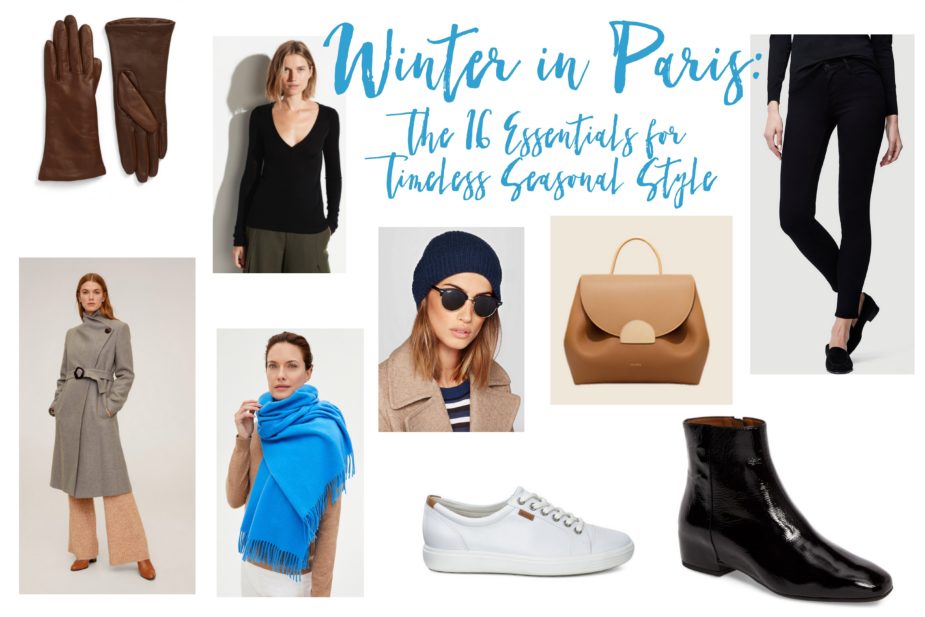 Last fall two episodes were shared delineating ideas for a timeless capsule wardrobe for traveling about in Paris as well as in London and the English countryside. As promised, the series continues into winter, and while we are nearing the end of winter, with the Paris fall/winter collections about ready to take the runway sharing their 2020 trends and inspirations, I thought this would be the perfect time to share how Parisians dress in the chillest months of the year.
Of course the uber style stars who will share their street style at the end of February as they make their way to and from the shows, and while I highly recommend taking a look at what they are wearing as even though they may be out of reach budget-wise and offer strong signature style that is hard or less likely to be imulated and simply admired, the color combinations, layers, and fabric choices are worth noting most certainly.
Today, let's return to Paris and take a look at the necessities for a timeless winter wardrobe whether you are making a trip for business or pleasure.
First of all, what is the weather likely to be during winter in Paris? Paris Perfect explains that the average temperature during the months of December, January and February is 42 degrees Fahrenheit, so about 6 degrees Celsius. With a 50% chance of cloudy and/or rainy weather on any given day, be prepared for moisture, and likely not snow (although on occasion snow does fall, but it doesn't last for more than a day or two - typically).
Depending upon where you call home when you aren't visiting Paris, 42 degrees Fahrenheit in the winter may feel chilly, not-so-bad or perhaps even warm for winter months. Whilst keeping all of that in mind, let's take a look at the list of essentials for your capsule wardrobe.
1.Classic, well-constructed cashmere or wool sweaters
Since you are in Paris, you will likely be inside most of the time, but walking from place to place. Keeping this in mind, fine cashmere sweaters would be the best as you can layer them for more warmth, but also not become over-heated while inside at your desired destination.
2. Dark denim
Dark colors in general will never be a bad idea in Paris during the winter. From dark denim jeans to dark pants, dark shoes and dark outerwear, the benefit of knowing this and having such items on hand is that you can easily mix and match and then add the pop of color as you feel necessary.
3. Black jeans
4. Waterproof leather booties (ankle boot)
5. Leather sneakers
6. A Warm Winter Coat - Puff, Pea Coat or something similar - long preferred
The air is damp, so when the wind blows or the temperatures drop, it feels colder than it may actually be. A long coat will keep your entire body warm while you wait in line to go to a museum or venture outside to stroll from one destination to another.
~Be sure to check out Mango for beautiful coats at great price points.
7. A Wool Blazer
For days in which it is not as chilly, but still the air has a nip, wear an oversized wool blazer with a scarf.
8. Lovely warm, scarves
From classic oblong scarves to large stoles which can be used as a blanket on the plane while traveling, pack one or two favorite scarves that will work with what you have and provide the warmth you seek.
9. A Warm Wool Hat
Leave the beret at home and pack a warm wool or cashmere hat that covers your head and ears. Black, navy, ivory or anything neutral so you can wear it with anything you have packed.
10. Leather, yet cashmere lined, gloves
11. Turtleneck
Yes, an additional sweater, but turtlenecks are lovely in their retro chic silhouettes. Whether fitted or oversized, choose a luxurious fabric that feels good on your skin, a high neck that hugs your chin and a color that works well with your wardrobe, all while perhaps adding a touch of pop or a subtle unique shade of something fabulous.
12. Cardigan
Granted a cardigan is a sweater as shared in #1 being a must-have while traveling around Paris, but a cardigan is a casual choice to have for the flight, for snuggling in either in the morning or evening upon returning from being out and about, and well, just a lovely winter staple to have on hand (and a necessary one in Paris during the winter).
13. A travel umbrella
Likely, your accommodations will have an umbrella for you to use, but having a packable umbrella with you wherever in the world you might travel is never a bad idea. As shared at the top of the post/episode, the liklihood that it will rain in Paris is 50/50, so it's best to be prepared as you won't want to wear a coat with a hood unless you want to stick out as a tourist, unless the coat looks something like this.
14. Shop for what you need while in Paris - pourquoi pas?!
In January, the semi-annual French Les Soldes takes place in which every shop will be having sales on everything, not just the items they cannot sell. Take advantage of this opportunity and shop for what you need while you are there, but also what will live and be loved for many years to come wherever you call home.
15. Totes and handbags
This recommendation will be the same as it was for Autumn - a crossbody bag for going about the city and a tote for travel days. Poléne's full and mini crossbody bags are ones I recently learned about and now have and absolutely would recommend.
Whether your favorite time to visit Paris is the spring, summer or fall or winter, whenever the opportunity arises to escape to the City of Light, it will be hard to say no. Knowing you will be well-packed will ensure you feel confident and comfortable as you walk and explore and savor along with the Parisians themselves with no one being the wiser that you are a tourist unless you let it be known. Most certainly, your sartorial choices will not give you away.
Stay tuned as I will continue this series for the spring and summer months as the year unfolds and Anglophiles, rest assured, a winter shopping list will be shared soon.
View All Other Seasons & Their Timeless Wardrobe Essentials for Visiting France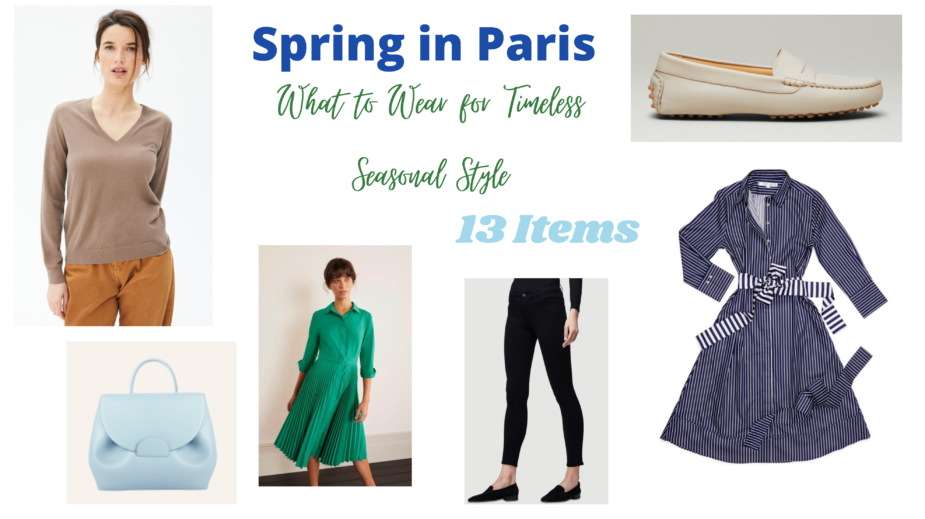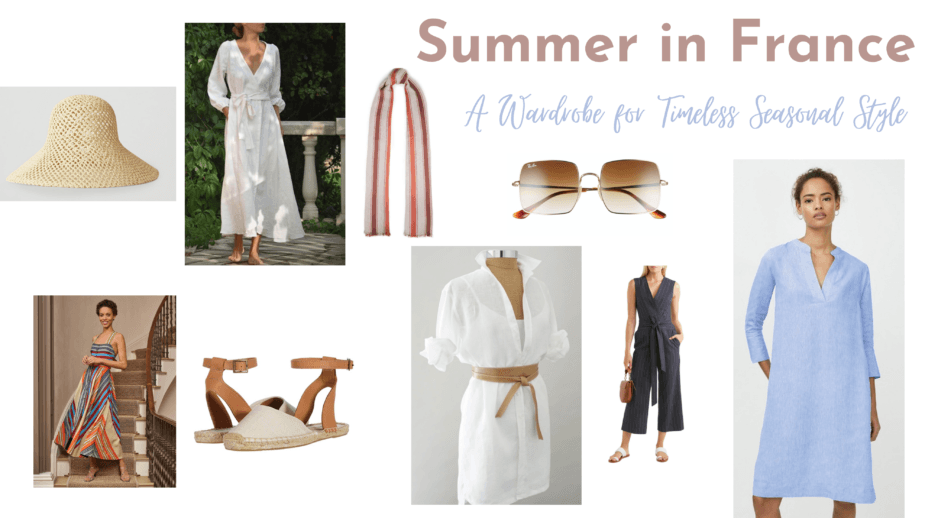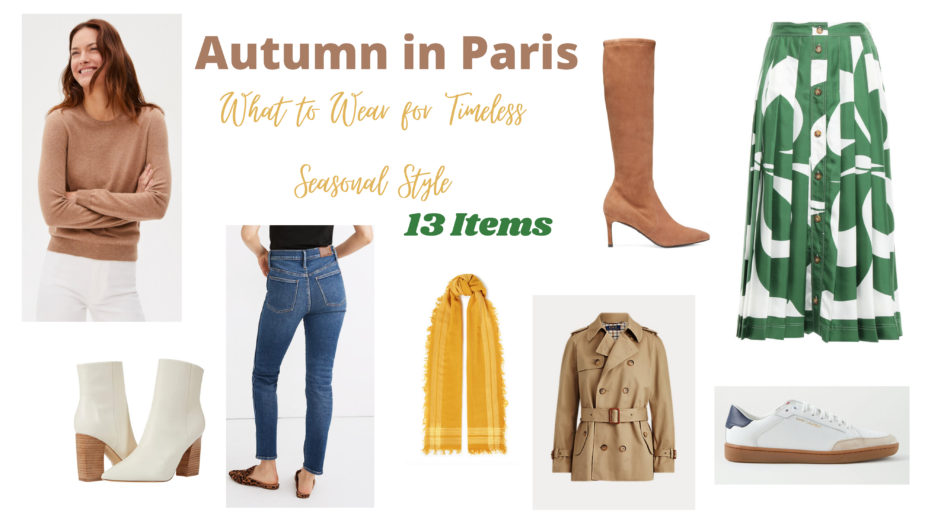 SIMILAR POSTS/EPISODES from the Archives You Might Enjoy:
---
---
---
Petit Plaisir
~My French Country Home magazine
~created and edited by Sharon Santoni of My French Country Home blog and travels
Images: Click through on each image to be taken to the direct source
---
Sun, 9 February 2020
276: The Art of Mise en Place
Mise en place in translation means is "set in place", often translated to "everything in its place".
Perhaps part of the reason cooking and baking can feel rewarding as well as relaxing is that there is a science to, and the unofficial science is something even the most novice cook in the kitchen can quickly learn - mise en place. But what exactly is it and what is the art of a truly effective mise en place? That is what today's post/episode is all about.
When I attended both Patricia Wells and Susan Hermann Loomis' cooking classes in France, mise en place was de rigeur. Each day upon arrival into their respective kitchens and to our assigned cooking stations, the food was already either prepared and arranged in the necessary bowls, or at the very least the ingredients were waiting to be prepared along with the necessary bowls. As well, the recipe was clearly typed and propped up and ready to go to ensure ease of preparation.
~fresh ingredients from the market for a
Niçoise Sala
d made in Susan Hermann Loomis' kitchen in Louviers, Normandy~
~Patricia Wells at her stove in Provence, Vaison-la-Romaine~
~Patricia Wells' stove in Provence; notice the collection of small dishes on the shelves, along with her cookbooks~
~Patricia Wells' stove, knives and measuring spoons on the right in multiple quantities; on the lift, cooking tools to be used at the stove~
~Susan Hermann Loomis in her kitchen in Louviers preparing food for the day of cooking. Notice the recipes situated at each station, along with the necessary ingredients.~
~Susan Hermann's stovetop~
As you will see in some of the images included in today's post, I was in awe and absolutely inspired by the organization in both kitchens. From Patricia Wells having multiple ceramic canisters complete with a label for multiple spatulas, peelers, and any other tool she would need to have her students use, to Susan Hermann's knives neatly and safely stored in the middle of her custom wooden kitchen island, every kitchen tool had a home, and all of the items we would need or that were regularly used were easy to find and thoughtfully placed where they would be the most handy to grab while cooking.
While mise en place often brings our attention to the recipe or meal we are cooking at the moment and the ingredients that are needed, in a larger context, mise en place is your kitchen, how you arrange it, how you work within it well, and the tools you welcome into your artistic space - your batterie de cuisine.
I have found my kitchen, especially my kitchen in my rental in which I lived for four years, to be indeed an artist's sanctuary of sorts because you are creating, you are exploring. Part of why I loved that kitchen so much (the kitchen you see in Seasons 1 & 2 of my cooking show) is due to how I felt completely at ease moving about it in, having enough space for everything I needed and everything being easy to locate and quickly so.
I am currently in the process of curating my new kitchen into a similar space so that I feel absolutely comfortable moving from here to there and finding exactly what I need. I look forward to making progress on it this spring if all goes well, and fingers crossed, hopefully have it ready to go for Season 3. But in the meantime, I am keeping in mind how a kitchen must be organized, how it needs to function for the cook that calls it home, that is the foundation of mise en place, and now let's talk about the benefits and how to create your very own successful mise en place each time you step into your own kitchen.
Benefits
1.Ensures you are prepared for the recipe you wish to enjoy
2. Saves time
3. Saves the food
4. Deepens enjoyment of the cooking experience
~The creative stand of hooks for mixing paddles, Susan Hermann's kitchen~
How to "Mise en Place"
1.Determine what type of mise en place you need
In theory, you will eventually come to a point where you tend to mise en place each time, but each recipe or meal or dish will be approached in its unique way. If it is a dish you enjoy frequently, such as a go-to breakfast, your mise en place will be a default you don't even think about any more.
In such a case, my steel oats is in a cannister by the stove with the 1/4 cup measuring spoon that I use inside, the chia seeds are in a cannister that I simply pour out of, also by the stovetop, the salt and butter on the other side of the stove, and voila, aside from the cream, when I include it, it remains in the fridge until it is needed.
Mise en place can be as simple as having your go-to items at the ready at all times, but it can also be for the detailed recipe in which case all of the ingredients are pre-measured and placed in their own separate dishes and bowls.
2. Read the entire recipe, twice.
Not only do you want to read the ingredients list, but be sure to read the instructions as well, and why I recommend twice is often I will read too quickly the first time and accidentially skip over something.
But even if you are a close reader on the first read-through, reading twice confirms the order you will need the ingredients as well as how they should be prepared - sliced, diced, left whole, etc..
Back to the ingredients: do you have what you need? enough of what you need? Double check.
If preparing your mise en place ahead of time, either the morning of or the day or two before, begin making a list of what you need to pick up at the market (and how much).
~fresh artichokes from Louviers' market and eggs as well~
3. Find the necessary dishes, bowls, containers.
As you become fluent in your kitchen, knowing which dishes you enjoy preparing and eating and sharing, you will with time begin to have the necessary dishes, bowls and containers you need. Along the way to building your batterie de cuisine (literally: kitchen artillery; otherwise known as kitchenware), use dishes that work well for what you need. They may not all look neat and properly sized, but they will work.
~Susan Hermann's collection of copper pans~
4. Find the necessary kitchen tools you will need and have them at-the-ready
Along with having the ingredients you need, locating and having at-the-ready the necessary tools will speed up the process and increase your enjoyment of the cooking process. Beginning with a sharpened knife, and the proper knife for what you are doing, having each of these tools ready to work for you is an often unstated, but vital part of an effective mise en place.
In Patricia Wells' kitchen in Provence, each utensil is given its own cannister and labeled.
5. Prepare the food as needed
From peeling, slicing, de-veining and cleaning the seafood or meat, tend to the food, so that as the recipe calls for each ingredient, all you have to do is quickly add it to the pan or bowl or grill or, you get the idea. :)
~mise en place at Patricia Wells' cooking class~
6. Place the food/ingredients in order of use in the recipe.
Depending upon whether you are left or right-handed, place the ingredients on the preferred side and in the order they will be added to the recipe. If items will not be used for some time, you can place them further away so they won't be knocked over or accidentially added, etc. .
7. Have a large bowl for discards and items to be taken to the compost or garbage.
Rachael Ray creatively called hers the "thanks for coming" bowl, and having such an item as part of your mise en place is a simple way of keeping your kitchen clean, or at least cleaner, as you make your way through your meal preparation. A large bowl enables there to be more workable space so you can swiftly move from one task to another without having to constantly clean up along the way.
8. Refrain from multi-tasking
As tempting as it may be, doing more than the task of cooking while you are preparing a meal increases the chances of overcooking, burning and therefore ruining the ingredients you have thoughtfully welcomed into your kitchen. Speaking from experience, even when I just cook my breakfast in the morning, when I go off to my office while the steel oats are cooking, there have been time when I have become so engrossed in what I was doing for work that I lost track of time. Respect the food, and give it your full attention until the cooking is complete.
Ideas to Improve Mise en Place
Keep a well-stocked épicerie at all times

Listen to episode #109 for a detailed list of the 34 items to have and why, or pick up my 2nd book, and read through Chapter 12.

Begin to gradually pick up small bowls and dishes that catch your eye at second-hand shops, yard sales and antique boutiques, even brocantes if you have the opportunity to travel to France. Not only is it fun to treasure hunt, but they will add your signature to your kitchen.
Assess what tools you need in your kitchen and invest in quality items.
Equally, upon assessment, begin to edit/remove tools you do not need to provide more space for those items you do, making them easier to find.
Set up your kitchen so that it works for you
I feel fortunate to have had the opportunities I had in attending both of the cooking classes with Patricia Wells and Susan Hermann Loomis over the past two summers in France. I continue to welcome their ideas and incorporate them into my daily cooking practice.
The primary purpose for mise en place is to make your time in the kitchen successful. Impressively, the number of dishes and the multi-course meals each class would enjoy every single time we sat down to dine for a couple of hours at first glance would have seen impossible, but when it is broken down into clear steps, ingredients and amounts prepped and ready, it seems all but impossible.
Hopefully you too will find even more pleasure when you step into your kitchen. I certainly have an even deeper appreciation as well as fondness for the time I spend cooking and preparing and of course, enjoying the meals that are created.
Have a look at videos from both of my cooking class experiences as well as the detailed posts that accompany each one below.
~cups and saucers in Susan Hermann's kitchen found over the years throughout France at Brocantes~
~ingredients for a fresh strawberry dessert at Susan Hermann's first day of cooking~
---
---
---
Check out The Simply Luxurious Kitchen and see Mise en Place at work in my very own kitchen!
---
Petit Plaisir
~Agatha Raisin, Acorn TV
~10 Ways to Enjoy Grocery Shopping
~How to Make the Most of Your Visit to the Farmer's Market No Matter Where You Live
~Subscribe to The Simple Sophisticate: iTunes | Stitcher | iHeartRadio | YouTube | Spotify
---
Sun, 2 February 2020
275: 34 Ways to Attain Emotional Freedom and Cultivate More Joy of Living
"Emotional freedom is a homecoming to your own heart and fullest power. It salutes authenticity, not conforming to someone else's notion of what to feel or how to be." —Dr. Judith Orloff, author of the New York Times bestseller Emotional Freedom: Liberate yourself from negative emotions and transform your life (2009)
The middle of the night, before you can fall asleep or early morning thoughts that swirl and fuel agitation, worry and fear preventing you from falling asleep.
The feeling of being lonely and falling prey to the purport by society that the simple solution is to find someone to be romantically involved with.
Ratcheted chronic anxiety that cements you from pursuing something new or chasing your dreams or simply enjoying your everyday life.
An assumed negative default in perspective when it comes to the world, the future, especially your future and what is actually possible no matter what your age.
In sharing each of these scenarios, maybe you most strongly identified with one, or maybe none of them spoke to you, but moments of one or two rear their heads in your life when your energy is depleted or life temporarily becomes exhausting. And hopefully, maybe you recognize your former self in one or more of these and now are able to celebrate having broken free of the counterproductive emotional patterns that were learned and accepted as "how life will be".
Wherever you find yourself on the continuum of learning the skills of attaining emotional freedom, after reading/listening to today's post/episode you will have a clear path forward for identifying with the latter description in the previous paragraph.
I picked up Dr. Judith Orloff's book because I needed to read it. I knew the skills I needed to improve the quality of my emotional life were lacking, but I did not know what they were or, if I had a sense of them, how to strengthen them.
Dr. Judith Orloff defines emotional freedom as increasing your ability to love by cultivating positive emotions and being able to compassionately witness and transform negative ones, whether they're yours or another's.
Choosing to become emotionally free is entirely the choice of the individual. Whether healthy emotional patterns were modeled by your parents or not, you can learn them, apply them and shift how you engage with the world, how you experience the world and thus how you move forward and elevate the quality of your life experience.
Visit the full Show Notes on The Simply Luxurious Life — thesimplyluxuriouslife.com/podcast275
---