Sun, 7 October 2018
228: 21 Parisian Decor Ideas from Ines de la Fressange's New Book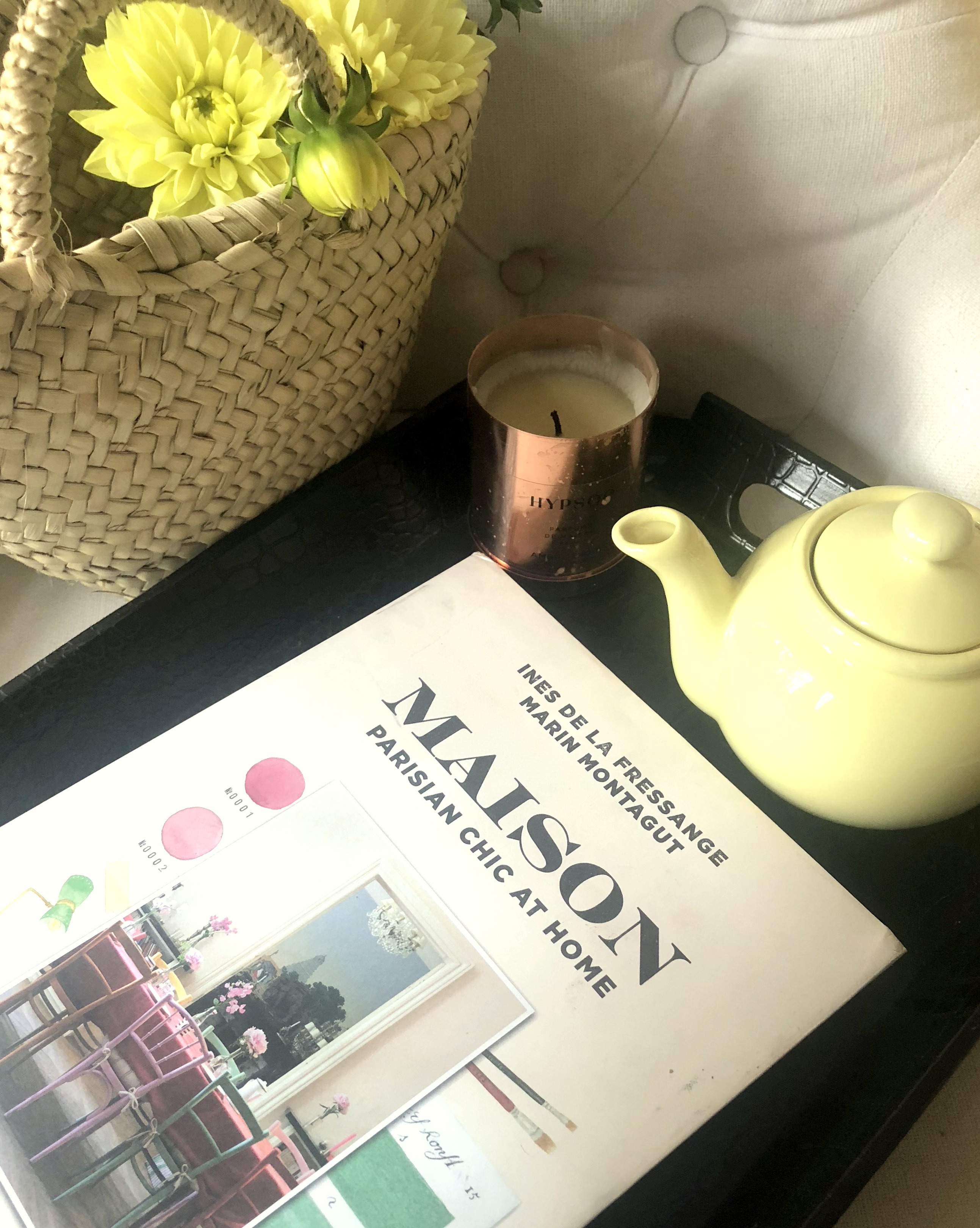 Home sweet Parisian home, whether you live in Paris or not.
Ines de la Fressange is stepping into the sanctuary with her new book Maison: Parisian Chic at Home (see my profile posts of her previous style books here, here and here), and along with her co-author Marin Montagut, they are both taking readers inside their own homes in Paris as well as inside 13 other Parisian apartments (the founder of Sézane, the duo behind the French decor and candle company Astier de Villatte, just to name a few).
With the opportunity to review a copy prior to its release just this past Tuesday, my decor curiosities are deeply inspired as while there are many reoccurring themes that must be Parisian go-to decor ideas, there was much reaffirming of the ideas I saw this past summer both in Paris, but also throughout the countryside. Many of which are simple and inexpensive ways to add your signature style to your sanctuary whether you rent or own.
I have created a list of 21 decor ideas found throughout the book, and if more than just a couple of these ideas speak to you, I highly recommend picking it up as the photography by Claire Cocano is intimate and brilliant, and the insights from the homes' inhabitants are insightful and offer even more creative ideas.
Most importantly, and this was something I spoke with a handful of people while I was in France, the goal with Parisian and even French decor, is not about achieving perfection. Rather it is about creating a sense of bienevue (welcome) to whomever enters, a sense of ease and the ability to live and live well amongst the four walls (and perhaps a terrasse). From the details of essentials in the kitchen, to the touch of the outdoors with ubiquitous bud vases, simple, thoughtful decor takes time and is unique to each individual who lives in a space.
1.Welcome a variety of textiles
Velvet, linen, hemp, damask silks are recommended by Ines de la Fressange for use on cushions, mattress toppers and other details about the home.
2. Add the light of candles
Recently a reader asked about my favorite candles, and I am happy to share. I couldn't agree more with this decor suggestion as while having flattering and welcoming light from lamps is a wonderful idea, the natural movement of a flame is a lovely complement. Below is a list of my favorite candles:
3. Use your "Sunday-best" tableware every day of the week
Whether the handmade ceramics you love or the treasures you found at a brocante while traveling or a secondhand shop by perusing, use them and enjoy how the presentation when you sit down to dine elevates the flavor (it really can!).
4. Collect old, slender glass bottles for single cut flowers
I am gradually adding to my collection and loving what I am finding. And even better, it saves money as you don't have to buy a full bouquet.
5. Use straw or raffia baskets (French market totes) in various sizes for storage
In the book, you'll see a picture of Ines' home closet in which she has multiple baskets storing socks (large), make-up and accessories (small).
6. Collect tools of your creative craft
Painter and co-author of Maison: Parisian Chic at Home, Montagut, collects painter palettes and arranges them into a collection or scene in his living space. Often found at garage sales for pennies, they would certainly provide much conversation and color in a home.
7. Keep your eyes open for details to add to your home
Perhaps it is an old farm door to add to your kitchen épicerie or tiles for a backdrop, you never know when a unique and signature find will be discovered.
8. Create a backdrop for everyday life
As shared about Ivan Pericoli and Benoît Astier de Villatte's apartment - their decor approach, is to welcome antiques (they need not always be expensive, perhaps more readily found in Europe, but such can be the case here in the states - secondhand shops often have many gems) and create a reading nook, a welcoming kitchenette, use beautiful ceramic dishes for everyday uses such as displaying fresh fruit, etc. to elevate the everyday experience.
9. Choose vintage lighting fixtures
I tend to always look up and around when I enter a space and upon seeing signature lighting fixtures cannot help but smile. It is the attention to such details that reveals something lovely about the inhabitant that tended to the decor.
10. Collect and pair or group demijohns
I saw many demijohns during my trip this past summer, and three of them were beautiful arranged in Sharon Santoni's cottage in which I stayed. Often they are sold with their wicker cover, but after removing the wicker, the green brilliance (there are many sizes and clear glass as well) adds a touch of life and elegance, as well as simplicity to a room.
11. Welcome handmade or handcrafted items into your home, especially your kitchen
While functional, these items are often quite beautiful and can be easily displayed for eyecatching decor.
12. A wall with many mirrors for multiple perspectives
Multiple homes featured in the book had a wall or a portion of a wall full of many different sizes of mirrors - one in a bathroom and the other in a living room.
13. Glazed terra-cotta jugs and carafes
Multiple purposes can be found in Provençal finds such as glazed terra-cotta jugs and carafes for wine, water and olive oil as they make a lovely presentation on the table as well.
~Olive & Branch Profile post
14. White walls, colorful decor
Morgane Sézalory, the founder of Sézane (France's leading online clothing company - see my most recent post on their fall collection) swears by a white palette (walls, ceiling, etc.) and lets the rest of her decor be thoughtfully colorful.
15. Collect vintage tableware and display it, don't hide it.
If you have plates, a tea/coffee set or anything made of ceramic or porcelain that you love, why not put it on display? Use it, of course as well, but when not in use, allow it serve as your decor as well.
16. Old wooden cutting boards are both functional and beautiful to display in groupings
Wooden cutting boards seem to be just about everywhere online - Food52, Esty, etc., and if you are looking for trays or additional surfaces to cut upon as well as serve food, this idea is a wonderful way to create a decorative touch as well as function on-demand.
17. Paint doors or window frames black and juxtaposed with green foliage
Depending upon the exterior or interior wall color, one apartment featured in the book had a beautiful black door with brilliant green wisteria draped about it during the summer months. The contrast was impressive.
18. Multiple bud vases filled with seasonal foliage or blooms
Sharon Santoni demonstrated this idea beautifully in her guest cottage this summer, and it immediately captured my attention. I love the uniformity of having the same varietal, but each having their own vase.
19. One long, open shelf in the kitchen for everyday essentials
Depending upon the layout of your kitchen, and if you do not have cupboard space, adding a single, long, shelf above your cooking space with beautiful brackets to hold it place is a simple way to add decor and function.
20. Select beautiful, simple glass storage containers for your food, and don't hesitate to use them as decor.
As I shared this past January, German Weck glass jars in oodles of sizes and shapes were my winter investment as I organized my kitchen cupboards; however, any glass container with a lid can enable you to store beautiful your food. Keep your eyes open and mix and match.
21. Add a globe
According to the book, globes are making a comeback in the world of decor - small or large, with ornate stands or simple, artistic bases, if the addition of a globe speaks to you, now is definitely the time to start hunting for one.
Whether you are a Francophile or a lover of signature style in your home, as you can see, it is the individual's tastes that will make the home beautiful. Having grown up with a mother who would take me to garage sales, and on other treasure hunts for the home, I thoroughly enjoy the details that I have welcomed into my sanctuaries over the years. Along with travel, when we have patience with the process and refrain from buying the same thing everyone else is buying from a big brand store, we share a piece of ourselves with not only our guests who cross the threshold into our homes, but we remind ourselves on a daily basis what inspires us and thus keep our creative side perpetually piqued and comforted as well.
To pick up your own copy of Ines de la Fressange's new book, Maison: Parisian Chic at Home, click here.
~View all of TSLL's French-Inspired podcast episodes here.
~Tune in to TSLL's new vodcast - The Simply Luxurious Kitchen
~Learn more about TSLL's Weekly Newsletter
Petit Plaisir
Trailer of Season 1
Trailer of Season 2
~The Simple Sophisticate, episode #228
~Subscribe to The Simple Sophisticate: iTunes | Stitcher | iHeartRadio | YouTube | Spotify
Sponsor of Today's Episode
the first 50 Simple Sophisticate listeners will receive a free Le Mystere makeup bag-
---
Mon, 21 May 2018
209: Adding French Touches to Your Life and Space at Home
~The Simple Sophisticate, episode #209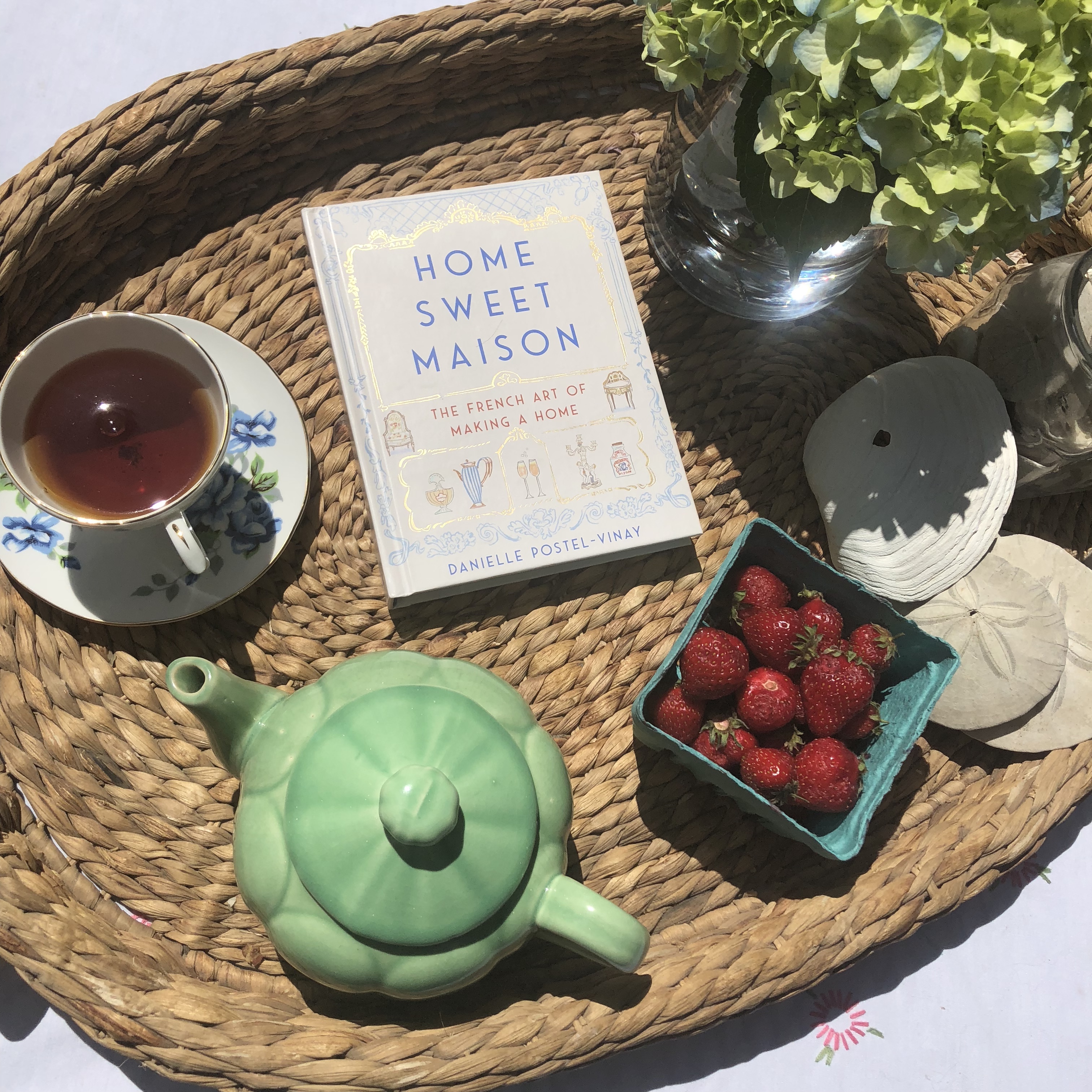 "Your home knows your past, it directs you toward your future, and it gives you the comfort of ritual. There is nothing on the planet that knows you and nurtures you like a home. You simply need to give it the tools to take care of you." —Home Sweet Maison: The French Art of Making a Home by Danielle Postel-Vinay
Whether we've lived in our home for years or only months, tending to our sanctuary is a near priceless gift we can give ourselves when it comes to our inner peace and well-being. Earlier this year author Danielle Postel-Vinay's new book Home Sweet Maison was published offering readers a tour of a home, room by room and how to incorporate what she has incorporated as inspired by the French culture and her French husband. The book is a personal journey, exploration and revelation of how by turning our attention to harness the power of our homes, we, as she shares in the above quote, give ourselves a most wonderful and powerful gift to elevate our everyday and ultimately the overall quality of our lives. Today I have selected 10 ideas that captured my attention, but there are many more within the pages of her book. As she shares in her introduction, "Take what you like and reject what you don't until you create a French-influenced home that is perfect for you."
1. Create a thoughtful entry/foyer
Make it unique. Introduce yourself to the world as this is where you greet the world and the world greets you. Choose a shelf or small table top to display your "memory theater" enabling guests to pause, look around and get to know you, if even to create a bit of mystery about the inhabitants. Your personal story and hints at dreams for the future can also be revealed. As well, make it functional - a coat rack or stand - to immediately allow guests (and yourself) to enter the home and begin to relax. 2. Give each room a purpose
"Fluid spaces introduced by the open floor plan [by Frank Lloyd Wright] create a sense of endless freedom and light in your home, the appearnce of unity and togetherness. But I wonder if this appearance of togetherness translates to actual togetherness?"
When we choose to give each room a purpose, we also communicate to ourselves the ideals we aspire to, a place to practice our values and share them with those we love. Whether it is the dining room being a space to gather tech-free and stay in touch with the lives of those we share the home with or our bedroom (le chambre) in which we share with most intimacy those welcomed into our personal sanctum, similar to our sartorial choices communicating without saying a word, our rooms communicate, encourage and support what we hold dear.
3. Embrace hunger and dine together at designated times during the day
Postel-Vinay sprinkles anecdotes of her French husband's foray into American cuisine and approach to food. Between the larger portions and not waiting to eat until a specified time so everyone can gather and the food can be appreciated, he encourages and reminds how feeling hungry is not the same as feeling starved. Hunger is not bad, he reminds. In fact, it elevates the appreciation for the next meal when it is time to sit down and enjoy.
4. Celebrate the food that has been prepared
Similarly to the point above, her husband is dismayed by the Americans' lack of appreciation for the food that was thoughtfully and with great time created to be enjoyed. An appreciation allows for an understanding of where food comes from and how it was prepared enabling diners to slow down, consciously enjoy the the food and thus not overeat. I also applaud this approach as it nudges us all to eat well and intelligently. In other words, what is it you enjoy about the food? What are you tasting? And you can then carry this into the kitchen to better understand how food is made, prepared, seasoned and its full flavor brought to the table.
5. Encourage all to participate and all topics to be discussed
While some may adhere to the edict of not talking about politics or religion at the table, I would propose, it is how we talk about these topics at the table that ensures that thoughtful, yet still impassioned conversations on any topic can be had. When we ignore our audience and choose to commandeer the table as our bully pulpit to share our opinions, then we have relinquished respect for fellow diners, but if instead we engage in thoughtful, elevated, conceptual conversation, all people can consider, some may learn, some may accept and some may rise to the challenge to offer another thoughtful opinion demonstrating that so many ideas have many shades of grey. As well, Postel-Vinay shares that the French encourage all guests at the table to speak, even the children. Practicing conversation and listening skills, but also demonstrating how to participate in a conversation which leaves no one out and recognizing when someone is monopolizing the conversation is a life skill for any situation involving effective communication.
6. Cultivate a boudoir (which is not the chambre, or bedroom)
"a place of refuge, somewhere to go when the world [is] too cruel, a safe place to let one's guard down"
I too learned more accurately what a boudoir is I mistakenly equated it with the bedroom. But while tangent to le chambre, it is the room or space which leads or precedes the bedroom. Perhaps the lounging area of private gathering complete with a chaise lounge or dressing table or a meditation room off to the side of your master suite; however you want to decorate your boudoir is up to you. The key is you. While Postel-Vinay shares, such rooms are not found as much anymore in France; however, to create a space in our homes for "personal retreat" and a space to "reflect your personal taste" seems to be a worthwhile return to the past.
7. Keep the bedroom private
In other words leave the bedroom off the home tour.
8. Choose neutral high quality cotton sheets for bed linens and avoid of fancy patterns
Simple, timeless, sensuous and beckoning. Our bedrooms need to be a place of refuge, escape and where restorative slumber takes place. Here is a detailed post about curating a bedroom for comfort and tranquility.
9. Choose a boutis quilt for summer bedding covers
Often found in the south of France, Provençal traditional quilting offers boutis "in which a thin layer of cotton, silk or wool batting is covered on both sides with thick cotton fabric, then quilted."
10. Take the television out of the bedroom
For sleeping, reading and intimate moments with your partner. That's it. That is all that is needed. Keep it simple, keep it brilliantly lovely and a space you look forward to returning to at the end of the day. ~SIMILAR POSTS FROM THE ARCHIVE YOU MIGHT ENJOY:
~11 Ways to Make Any Home Your Sanctuary, episode #105
~How to Set Up Your Home Like Luxurious Travel Accommodations, episode #45
~22 Tips for Creating a Grown-Up's Living Space
~Submit ASK SHANNON questions for the June 25th episode (email by June 12th)
~Stop by on June 13th for the reveal of TSLL's 2nd book and the beginning of preordering.
Petit Plaisir: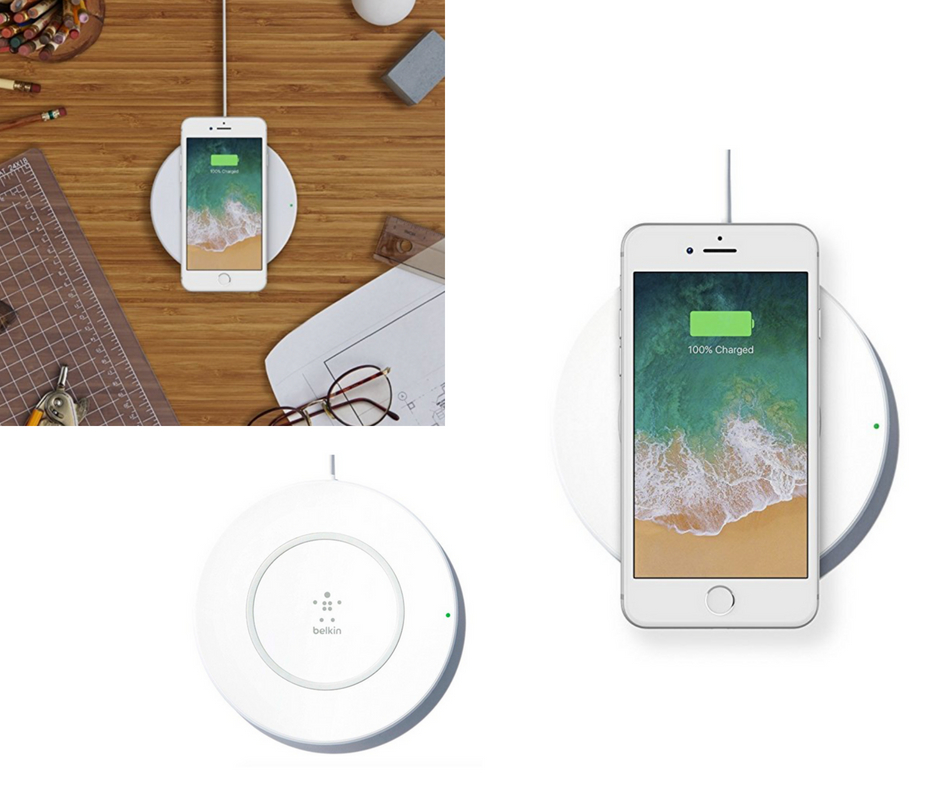 ~SPONSORS of Today's Episode:
Troos skincare & apothecary - www.troosskin.com

promo code: SIMPLE for 30% off your purchase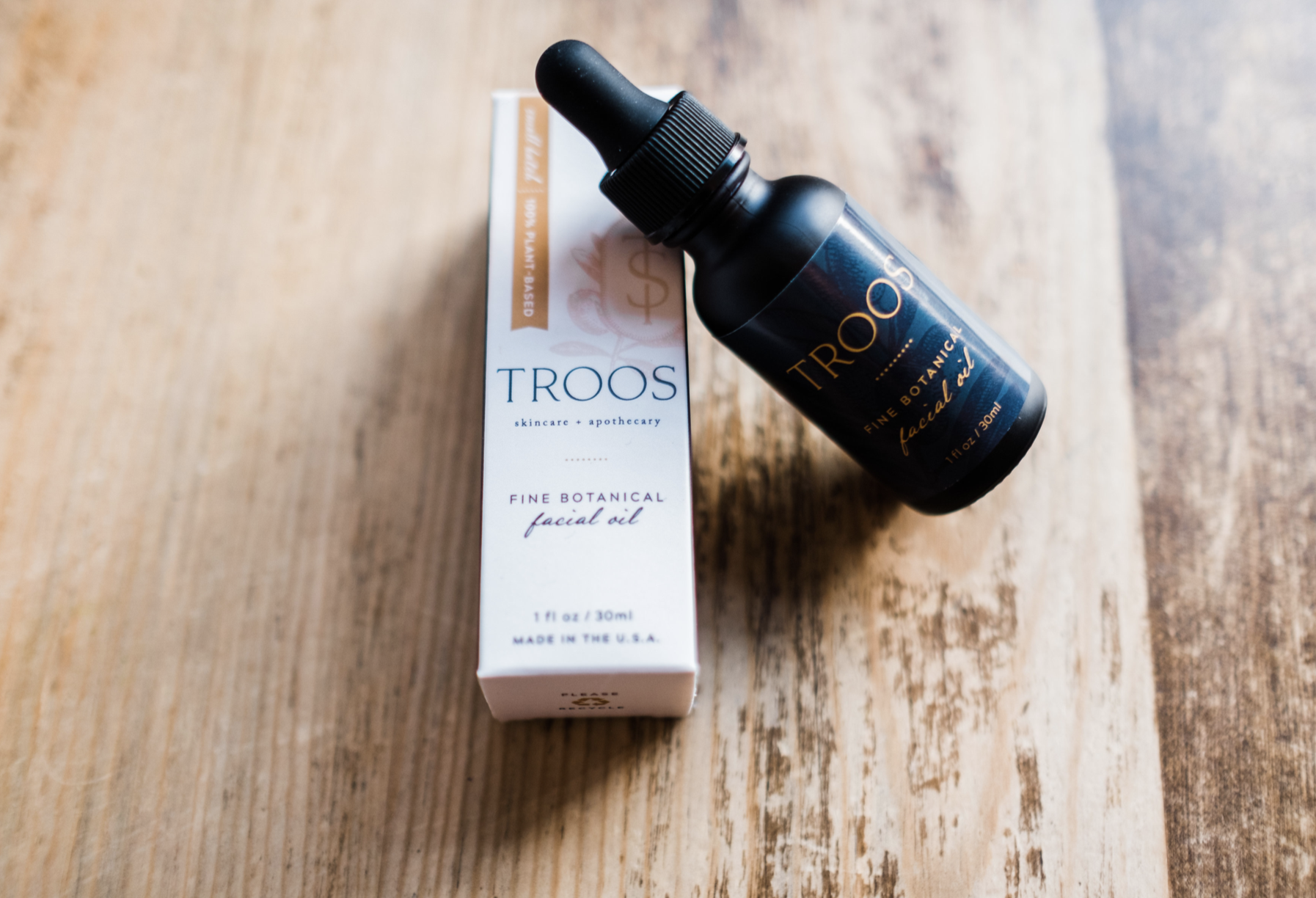 HelloFresh - www. hellofresh.com/sophisticate30

promo code: sophisticate30 to save $30 off your first week
---
Mon, 30 May 2016
105: 11 Ways to Make Any Home Your Sanctuary
Whether you own or rent, whether your place is large or small, even if you've lived in your space for decades or only a few months, these 11 simple tips will make your home your new sanctuary all without calling a contractor or breaking the bank.
In this week's Petit Plaisir, discover a book that will improve your sleep and improve the overall quality of your life: Arianna Huffington's new book The Sleep Revolution: Transform Your Life One Night at a Time
---
Mon, 24 August 2015
56: Interview with Frances Schultz
Author, blogger and decor expert Frances Schultz's new book The Bee Cottage Story: How I Made a Muddle of Things and Decorated My Way Back to Happiness is the focus of today's discussion. And while the premise of the book is all about how she restored her 1920's East Hampton's cottage, it also part memoir as readers discovery her journey to arrive at the place she is today, fulfilled, content and full of wisdom.
Topics of happiness, meditation, authenticity and yes, even decor are discussed.
In today's Petit Plaisir, I share my top 10 decor tips and ideas from the pages of The Bee Cottage Story by Frances Schultz.
---
Sun, 12 July 2015
45: 10 Ways to Set Up Your Home Like a Luxury Travel Accommodation
If you've ever wanted to bring the comfort and luxury home with you after traveling and staying in lush living arrangements, whether a luxury hotel or vacation rental, in today's episode you'll discover 10 simple and inexpensive ways you can live a little more luxuriously right at home.
In this week's Petit Plaisir Shannon reviews the film The Woman in Gold the film and shares her experience visiting the Neue Galerie where the original Portrait of Adele Bloch-Bauer I hangs.
---
Sun, 22 February 2015
26: How to Style a Bar Cart
If you enjoy living simply, but also enjoy entertaining from time to time, a bar cart is a wonderful, efficient way to combine style and function without the fuss. In today's episode, specific styling tips are shared on how to style your bar cart for your lifestyle whether it be a morning display full of pastries and tea, an evening of wine or a fully stocked mixed drinks bar, tune in to see why you may just want to add one to your sanctuary.
---