Sun, 16 September 2018
226: Understand This Tricky Paradox of Control In Order to Improve Your Life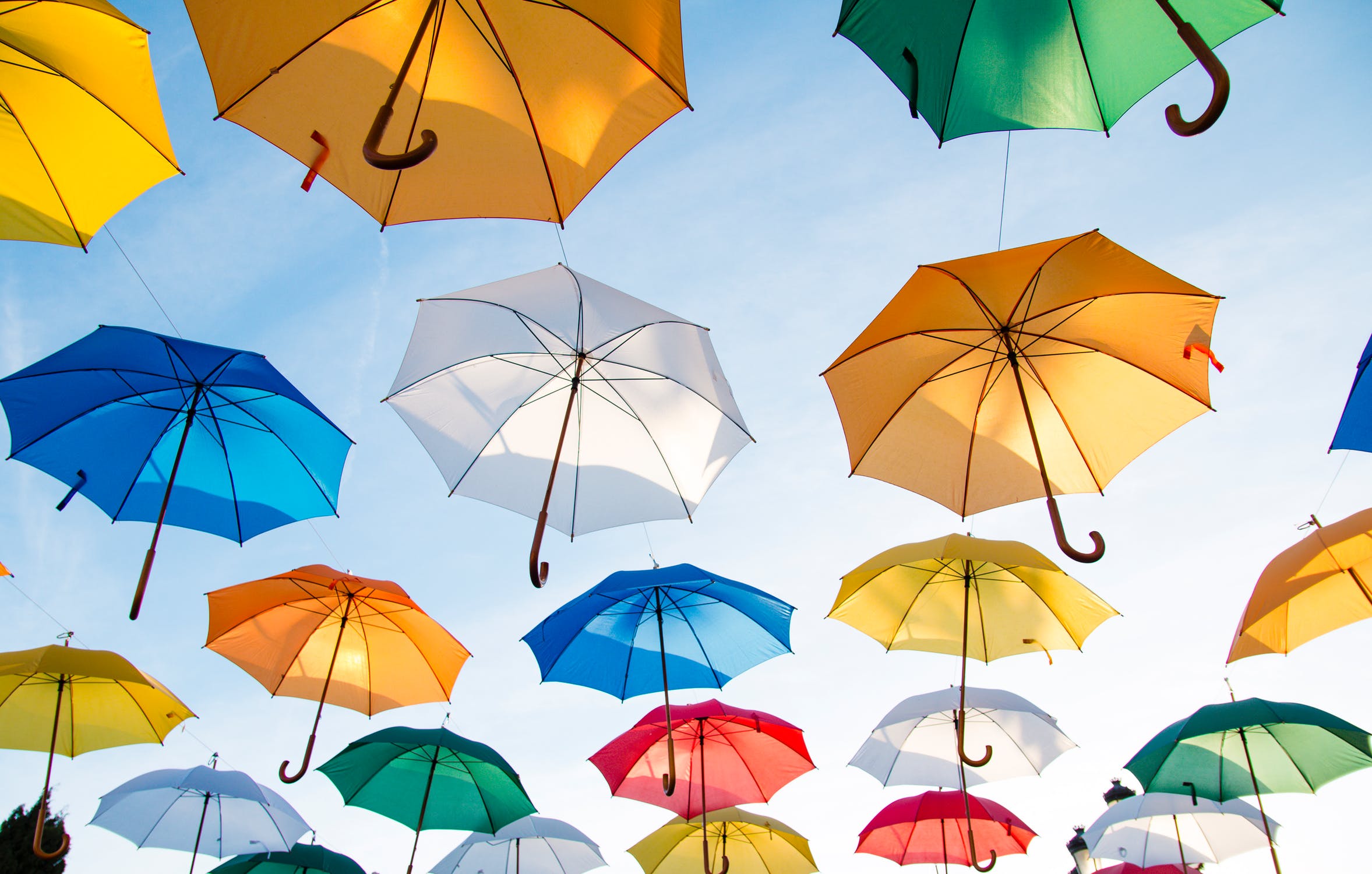 ~The Simple Sophisticate, episode #226
~Subscribe to The Simple Sophisticate: iTunes | Stitcher | iHeartRadio | YouTube | Spotify
Imagine you are walking upon a balance beam in a gymnastics center. Imagine your core is tight, your shoulders are back, your chin is parallel with the beam and your legs are engaged. And your eyes are focused not down, but at your desired destination - the end of the beam.
In this moment, you are engaging your full body and mind. You are breathing deeply and steadily. You are keeping your heartbeat calm and external noise and distraction is being ignored. With each step, it is thoughtful, it is with intention and your posture reveals confidence, yet ease.
In good time, you reach the end of the beam without any significant wobbling.
I share this image with you because the key to control is to let go of trying to control it all. More precisely, the key to control is to recognize the only detail you can control is yourself, and everything outside of your being needs to be relinquished. The weather, the words and behavior of others, the outcome of a vote, whether someone - a boss, a potential friend, a date - will choose to return our call or offer us a job - is beyond your control.
So often we expend an enormous amount of time, worry and energy on trying to control others and outside circumstances that we no longer have energy to tend to what would make the most significiant difference - our emotional being, our mental muscles, etc.
One of the few sports that is purely within the hands of the athlete as even the weather is not a factor is gymnastics. There are others such as swimming and figure skating, but today I'd like to use gymnastics because we're talking about balance without any accoutrements. It is purely the body and the mind working together.
Knowing what is in our control is important to navigating daily events that we cannot predict.
How much you express appreciation verses complaining and worrying
Knowing your emotions and why you feel them - check out Dr. Gloria Wilcox's Feelings Wheel to narrow in on the specific emotion. (I talk more about how to use this wheel in the audio version of this episode).
Come to be aware of what triggers positive and negative responses. (Again, use the Feelings Wheel to understand why.)
Recognizing when you want to react and knowing when it would be best to instead not respond when requires of you to take some distance, collect your thoughts and then engage if it is necessary.
Understand what drains you
Understand what refuels you
How you manage your time
How you take care of your health - food, exercise, and mind
What you choose to learn and seek out per your curiosity
Decide to show up in a way that you feel proud of

Invest time into developing skills that will improve the quality of your life you wish to strength - relationships, communication, a technical skill, a social skill, a new craft that engages your interest
Solidify a way to move healthily through tense moments - do you forgive or do you harbor anger, do you move forward or do you remain in the past and stew?

When we understand that we cannot hold on tightly, but instead need to exude clearly our boundaries, but also the peace we have with ourselves, we free ourselves from worrying about being hurt by a partner, mistreated by a boss, or ignored by a child.
There is no guarantee that we won't be hurt, that people won't disappoint us, but what it does do is put the ownness on each of us to front-load. What I mean by front-loading is we need to step into any relationship, situation, community, etc. without assumption of how others will behave. Instead we need to step forward with a clear understanding of how we will handle ourselves, how we will invest in building relationships, how we will invest in strengthening our mind so that when our thoughts are swirling, we can recognize this and understand we were triggered and now is not the time to speak, or conversely, I am prepared, I am calm and I am ready to speak with clarity and confidence knowing that not everyone will agree, but I shared what you feel needed to be known (just as an example).
Losing our balance will occur even to those of us who invest in controlling what we can and letting go of what we cannot. In those moments, we need to not blame the circumstances so much as our ability to be ready to handle it. For example, if we have said "yes" to too many events this week, and the seventh of seven outings during the week finds us short-tempered, exhausted and/or hyper-critical of others, if we are in tune with our emotions, if we know the difference between being well-cared for (self-care), we need not blame anyone outside of ourselves. This is just life's way of reminding us that we need to be conscious of our needs, understand the importance of saying no out of not only self-preservation, but self-care so that when we are involved, we can do so well and add a positive contribution. And when we model this, we help those that look to us care for what they have control over as well and not project their frustrations and exhaustion onto others.
When we burden others with the responsibilty of making us happy, we are being unfair to them. But on the flip-side when we take responsibilty for developing the skills we can finesse so that we can enjoy our days and thus our lives no matter what is going on around us, we strength and put at ease those in our lives and model how to weather difficult patches as well as savor the goodness that life wants to share with us each and every day.
SIMILAR POSTS/EPISODES YOU MIGHT ENJOY:
~Learn more about TSLL's weekly newsletter here
~Tune in and view TSLL's new venture into vodcasting!!! The first two episodes of The Simply Luxurious Kitchen are available for viewing. Have a look here.
Petit Plaisir: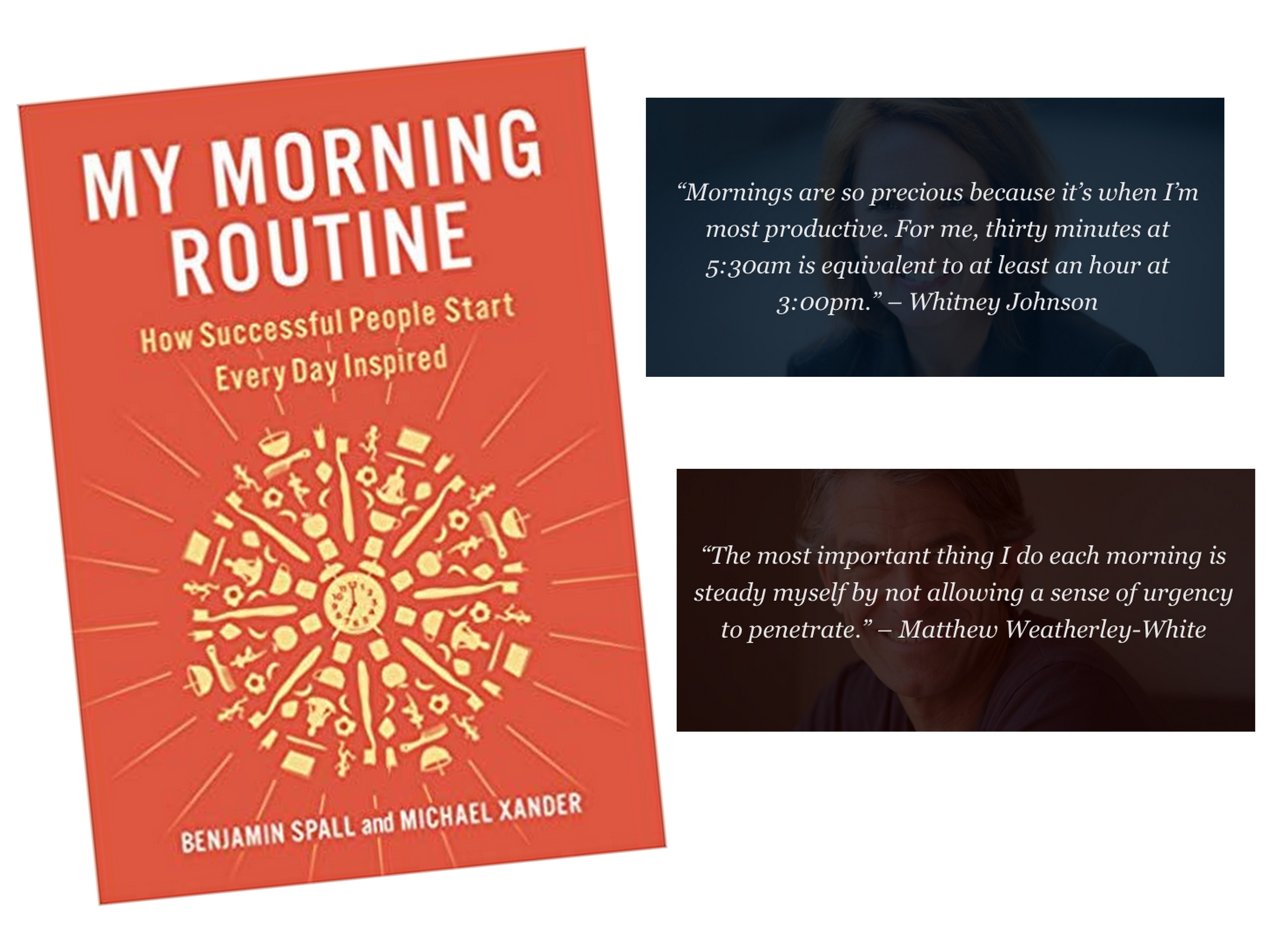 SPONSORS OF TODAY'S EPISODE:
RX Bar

Enjoy 25% off your first order with promo code SOPHISTICATE
---
Sun, 9 September 2018
225: Trust the Transition: How to Step Through and Embrace the Change You Seek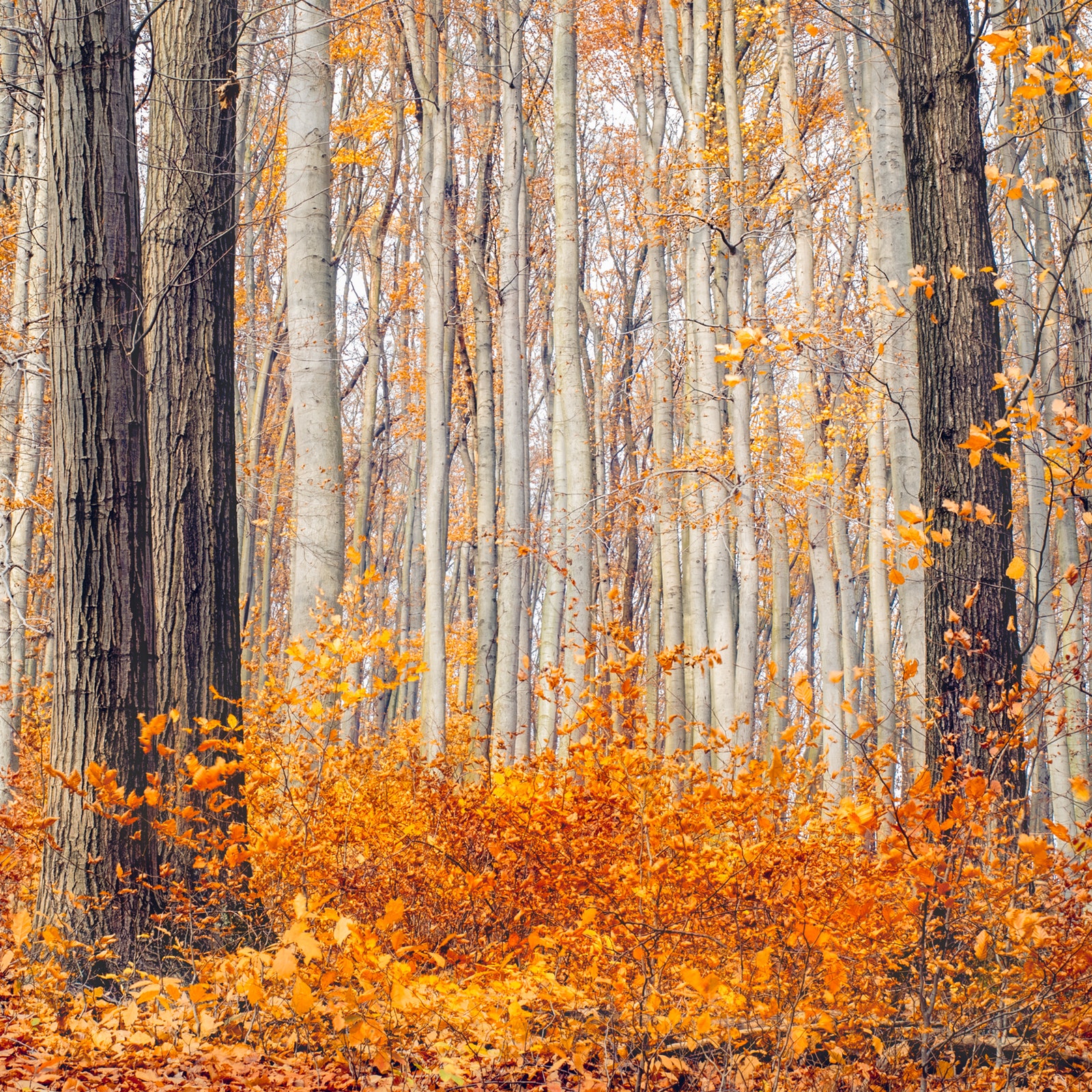 "Times of transition are strenuous but I love them. They are an opportunity to purge, rethink priorities, and be intentional about new habits. We can make our new normal any way we want." —Kristin Armstrong, three-time Olympic gold medalist - road cycling
As September arrives I find myself torn between the schedule I love during the summer months and the rigorous schedule I know that awaits me with school's commencement.
It doesn't mean I don't enjoy what the new school year brings - new students, new connections, an energy of excitement and curiosity that is a large part of why I love teaching, but when any transition knocks on our door, if we are happy with where we are, it is hard to welcome it in. No matter what amazing opportunities it may be bringing as a hostess gift.
In such a scenario where there is the gift of what we have loved and the potential for something awesome to be revealed as we go through the transition that is letting us know, that just the way it is, if we shift our perspective to one of gratitude, the moving through and forward becomes easier.
How fortunate are any one of us to not remain stagnant? Think for a moment about a stagnant individual. They may feel safe, they may feel certain, but such certainty is false. After all, as children the reason it is imperative that we learn how to communicate, how to care for our bodies and feed our minds is to initially survive, but then to thrive and enrich our lives. This momentum, this way of life is a good way to live our entire lives. Why? Because the world never stops shifting, progressing and offering opportunities to improve. Never.
It can be tempting as adults when we think we have figured it all out to slow down, and even stop and just be. This is not to say we shouldn't relax from time to time, find a healthier balance, etc., but so long as a new generation is graduating, growing up and trying to find their place in the world, there will always be new ideas, and often, so long as we remain nimble, we can benefit from them as well, and even partake in the sharing of knowledge.
Part of a civilized society is knowing how to move and work together with a diverse breadth of people, and along the way enabling all to find their way without taking away the basic rights of any human being who is living consciously and respectfully of others.
With all of this said, transitions can be scary or exciting, exhilarating and even full of learning opportunities. It is simply a manner of how we view them. Today I'd like to share with you eight ways to step into and through any transition that you may be confronted with at the moment, and even go so far as to embrace it.
Grasp the reason for the difficulty
Psychologist Shannon Kolakowaki points out that a significant reason for the difficulty of any transition in which are lives are changing as we once knew them is because our identity, how we may have defined ourselves or were seen by others, is changing.
Recognize the power you are giving the transition to affect your emotions
Psychology Today reminds that there isn't a predefined type of transition that is harder than another. We give a transition the power of either being difficult or easy to maneuver through. In other words, our minds play a crucial role in how we approach the changes we are going through.
If we choose to see the transition as an opportunity or a goal we have worked long and hard for, such change would be reason to become excited; however, if it is a change that is thrust upon us, we can drag our feet and make it even more difficult by fighting what is inevitable.
Honor the transition
Any life transition, whether it is relocating to a new city, moving through a divorce or going through menopause benefits being recognized for playing a role in our life journey. As Sonia Choquette shared in our conversation about her own divorce after more than 20 years, she wasn't angry at her ex, but rather appreciative for the love and time that was shared, but also observant that it was time to move forward.
One of the hardest transitions in nearly everyone's life has been found to be the relocation from a home we have felt safe in or found great peace. During such times of transition, pay homage in your own unique way in order to provide closure, but also to celebrate the time you spent and the memories that will forever be with you.
Become a great student of the transition that awaits
When you know a transition is in your future, perhaps transitioning from college to a career or from a career to retirement, become a student of the transition you will inevitably go through. By learning all that you can, you maximize the experience, enabling it be as positive as possible.
Reflect and remind
Everyone goes through some type of transition throughout their lives, and often many. If we take a moment, we probably have moved through some transitions quite effortlessly because we didn't think twice or try to fight it. But on the flip-side, there were inevitably transitions we can remember vividly - during adolescence, making career changes, making relationship changes, making lifestyle changes.
As you go through the transition you are in at the moment or will be in due time, reflect on those transitions that went well for you. And even regarding those that were hard, assess why they were hard and how you can change what was in your control to improve the next transition in your life.
Celebrate the opportunity for a rebirth of sorts
Whether the transition is something you want or something you'd prefer not to have to go through, shift your perspective. Something as common as getting older, shift how you perceive "getting older". As we are seeing today, those in their fifties and sixties are far from what I recall of generations past in the same decade. With more knowledge, comes better ways of living and improving the quality of one's experience. In such an instance, celebrate all the experience and knowledge you have acquired and keep using those tools to learn more, explore more and enrich your life even more as well.
Surround yourself with positive energy
Maybe you have children who are leaving home for college which opens up your schedule, maybe you are moving into a different line of work - taking on more responsibility, maybe you are returning from a life-changing experience and want to transition into a new way of living. Whatever your transition is, step fully into it and spend time with those who will support you along your new path.
As there will be times of excitement where new adventures and experiences have your full attention, there will also be times when you question what you have chosen to do (or if not chosen, question if you can be as happy as you once were). In these moments, having people that will be understanding of your journey, but not wallow and wax nostalgic about the past, wishing in some small way, that the way it was would return, is imperative to navigating successfully through these hiccups that are inevitable.
The good news is that they will subside, but perhaps never entirely disappear. After all, that is a good thing, in my opinion, as it means your journey has been rich, memorable and deeply and intensely lived fully.
Trust that what is not being revealed is worth seeing and experiencing
Even when we do step eagerly toward a new way of living, we can begin to doubt that we made the right decision. When in fact, what you are feeling is probably fear rather than doubt (read this post - The Difference Between Being Scared and Having Doubts). And if you are feeling fear, it is actually good sign as it an indication that you are indeed living a life that is true to your most authentic self. Why? Because what you are feeling in that moment is a deep ache for what you wish you attain, or a way of living you wish to make your own. If you didn't want it, if you didn't believe in it, you wouldn't be fearful that it wouldn't happen.
The universe will not tell us how it will all work out. Nope, that is where faith in yourself, trust in your instincts about what is best for you and what you are willing to work for comes into play.
Transitions are opportunities. If we shift our perspective to accept this, the journey through them becomes far easier to navigate and even at times quite pleasurable to enjoy.
SIMILAR POSTS/EPISODES FROM THE ARCHIVES YOU MIGHT ENJOY:
~The Simply Luxurious Kitchen has begun its first season! View the first episode here and tune in each Saturday morning during September and October for a new episode.
~Sign up for TSLL's Weekly Newsletter
Petit Plaisir:
~Visit your favorite local bakery to pick up a fresh loaf of bread for the week.
Whether you enjoy toast in the morning (such as avocado toast), bread for sandwiches for lunch or bread with dinner, knowing it is homemade and a varietal you love welcomes a simple extra flavor to your week.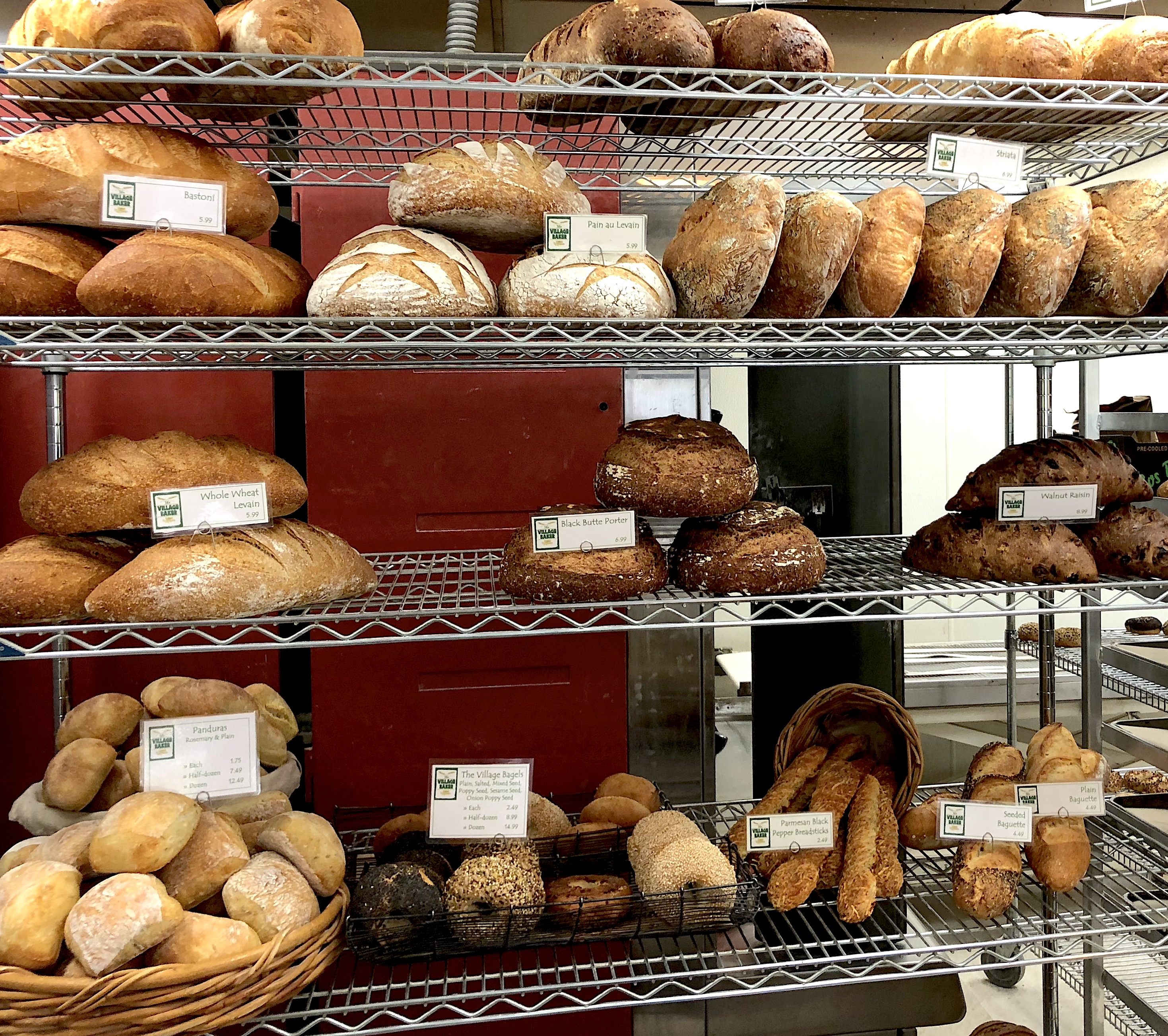 -my weekly fresh bread pick-up at a favorite local bakery in Bend (I often pick up my loaf bi-weekly as I freeze half of the loaf)~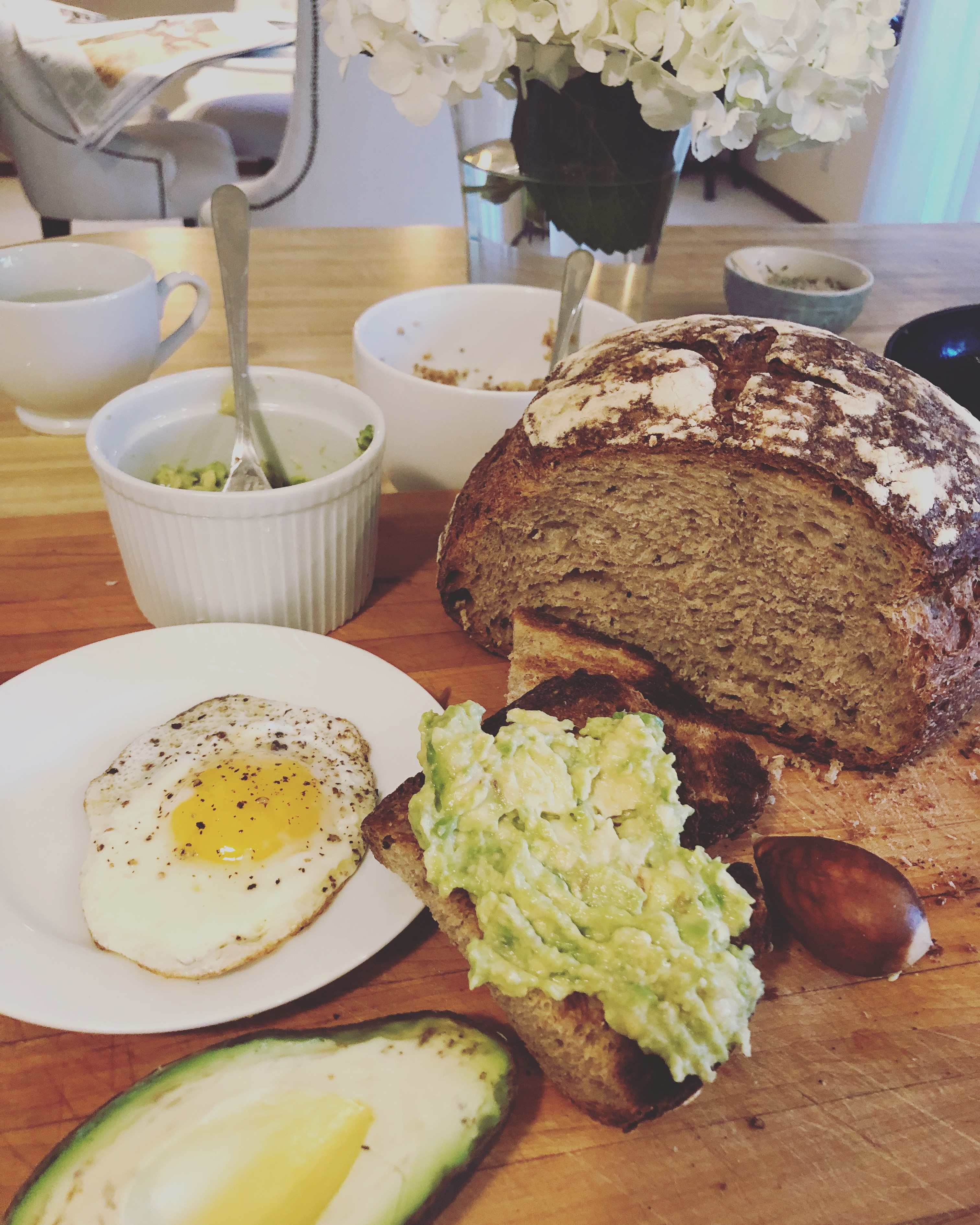 ~my favorite loaf from the bakery - Black Butte Porter - in use with my breakfast avocado toast (recipe here)-
Sponsor for Today's Episode:
~The Simple Sophisticate, episode #225
~Subscribe to The Simple Sophisticate: iTunes | Stitcher | iHeartRadio | YouTube | Spotify
---
Sun, 2 September 2018
224: How to Welcome Simplicity Into Your Life: Live Differently for One Month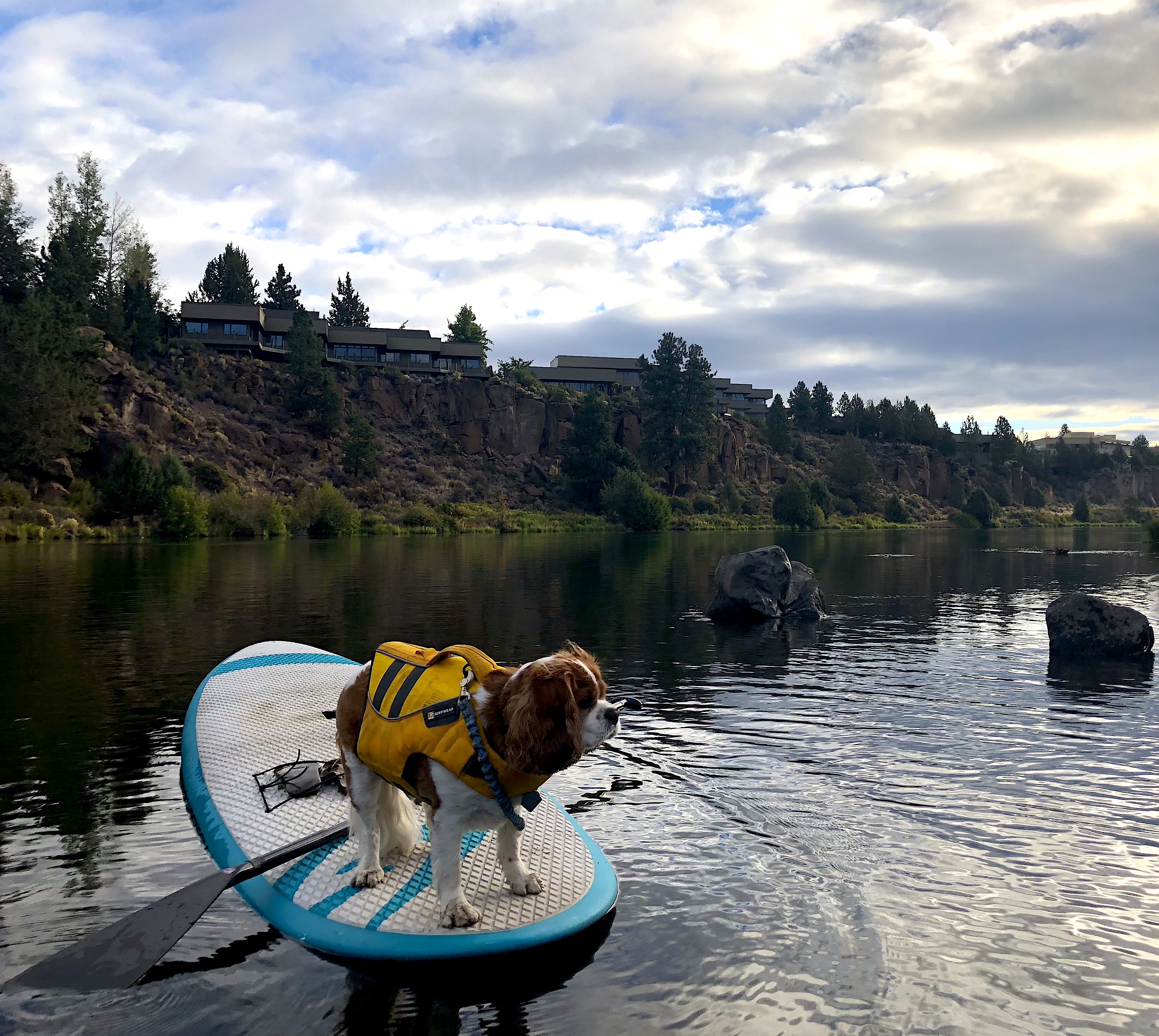 "One of the greatest challenges we all face is to find a happy balance between the opportunities that are available to us, the media-implanted urge to have them all, and our own desire to keep focused on the things that really matter." —Elaine St. James in Living The Simple Life: A Guide to Scaling Down and Enjoying More
Momentum is a powerful source of energy, and even though I am far from being a physicist, I understand the basic concept that since all objects have mass, and if an object is moving, it will have momentum, thus power/energy. We are objects of energy when we keep our schedules and lives running.
Whatever pace you are moving at currently, if it is a pace you have become accustomed to for some time, it is easier to keep moving along at this pace than it is to slow down, even to speed up.
As we begin Season 5 of the The Simple Sophisticate podcast today (check out the full schedule of episodes here), many of us are stepping back into a full schedule, or at least one slightly different from the previous season. Whether it is simply a busier schedule due to clients and staff returning from their holidays, or perhaps you as well, the pace tends to pick up, and if we aren't careful or conscious, we can move along with this energy without realizing that it may not work well for the balance we know is best.
Now, granted, the pace you are stepping back into may be something you relish and works well; in this case, savor it, but simply be conscious of the energy that rolls forward and is easy to become swept up in without our being aware.
If, however, the pace that fall (or the new season) brings is something you wish to shift, to improve, I have some ideas about how to instill a new pace of momentum that works best for your life.
For the third time I read Elaine St. James' Living the Simple Life (1996), and it was upon reading it this summer that a few ideas she shared jumped out at me that had not previously. Most predominantly, taking a full month to live your life differently as a way to assess what you really need and determine what is helpful and what is actually hindering the quality of your life.
As I read this, I recognized my own experience having had the opportunity to travel in France for an entire month this summer. During this time, as I shared in a couple of blog posts (Doubt the Default: How My Trip to France Woke Me Up, episode #218 and Why Not . . . Let Your Brain Calm Down?), the clarity I gained about what was helping and was was obstructing the quality of my life was illuminated. But upon reflection, it was the duration of the trip that enabled this to be more readily recognizable.
Partly, this was because after spending four weeks in another culture, you are more acclimated than you realize, and so upon returning, there is an element of shock to your system (at least there was for me due to my fondness for the French culture). However, I am confident that we do not need to 'get away' to another country to have the same experience.
As a teacher, each summer I feel I am given this opportunity to reassess what is working and what isn't, but it is my choice to reflect and then put into place the changes I realize would be beneficial. So here's the challenge and the opportunity - for one entire month, make one, some or all of the following changes to your lifestyle as inspired by Elaine St. James and my own experience and observations to free up more time in your life to do what you love or do nothing at all, simple to relax, sleep more, dream more, savor time with loved ones more, simply live as you please. With the month's conclusion, take an hour or a morning or an afternoon and reassess to see what differences (positive or negative) you experienced.
Arrive at work either earlier or later than you do now, and then either stay earlier or later than you do now. In other words, shift when you are at work to try to find more productive hours, but do not stay longer than you currently do in total.
Get up an hour earlier. While this may require of you to go to bed earlier, observe how the day begins when you give yourself breathing room to savor having more control in how you set the tone for the day. Remember it's just for one month.
Stop watching the news. While this doesn't mean you don't have to stay informed as you can read or listen to the news, observe how no longer being the passenger when it comes to news viewing affects your attitude, assumptions and stress levels. But you may want to take it step further and . . .
Stop reading or listening to the news (just for one month!) to see what differences may arise due to the absence of perpetual information.
Change your exercise regimen. If you work out regularly in the afternoon, try working out in the mornings and observe how you go about your day and what it feels like to have the evenings free. If you attend classes in the morning, try taking them in the evening instead.
Turn off the television. (posts to read - Why Not . . . Watch Less Television? and Why Not . . . Master the Television?)
Take a couple of personal or sick days.
Talk to your boss to restructure your work days (just for one month) to four 10 hour work days instead of five 8 hour work days if this is an option.
Spend an entire weekend without making/attending any social or family commitments and give yourself permission to just do what speaks to you. If you can do this for more than one weekend during this month of assessment, you might begin to see helpful trends of what refuels and replenishes you.
Eliminate all shopping except necessities such as groceries and vital personal items.
Don't feel obligated to clean each week. Instead pick up each day as you go and clean every other week. Observe at the end of the month if this is possible.
Take a bath when the mood strikes - morning, middle of the day, etc.
If possible, give yourself a long window of no appointments right after lunch as your energy begins to recharge from the fuel of food and the midday break. (This book, which was a Petit Plaisir in episode #194, explains the timing of our days and when we are most productive.)
Simplify meals - use the capsule menu approach. Make sure your épicerie is stocked and challenge yourself to shop and cook seasonally.
Stop using social media on designated days (the weekend) or every evening after [select a time]. Be stricter than you might think you will do after the month; by doing so, you will be able to see if you actually notice a positive difference in your mood, time saved, etc.
Stay off the phone (texting or talking) except for emergencies for the entire month for making plans to meet in person. Sounds extreme, but often we welcome more internal stress with the conversations we have that are not face to face. Yes, a work-around is to use social media, but if this at all sounds tempting (to go text and talk-free), take the challenge and observe any differences in your stress levels. Potentially the quality of conversations may improve as you spend more time face-to-face.
Spend a weekend or a day (or even just an afternoon) somewhere that will feel like an escape from the old habits that you are trying to tweak. Upon traveling to this destination, turn the phone off and be fully present, engage, revel and celebrate. Observe what feels good about where you are and the pace of the day(s).
Initially this list may seem impossible, but remember, it is only for one month, AND choose what piques your interest. Again, remind yourself as you begin the month with anything that may be difficult, It is only for one month.
For one month I didn't watch the news, and by doing this, it made it far simpler to return to the states and not turn it on at home. As I mentioned last week, how I have adjusted is to watch the NBR (Nightly Business Report) and read a daily brief each morning. Anything else is quite jarring to me, far more than I recognized prior to my trip. The key for the changes you seek to become more comfortable is to give yourself this one month of practice or living or doing without. This is where momentum comes into play. It is very hard to shift gears as behaviors become habituated, even behaviors that are not helpful. And so when we initially begin to change the habit or behavior, we think the difficulty is due to it not being what is best. However, in truth, it is simple science - anything new, any shift of energy is slow and awkward until it gets going at a good and steady pace. Give yourself the full month to make the shift and redirect your momentum.
When we discover that the blue sky was deeply blue today, far more than it was last week, we realize the pace we had been living previously was not allowing us the ability to be present, to observe and to appreciate. Such appreciation is part of improving the quality of our lives. And when we return after the month we challenged ourselves to above and begin to watch some television for example, we do so more discerningly, more thoughtfully, as we now recognize that indeed what we watch indirectly affects our emotions.
May in one month's time, you have more free time and therefore a life of increased quality.
~SIMILAR POSTS/EPISODES FROM THE ARCHIVES YOU MIGHT ENJOY:
~Learn more and sign up for TSLL's Weekly Newsletter.
~TSLL Fall Shopping Guide 2018 was just released this past weekend.
~Saturday September 8th - The Simply Luxurious Kitchen vodcast debuts its first season!
Petit Plaisir:
~The Guernsey Literary and Potato Peel Pie Society film on Netflix
Based on the international bestselling novel by Mary Ann Shaffer and completed by her niece Annie Barrows when Mary Ann passed away in 2008. (2009)
Click here to learn more about Mary Ann Shaffer's inspiration for the novel.
Lily James from Downton Abbey (Lady Rose Aldridge) stars as the protagonist, writer Juliet Ashton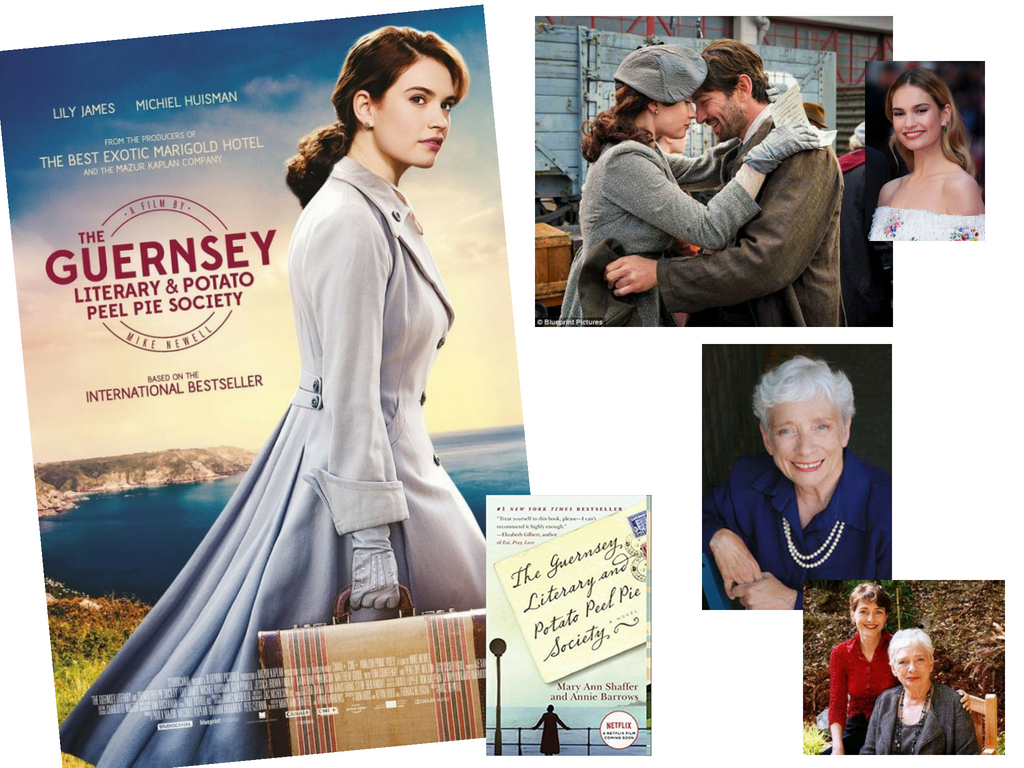 https://youtu.be/vP9eDmX0ow0
Sponsors of Today's Episode:
---
Sun, 26 August 2018
Season 5 Schedule of The Simple Sophisticate podcast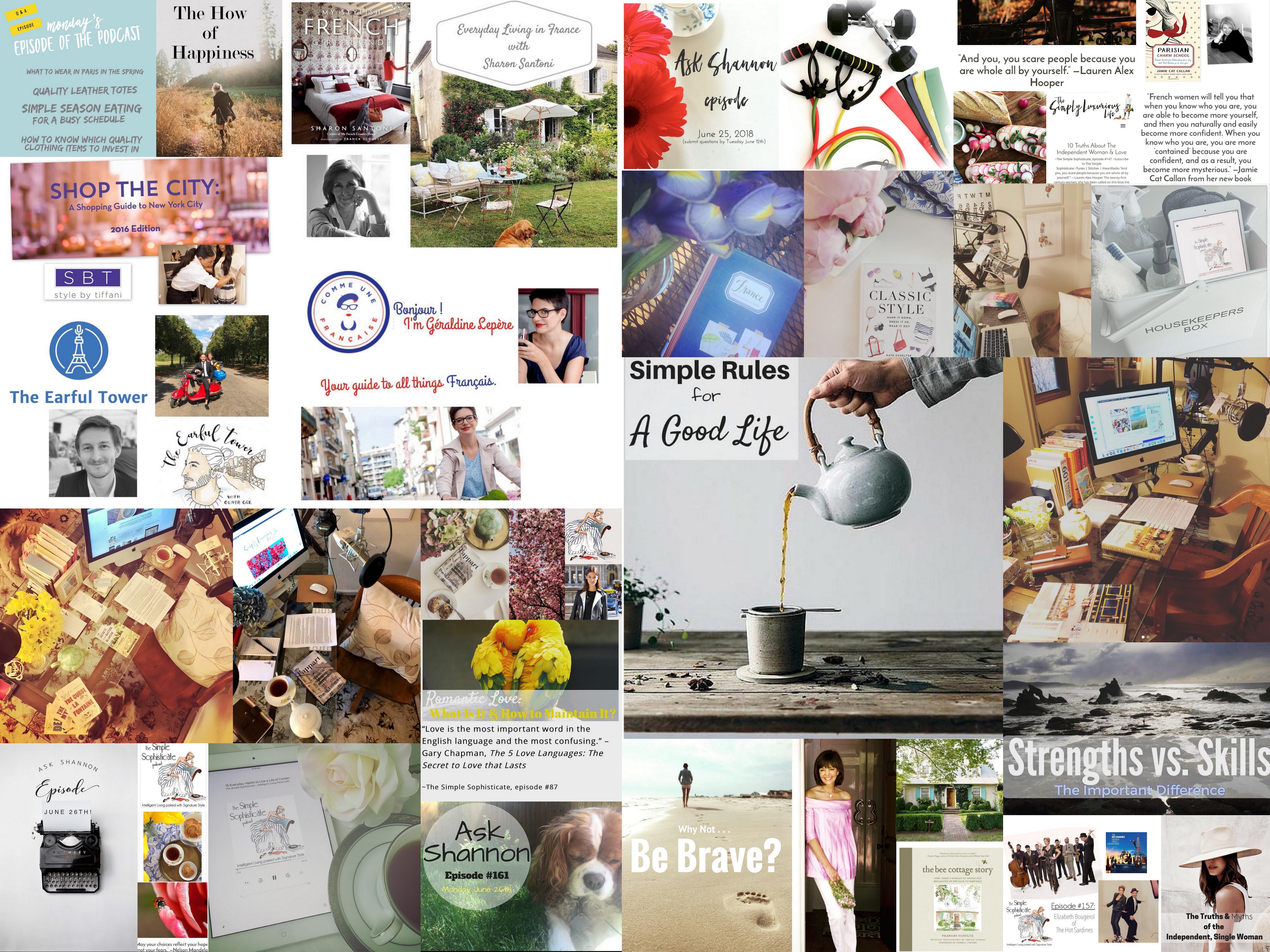 Next Monday, on September 3rd, the fifth season of The Simple Sophisticate podcast will begin.
The first four seasons have covered topics on living your best life, whether that was about self-care, lifestyle, health, decor, travel, relationships, or anything that involves living the simply luxurious life, bien sûr! With now 223 episodes complete, of which there were 22 interviews with guests from the around the United States and France. And of course, each episode concluded with a Petit Plaisir - anything that is a simple pleasure to satiate your sophisticated taste. I look forward to continuing into the fifth season with the same approach - more inspiration for cultivating true contentment, more ideas for building the skills that will enable you to be your best self and reach your fullest potential, all the while sharing insights into discovering how to elevate the everyday each day. As well, more guests, and at the end of each episode - a Petit Plaisir!
Regarding potential guests in the fifth season, if there is an author, a musician, an artist, an entrepreneur or simply an inspiring person you feel The Simple Sophisticate should be introduced to or you want to hear on the podcast, email me and I will do all that I can to invite them onto the show.
And now to Season 5!
As I mentioned in episode #221 and #222, the new season will offer 30 episodes (in previous seasons, 52 episodes were aired). The reason for the shift in amount of episodes . . .
I want to ensure I continue to bring you a quality episode each time I press record.
In May and August, multiple episodes will potentially air during the annual British and French Weeks that will occur each year. Check out the recent French Week round-up of posts and podcast episodes here.
As you will see below, two months - April and July - will not air new episodes. The reason for this is in April, due to my teaching of AP courses - this is crunch time and I need to give more time to grading and ensuring my students are prepared for the exam in May. In July, the reason for the podcast holiday is I will be producing the new season of The Simply Luxurious Kitchen vodcast which will premiere each season in September (and hopefully traveling to capture some footage for the videos).
Each Monday, as listeners and readers have become accustomed, there will ALWAYS be a post to offer inspiration to kick off the new week. So even if a new episode doesn't air on that particular Monday, there will ALWAYS be a new post, so be sure to stop by the blog (just as there is today - be sure to stop by the blog for a new post).
Season 5 Schedule
Below you will find the week-by-week schedule of when new episodes will air. You will see podcast Mondays are circled in blue. You can print this schedule out by clicking here or by clicking on the image below.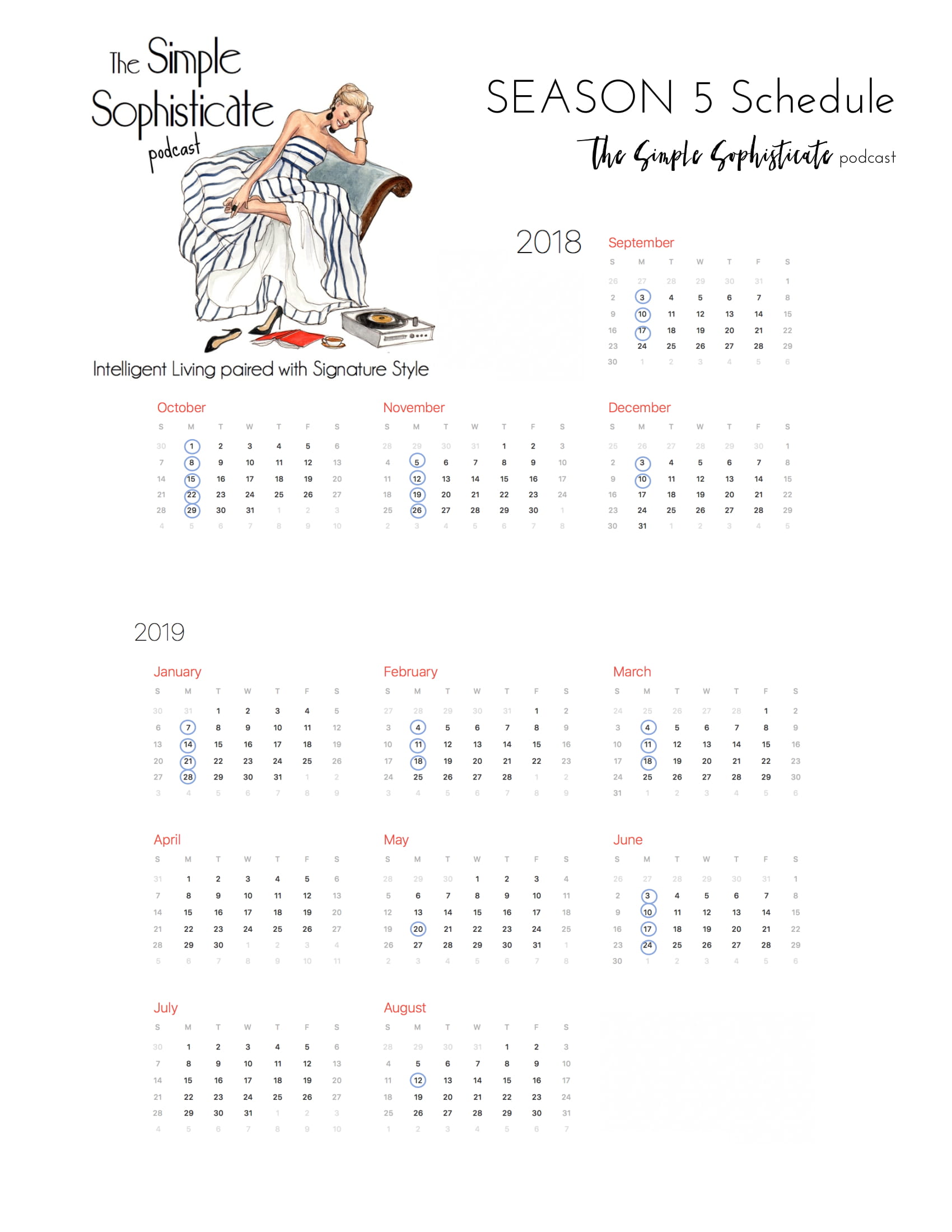 Print save the pdf of the 2018/19 schedule
The TOP 10 Episodes from Season 4 based on # of downloads:
~Find all of the podcast episodes here (on the blog), iTunes, Stitcher, Spotify, iHeartRadio, Podbean or Youtube. And if you enjoy tuning in and listening to The Simple Sophisticate, I would appreciate your time to share a review on whichever platform you listen. By sharing what you specifically enjoy about the podcast, new and potential listeners will discover exactly what they will find when they tune in. For everyone who has already shared, I want to thank you, as well, as I try to regularly share one review each week upon receiving them as a small way of expressing my appreciation.
Thanks for stopping by and be sure to visit today's Monday Motivational post (as promised, even though there isn't a new episode of the podcast, there is a new post to help start the week well!). Until then, I'll see you in Season 5!
---
Sun, 19 August 2018
223: 23 Ways to Have a Great Start This Fall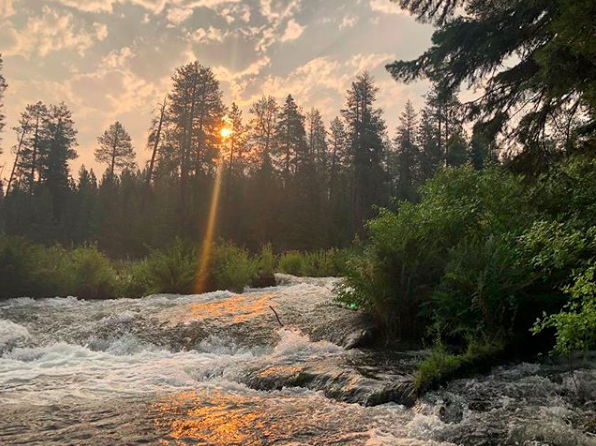 "The French have a special word for it, La Rentrée; in English it is simply referred to as 'Back to school'. However we choose to call the September post-vacation return, and no matter how far our schooldays are behind us, few would deny that this really is the moment in the year that shouts 'new beginnings', ushering in a renewed sense of resolve and purpose that has far more potency than any January resolution. As grown-ups, the brand new pencil case and shiny new pair of school shoes that signal a fresh start are replaced by the new-season updates that we hope will deliver so much more than just the latest look: the confidence-boosting coat, that uplifting new shade of lipstick . . . But it really is the change of attitude that matters most, the yearning to be smarter, more balanced – in short, the eternal quest to finally get life 'right'." – Lucy Yeomans, editor-in-chief Porter magazine
The attitude we approach anything with undeniably plays a role in how successful the endeavor we are embarking on will play out, and while here in the states businesses don't shut down entirely for the month of August or July as well sometimes as they do in France, when Labor Day travel winds down, there is a shift in everyday routines, expectations at work and at school, and a mental shift is expected to occur.
The French expression "À la rentrée" is loosely translated to "See you in the fall!" (literally translated to "at the return"), but it is understood September is the date at which all will return – from their extended vacations, from their respite from school, from everyday expectations and regular activity that occurs the other 10 or 11 months out of the year.
Studies have shown, repeatedly that taking the time to literally get away from work, putting down the technology and truly being on vacation can have highly beneficial effects on the brain. When we allow our brains to rest and think freely – problems magically seem to have solutions, creative ideas spring up like daffodils in early spring and we are renewed and reenergized.
So no wonder the French celebrate the return from their vacations. September and thereafter offers an opportunity to put our best self forward, to, as the quote above states, 'finally get it right'. And while nothing will ever be perfect, improving and fine-tuning will always continue to bring different results than if we did the same thing over and over again.
Over the past handful of years, I have written posts to help ensure a strong fall. With one short list here, and another short list there, some of them shared a few similarities, while also offering new ideas. However, none of them have been a podcast episode, and now I have a few more items I would like to add. So today, I've made a list of 23 ways we can all welcome the beginning of fall (or spring for my southern hemisphere readers!) with optimism, hope and the best possible path too living a more balanced and enjoyable everyday life. This is the actual list I look at each year (and as I mentioned, it is tweaked and improved each year as my life evolves), and I have organized into arenas of our lives: health, wardrobe, beauty, organization, sanctuary, and regular balance/tranquility. In some arenas, things may be moving along quite well, but perhaps in others we know we could improve. Home in on where areas you want to improve, and take a day, or a few hours in a quiet, relaxing setting to curate a life that excites you to wake up to each day.
Overall Health (physical & mental - peace of mind included)
1. Ask yourself this question, "What has made my life more enjoyable these past 2-3 months?" or "What routines/habits have made my life easier, healthier and brought more contentment these past 2-3 months?"
Often when our schedule changes with the summer months, we unconsciously change our ways of living, ways that we love (or not so much as it will depend upon the individual). However, I have a feeling, you have a few habits that you will miss when the fall season begins. Ask yourself, and be honest, is there any way you can bring them into your year-round routine? Can or should you shift your priorities if it indeed is bringing so much joy and satisfaction into your life? Remember, simply because we used to do something one way or do something at all, doesn't mean we cannot stop and incorporate something more fulfilling. In fact, we should.
2. Create a default capsule weekly menu & establish a food shopping plan.
~Learn more about TSLL's seasonal capsule menus here (summer will be posted this Wednesday - August 22).
As I was taking my lunch break today, I was reminded that I needed to restock my favorite balsamic vinegar which reminded me that having our épicerie stocked and ready for whatever meal we'd prefer to cook is a simple thing to do now to enhance the seamless flow of a day that has little time to wiggle. Here is a post to remind you of the necessities to have on hand.
4. Plan a regular fitness routine that works with your daily work/school demands. Be honest with yourself about what you can achieve. You don't want to burn out and quit altogether. Remember it is consistency that will make the difference. So choose activities that blend enjoyment with challenge.
5. Balance your budget and know where you stand financially. Due to your schedule potentially changing, financial expectations may change as well, so know exactly where you are and how much you can spend.
6. Make appointments now
Just as our schedules change, so do the schedules of our doctors, dentists, aestheticians and other professionals we wish to make appointments with. While their schedules may have been more limited, but as well, with more availability during the summer months, often that changes in the fall. So why not be proactive, and design your schedule with what works best for you by making those appointments early?
Optimal Organization
7. Clean your home/office/bedroom/car thoroughly. It will simply make you feel better when you enter each and every time.
8. Purchase any necessary supplies for your office, desk and planner
9. Spruce up and stock up your handbag
Whether you have found your favorite go-to day handbag, take a few minutes, to clean out, and then restock for the new season. Chapstick, Tide-to-Go, hand lotion, breath mints, a favorite pen, anything to get you through your day – stock it up, and then toss the rest so that it is neat and tidy.
Wardrobe
10. Assess your wardrobe
On Saturday September 1st TSLL Fall Seasonal Shopping Guide will be posted here on the blog (no longer do you need to subscribe to receive it!). Full of splurge and save items when it comes to the new trends as well as many items I have hand-picked for your fall capsule wardrobe, knowing exactly what you need makes the shopping easier and brings fewer regrets. (Have a look at the 2018 Spring Shopping Guide here.)
~Shop TSLL Capsule Wardrobe Boutique here to view the essentials for each season.
11. Take anything to the dry-cleaners that you'll be wearing for fall (coats, tops, dresses, skirts, sweaters, etc)
Beauty
12. Stock up make-up supplies that are running low. Visit your make-up counter for make-up to try out the new fall products.
~Why Not . . . Automate It? 12 Ways to Improve the Everyday
13. Confirm and/or schedule your regular hair appointment
14. Plan/Schedule Beauty Routines and/or appointments. From the beauty routines you can do at home - pedicures and manicures, to the seasonal facials at your local spa to not only give yourself a luxurious hour or so to relax, but also help your skin, tend to these appointments is a way to feel and look your best, but also find a balance in your everyday routine.
Creating Regular Balance & Tranquility
15. Stock up or put together a home pampering kit (bubble bath, truffles, wine, candles, music, etc). There will be days when your heels are ready to be taken off, your mind is a jumble and emotional stamina has been exhausted. Be prepared in advance and have what you need to relax stocked and ready to go.
16. Do you have a travel coffee mug or water bottle that works? For only $15 make sure you have a reliable mug that you can take with you to meetings, lectures, on the commute to help you get your day started off right.
17. Create a morning routine to look forward to and set the right tone for the entire day.
~11 Ways to Start the Day 'Smart'
18. Create a bedtime ritual
The amount of sleep we receive each night is a strong determiner in the day we will have, so be cognizant to the small details that you have control over. You might be surprised of the significant benefits you will reap each evening when you turn in. A few things to try: remove the television and all technology (especially your phone), light a soothing scented candle (lavender, chamomile, bergamot, jasmine, or sandalwood) – this is my favorite as it has a fantastic scent and lasts for 60 hours, write in a gratitude journal to end your day on a positive note, meditate (find out how & why here), or read a book.
19. Order or Check-Out/Put on Hold Reading Material to Enjoy
I can't wait for the time to snuggle in when it's raining out or I've wrapped up my to-do list, and dive in. A true simple luxury. And since now I have the time to peruse and put them on my wish list, I can rest-assured I will always have reading material to enjoy.
20. Pick up a journal
As I mentioned above, the daily ritual of writing in a gratitude journal is a simple idea to end the day on a positive note. And even if you've had one of those days, there really are things to be grateful for – check this list if you find yourself at a loss for what to write down. Simply taking note of positive events (or non-events – the car didn't break down!), can be a wonderful reminder that things are going better than we might have first thought.
Create a welcoming sanctuary
21. Visit your local nursery
Fall plants will begin appearing at nurseries to finish the blooming season – check out mums, daisies and sunflowers. Add a few to your porch or vases throughout the house.
22. Look closely at your home's decor
Perhaps you traveled this summer, or maybe you attended a course in which you saw personal growth and a shift in what you value and/or love. Welcome in who you now, let go of what no longer inspires you, and create a space that best reflects you and welcomes you home as well as you guests.
Putting It All Together
23. Set your intention
Often when a yoga class begins, one of the reminders at the beginning of our session is to set our intention – what do we wish to receive or achieve by attending class – do we want to push ourselves further, do we simply just want to make it through class, do we want to be more aware of staying focused and letting go of outside thoughts – whatever our intention is, it is ours. So what will your intention be for the fall season and beyond?
Choose one, write it down and reflect upon it from time to time. Create daily rituals and habits that help this intention become your reality. I think you will be surprised that what you focus on, you are more likely to create – much like the attitude we bring to any new venture or beginning. If we're excited, that excitement spreads and invigorates, but if we're leery or cynical, moments of wonder are less likely to be enjoyed and discovered.
Wishing you a lovely start to a beautiful new season, and thank you for stopping by.
~PODCAST NEWS: Season 5 will begin on Monday September 3rd, and the new schedule for Season 5 will be shared right here on the blog on Monday August 27th in lieu of a podcast episode. Don't worry, there will always be a motivating post to kick off your work week - right here on TSLL blog. I will explain the entire schedule (there will be 30 new episodes in the coming 12 months) and share specific dates when episodes will air. Looking forward to another season and so tickled we have had such an amazing four years!
SIMILAR POSTS/EPISODES FROM THE ARCHIVES YOU MIGHT ENJOY:
~11 Ways to Start Your Day "Smart"
~Why Not . . . Gradually Prep for La Rentrée?
~The Importance of a Daily Routine & How to Create One You Love, episode #164
Petit Plaisir:
Mini Portable Chargers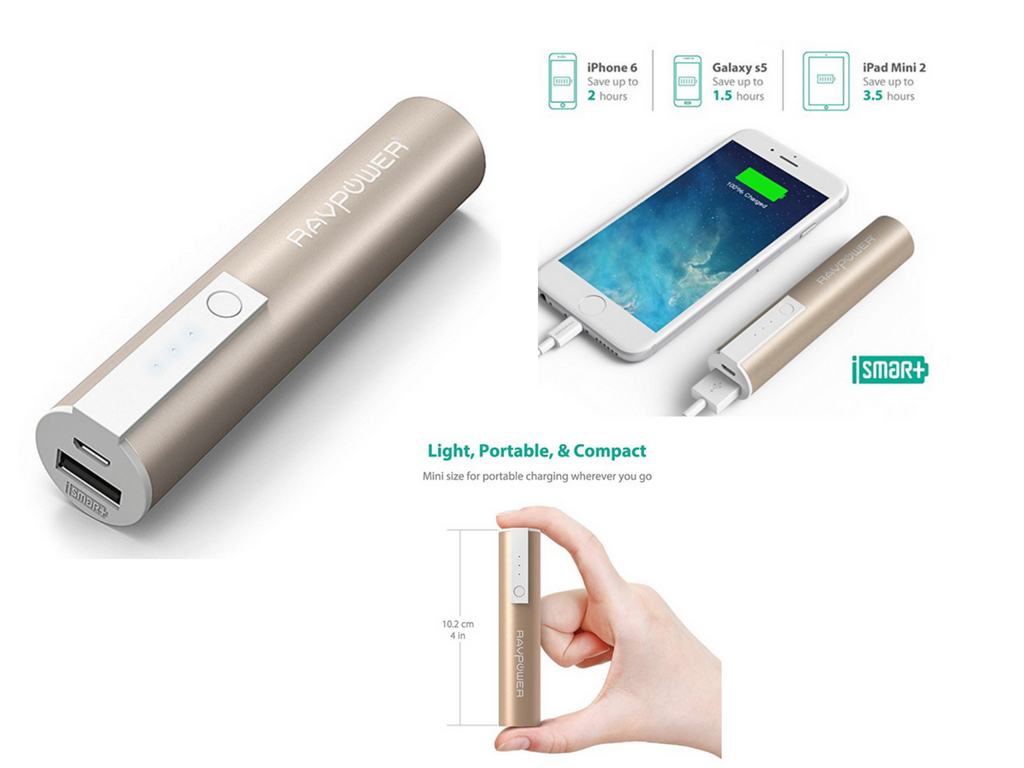 ~The Simple Sophisticate, episode #223
~Subscribe to The Simple Sophisticate: iTunes | Stitcher | iHeartRadio | YouTube | Spotify
---
Fri, 17 August 2018
222: Oliver Gee of The Earful Tower Podcast
~The Simple Sophisticate, episode #222
~Subscribe to The Simple Sophisticate: iTunes | Stitcher | iHeartRadio | YouTube | Spotify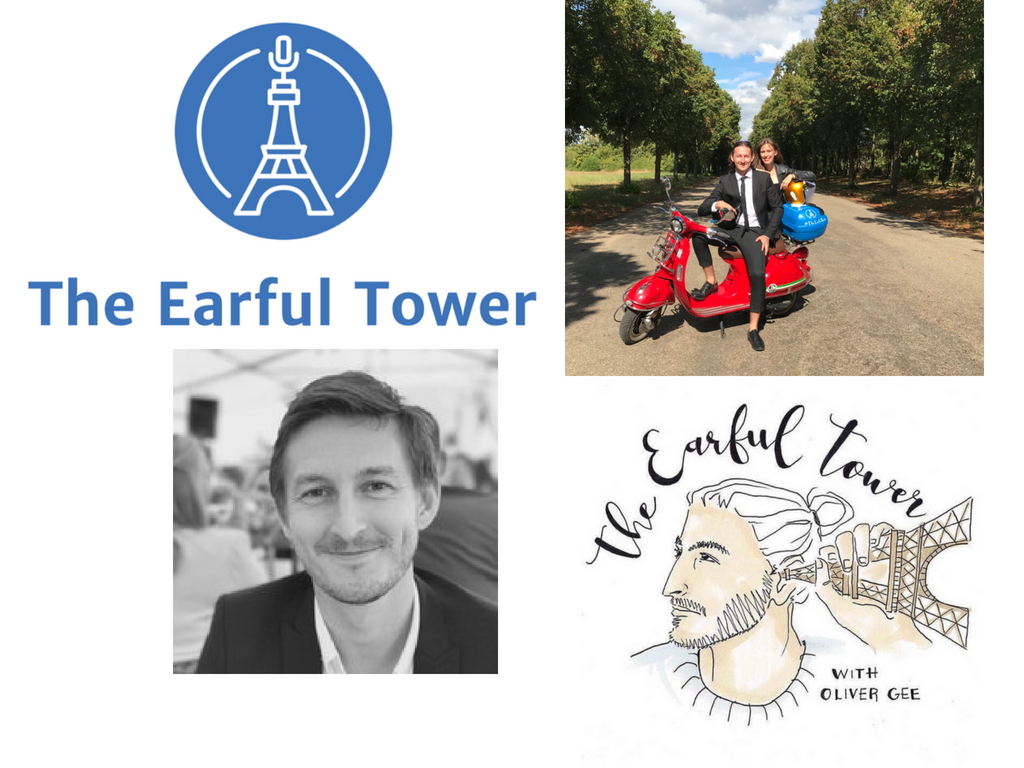 The Earful Tower podcast is hosted by Australian journalist Oliver Gee. Kicking off in early 2017, The Earful Tower is a weekly, seasonal show primarily based in Paris documenting Oliver as he learns about all things French.
Currently kicking off his fourth season, he and his bride Lena will be venturing outside of Paris on their honeymoon for at least six weeks, and in fact, their Tour de France (aka Le Tour de Amour) will follow the route that may curiously take the shape of a heart. And yes, they are aware of this fun fact. :)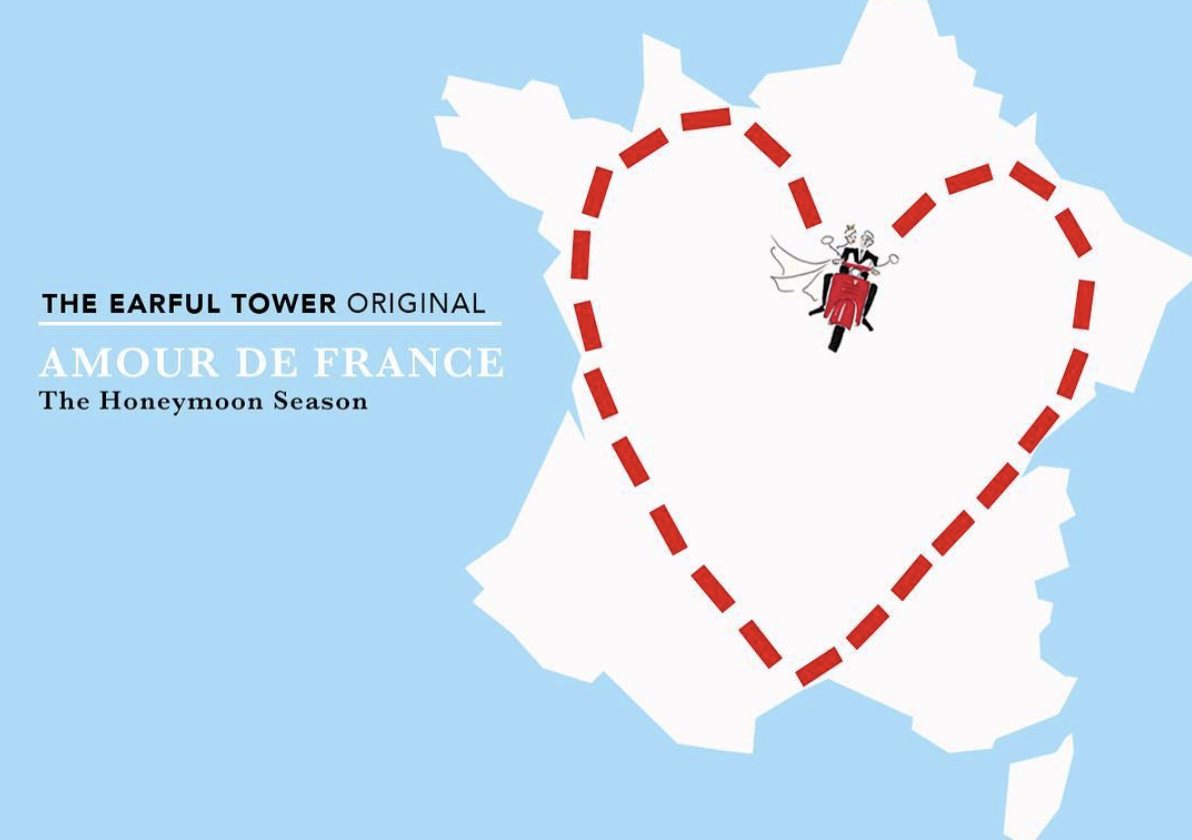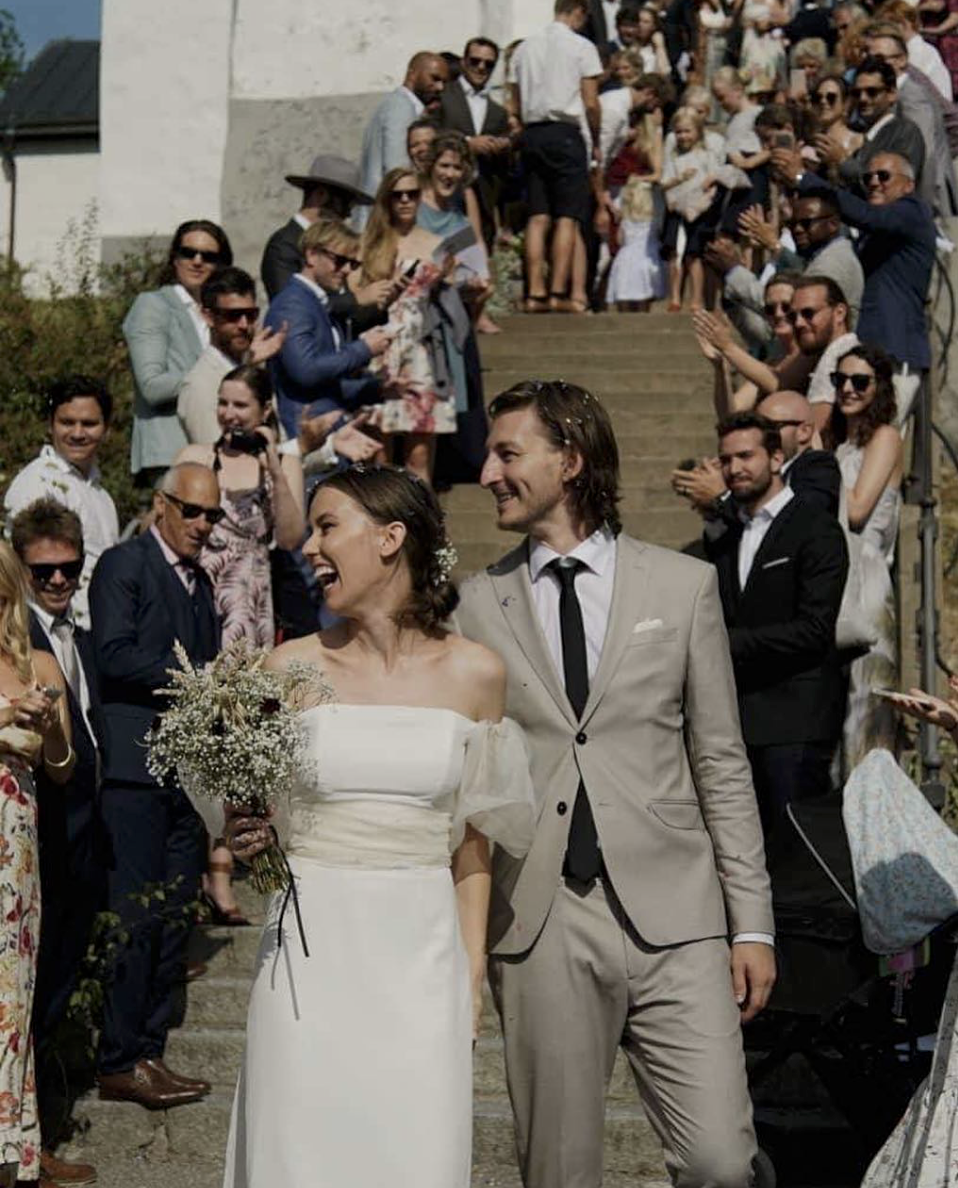 Oliver and his wife Lena on their wedding day earlier this month.
Have a listen to our conversation, get to know Oliver, find out where and how that now quite famous red scooter of his came to be a part of his life, and if he had a motto what it would be.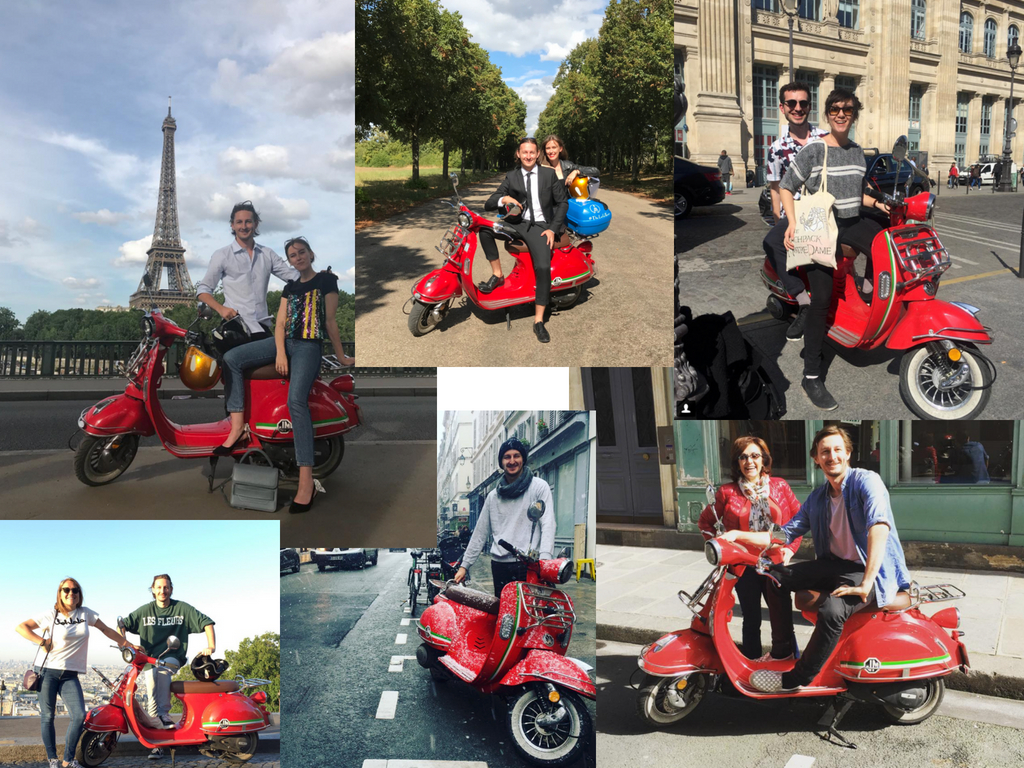 There's that red scooter!
Check out The Earful Tower podcast: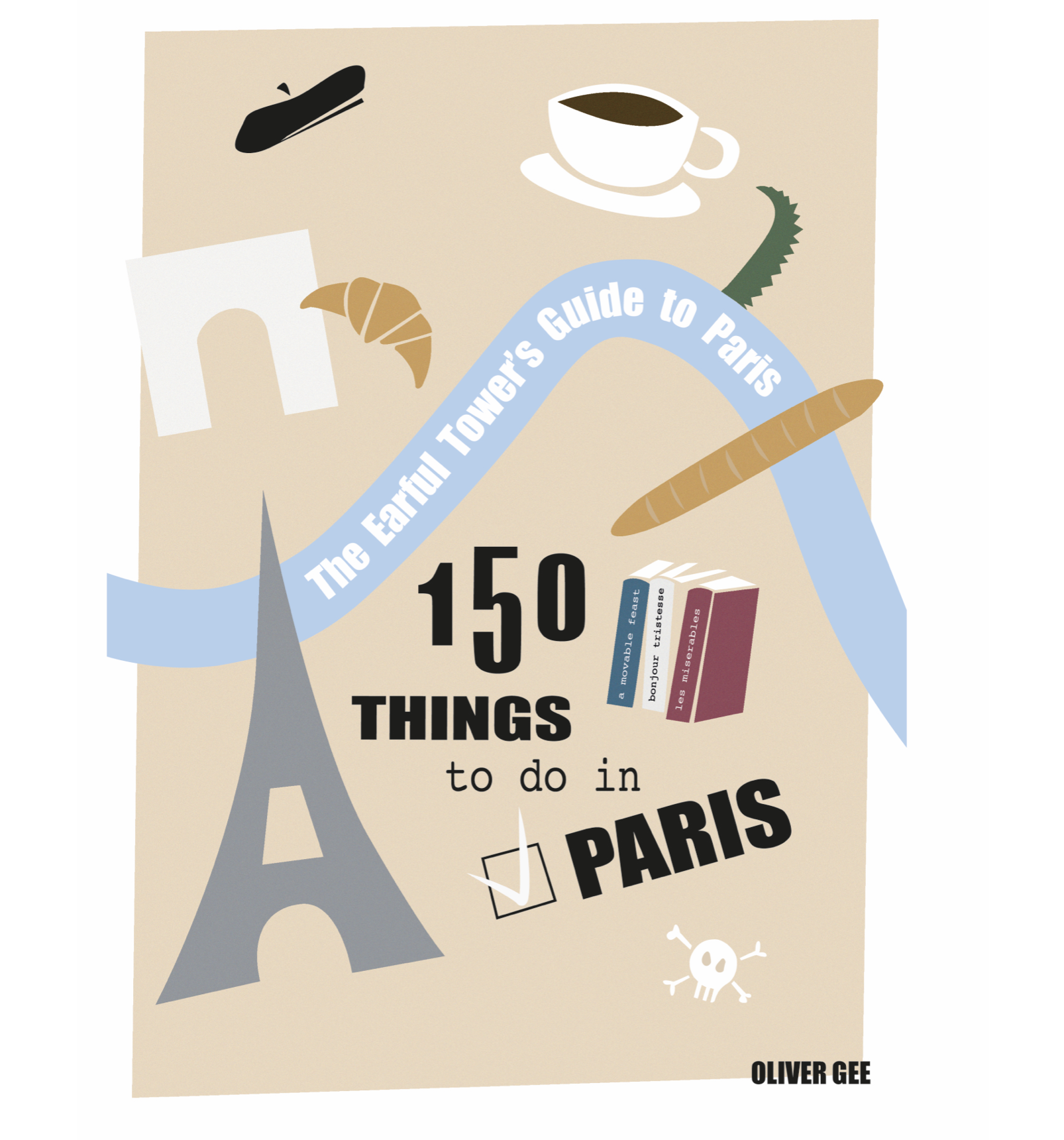 The Earful Tower's Guide to Paris
French Week 2018 – Posts So Far . . .
Guests Who Stopped By for a Conversation:
Traveling to France
Shopping French Products
Extra French Posts
Giveaways (enter by August 18)
TSLL's 3rd Annual French Week continues through August 19th with at least two posts per day. À bientôt!
~Catch up on all of TSLL's French-Inspired posts here and French-inspired podcast episodes here.
---
Sun, 12 August 2018
221: Waking Up in Paris Author Sonia Choquette - A Conversation on Reinvention
~The Simple Sophisticate, episode #221
~Subscribe to The Simple Sophisticate: iTunes | Stitcher | iHeartRadio | YouTube | Spotify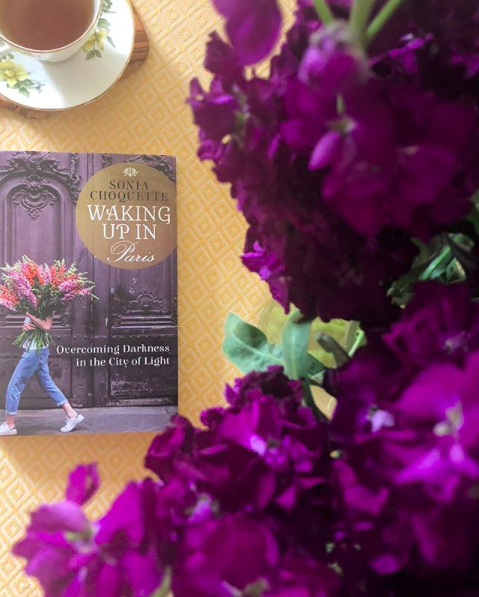 "The endless challenge no matter where any of us lives is to choose what we take from all that our surroundings have to offer and put it together in a way that creates our own happiness. I am so glad I was willing to take it on. A person doesn't have to move to Paris to live an authentic life, and may not have to move at all. But we each do have to let go of what isn't working for us; face our deepest fears; ask for help; and be messy, vulnerable and willing to give up being in control." —Sonia Choquette, author of Waking Up In Paris
On today's podcast, author and spiritual teacher of more than 30 years Sonia Choquette joins me to talk about her new memoir Waking Up in Paris: Overcoming Darkness in the City of Light from her home for more than three years, Paris.
Diving into what prompted her to move from Chicago to Paris in early 2015, as well as settling into a new community, let alone a new country, Sonia talks honestly about being patient, enjoying her own company, slowing down and the process of reinvention and transformation.
Discover more about Sonia on her website and social media locales:
~Update: Episode #222 will air this Saturday with a guest from Paris joining us. Be sure to tune in!
~Learn more about TSLL's Weekly Newsletter Subscription here.
French Week 2018 – Posts So Far . . .
TSLL's 3rd Annual French Week continues through August 19th with at least two posts per day. À bientôt!
~Catch up on all of TSLL's French-Inspired posts here and French-inspired podcast episodes here.
~SPONSOR of Today's Episode:
Image: TSLL Instagram
---
Sun, 5 August 2018
220: Traveling Alone Well
~The Simple Sophisticate, episode #220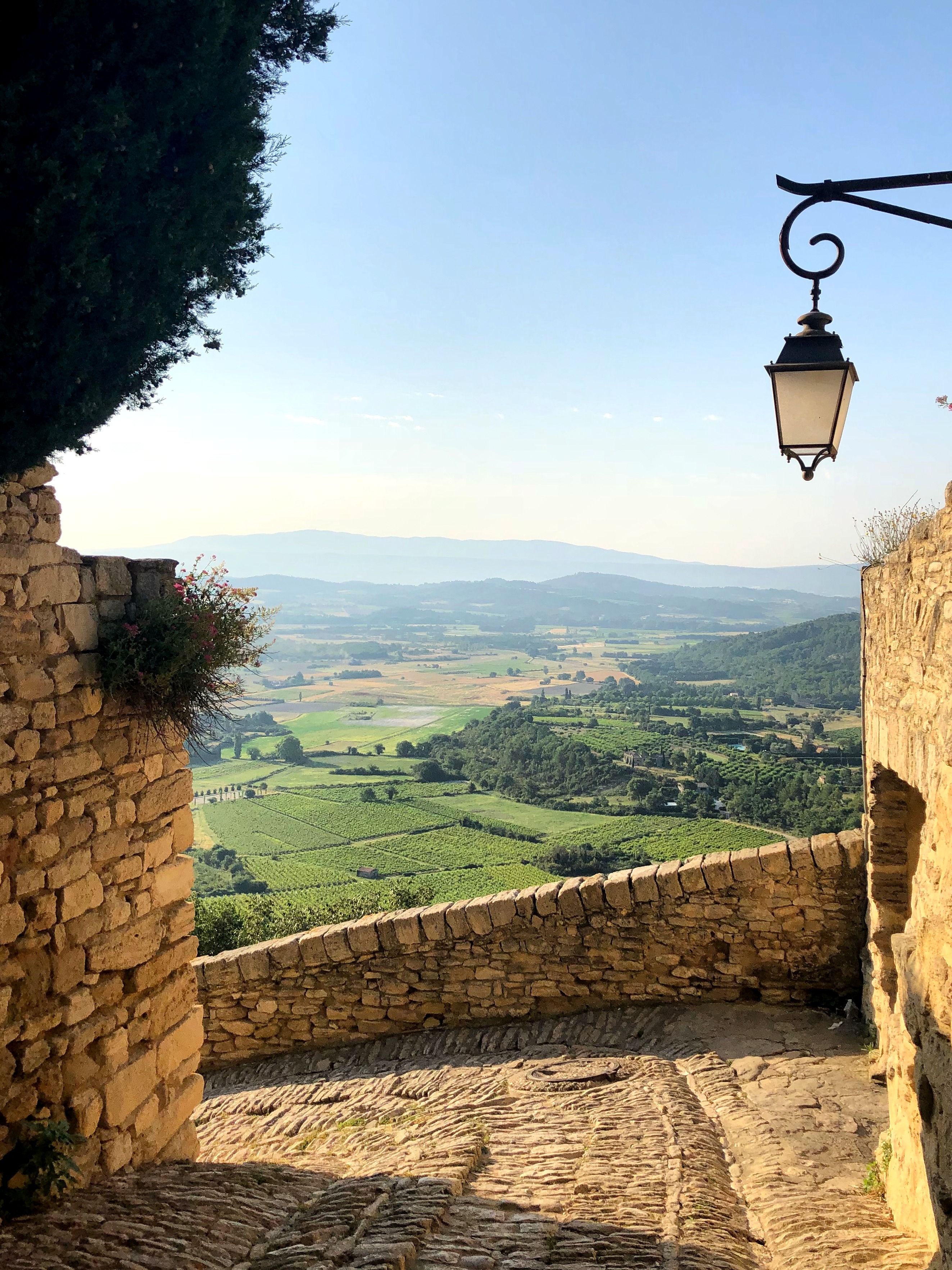 "It seemed an advantage to be traveling alone. Our responses to the world are crucially moulded by the company we keep, for we temper our curiosity to fit in with the expectations of others…Being closely observed by a companion can also inhibit our observation of others; then, too, we may become caught up in adjusting ourselves to the companion's questions and remarks, or feel the need to make ourselves seem more normal than is good for our curiosity." ― Alain de Botton, The Art of Travel
What if I lose my keys to my rental/car/etc. while I am traveling? No one knows me where I am. I am the only source of income - what if my wallet gets stolen? My passport? As a woman, is it really smart to travel alone? But I will be by myself - won't I become lonely? I don't want to eat alone the entire time - and I love to eat! Above are just a few of the fears I have heard from those contemplating or dismissing solo travel, and at times, some of those fears have danced in my own mind when jetlag was severe and my mind was not being mastered well. And while these are all natural fears to utter if you have never traveled alone, each can be assuaged and should be, after proper preparation, dismissed and not to be worried about. I have written extensively on this topic (see all of the posts at the bottom of this post), so I won't go in detail which has already been shared, but rather share a few thoughts on the wonderful opportunity and insights traveling alone provides the traveler. As I type, I have just returned from
a month-long excursion throughout France
, as many of you already know. But I am writing that as a reminder. I would advise travelers who may have shaky nerves prior to traveling alone, even myself, to read this post before stepping on a plane for any future trips on our own. Why? Because even I, prior to traveling, especially if my schedule has been busy and harried leading up to the trip, will consider the worst-case scenarios. And every time I return from the trip, I recognize that doing so was energy wasted. All of my energy should be split between preparation and excited anticipation. After all, part of the gift of travel is the time leading up to the trip as
studies have shown
that it as well can increase our overall happiness. Traveling alone in many ways is a misnomer, as we are never completely alone if we consider our fellow travelers we find along the journey, Mother Nature, and conversations we have with loved ones when we check in from time to time if we choose to do so. The difference is we are never with the same person or persons the entire time which can not only provide variety, but as Alain de Botton shares above, free us from conforming in ways we often do unconsciously. Ironically, when I travel, my barriers tend to come down moreso than when I am at home in ways that allow me to relax and be more fully present. Now that doesn't mean I do not take precautions to protect myself for security purposes, but those are habit at this point when I travel as I have traveled alone for more than a decade and doing so is merely functional as opposed to the emotional barriers that tend to become activated when I am going about my everyday life. The truth is, it was travel that revealed to me this dichotomy of instinctual behavior based on geographical location which caused me to dive deeper into what made me keep my barriers up so adamantly. This examination led me to shift a few things in my everyday life - move away from some friendships, step more intimately into others, etc., and yet this is another example of how travel can improve our lives.
~My luggage for the return flight (one more bag was gained!)~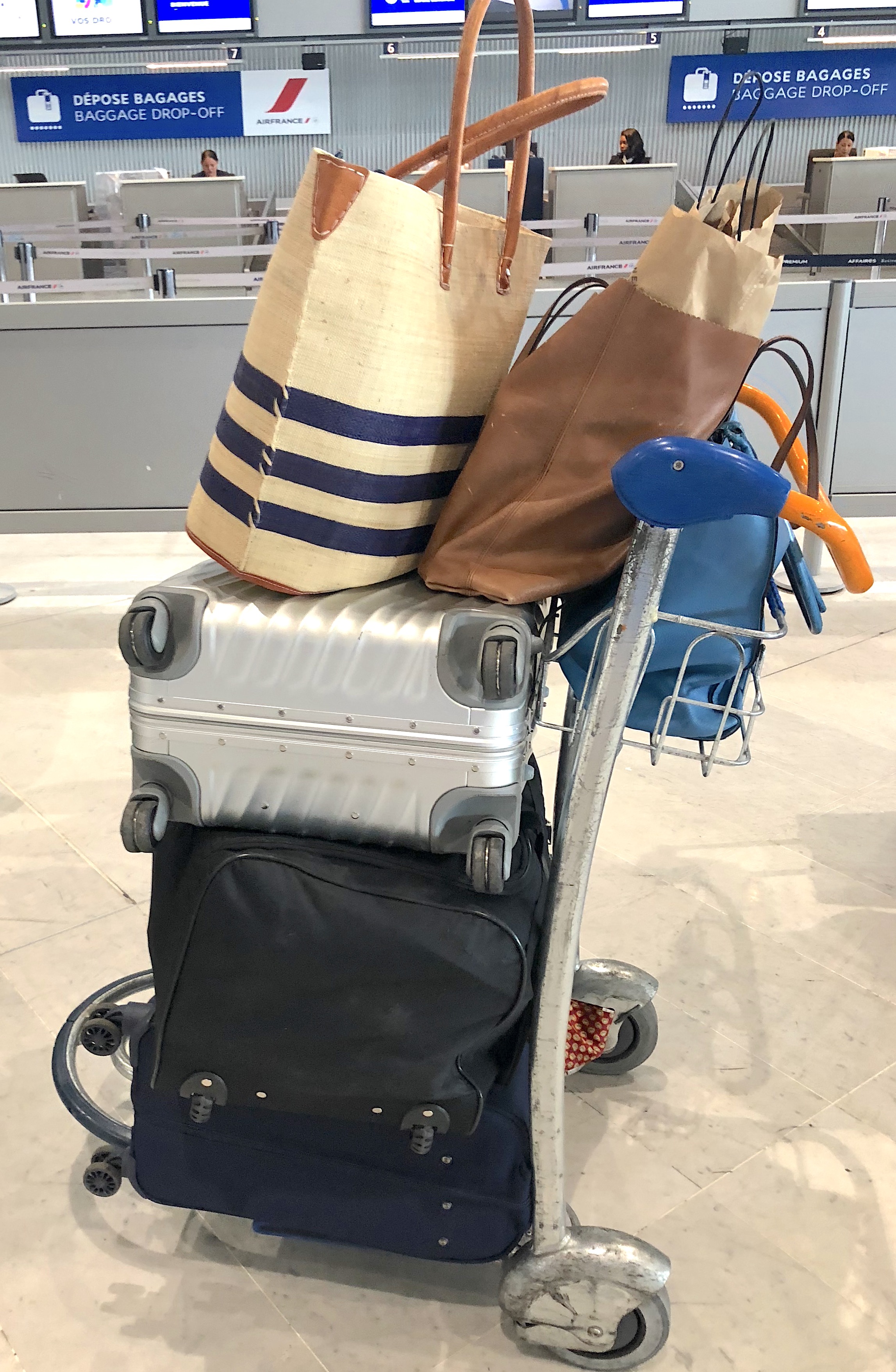 If we consider the headaches that we worry might happen by choosing to travel alone, most, if not all, could just as easily happen when we are traveling with someone or multiple someones. While yes, you will have at least two heads to solve the fiasco, you will also have two heads to step into a fiasco that could cause the headache in the first place. I guess what I am trying to say is that neither is better; they are just different. The common gift of traveling alone that is universally shared is that your confidence increases as you recognize you can do things you perhaps dismissed were possible previously. And this is true. As well, traveling alone, especially if I have not done so in a few years time, reminds me that I need to trust myself. Traveling alone clears away the cobwebs from my intuition, if I have not trusted it as much as I should have, and shows me that I need to stop doubting so often and instead calmly keep listening to its direction and striving forward. And most importantly, traveling alone brings me back to myself, centers me and shakes me awake if that is necessary.
~Looking up in Paris in late June: I find that when I travel on my own, my feet follow my eyes. Whatever catches my attention is where I often go, and I don't worry about leaving someone behind.~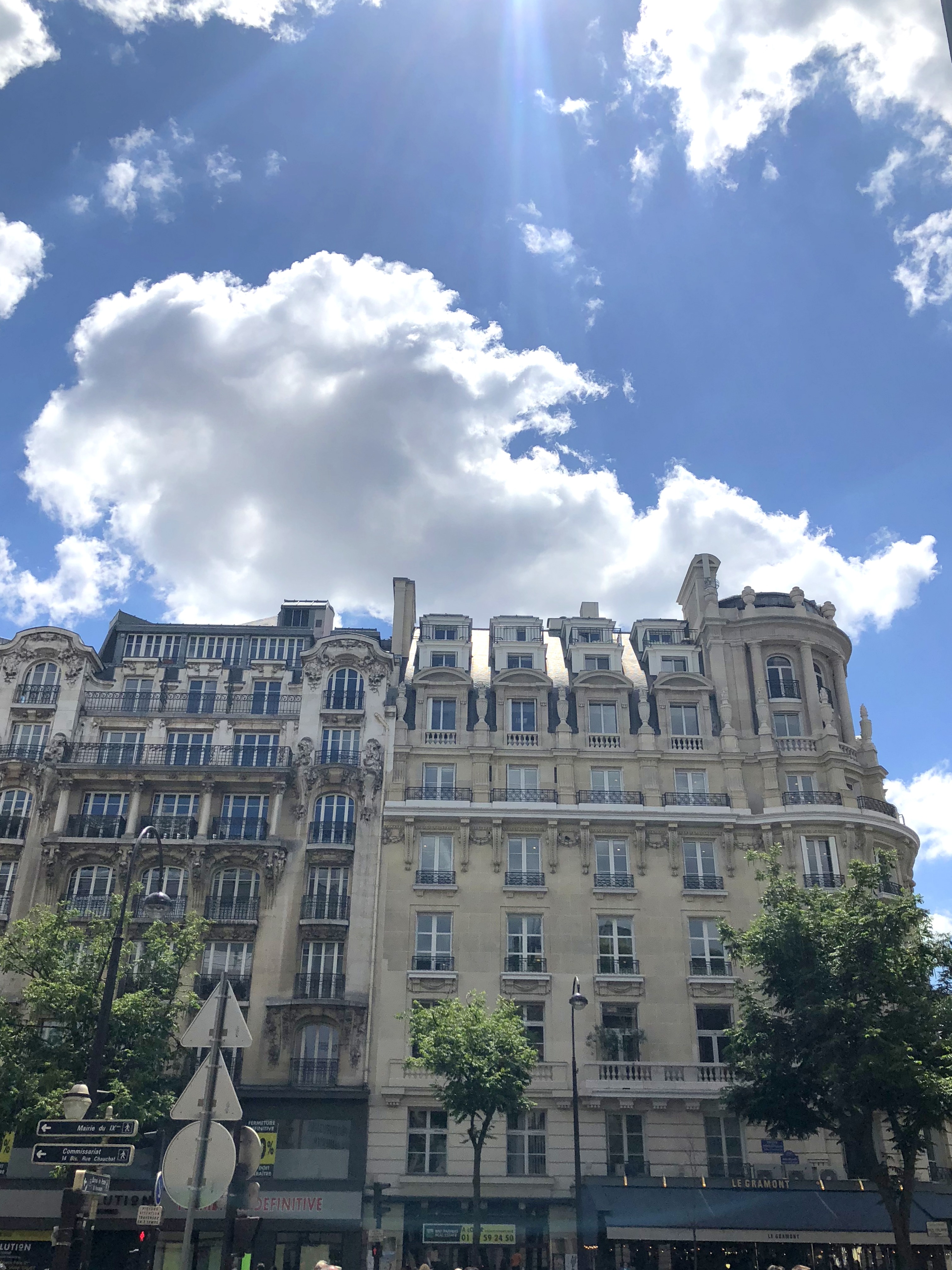 Speaking of the shaken awake part. It has happened in the past that I was shaken, but not to a clear state of what to do upon returning; however, it was a start, and I chose to see it through, continued to shake upon returning until the cobwebs and learned behaviors that were not aligned with my authentic self finally fell away. Such a shedding doesn't always happen quickly, sometimes it has taken years, but if we keep 'shaking' so-to-speak, our truth emerges, and it is then that we look back at our travels with even more gratitude. And gratitude for having traveled alone. There are truths that I have only been able to experience because I was traveling alone. Partly because at different times in my life, I didn't have the confidence or support to speak up enough to those I was traveling with and say clearly what I would prefer to do or at least in a way that yielding an enjoyable experience. And sometimes I didn't know what I wanted to do, so I just followed what the alpha person suggested. But if I had been by myself on those journeys, I would have just followed my curiosities without worrying about what anyone else thought, when I was supposed to return, etc., which is exactly what I do now.
"The life you have led doesn't need to be the only life you have." – Anna Quindlen
For me, traveling has led me to the life I want to live. Without travel, I would not be and be doing what I am, today. As Anna Quindlen's quote shares, the life I was leading when the trip began, especially the first trip I made to France (which was by myself), is not the life I live now or will be living in the future.
~A journal for your travels is a wonderful way to upon returning, reflect on the person you were when you traveled - where did your mind go, what curiosities caught your eye, how did you feel, why did you feel that way?~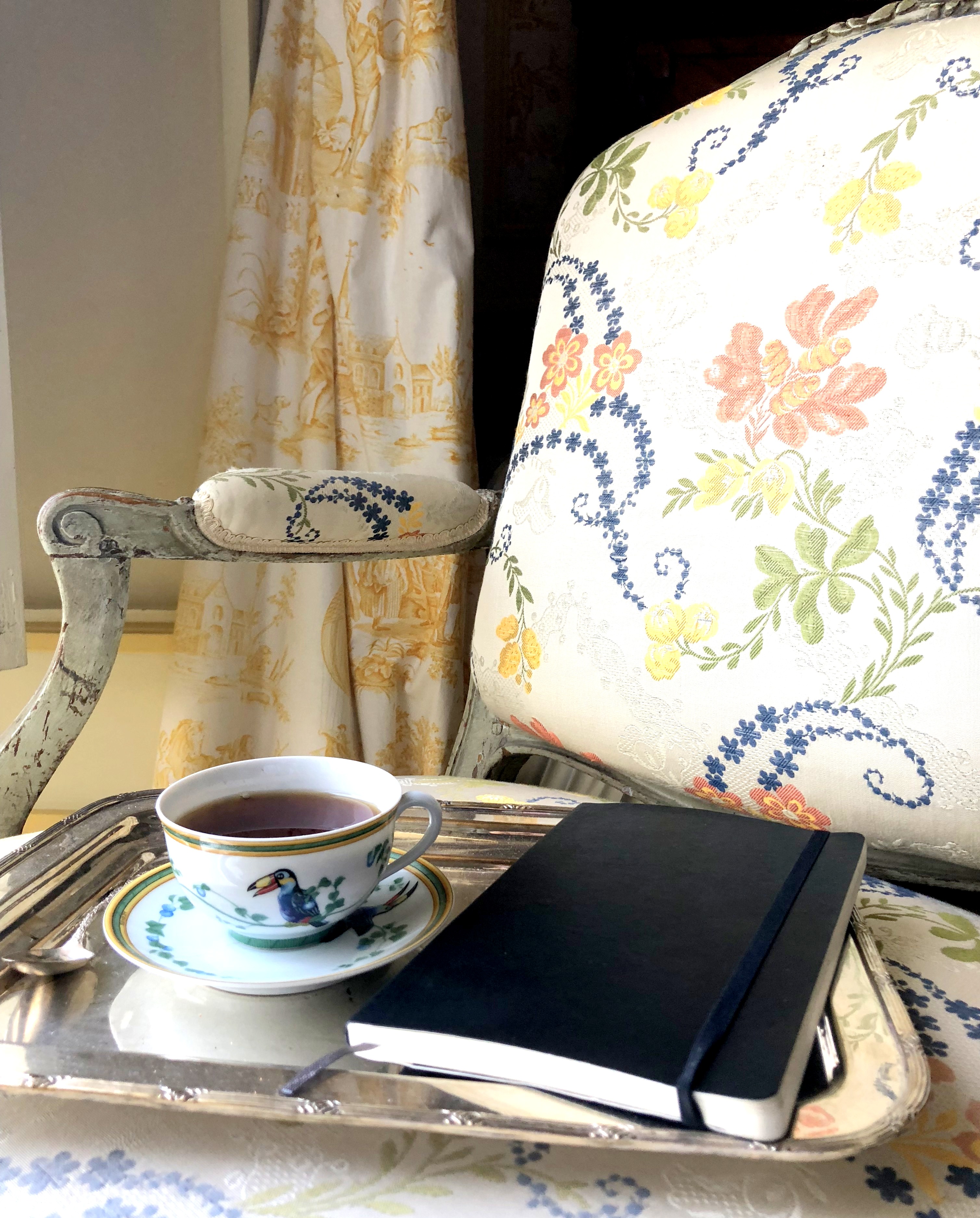 Traveling alone will show you quite quickly where your weaknesses are that can be strengthened. For example, if you immediately are not comfortable in your own company, that is something you can strengthen, and for your best self, you should. As well, if you do not know how to communicate well or engagingly, even if you do not speak the language, perhaps that is a hint that your awareness of the power of clear and effective communication needs to be tended to (which includes body language). One of the lessons I learned on my first trip to France which was in 2000 was to relax, let go of the worry and frazzle that perhaps we have learned when things are not going perfectly, and look around. Ask for help, take a deep breath and know that there will be another train if you miss the one you were scheduled to be riding. More importantly, since you are traveling by yourself, you learn to step outside of yourself. And while yes, you are taking care of yourself, you begin to see that when we only focus on ourselves, our inner world, our potential is limited. When we instead choose to examine "how can I contribute?", "how can I improve so that I can be effective not only for myself but the community I am currently in?", we begin to get out of our own heads and become more present. And when we become more present, the experiences of travel become far more rich and memorable.
~With moments to engage and moments to observe and moments to reflect~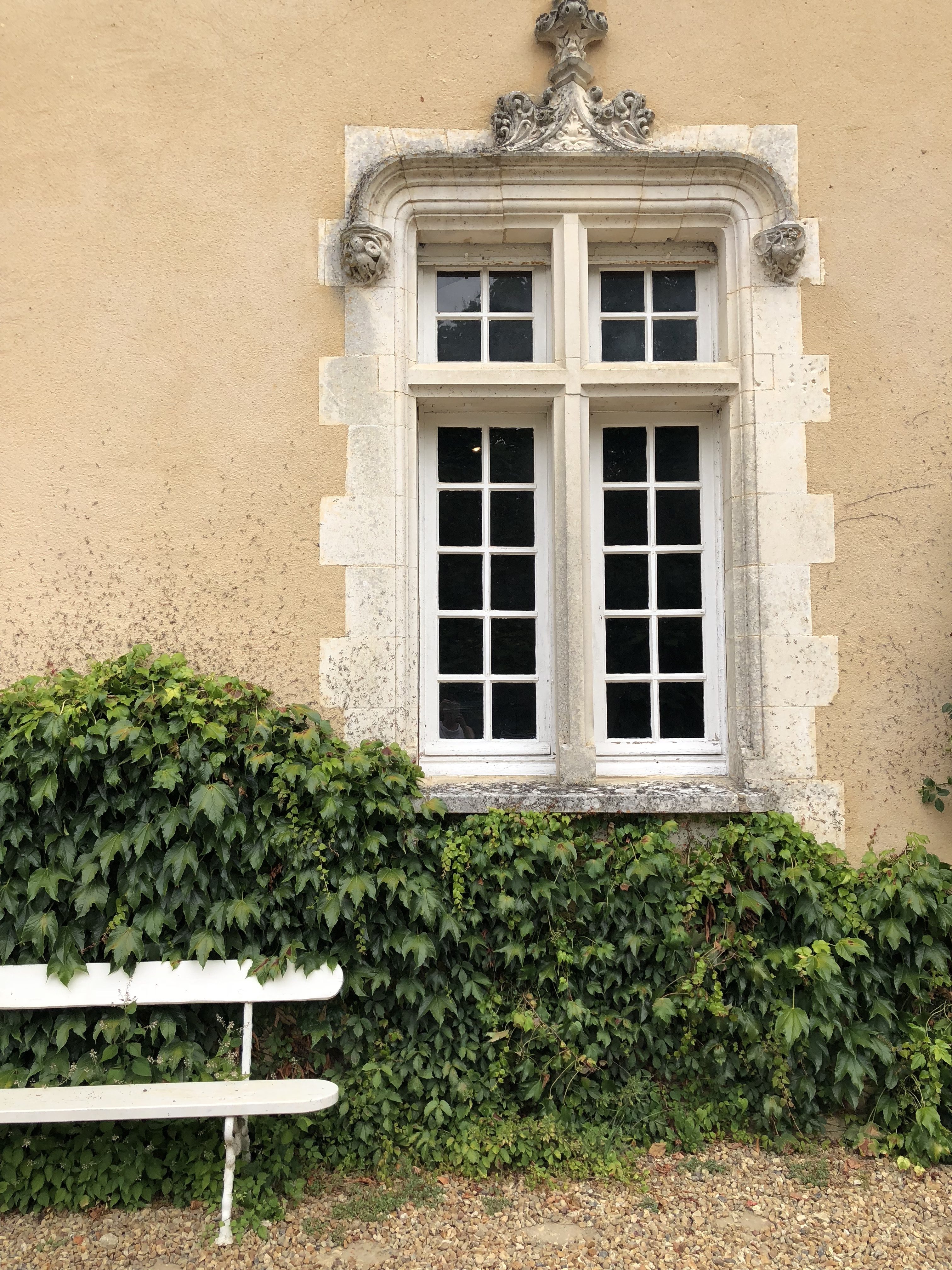 If you are considering traveling alone for the first time, be sure to read the below posts that have been previously written. They will help you prepare specifically and clearly for a successful trip. And if you have traveled alone, but haven't done so in a long time. Or you find yourself settled and perhaps desiring a boost - consider traveling alone. Not only will it boost your confidence if you need it, but it will remind you how amazing the life you life already is or perhaps share with you how to make tweaks and changes that you couldn't see had you stayed in one place.
~SIMILAR POSTS/EPISODES YOU MIGHT ENJOY
:
~International Travel Prep List, episode #183
~Why Not . . . Travel Alone? two-part series (part deux here)
~Why Not . . . Travel Luxuriously?
Order TSLL's 1st Book in audio format from Audible
here
~
Sign up for the
weekly newsletter
Petit Plaisir: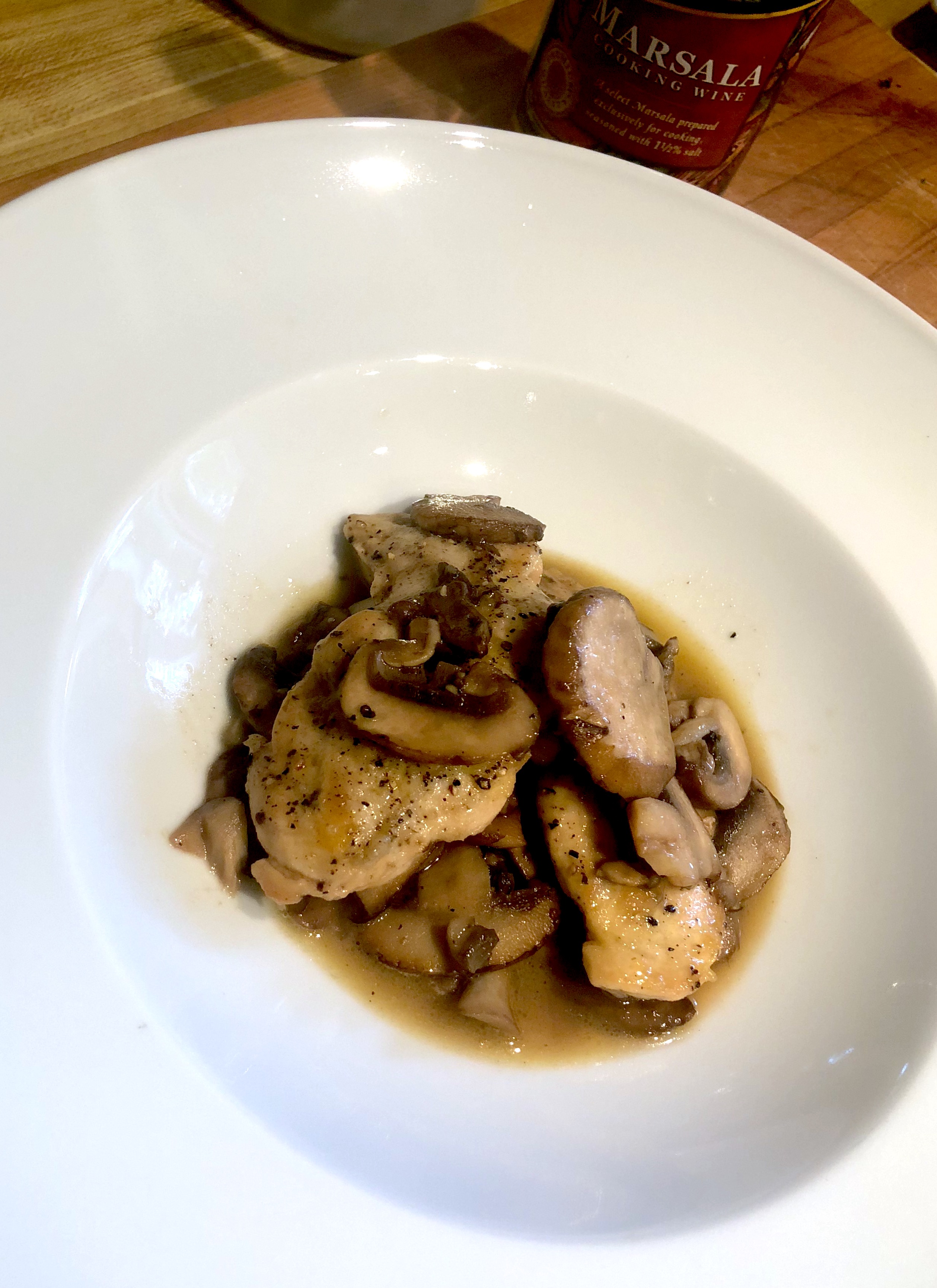 ~SPONSORS of Today's Episode:
HelloFresh – www. hellofresh.com/sophisticate30

promo code: sophisticate30 to save $30 off your first week
Images: (1) Gordes, France; (2) Charles de Gaulle airport; (3) Paris - right bank; (4) & (5) Loire Valley
Download the Episode
---
Sun, 29 July 2018
219: How to Cultivate Surroundings for Everyday Contentment
~The Simple Sophisticate, episode #219

"Your environment, where you live and how you shape your surroundings, is the biggest, most important and most impactful thing you can do to favor your own happiness." —Dan Buettner, The Blue Zones of Happiness
Have you ever said to yourself - if only I lived [insert your dream destination], I would be happier? First of all, that is perfectly human, and partially correct. Author and researcher Dan Buettner shares in his books and website Blue Zones, which dial into the blue zones of happiness, that while indeed where we live does make a difference to our levels of happiness as we adapt or become conditioned to the habits and way of life around us, so too do the following (as shared on his website - read more here):
Trust. Can I trust my neighbor?
Tolerance. Can I live out my values?
Community. Do I have strong social connections?
Healthy life expectancy.
GDP. Money does matter…up to a certain point.
Freedom. Do I have the freedom to do the work that is right for me?
As I look around my surroundings in Bend, I am examining, asking and then answering these questions for myself. As well, I am doing the same thing with the English countryside and French countryside as both excursions to these countries saw my happiness pique for a variety of reasons, some that were similar and some that were not. But we cannot always pack up and move simply because we aren't feeling as content or as happy as we want. Making such a decision isn't something done lightly or swiftly for most people, but what we can do no matter where we live is tend to what surrounds us right now. Keeping in mind the list above, I'd like to break those down in more detail, paying special attention to specific areas in our lives that we can look at more closely and discover that indeed we can make some improvements to elevate the overall quality of our everyday lives no matter where we call home.
1. Understand how to cultivate healthy relationships
The only person we have control over is ourselves. But it is imperative that we find a community in which we are accepted and supported as we are able to be ourselves. Within this community that you cultivate, honor this ability for others as well. I have written a detailed post sharing seven ways to build healthy relationship here.
3. Keep tribalism to a minimum
Looking at point #2 above, if we only spend time, live, and congregate with people who think just like us, look just like us and do not engage in healthy disagreements, we are not practicing tolerance of other ideas, cultures and people that live differently than we do. While there is a limit to what each of us can tolerate, understand what is most important as we get to know others outside of our tribe - kindness, respect of others rights and boundaries, and the abillity for individuals to become self-actualized to name a few that come to my mind. If we catch ourselves being judgmental, controlling and stereotyping someone based on something they have no control over, we need to take a step back and ask ourselves if we are contributing to the problem of a healthy society.
4. Examine your health and finesse your diet and fitness routines
~The Six Pillars of Good Health, episode #212 ~Design an At-Home Strength Training Program That Works, episode #201 ~Why Not . . . Take a Walk? Part Deux ~Why Not . . . Feed Your Body Well?
5. Build and then strengthen your income and financial future
~Why Not . . . Build a Strong Financial Foundations? 7 Tips to Try Now
6. Cultivate a sanctuary that feels like home
One of the aspects of my recent trip to France was that I chose rentals that would enable me to feel as at home as possible since I was so far away from my own home and would be for some time. Details matter, less but better matters, and choosing details and furniture that enable us to live the life within our homes that is not only functional but comfortable when we do what we love. Some takeaways for me that I will be looking to add to my current living space:
adding more framed photographs from my travels, with my dogs, etc.
adding more warmth to my rental with linen curtains that I can take with me to my next home that will be purchased as the size is not pre-determined.
making sure my kitchen is stocked with the utensils I need to cook the meals I love.
furnishing my deck with comfortable furniture for quiet pursuits (reading) and summer dinners with friends and family.
Below is a list of other detailed posts to offer more ideas and inspiration for making your home a sanctuary. As well, be sure to check out my first book Choosing The Simply Luxurious Life: A Modern Woman's Guide as an entire chapter is dedicated to cultivating a sanctuary. 22 Tips for Creating a Grown-Up's Living Space Why Not . . . Make Simple Home Touch-Ups? ~many more archived Decor posts here
7. Spend time regularly enjoying hobbies that enable you to be fully present
When we engage in hobbies that allow separation from our work world, even our social world as much as we personally need, we actually are giving our mind and being a rest. And when we let our minds rest, we reduce our stress, thereby increasing potential ideas and problem solving to happen naturally.
8. Be conscious of the media that you expose to your mind
We may not be able to control the world around us, but we can control whether or not we put ourselves in a situation to consume information that isn't what we know will increase the quality of our lives. Check out this post about giving your brain a chance to calm down.
9. Come up with daily, weekly, seasonal and annual rituals you enjoy and will look forward to
10. Take time to explore what you are truly capable of and can offer the world
The easiest way I have found to grow is to follow my curiosity. After all, when we follow what catches our attention and we wish to learn more, it doesn't feel like effort. In fact, such efforts may actually fuel us. And when we find what we love, what we enjoy doing, our contentment rises. Fred Rogers once shared about people who were successful, "The thing I remember best about successful people I've met all through the years is their obvious delight in what they're doing and it seems to have very little to do with worldly success." And if we can find a place in this world, whether it is in the town we currently call home, or if we have to move to make such a career possible, our happiness will soar. It doesn't mean we won't face obstacles, but we will be able to work through them because we sincerely care and enjoy what we are doing. Today, consider what surrounds you - structurally - the home you live in, the physical work space; socially - the people you spend time with; concepts and ideas that are heard, seen, read - the media, ideas shared by others and the culture you call home; and what you have accepted as out of your control. Often much of what is in our control can be improved simply by being conscious of what influences our environment. Often it is in the stepping away from our everyday environment, whether because of a weekend getaway or a trip to another country, because when we return we see that life goes on in a myriad of different ways. We have the ability to construct the ways our world unfolds on a daily basis in more ways than we may realize. But when we do realize, more contentment can be ours. ~SIMILAR POSTS FROM THE ARCHIVES YOU MIGHT ENJOY:
~7 Ways to Become What You Were Truly Meant to Be, episode #193
~Learn How to Truly Savor Everyday Moments & Watch It Elevate Your Life, episode #163
Petit Plaisir:
—Won't You Be My Neighbor? documentary film of Mr. Rogers' Neighborhood and Fred Rogers
~View the conversation on TSLL's Instagram post about the film here.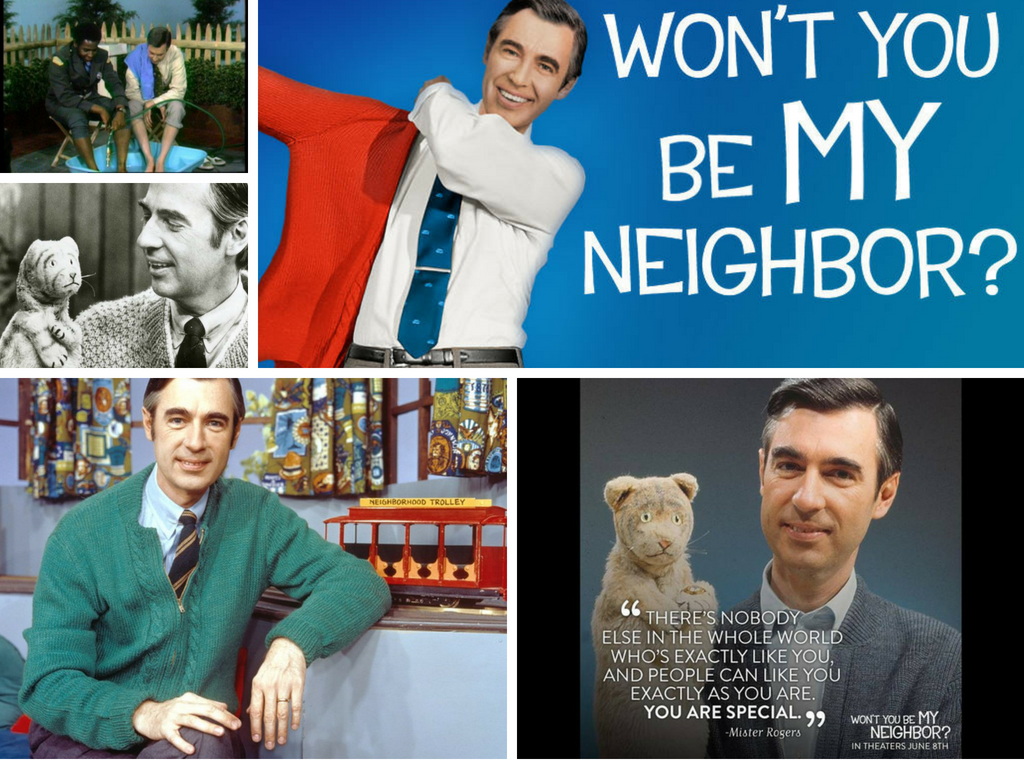 https://youtu.be/FhwktRDG_aQ
Image: TSLL's Instagram
---
Sun, 22 July 2018
218: Doubt the Default - How My Trip to France Woke Me Up
~The Simple Sophisticate, episode #218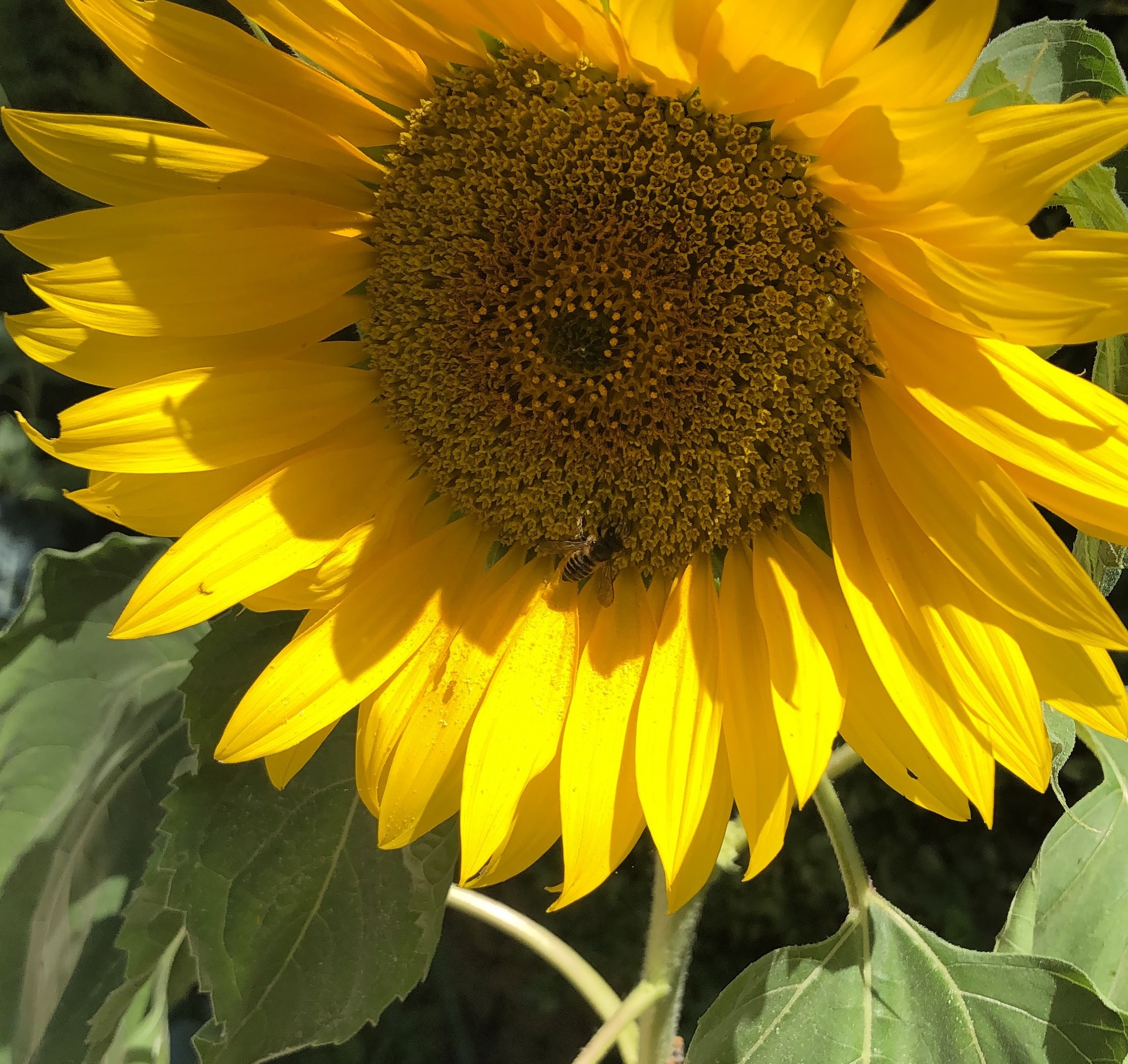 "A nail is driven out by another nail; habit is overcome by habit." ― Erasmus
While traveling during the past four weeks in France, I found that I was finally able to default in conversation to a handful of expressions to, on the most basic level, demonstrate I comprehended what was being said - bien sur, absolutement, parfait, ouai, je comprends, merci, de rein, à demain. Again, as you can see, a very basic level. But, there was no longer a pause before I spoke whenever any of these words or phrases was warranted. My mind no longer had to think, I just spoke. In this instance, I was tickled. Finally, an aspect of the French language, after many years of sporadic studying, was becoming a default in my brain. A muscle had been strengthened to the point of habit. But, again, my responses were basic, simple, surface. "Doubt the default." When I heard Adam Grant utter this simple, concise, alliterative statement in his TED Talk about original thinkers, my attention was captured. It happened three years ago upon arriving in Bend and moving into my new home that I ran into a new neighbor. The circumstances were we didn't know each other, simply put, and I uttered in conversation with this perfect stranger, "trust me, I understand what you mean." At the time, I didn't think about that phrase before I said it, I didn't really consider the weight of such words - "trust me", I just said it out of habit. Default. And I wouldn't have even reflected upon this fact had the woman engaging me in conversation not said, "I don't know you to trust you." The topic of our conversation was about our dogs, but the truth was, she didn't know me, and she was fully present in the conversation. While I thought I was, the words I chose said otherwise. Ever since this conversation, I have thought carefully about what I say in conversations out of habit, filler, silence-enders, space holders. I have done my best to eliminate words such as "like" from my informal speech after I recognized how many times I would say it when, had you asked me, I would have guessed the word never entered into my syntax. Aside from the words I chose, I began to dive into my living habits, my thinking patterns, and it was with my trip to France that I recognized many cultural defaults as well that I had not even considered addressing. Quickly, another word for "default" is a habit. By definition, a habit is something that frees our mind up to focus on other tasks. So as long as the habit is helpful and contributes to the quality of the life we desire, a habit is a very good thing. Selecting water as your drink of choice, looking for the positive, smiling instead of frowning, wearing the same uniform to work to eliminate wasting time in the morning - all very helpful habits. But habits, defaults, can also be hindering our ability to live a better life, a more thoughtful life, a more engaging life, especially when we don't even realize we have these unhelpful defaults. Below I'd like to share with you a list of potential defaults already in your life inspired by what I saw, experienced as well as caught myself doing without thinking.
1. Not taking a grocery tote into the market
In France, when you go to a supermarket, they will not provide you for free with a plastic or paper bag to place your groceries. If you, as I did on my first occasion, do not bring in your canvas tote, market tote, or anything to carry your groceries, you will have to pay for their grocery bags (ones you can use on your next visit). The price was quite small - ten centimes - but it caught my attention immediately. A good habit could easily become ingrained in my memory of bringing a grocery tote to the store if I knew I would have to pay for a new bag each time I shopped throughout the week. (In one instance, I simply placed all of my groceries into my tote - handbag; and I also saw many people bringing their market baskets to the brick and mortar stores as well - multi-purpose.)
2. Expressing a negative energy during first impressions
When I travel, I love to listen. When I listen, I am better able to observe, and it also enables me to see more clearly, and more accurately, someone's true nature. What do I mean by this? Having had the opportunity to meet many people from all different walks of life, it was often the first impression that upon reflection was the most accurate to their true disposition. When we don't know someone, and the environment is safe, what is your first reaction when you meet them? Most of the people I met expressed warmth which made those few who did not stick out like a sore thumb. Because it is the first impression, their negative or positive energy has little or nothing to do with me, and much more to do with where they are in their life at that moment.
3. Driving faster than necessary
Driving on the roads in France, the country roads, the autoroutes and everywhere in between, it became quickly apparent that most French drivers drove the speed limit. I later had a conversation with Sharon Santoni about the laws of the road and my observation, and once she explained the drivers' point system (each Euro driver begins with 12 points and they can be lost for speeding (automatic surveillance along the roads), using a cell phone, etc.), it became clear as to why the pace of the roadways felt very civilized. No matter where in the world you drive, it would be interesting to consider the defaults you adhere to when you are behind the wheel. What is deemed acceptable, what is not? Buckling up - good. Glancing at your cell phone - bad. Driving a manual car during my entire trip which was something I am accustomed to, but my current car for the past four years here in the states is not a stick, upon arriving home, my left foot automatically began looking for the clutch without success. My brain had defaulted in four short weeks to expecting to use a clutch. This is good news. Not only can we change the defaults that are not helping us, but they can be "reprogrammed" quite quickly with frequent, repeated practice.
4. Not greeting the shop keeper, artisan, taxi driver, etc.
The many travel writers and travelers of the world, have done a magnificent job of sharing the importance of saying "bonjour" if one is in France, but in nearly every other country in the world as well, upon entering any business, vendor, etc. in order to begin to set a cordial tone. From time to time, I would notice a traveler, in my case, I zoomed in on Americans, but that's not to say other world citizens don't make the same mistake as well, immediately begin making an inquiry of the proprietor without extending a salutation. And while often, the staff would attempt to help them, an opportunity to build a better rapport was missed. I began thinking about this simple habit of focusing first on the human connection before homing in on the task which brought us to the store, market, etc. The difference is there are feelings and emotions involved that must be considered when we choose to first focus on making a human connection. And when we do this, we are being present. No, we do not know how the interaction will go, but the chances that it will go well are greatly increased.
5. Assuming a market will always be open
I quickly learned that I needed to plan my grocery shopping well before my stomach became hungry. While this detail was something I remembered from my previous trips, staying in vacation rentals, I usually wanted to cook my own meals, so making sure a market of some sort was open (restaurants are usually opened each day of the week for at least lunch and dinner) was a shift from my approach in the states. In the states, if I have forgotten an ingredient for dinner on a Sunday, I don't think twice about heading to the market for a quick pick up. Having to know in some capacity that I had what I needed for my meals in advance also enabled me to just relax and enjoy a leisurely Sunday or any afternoon during the week as the outdoor markets wrapped up around 1pm and most restaurants in the small towns shut down between lunch and dinner.
6. Eating the same food year round
In Provence, the melons were nearing their peak ripeness, but green asparagus season was all but over. White beans were a treasure to be purchased and savored during these months strawberries were to indulge upon like candy. However, if I were to return in November, as most of the markets are opened year-round, I would see completely different selections. Now, we know the seasons offer different fruits and vegetables, even seafood, but it can sometimes become easy to forget when we shop in a supermarket and only stick to the same food each trip. The appreciation for the food that only comes once a year is something we can celebrate in our cooking as we dine on the rich flavors. In so doing, we actually do help our waistline as we become satiated more quickly and do not overeat as we are eating real food with natural, wonderful flavor.
7. Perfect and impersonal
The idea of a perfect home, a perfect outfit, perfect hair, a perfect life, as we know is a futile pursuit. And to this point, most intensely, it was the decor that woke me up throughout this trip as I appreciated the signature touches made available by the treasures one can find at the many brocante markets. Now this is not to say, one cannot decorate a home outside of France without the access to brocantes. Absolutely not, but what I think is tempting is to make everything look ideal immediately in our homes - paintings, furniture, tabletop vignettes, etc. And as Sharon Santoni and I were talking, a beautiful home that is the sanctuary for the inhabitants is one that has layers of unique and thoughtful decor choices, and these layers take time. When I stepped foot onto Sharon's property, enjoyed meals with her family, and stayed in her guest cottage, it was immediately clear that they lived there. I couldn't purchase her decor details", but I could be inspired by them because it was more than the things, it was the stories that came with them.
8. Speedy and surface conversations
As I shared at the beginning of my post, it can be easy to say certain catch phrases without really thinking about what the words themselves mean. While idioms exist in every culture, sayings that mean more than what they are literally saying, it's not the idioms I am talking about here. When we are in a different culture that asks of us to reach beyond the language we are most comfortable with, often the conversation can be slow. While this may be frustrating as we want to talk quickly like locals, it shows thoughtful care. We want to make sure what we wish to say is said and not something that will offend or confuse. I find that sometimes in conversations we say more words than our necessary. Just as in every other arena of our lives, quality over quantity. When we choose our words carefully, we can say so much more. Excessive use of superlatives (best, largest, toughest, most amazing, prettiest) waters down the actual compliment if all you use are superlatives for something you either love or loathe. Precise words and thoughtful timing of when we engage in conversation, demonstrates we are listening, we care and we are trying to understand.
9. Drama is necessary and thus inevitable
Initially, it was my lack of access to the regular news sources I look to or listen to on a typical day when I am in the states that made me realize that I had been accepting the noise of problems, clashes and pain as normal. But even with the shows and books we read, we can come to expect, even look for, the clash, the conflict, the drama, that must be there somewhere. The truth is, often things to work out. In fact, it is human nature biologically to remember the instances that didn't work out more readily than the times that did for survival. But when we accept this biology, we ignore that when we are aware of why this happens, we can shift our expectations, our reactions and instead rest more easy, enjoy the steady, even balance of our lives that go well quite often. Why look for the drama when it truly doesn't need to be there?
10. Assuming an incapability
I can't travel alone. I can't drive in another country. I can't live without [insert something that you cannot travel with]. Often when we travel we discover something, if not many, things about ourselves we were not consciously aware of. Many of these discoveries are awesome, exciting bits of information that awakens us to our best selves, but sometimes we discover that we have been limiting ourselves unnecessarily. If our default in our minds is "I can't" instead of even just "I'll give it a shot" when a new task or new experience is placed in front of us, we may miss out on the most beautiful London plane trees lined country roads in France (see below), or meeting Walter Wells (I ended up after attempting to walk to class at Patricia Wells' cooking class the first night, getting lost, and ended up calling Walter who came and found me and picked me up in his car to take me to their property for dinner - we had a lovely conversation). We often sell ourselves short regarding what we are truly capable of doing, and we especially do so when our default setting is immediately "I can't". Yes, you can. You may have to do a bit more homework, save a bit more money, or have some patience, but "I can't" is often more an expression of hoping that we could so badly but we just don't know how.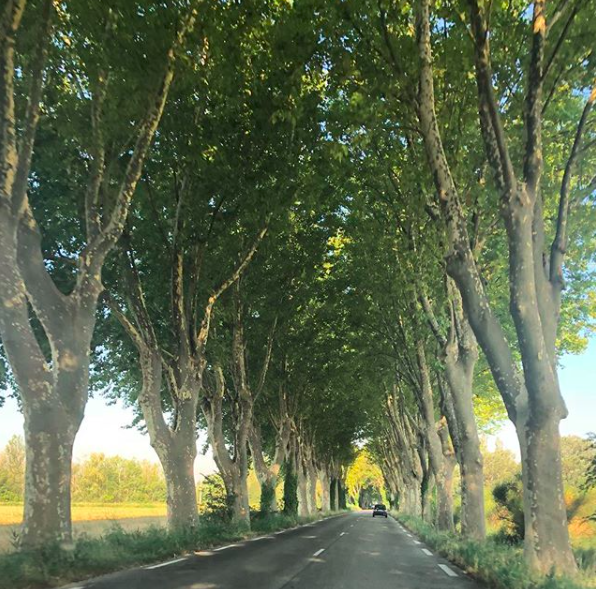 "Default choices often remain unchanged for no reason other than being the default, either because of this lack of information or humans' status quo bias." —Marvin Ammori
Adam Grant was right, we should doubt our defaults because when we don't we are either living unconsciously or not living as full of a life as we could if only we had more information to make different choices and take different actions. Kristin Armstrong states it frankly, "We either live with intention or exist by default." When we live with intention, we are living well. We may not have success on our first attempts at speaking differently, acting differently or engaging differently, but we are doing it out of a conscious choice to live more authentically, thoughtfully and more engaged with the world we are living. While traveling to France made this concept of living with defaults quite glaring to me, we don't have to travel outside of even our own town to know that we may have defaults that are not serving us or defaults that are limiting our full potential whether it be in our appreciation of life, our relationships, even our success at work. All it takes is a choice to reflect and ponder, why do I greet people the way I do? Is that the energy I want to extend? If so, that's awesome, but if you recognize you want to make a change, you can do that too. When we doubt the default, we are choosing to be selective about the habits we allow to be habits in our lives. It's when we do not know we have these habits that we step on our own toes, so to speak, and trip ourselves up without realizing we are the ones slowing our progress down. And that is great news, we each have the skills and the opportunity to stop tripping and start striding into the life we love living. ~SIMILAR POSTS/EPISODES YOU MIGHT ENJOY:
~20 Ways to Live Like a Parisian, episode #127
~15 Everyday Habits to Live a Life of Contentment, episode #93
~Why Not . . . Live a Life of Quality?
~Listen/Read more French-Inspired podcast episodes here. ~Learn more and subscribe to TSLL's weekly newsletter here.
Petit Plaisir:
A net and rope company based in Caen, France, since 1855 with a goal of creating environmentally-friendly products.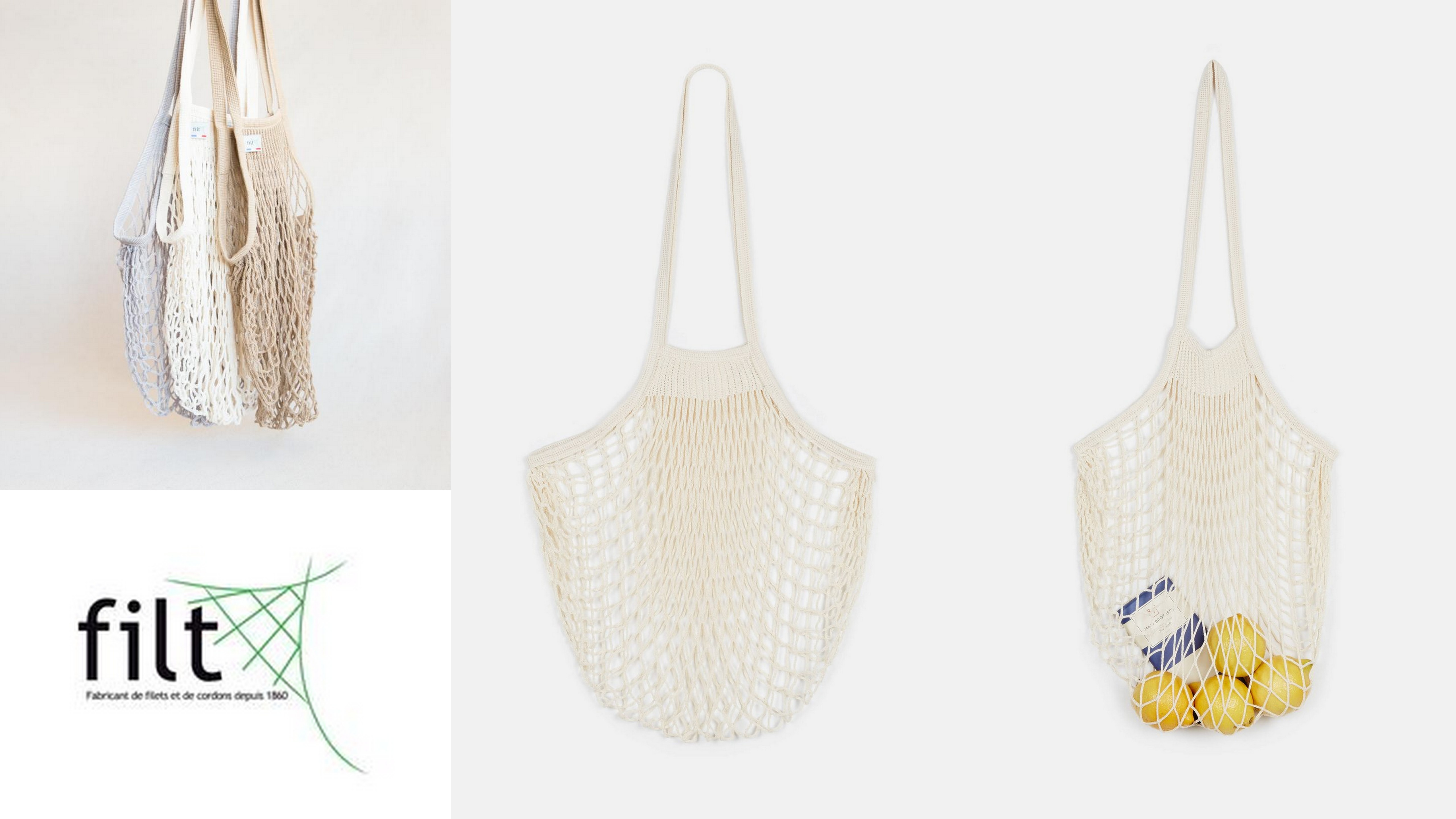 ~Sponsor of today's episode:
Lola

Use promo code SOPHISTICATE to save 40% off all subscriptions
---