Sun, 25 November 2018
235: 10 Ideas Gleaned & Confirmed from my Last Dinner Party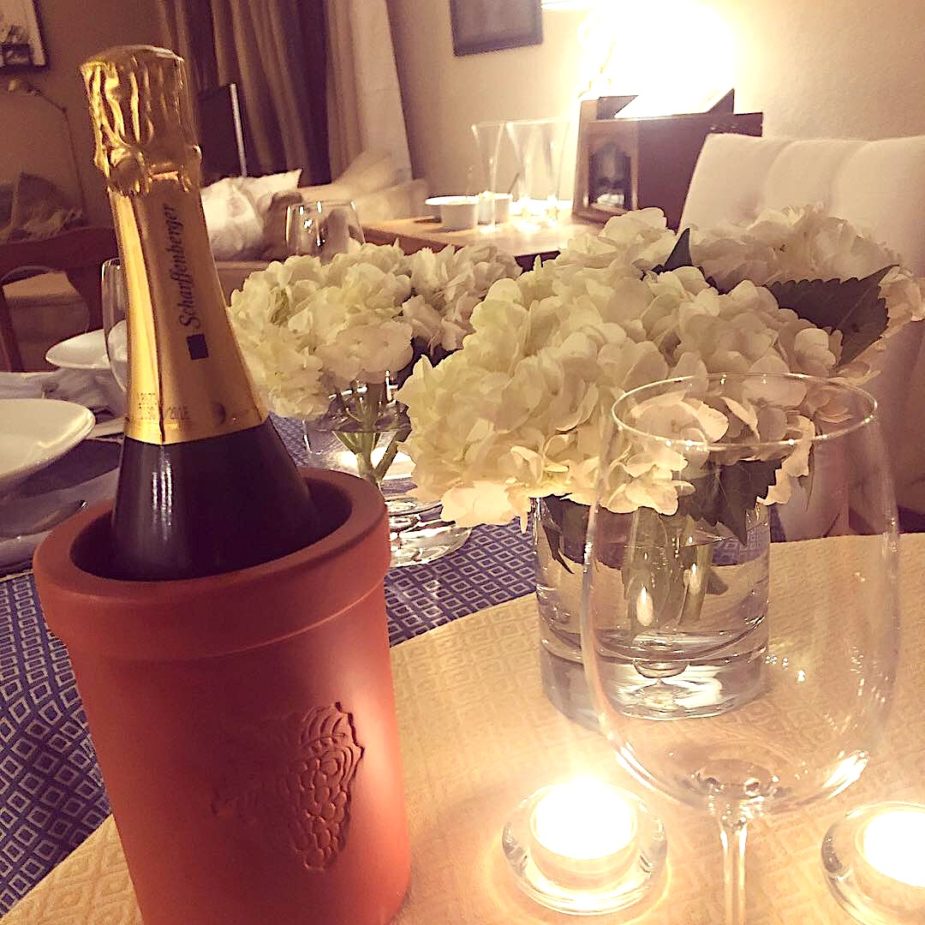 "There is nothing that makes me happier than sitting around the dinner table and talking until the candles are burned down."
― Madeleine L'Engle, author of A Circle of Quiet
Dinner parties. I would love to ask the question of what comes to mind when the phrase "dinner party" is expressed because depending upon so many factors - culture, familial experience, region of the country in which you live that you lived in and do now, and many more - we each have a perception of what a dinner party entails.
Having grown up in a household in which my mother would carefully plan the day, and pleasurably set the table, all the while knowing exactly when certain dishes should be made, put in the oven, etc. I saw it as a positive experience. My dad was and still is a great host, welcoming and entertaining guests while my mom finishes getting dressed now that all of the food and settings are prepared.
Since then, I have enjoyed meals with my mentor from time to time in Eugene, Oregon, and each dinner party I attended, she served in courses - appetizer and cocktails enjoyed in the living room next to the fire, the second and main course served in the dining room, followed by the dessert, and often it would end back in the living room as we unwound with a cup of hot tea or espresso/coffee.
My travels to France have only confirmed the joy of a dinner party that pays no mind to time, and while often the idea of courses is received as a pretentious idea, I have enjoyed it casual and higher end experiences and have found it a good idea for my waistline as I take the time to savor the food.
Now everyone's approach to a dinner party will be different, but choosing to host a dinner party is something I have always enjoyed doing, although I haven't done as much entertaining in Bend as of late which is why I decided to host one just this past weekend before Thanksgiving with a small group of friends and colleagues.
I let go of the need to feel as though I had everything "just right" in my home (in fact, I had to bring an extra table in as I no longer had a large dining table as I sold it before my move to Bend), and I reminded myself that the impetus to have a dinner party is to share good food with people you enjoy being with and want to either get to know further or offer a moment during our busy lives to relax and simply enjoy our time together without expectation.
It has been my experience hosting dinner parties in the states that some people are quite happy to enjoy a meal they do not have to cook, others are curiously surprised by the multiple dishes that keep coming, but whether the food is exactly as I had hoped or not, our time yields some lovely conversation and connection that doesn't always happen in our brief interactions during our days.
1.Begin with something bubbly upon guests' arrival
Whether you have a preference for Champagne, Cava, Prosecco, Sparkling Wine or Sparkling non-alcoholic beverages, or maybe even a special bubbly cocktail, have it prepped and ready for guests as soon as you take their coats and clutches. Once they have something in their hands they will relax more quickly whether they are sipping quickly or not. The goal is to bring ease and let them know they are welcome.
2. If guests, ask what they can bring, have a simple idea that is inexpensive and helpful to you as well
While as a host/hostess, we don't expect our guests to bring anything but themselves and their witty repartee, but we are also told as guests to ask. So if a guest asks, so either have an idea of what you might want or reassure them that indeed you truly want them to come, relax and enjoy.
3. Order a couple more wine glasses than you will have guests
If you are like me, you have broken a few wine glasses over the years while cleaning them or in the middle of dinner as dishes are being passed about. Even if you typically have small dinner parties like myself 4-6, having eight is always a good idea for that extra guest you want to invite and for that moment you realize you broke your sixth glass last time you had a dinner party.
~Wine glasses from Crate & Barrel
4. So long as you have a tablecloth . . .
It really doesn't matter what table (or tables, in my most recent case) are beneath it so long as you have a tablecloth, or cloths, that unify. Find a simple linen table cloth (H & M is selling beautiful simple white, taupe, navy and stone linen tablecloths on sale), and you are set to create a signature and inviting dining table for your guests.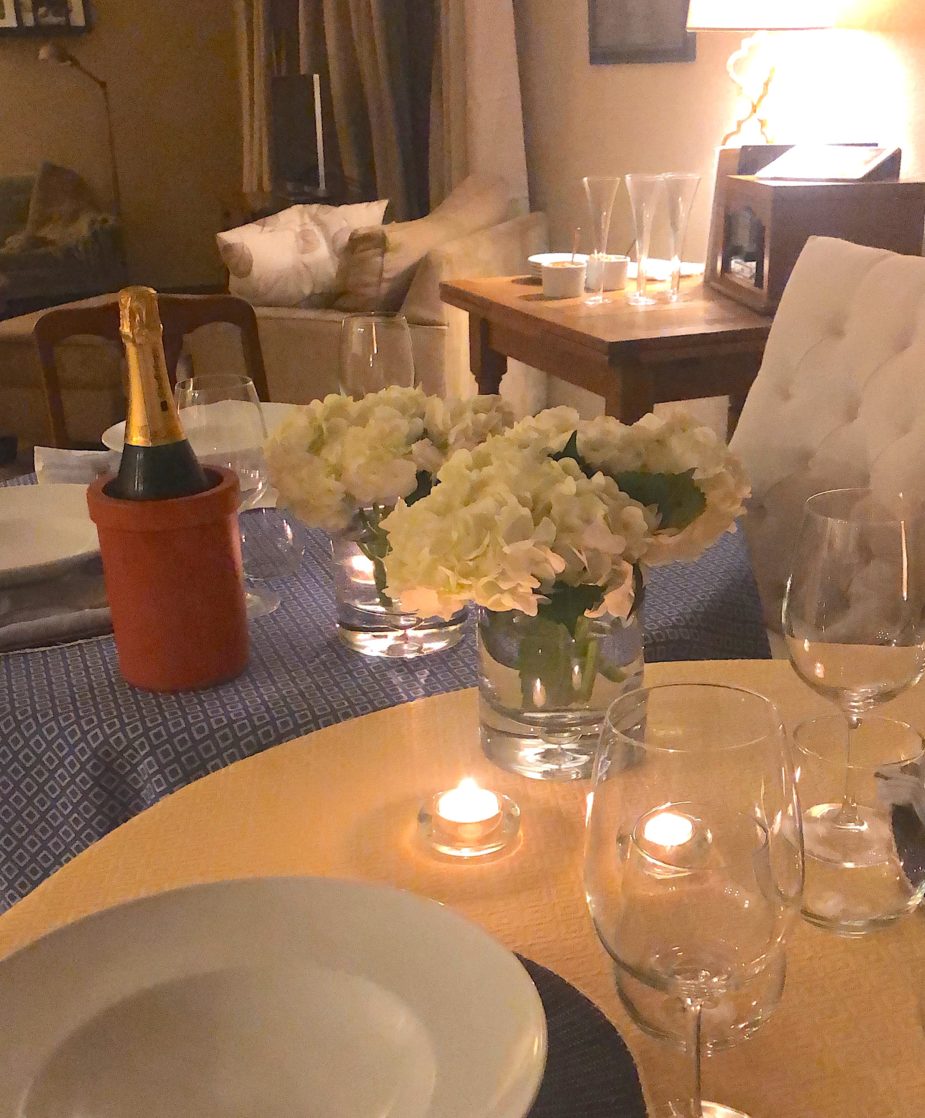 5. Buy plates in sets of 6-10 whenever and wherever you buy them
One of the many details that caught my attention while dining for lunch each day with Patricia Wells was that there was always matching plates for each course, but that didn't mean that each course's plates had to match the next. Whether you find them at second-hand shops, brocantes, on sale during the holidays at Crate & Barrel or Sur la Table, if you see a beautiful soup bowl set, scoop them up. Having enough plates for each courses makes it easier on the host, as you aren't cleaning during the meal, and a beautiful way to present your food as well.
6. Ditto for placemats
While you may never know where or when you will find placemats that catch your eye, having them at the ready is a great idea to, again, create an inviting dining table. I found a few on Etsy you might also gravitate toward.

[show_shopthepost_widget id="3364331"]

7. I love serving the meal in courses
As I mentioned at the top of the post, I gravitate toward serving courses when I invite guests to dinner. If its a cocktail party or a casual gathering, buffet style is a better fit, but when it is dinner, as I share in this detailed post, I do love serving courses: more time with my guests, more time to enjoy the food and more time to just savor the simple pleasures of food, conviviality and life.
8. Make sure to have something for those who don't drink alcohol
I have made this mistake before and since I don't drink much more than water, tea or orange juice, have found myself in a pinch for those rare guests who don't drink. Whether it is a sparkling apple cider or sparkling water, have something bubbly and new for all of your guests to enjoy from the beginning of the evening to the wee hours of the night.
9. Add a natural touch to the powder room (even if it is never used)
Just a simple bud vase with a freshly cut bloom is all that is needed, but it freshens up and brightens up the room, letting your guests know they are indeed in the correct bathroom as often, they are new to your home. Sometimes I add a candle as well.
10. Have a supply of extra (comfortable) folding chairs when necessary
I adore my tufted linen upholstered chairs which I have had for years (many readers saw them for the first time in my previous home here), but I do only have four of them and am not in the budget space to purchase 2-4 more (perhaps someday). But in reality, all I need on an everyday basis is four, so having nice, comfortable folding chairs that can be easily stored is a good idea for those of us who live in smaller homes without the grand room for the large dining room table. My mom has been very helpful on this front, helping me find a few that integrate well with my aesthetic, are comfortable to sit in and are as well quite sturdy. Here are a few ideas for nice foldable chairs to peruse.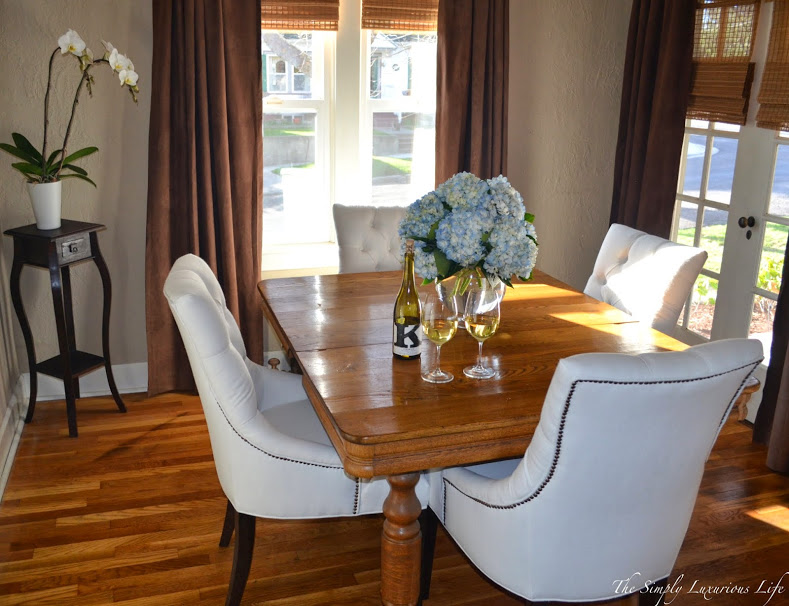 Choosing to have a dinner party is often something to plan ahead letting your guests know so they can make available the date, but not always. If you are ready with these simple tips shared above, you can call people around for a wonderful meal in a matter of days, as your home is ready. Simply add trusted, delicious food and the evening will be quite a treat for all (host included).
~TSLL's New Book was just released! Living The Simply Luxurious Life: Making Your Everydays Extraordinary and Becoming Your Best Self (available on Amazon, and wherever books are sold. As well, signed copies can be ordered here on the blog).
~SIMILAR POSTS/EPISODES from the Archives You Might Enjoy:
~Why Not . . . Host a Dinner Party Al Fresco?
~episode #168: French Everyday Living with Author & Blogger Sharon Santoni (2017)
~Why Not . . . Have a Dinner Party?
~Why Not . . . Host a Holiday Meal with Friends?
~Why Not . . . Eat in Courses?
~Why Not . . . Sit Down For Dinner?
Petit Plaisir
~Save 25% off your purchase with promo code CYBER18 (free shipping too!)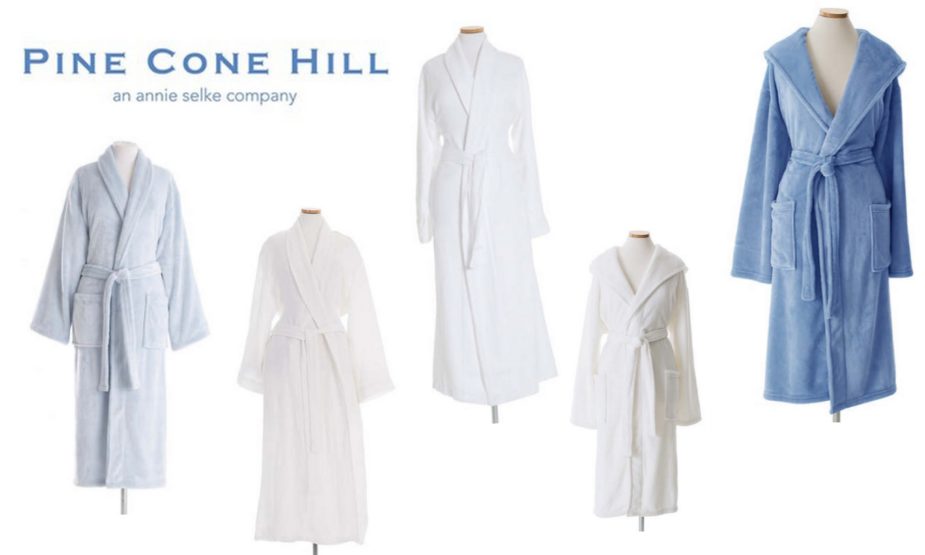 ~The Simple Sophisticate, episode #235

~Subscribe to The Simple Sophisticate: iTunes | Stitcher | iHeartRadio | YouTube | Spotify
Sponsors for today's episode:
HelloFresh

Promo Code: sophisticate60

Holly & Tanager, The Professional: Backpack Purse (check out the video below)

Save 15% off your first order with promo code SIMPLE at checkout
---
Sun, 18 November 2018
234: Becoming Your Best Self - Embracing the Transformation Process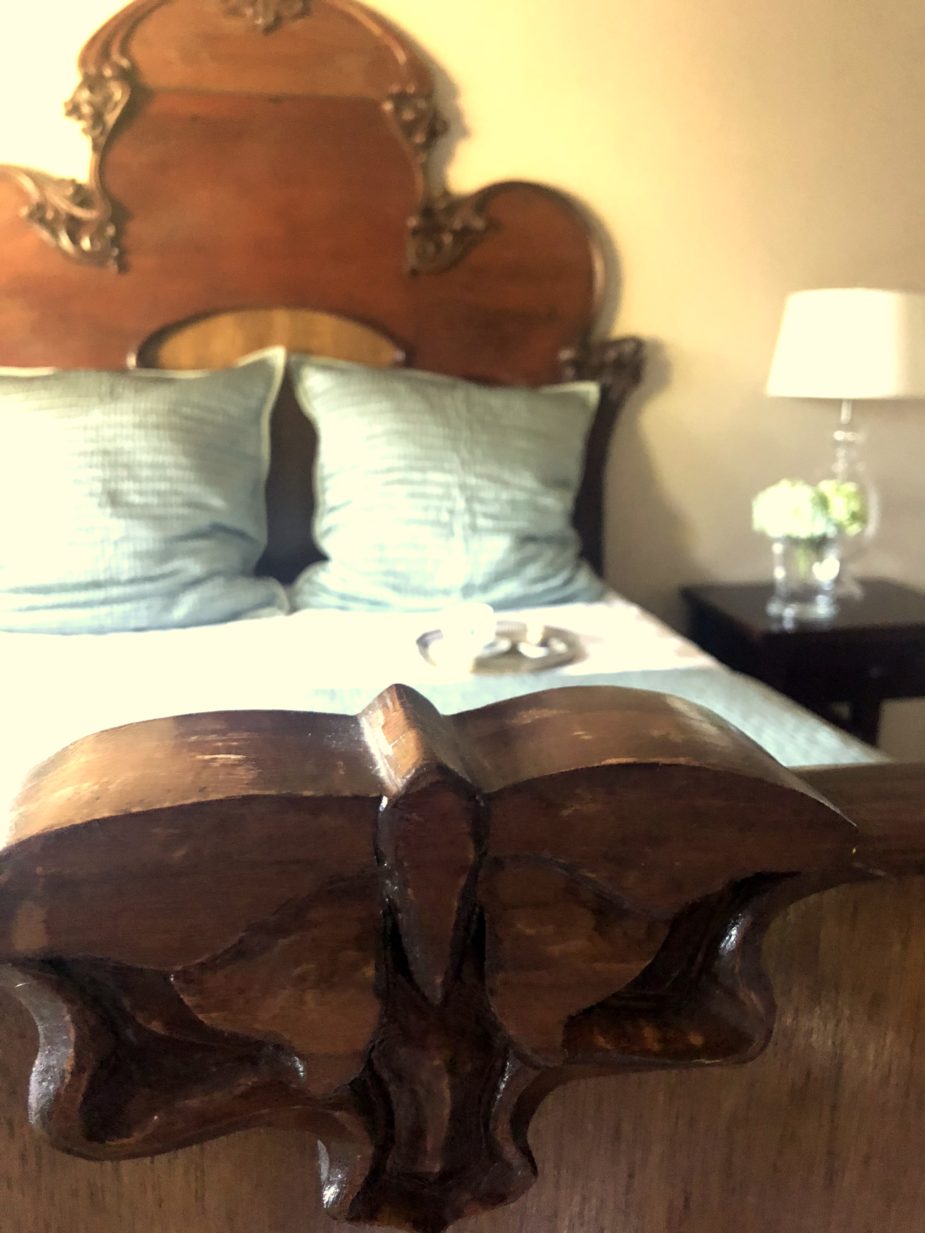 "Heat is the element of transformation. It is was takes raw to cooked, flabby to firm. Pale to golden brown. " —Salt, Fat, Heat, Acid, documentary, Samin Nosrat
The topic of butterflies has been abundant here on TSLL blog - in 2011, What Butterflies Have Taught Me; in 2016 - The Butterfly Moment in Life: Don't Wait, Just Live Well, episode #160; in 2010 - With Balance and Determination - and after reading these past posts, you will quickly see my long-held fascination with this transformative insect with a large pair of brilliantly, uniquely colored wings (and Norman's too as explained in the first post listed).
Let be being this conversation by sharing an interesting note: caterpillars are associated with both butterflies and moths, and there are far more moths than butterflies (6-11% butterflies as opposed to 89-94% moths), but often the opposite is believed to be true because moths are nocturnal and butterflies fly about during the day.
Taking a mere couple of weeks (sometimes months, a for a few butterflies, years), the process, while some may describe it as "beautiful" due to its magnificence and eventual outcome, it actually can be quite odd, not typically majestic aesthetically and perhaps to some, gross. I won't describe all that takes place (you can read about that here), but yeah, part of the process is icky (I use this elementary term only to further my next point - what Mother Nature is enabling to happen as the butterfly transforms from a caterpillar is nothing short of awesome).
When you have the courage to step forward into transformation, to cultivate a life that welcomes contentment, to let go of what is no longer supporting the person you wish and somewhere within you unconsciously or consciously knows you can become, there will be stages that are "icky", uncomfortable, frustrating, doubt-filled and maybe even painful figuratively/emotionally speaking. But that is part of the necessary process.
Last weekend, I posted this image on Instagram (see below). For those listening, it is an image of my new maghony bed frame. Complete with a footboard and headboard, at the top of each is a carefully carved butterfly. I call it, not surprisingly, my butterfly bed. As I shared in my Instragam post, it was a find at a secondhand store for a price that was far below what it should have been marked, but this treasure had gone unnoticed for many months and the owner of the shop was eager to move it. Knowing the carpenter, artist is a more apt word, Steve Arment, who is a dear family acquaintance in Wallowa County, I knew a treasure when I found one and welcomed this piece of art into my home tout suite.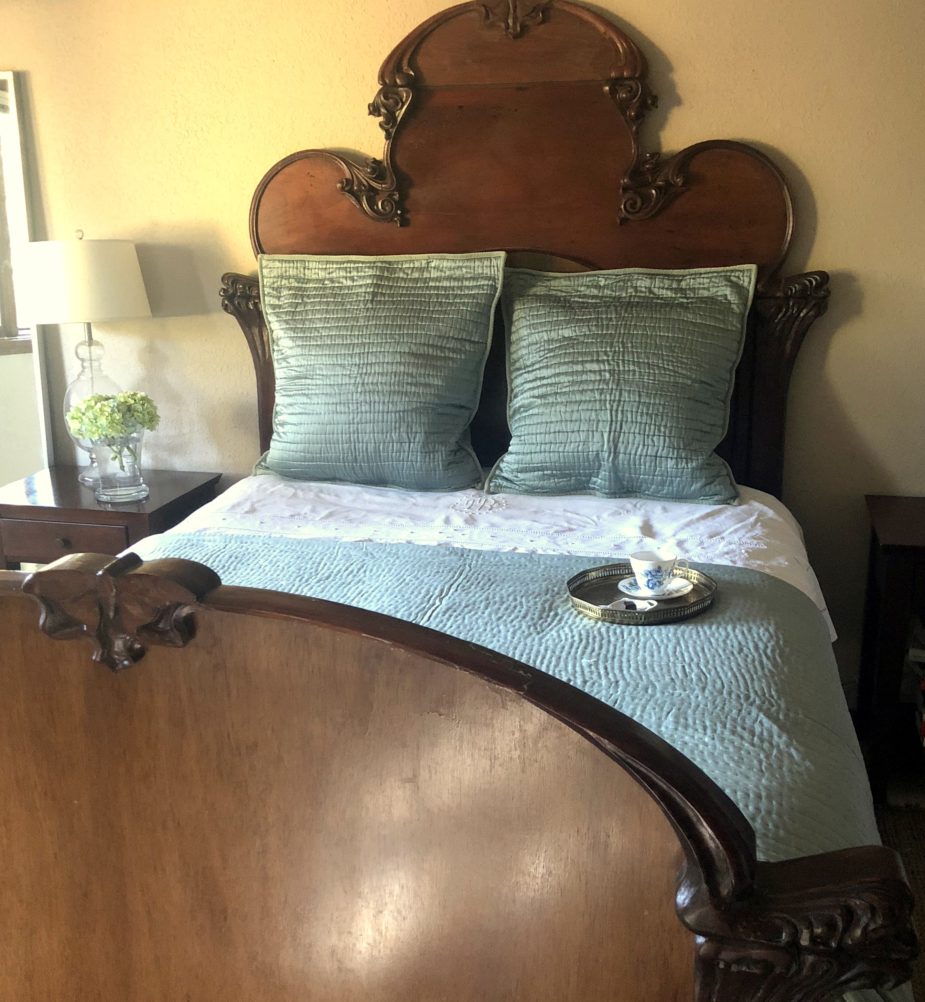 Much of TSLL's new book Living The Simply Luxurious Life: Making Your Everydays Extraordinary and Becoming Your Best Self) is about the chosen transformation to travel your singular journey in order to attain, and live each day, your best life. A life of contentment, a life of realizing your true potential.
And it is a book inspired by my own choosing to step into the stages of transformation.
There are countless blog posts, and even books on the process of personal transformation, but it warrants a closer, yet concise look at the realities and the benefits of the process.
When I heard the quote shared at the top of this post shared by the author of the wildly successful book and now docu-series Salt, Fat, Acid, Heat Samin Nosrat in the Heat episode, an image of a butterfly struggling to free itself from its cocoon was on the screen. I pressed pause. I rewound and listened again to what she said. I listened again and proceeded to write down the words shared today. Admittedly, she is talking immediately about food, but she could just as well be talking about any change we seek in our own lives. In order to cultivate change, we must create friction which causes heat, which mobilizes the ability for the change we seek to occur.
1.Give yourself permission to become more
"There is power in allowing yourself to be known and heard, in owning your unique story, in using your authentic voice. And there's grace in being willing to know and hear others. This, for me, is how we become." —Michelle Obama, in her memoir Becoming
Whether it is society or our own limiting thoughts, obstacles of the transformation we know vaguely awaits us should we choose to step forward to change will flash before us repeatedly attempting to thwart any decision to proceed. But you must be daring. You must be brave because as former First Lady Michelle Obama shares in her new memoir and directly in this quote, when you choose to become more, you empower yourself and now have the ability to help others step into their fullest potential as well.
2. Give yourself permission to be content.
Sometimes, especially as women, we need to hear that our actions will help others in order to give ourselves permission to do something that will improve our lives and make us more content. But in this particular step, I want to give you permission, and thus for you to give yourself permission, to let yourself be truly content. Each of us is living different lives, each of us has different responsibilities, that is why your journey will be unique and only you will truly know what you can let go of, what you need to remain committed to and what you no longer need to be a part of, but your happiness will spilleth over if it comes from a place of authenticity of an opportunity to improve the world and its contentment.
There will always be shamers, guilt-trippers, and fear-mongers to attempt to "put you back into your place", which is why you need to find your support system (TSLL is here for you too!), but first be your own support system and give yourself permission to be content. A better you will help cultivate a better world.
3.Remind yourself of your unique strengths and past successes
"By staying in touch with your accomplishments, you build true, authentic confidence to move on to make new things happen. Appreciating your success enables you to take responsibility for your greatness so that your life . . . [is about] finding ways to use your own gifts to make a difference." —Jinny S. Ditzler, author of Your Best Year Yet
When we are in the middle of transforming, doubt inevitably creeps in. We begin to wonder if we really do have something the world needs and whether our investment of time and resources will be worth it. In these moments, take time to slow down and remind yourself of both your unique strengths and your past successes - those actions and abilities that inspired you to begin the journey you are currently on. Perhaps you need to check in with that dear friend of yours that is your constant cheerleader if you cannot seem to remember your awesomeness because it is there and once you remember these truths about yourself, a deep breath will emerge, your chin will rise just enough for you to look forward so that you can keep on striving.
4. Understand that constructing a solid foundation begins with instability
Your world will feel as though it is shaking at times, unstable, some of the previous strongholds - perhaps financially, perhaps socially, etc.. You will feel emotionally drained and tapped to find an ounce of energy to power through. You may have moments of floods of tears, anger due to disrespect or lack of understanding. Keep your composure in public, seek out those you trust for comfort and reassurance in private, take time to find balance and strength, and know these moments are part of the building a more solid foundation.
I was recently watching a segment on Oregon's Public Broadcasting which spotlighted the building of Portland's Japanese Gardens, Oregon Art Beat. And in the segment, the first natural design one sees when they enter the garden before hiking up to the full Japanese natural space are the dry stone walls. The architect explained that this architectural approach of stacking rocks without cement or binder ironically enables the wall to become stronger with each shake of the earth, each shift of the ground beneath it. Why? Because as the earth moves, the rocks begin to settle more and more firmly into their place. The key is to have chosen the pieces carefully when first designing the wall.
You are the architect of your life, and so long as you trust your journey, understand your unique gifts (something that is discussed in detail regarding how to do in chapters 8 & 9 of TSLL's new book), with each shake that comes from society, from a critic, from individuals who challenge what you are doing, it will ultimately only strengthen your foundation, but at first, it will feel unstable as it is new.
5. Remain open to opportunities you initially may not recognize
Opportunities often take time to materialize and thus for us to recognize as opportunities when they first dance across our paths. Because we are seeking or traveling down a path that is new to us as we have chosen the path of transformation away from our previous existence and toward a new one, opportunities will be, and initially look, different.
Much like continuing to date the same type of person, we cannot expect to seize the same type of opportunity over and over again and expect a different result. It seems obvious, but it is hard in practice initially because we have become trained to see opportunities that we now know do not serve us for our new journey. Which is why we must remain open to opportunities that may be unrecognizable initially. How?
What I have learned is that opportunities often take time to fully take shape. In fact, we have to do the homework beforehand, take a risk often times and then be patient to see how it will all work out. The most important step is doing our homework. In other words, what investments have the best chance of helping us to attain the outcome we seek. Instead of seeking the option that will give us an outcome quickly, but not the best outcome, we need to be patient and simply let it unfold once we've put forth the effort.
Eventually, the opportunity will become clear, but along the way, it will be foreign as we are a new student to this language.
This past summer, I spoke often about my trip to France. It was a trip, while not my first, that is most memorable for a long list of reasons. And it was on this trip that a butterfly came so close to my face on multiple occasions it felt surreal. As we sat down for lunch throughout my week at the Provence cooking school, the butterflies would dance down the center of the arced table overlooking the valley in Vaison la Romaine. I would catch the eye of fellow students immediately after it would happen and we would just smile in adoration and disbelief at what we had just seen, no words needed to be exchanged. Of course, I had my own reasons for smiling, much of what is explained here, but it was when I came across my new bed (that I was not shopping for - in fact I was shopping for a round pedestal dining room table that I continue to shop for), that I smiled again spontaneously.
If you too are fascinated with butterflies, you will have your own reasons for smiling when you see them as we are each choosing to travel along our own transformative path, but I find my bed to be even more now a place of support and encouragement. And the transformation in my most private sanctuary a welcomed change as a new chapter of sorts begins.
It is a curious feeling sharing a creative piece of yourself, in my case, a book which shares many different personal details, with the world. As many readers have coined, it is somewhat like a "book baby". You work on it for years, you read it and reread it and reread it multiple times, but it isn't until it is put out into the world that you feel particular feelings at their most visceral level - vulnerability, hope, relief, just to name a few. The relief is one of emotional expenditure, and perhaps the bed came at the perfect time with its comfort provided because I have slept longer and more deeply in the past two weeks than I have for some time. I am recharging.
Heat is created when we choose to take action. The action may not be understood by everyone during the process of transformation, but when you trust your journey, when you understand yourself, when you emerge, you will be strong enough to explain, introduce and share your newly transformed, beautiful self to the world.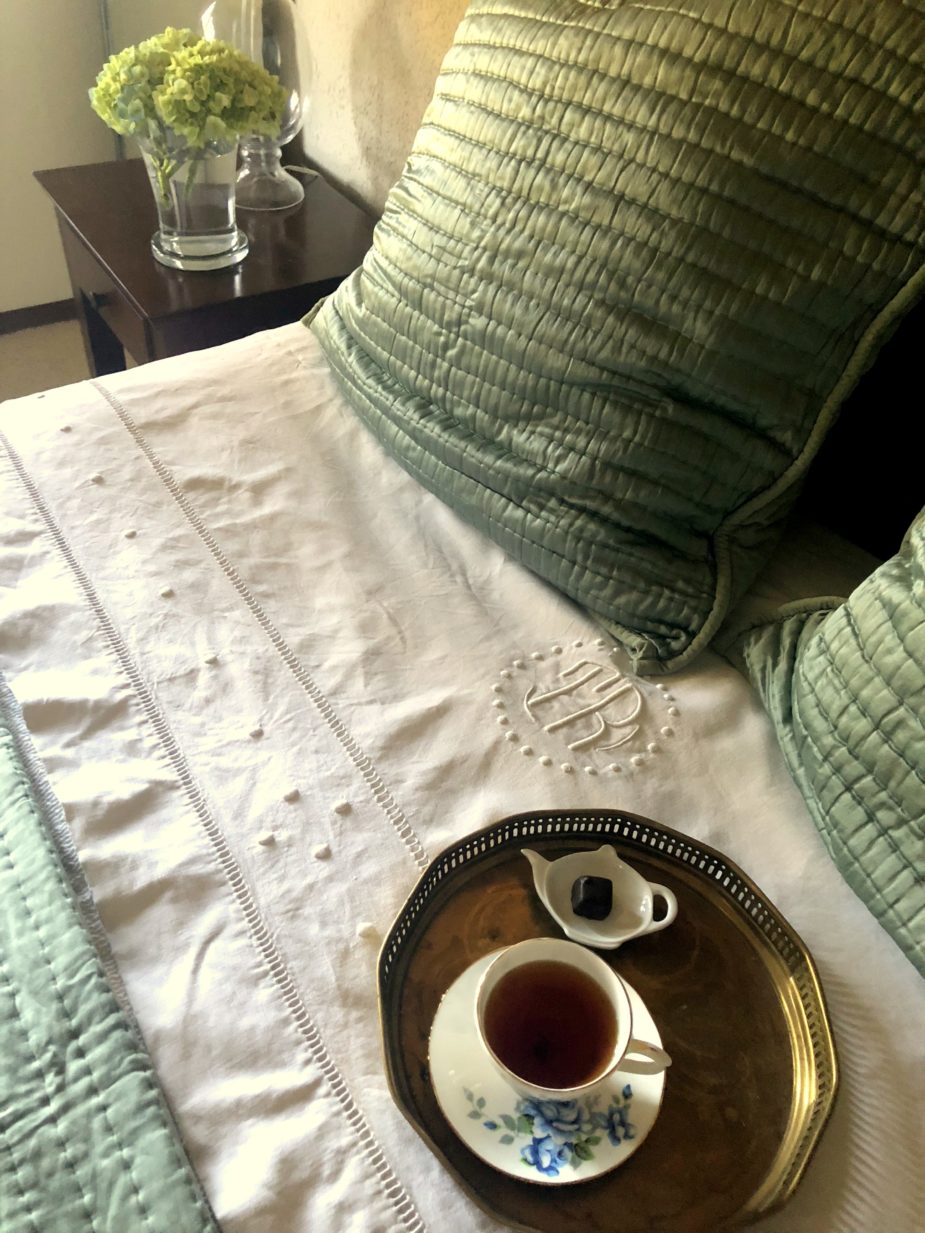 ~TSLL's New Book is Released! Let's Live Our Best Lives - the Official Release Day - View and Listen to interviews and learn much more about the book in this detailed post.
SIMILAR POSTS/EPISODES YOU MIGHT ENJOY:
~Trust the Transition: How to Step Through and Embrace the Change You Seek, episode #225
~How to Create the Change You Seek
~Why Not . . . Recognize the Stages of Making a Lifestyle Change?
Petit Plaisir: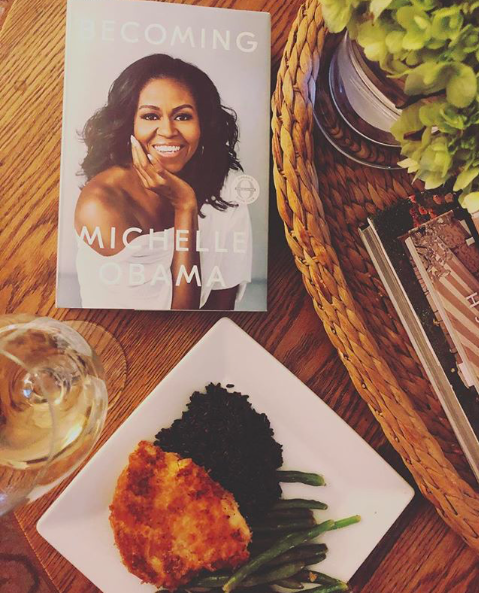 ~The Simple Sophisticate, episode #233

~Subscribe to The Simple Sophisticate: iTunes | Stitcher | iHeartRadio | YouTube | Spotify


Sponsors for today's episode:
Holly & Tanager, The Professional: Backpack Purse (check out the video below)

Save 15% off your first order with promo code SIMPLE at checkout
---
Sun, 11 November 2018
233: Inslee Fariss, Manhattan based Artist & Illustrator (and the talented woman behind all of TSLL's artwork)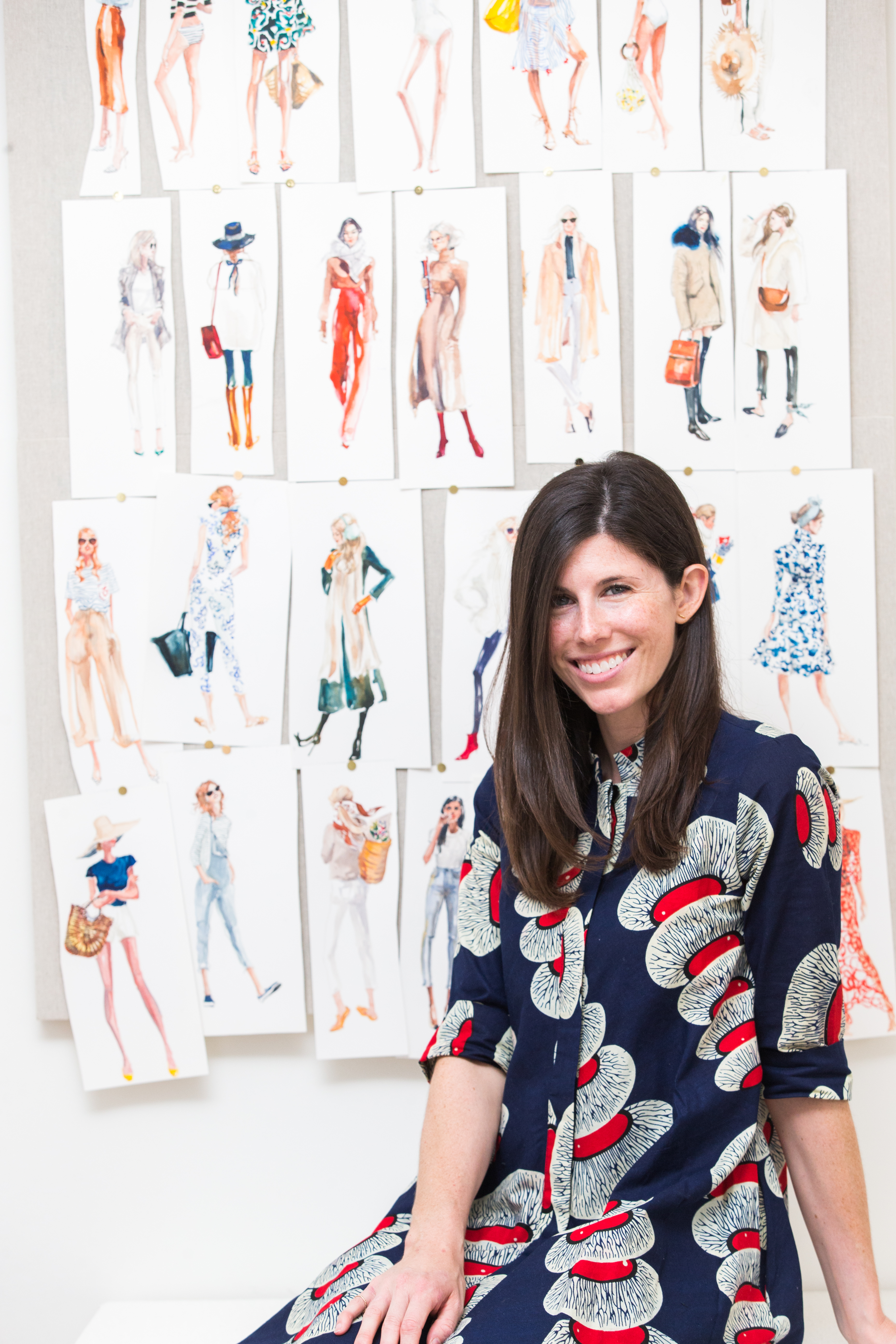 "I see inspiration everywhere - from the fashion flitting past as I am crossing 7th Avenue to the overgrown flowers exploding from the window boxes of the brownstones of the West Village to the monkeys blinking back at my son and me as we wander through the tropical zone of The Central Park Zoo. It is all waiting to be painted. I often feel giddy, dizzy, overwhelmed by all that there is to paint." —Inslee Fariss
In February 2011 I first came across the watercolor fashion illustrations by Inslee. At the time, my blog was just over a year old, and I was looking for a way to put my signature on the heading. With four images including one of Sarah Jessica Parker in a favorite final scene of SATC, one of Ines de la Fressange and yet another one of Henry Bendel's illustrations of stylish women, I reached out to Inslee who was in Washington D.C. at the time. In a matter of two weeks, after a couple of emails back and forth and one phone call, the first TSLL woman was complete, and I was over the moon (see the woman below in the white dress with red clutch (center)).
Since our first collaboration, Inslee's painting career has blossomed, and she has been living and working in New York City with a studio in the West Village. Painting for Rachel Zoe, working with Elizabeth Arden and many other well known names, she also works on private commissions, some for businesses like TSLL and many for personal stationery, imagery, etc.
As you will hear in our conversation in today's episode of the podcast, she shares her journey to finding what working environment works best for her to create regularly, how and when she knew she had a gift, as well as how one of her figure drawings (nude silhouettes) ended up being purchased by the now Duchess of Sussex (Meghan Markle).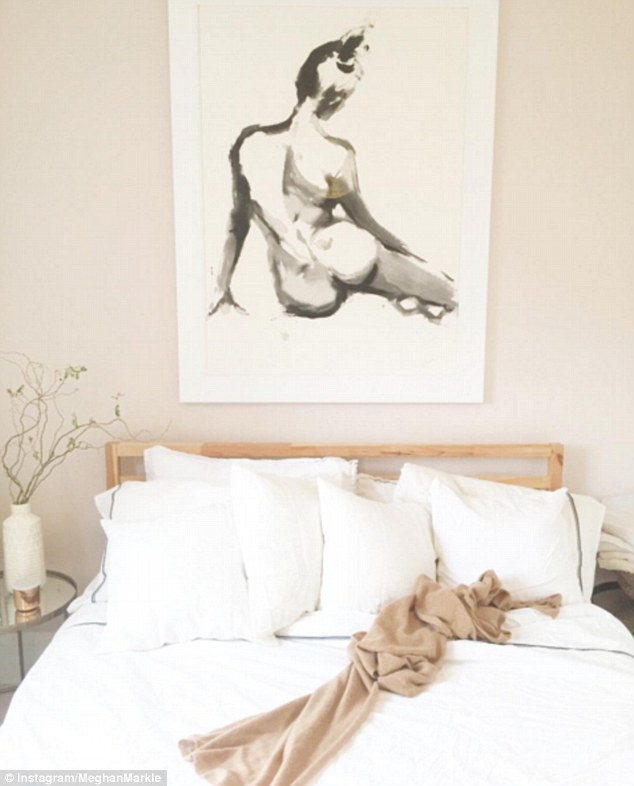 ~Inslee's illustration purchased by Meghan Markle as discussed on today's episode~
Her observations about enjoying the everyday, what it feels like being a mother to her 17-month-old boy Jackson and where she finds inspiration for her annual calendar are also topics that she talks about.
Since 2011, I feel extremely fortunate to have received 15 exclusive, commissioned illustrations for the blog (12 of which appear in TSLL's 1st book, one which was created for my teaching blog and the final two which appear on TSLL's new book - Living The Simply Luxurious Life and the blog's header). All of the illustrations are below.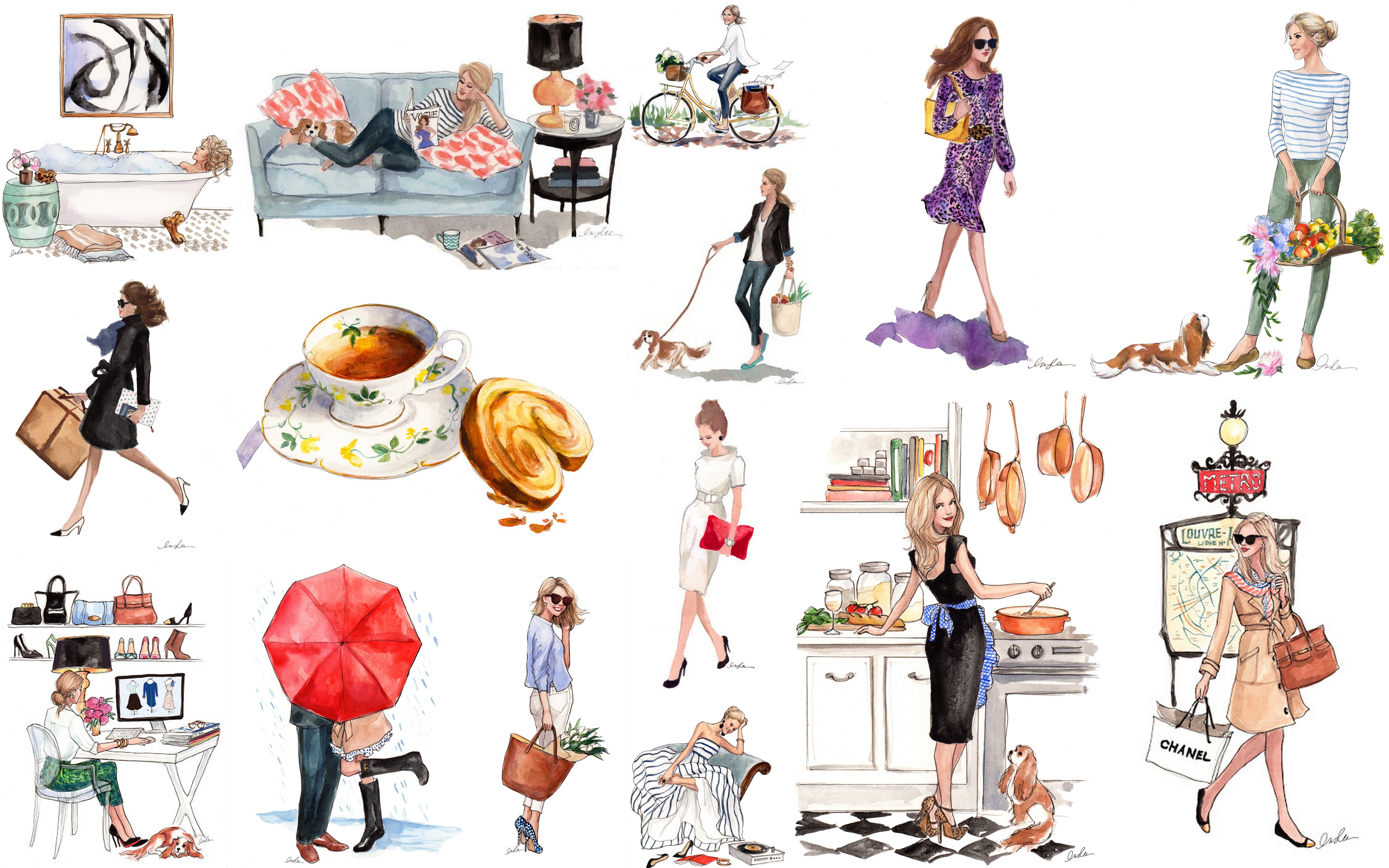 As we discuss in today's episode, one of her amazing talents is to create what her customers are envisioning in their minds. She brings to the canvas her knowledge of fashion and style, the human body, as well as the observations of everyday life that we may dismiss or take for granted, but when appreciated can enliven the quotidian moments more than we might have imagined.
Be sure to stop by Inslee's website, shop her recent launch of the 2019 desktop and wall calendars (Book Worm & Botanical) as well as her newly launched 2019 Planners complete with exclusive illustrations and beautiful leather binders from Neely & Chloe (the steel blue one has my eye, but there are more beautiful colors available). You can also shop prints of her illustrations and contact her for a commission project.
As was mentioned in the episode, her Instagram (especially her Stories) will brighten your day. (follow @inslee).
Lastly, I want to extend my deep appreciation to Inslee for being a guest on The Simple Sophisticate. Until our next collaboration together!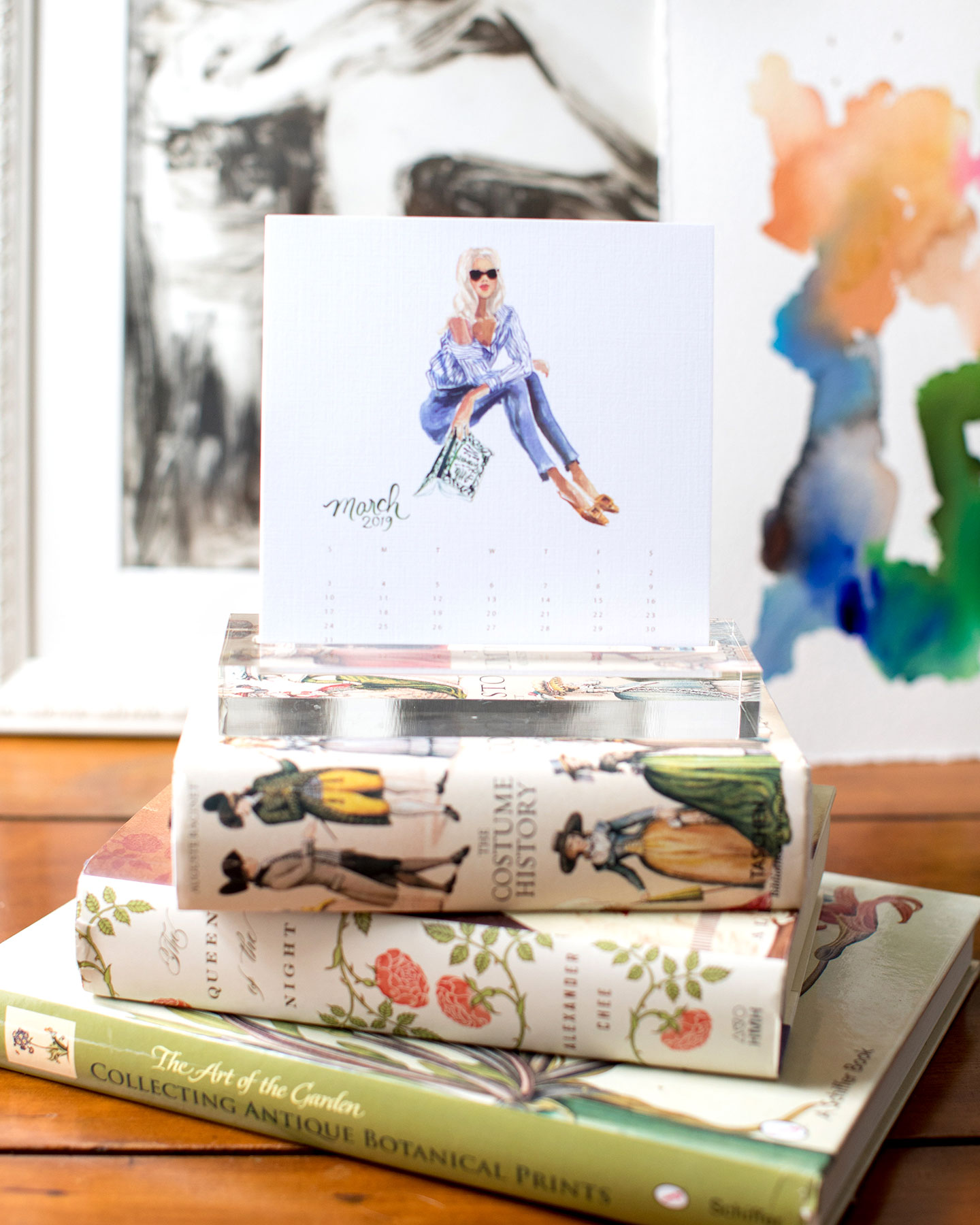 ~2019 Book Worm desk top (March)~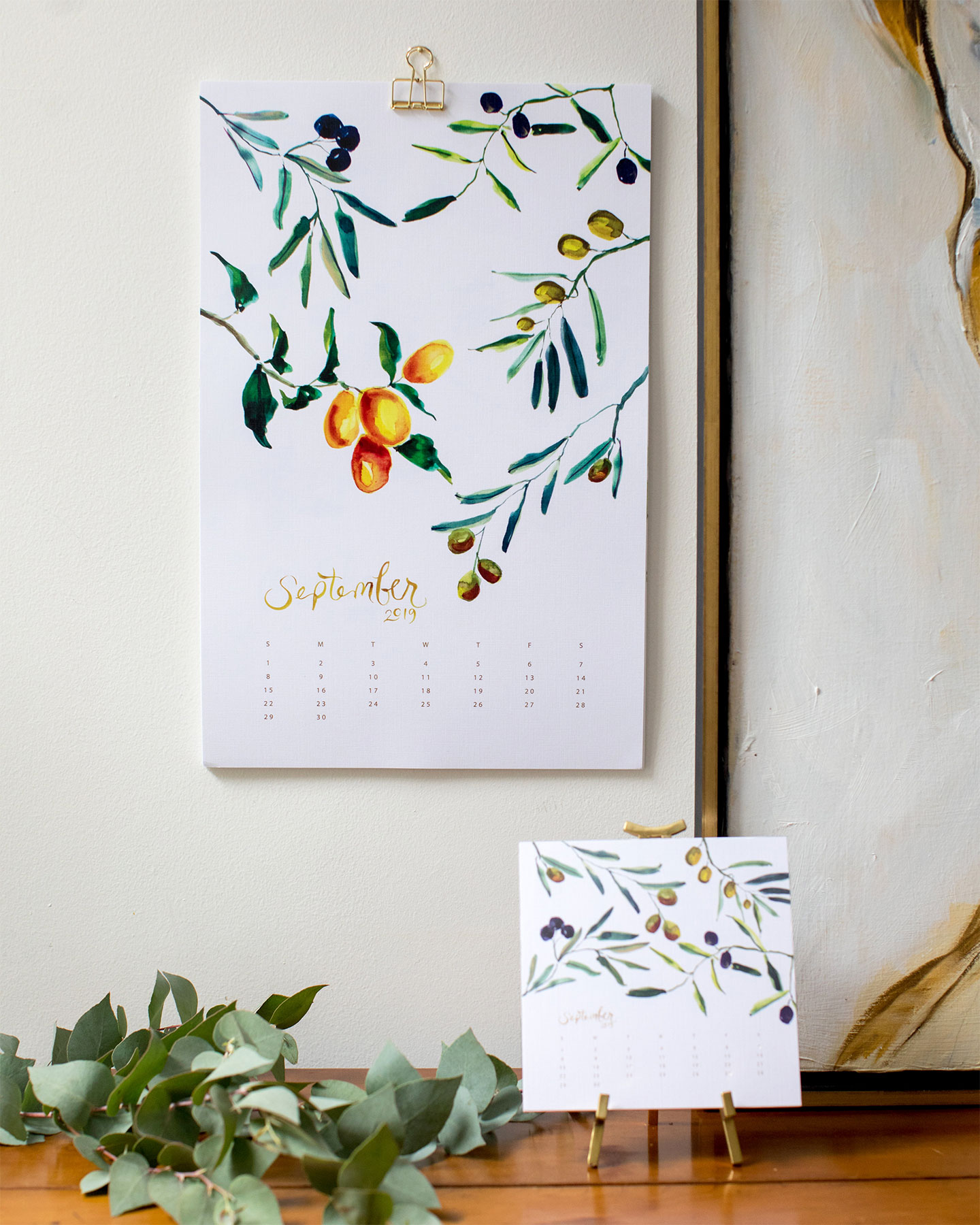 ~2019 Wall and desktop Botanical calendar, September~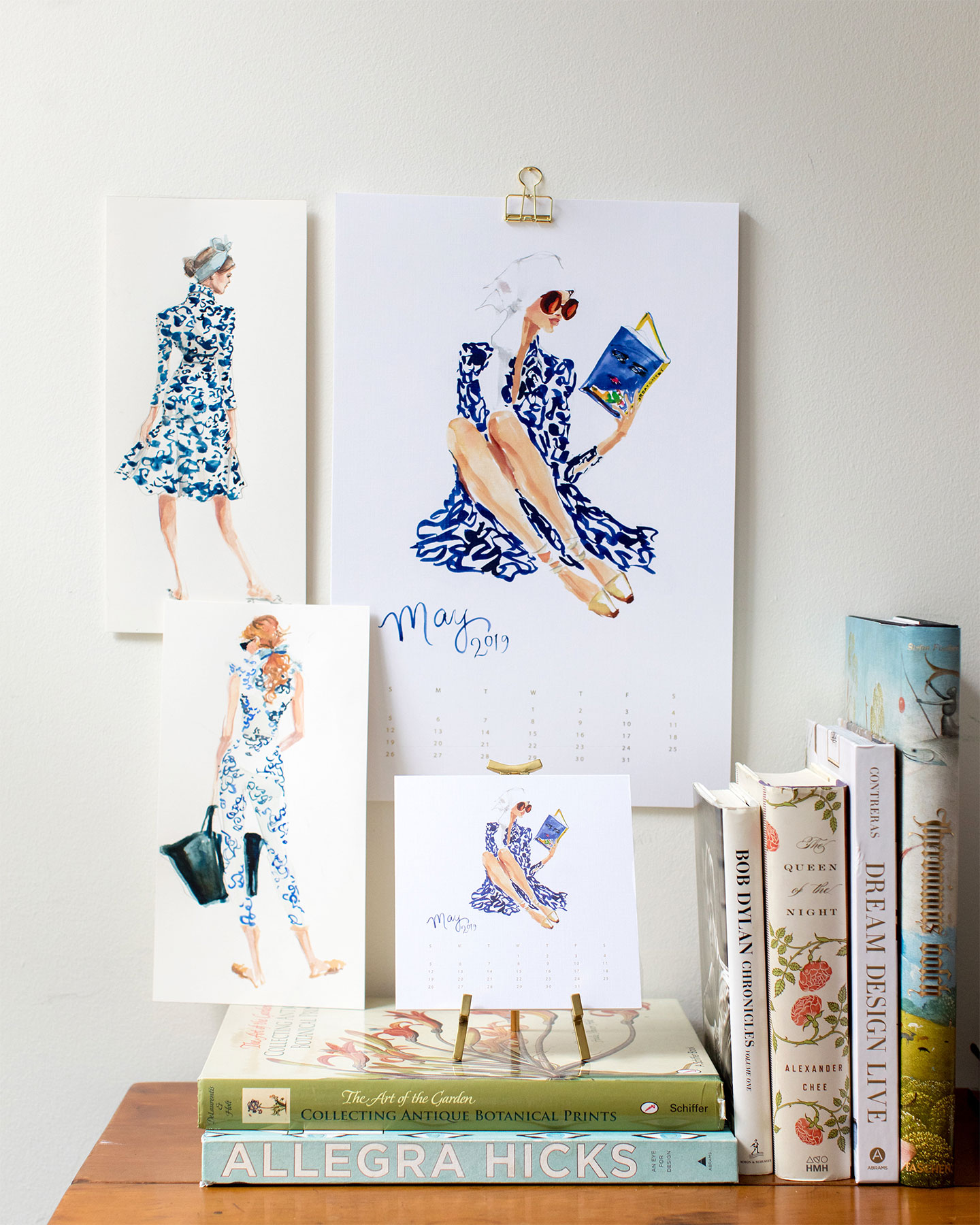 ~2019 Desktop and Wall Calendars, May~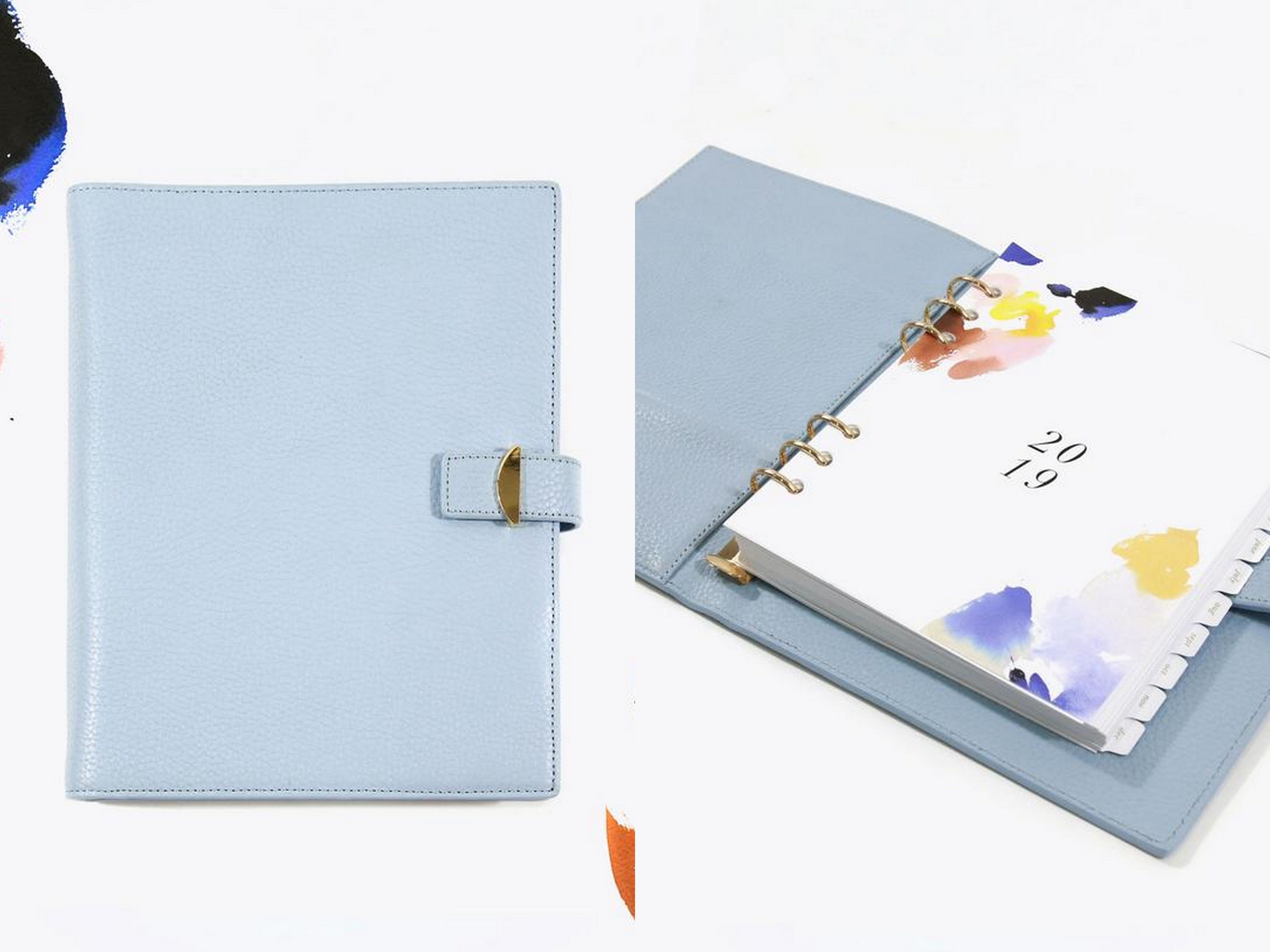 ~Steel Blue Planner and binder~
~The Simple Sophisticate, episode #233

SIMILAR EPISODES YOU MIGHT ENJOY:
Sponsors for today's episode:
Holly & Tanager, The Professional: Backpack Purse (check out the video below)

promo code SS – to start your free 7-day trial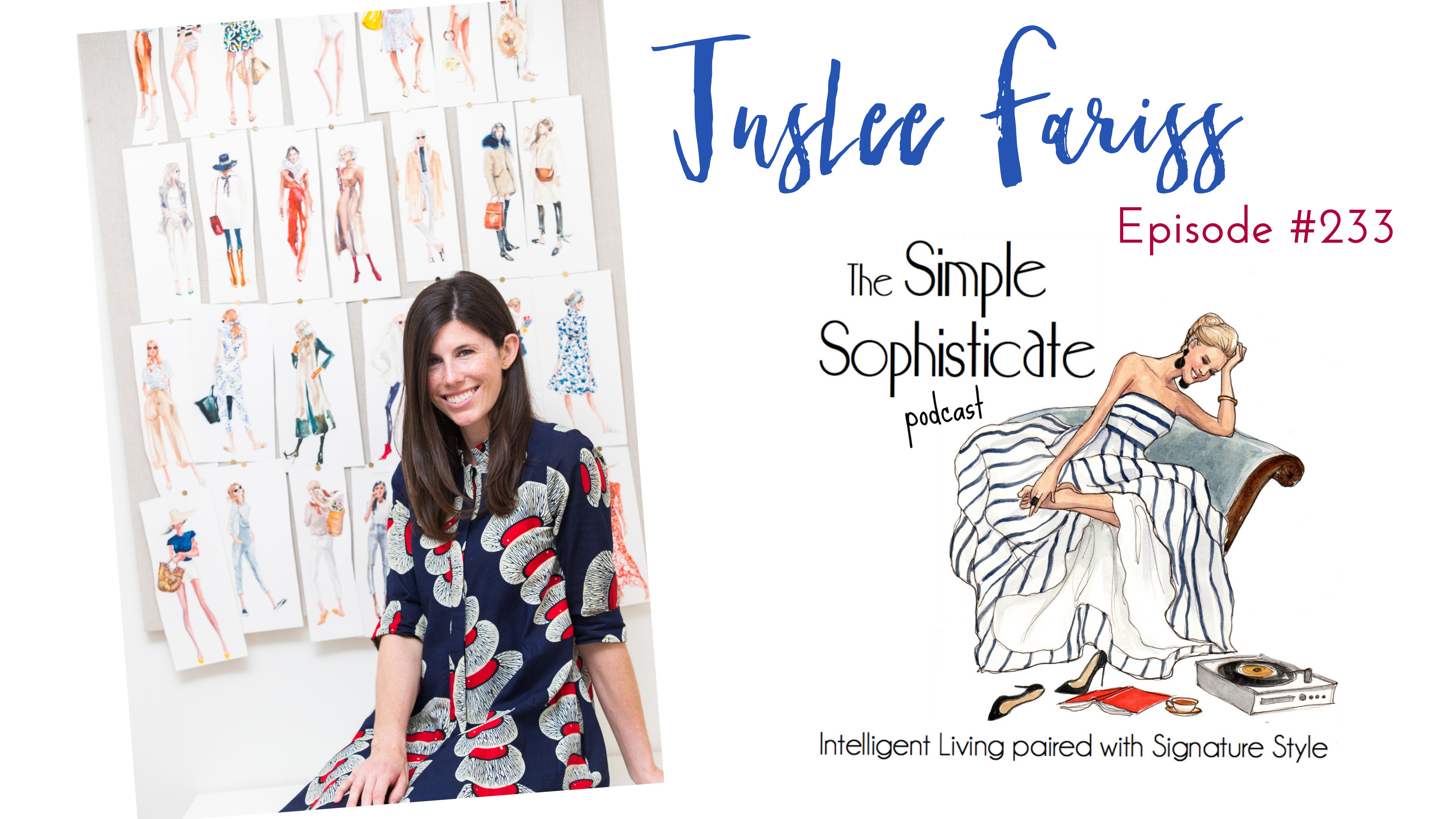 ---
Mon, 5 November 2018
232: 28 Life & Style Tips from a Parisian Woman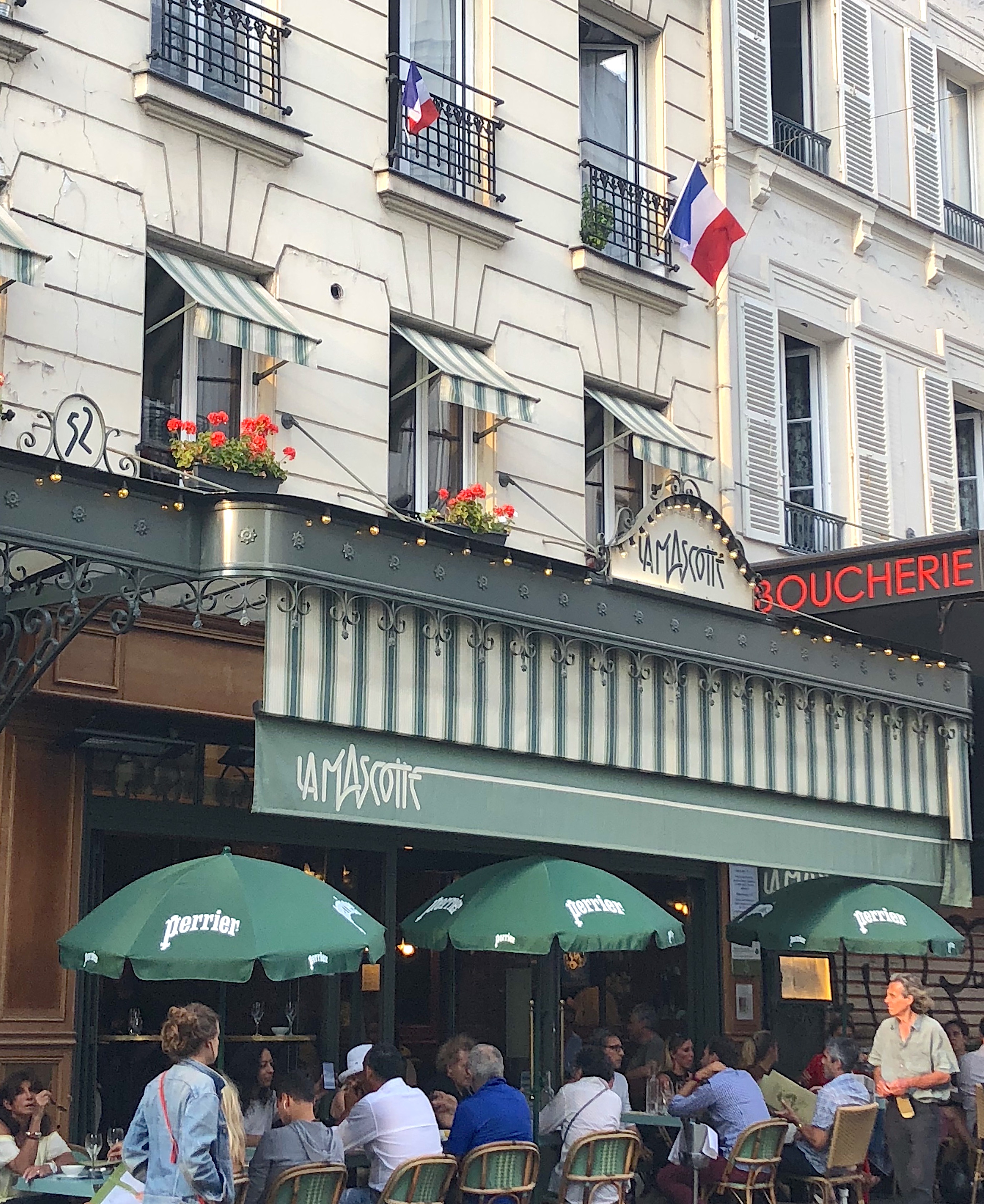 "Becoming Parisian is possible, but remaining Parisian is an art." —Nathalie Peigney, author of Sophie the Parisian: Style Tips from a True Parisian Woman
To spend time in Paris is to spend time in a city with a feminine energy. Simply the proper article spoken when saying the city of Paris is la ville de Paris which is feminine.
But what exactly does that mean? And we should ask, does it mean anything at all? Perhaps it simply gives us permission to embrace and explore our emotions whatever they may be, to consciously take pleasure in the beauty that surrounds us either natural or architectural, but regardless of masculine or femininity, Paris is a city to embrace but at the same time let go of must-dos, have-tos and instead enjoy what surrounds you from the energy of the people, the energy of the history that engulfs you ever so, but consistently so ubiquitously and to savor the baguette in the morning by tearing off the end and enjoying it on the way back to your apartment, lingering for a long lunch and dawdling along the cobbled streets as you explore a new-to-you arrondissement.
In today's episode, a new book that was recently released, Sophie the Parisian: Style Tips from a True Parisian Woman offers detailed insight into ways to infuse your own life, no matter where you may live, but especially if you visit and most definitely if you move to Paris, with daily habits and rituals that will enliven the everyday moments and bring a little Parisian charm to your way of living.
1.Invest in your personality, knowledge and understanding of the world. True fulfillment does not reside if paying attention to and perfecting one's appearance. Rather, investing in developing our inner beauty is key. In stage of life, knowledge of the world and one self cultivates charm, intrigue and true beauty.
2. Enjoy Apero Time (Aperitif)
3. Have a love affair with a quality handbag. Be practical in your selection, but don't be afraid to invest
4. Wear a leather ballet flat
5. Choose quality essential items for your wardrobe. Have few, but purchase investments that will last. Investing does not mean you have pay full price. Set alerts for sales on the designer labels you love, shop consignment, even visit second-hand shops that sell quality, well-made items. From trenches, to ballet flats, to blazers, cashmere sweaters, and a classic marinière striped shirt.
6. Hop on a bike.
7. Choose black. It goes with everything.
8. Then, choose navy.
9. Find a favorite cafe and frequent it regularly for an escape from the day and to watch the world pass by.
10. Remember to end your meals with cheese
11. Only artisanal made croissants s'il vous plait.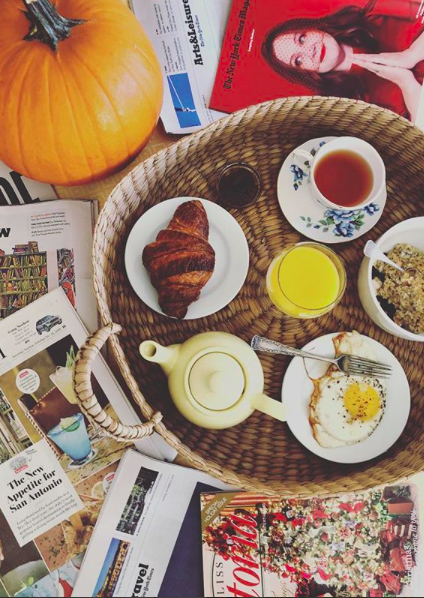 ~a croissant from
Foxtail Bakeshop
~
12. Adhere to good health practices: Eat well, mainly colorful food, abstain from processed foods like white flour and sugar and exercise regularly.
13. Dress with simple sophistication
~Check out TSLL's Signature Style posts
14. Don't follow trends, cultivate your own style
15. Thoughtfully select flowers that you love for your home. White flowers have been shared by florists to be the top color choice in Paris.
16. Use fewer, yet better and seasonal ingredients to enable the ingredients to sing.
~Check out The Simply Luxurious Kitchen - Seasonal Fare to Elevate the Everyday Meal
17. Skillfully blend classic and contemporary interior design. And be sure to infuse a bit of yourself into the furniture and decor choices as well.
~episode #228, 21 Parisian Decor Ideas from Ines de la Fressange's new book
18. Speak your mind. Have an opinion.
19. Buy beautiful, lace lingerie for you, as well as classic lingerie.
~episode #42, Why Not . . . Create a Capsule Lingerie Wardrobe?
20. Simple make-up, but yes, make-up to enhance your natural beauty
21. Wear high quality marinière tops from Petit Bateau, Saint James, Lux Amour.
22. Visit the farmers market on the weekend (or during the week when the schedule allows), to eat well and rejuvenate your diet
~How to Make the Most of Your Visit to the Farmer's Market
23. Visit the great exhibits of the moment. Become a connessoir of your city's history, art and talents.
24. Master the classic favorite moules marinières (et frites!)
25. Classic, natural, simple, manicured nails
26. Add some red to your life - a red lip, a red blouse, a red pencil skirt, something red.
27. Make time to watch the sun set.
28. Have a simple, classic vinagriette recipe memorized
~Check out Shannon's vinagriette recipe in the first episode of The Simply Luxurious Kitchen
~Order TSLL's new book Living The Simply Luxurious Life: Making Your Everydays Extraordinary and Discovering Your Best Self
Petit Plaisir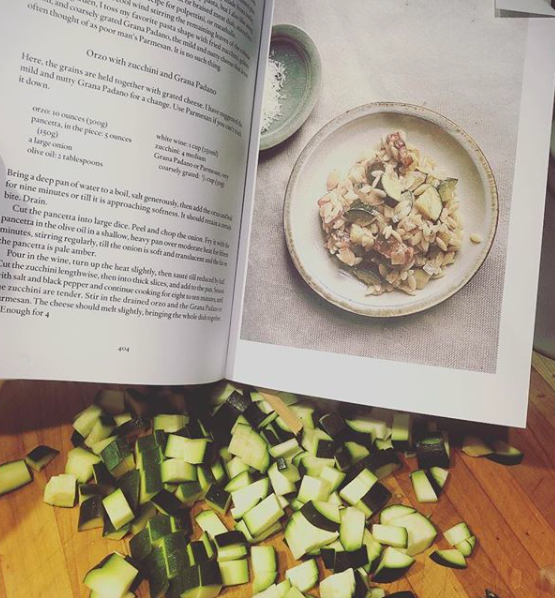 Sponsors for today's episode:
Holly and Tanager, The Professional: Backpack Purse

Save 15% off your first order with promo code SIMPLE at checkout
---