Tue, 17 October 2023
367: How to Create Décor that Welcomes & Comforts: How to Embrace the Ethos of Slow Decorating
"The fastest way to a good life, is to slow down." —World Institute of Slowness in Norway
Walking into a beautifully decorated home, an abode that welcomes you, gives you a hug and invites you to stay without saying a word takes time to curate. And even those homes that someone else has curated and we feel this way when we walk across the threshold into their home, it is their home, and not our own, filled with choices, items and details that they will appreciate more deeply than we ever could, even if we can understand why they appreciate it.
All of which is to say, curating a home for ourselves that gives us a hug each time we return home will take time, and so it is in our practice of patience and trust that the house will reveal what we need in time so long as we live consciously and feel our way honesty through living well in our homes, that we gradually begin to see and then feel how wonderfully loving and comforting a slowly decorated home can be to elevate our days and thus our lives.
Now, if you when you see the term 'slow decorating' you think to yourself, but I want to feel comfortable in my home now. I cannot live without basic comforts. I hear you and I completely concur. Which is why it is important to keep this approach of slow decorating in mind even more. Suzanne Imre from Neptune shares, "Slow decorating is about planning, considering, refining. It's about having a strategy. A direction of travel, which helps clarify those decorating decisions (light or dark? Nickel or brass? Wood or tiles?). And it's about enjoying the process as much as the results."
And so it is with today's episode/post, I would like to give you 10 tips to provide exactly that, your strategy moving forward.
Choosing to go the route of slow decorating is also a planet-friendly approach. Imre goes on to say, "This slower method also supports the desire for sustainability and preservation. If you have an unhurried approach to furnishing your home, you'll likely buy less but better. And those pieces will have longevity." This concept of quality over quantity has been the founding principle of living simply luxuriously and what inspired the TSLL blog coming to be, and it is just this concept that will serve us well, but also the planet should we choose to trust that with time, many benefits for many entities, ourselves, talented artisans, and the environment will be enjoyed.
While I have known this concept to be worth putting into practice and have put it into practice with the three year journey of customization of Le Papillon as shared in this episode, I saw with my own eyes how choosing such an approach over years can create an amazingly special place when I had the opportunity to stay for a week at British interior designer Rita Konig's North Farm in Durham, England.
---
Tue, 18 July 2023
361: 33 Decorating & Construction Lessons I Learned Customizing Le Papillon (a 3-year journey)
The journey of customizing Le Papillon, my house and home in Bend, Oregon, since September 2019 has provided much opportunity for learning both about the actual and practical purpose of home remodeling and decorating but also for self-growth. Over the past nearly four years, an abundance of experiences, discoveries, lessons and 'wow' moments have been collected which is why I wanted to share today's detailed and lengthy (90 minutes) episode with listeners of The Simple Sophisticate podcast.
As I share at the beginning of today's episode, while it has been a dream of mine to customize my own home, I never actually planned to spend the past four years doing so, but the timing and opportunity presented itself to continue moving forward once my first "must-do" project (the kitchen) was completed, and now with the installation of the front porch screen door you see a glimpse of above, the journey is complete, and I am eager to share with you 33 lessons I have learned throughout the experience, so that you can confidently and more enjoyably take part in your own customization of your sanctuary that will, when you dare to trust what you discover and learn how to do what is needed, provide priceless refuge, rejuvenation, inspiration and joy for the life that brings you deep contentment.
No doubt, the journey had its headaches, stresses and questions along the way (for example, when will the bathroom ever get done!), but I share here and in the podcast episode, without any hesitation, it was worth it, to be able to call home and live my life now in a home that works with me, nourishes me and helps me feel secure but also confident enough to try to soar and explore when I step out the door into the world.
So let's begin! In the Show Notes below I have only included the 33 bulleted points and left the detailed conversation, examples and ideas solely in the audio section as otherwise, this post would have been very loooooong. To thank you for your patience as there was no new episode on the 1st Wednesday of this month, I have two Petit Plaisirs to share with you today, and I look forward to sharing those with you at the end of this post and episode. Now to the episode!
~Explore more episodes of The Simple Sophisticate podcast here.
---
Tue, 14 March 2023
353: A Stress-Reducing Year-Round Schedule for House Cleaning and Maintenance for a Small Household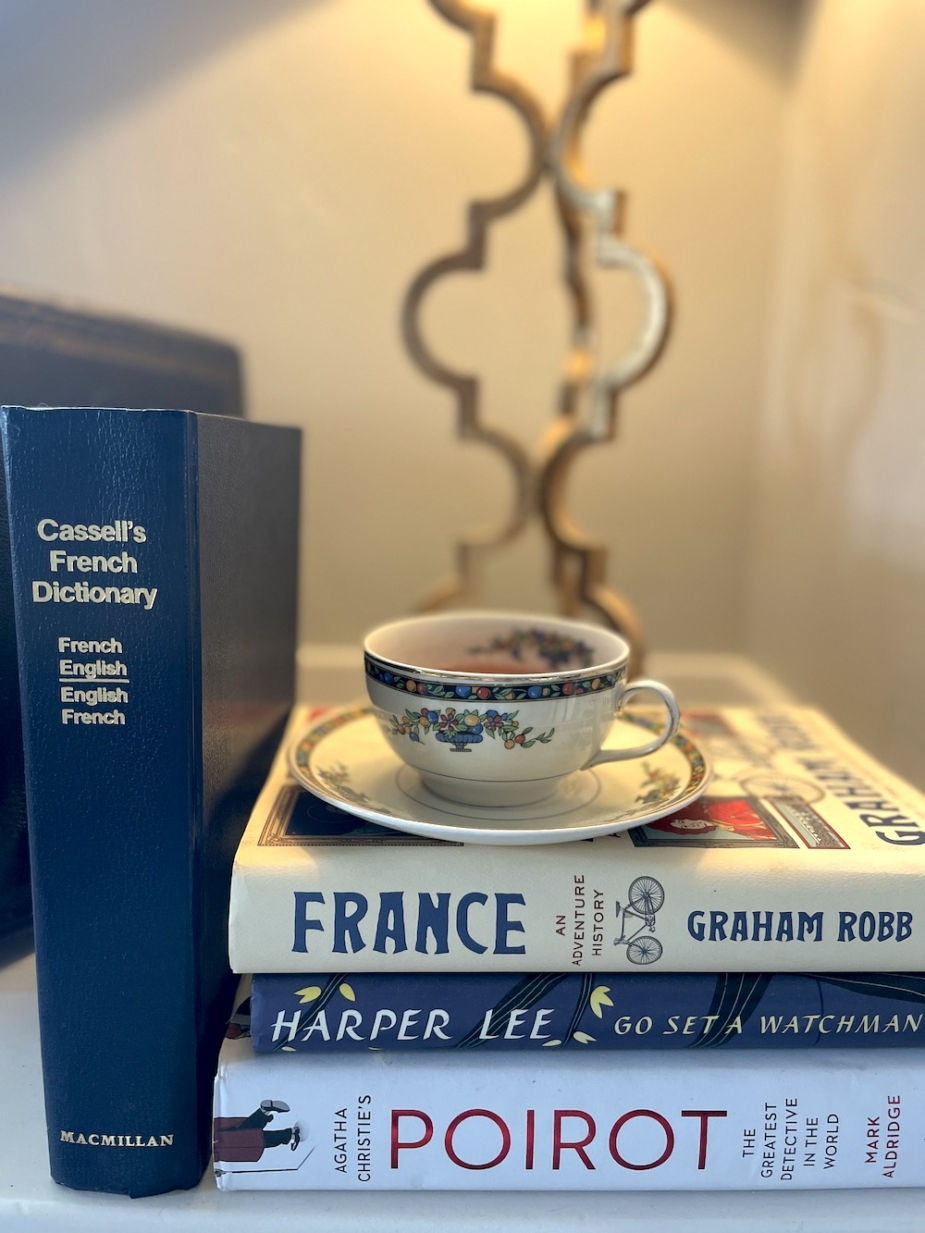 A tidy sanctuary creates mental space to find calm more readily.
Upon walking into my home, Le Papillon, knowing and then witnessing that it has been cleaned, tidied and unnecessary items have been removed, whether that be emptying the recycling basket in the boot & basket room (aka mudroom), countertops are cleared of extraneous items, and the flowers are fresh, I breathe some of the deepest breaths I ever take during my days.
Distractions to the mind come into our lives in a variety of ways (I share and discuss 11 forms of distraction here), and one such way is clutter of items in our homes, items without a home, too many items, dusty, dirty, disorganized spaces, counters, windows, fabrics, floors, etc. No doubt, I am not sharing anything you don't already know. But how do we tend to our homes and still have time and energy to live the lives we want to live?
I will admit to being nearly totally in alignment with Simone Beauvoir's train of thinking shared in her book The Second Sex when it comes to house cleaning, "Few tasks are more like the torture of Sisyphus than housework, with its endless repetition: the clean becomes soiled, the soiled is made clean, over and over, day after day." And if there was a magic wand to wave whenever the house needed its regular clean and tidy, I would wave it without hesitation regularly and often. I recognize that some may find calm in the practice of cleaning, and that is fine; however, what would you do if your house was perpetually clean? Think of all the time and energy you would have remaining to do something constructive, explore a curiosity, read a book, rest your eyes after a long, grueling, yet productive week, spend more time with those you love, spend more time in your own company getting to know yourself better, take a longer walk with the pups, snuggle with your cat who is seeking your company after having been at the office all day.
I share the possibilities of what we might choose to do with more time, regular time consistently available, to point out that while cleaning and caring for our homes is a necessity, there are many different approaches to doing so well to gain the benefits of such a space that is our sanctuary. Apart from hiring a regular cleaning service which I have done in the past and may do again in the future, even if they come every other week, or weekly, we still can care for our homes thoughtfully as well as simply in order to enjoy all of the time we find ourselves in our abode.
And regarding the choice to focus on a small household, this can be viewed in two ways: whether small in square footage or living with only a couple of inhabitants (our furry companions count as family here on TSLL). So whether you live on your own as I do, with dogs or cats or entirely in your own company, with your partner, or are an empty-nester, living in a small household liberates us in multiple ways, and thankfully, requires less to clean and care for, giving us more time and energy to do so well.
One of the chapters in my second book, Living The Simply Luxurious Life: Making Your Everydays Extraordinary and Discovering Your Best Self, goes in to great detail about "Living Small", chapter 13, and one such reason is the reality that the smaller the space we call home, the less we have to clean. However, just because we may live, choosing to or not, in a small home doesn't mean the home can't be luxurious. In decoration, in organization, in consideration for everything, we can live luxuriously in a small home, and the beauty is, we have an advantage, we have less to clean, less to furnish, less to organize, now we just have to figure out how to do so wisely and with great savvy.
Back in 2011 I shared a brief post detailing what to clean and how often throughout the year in our homes, pairing with the post a free printable PDF of this cleaning schedule, but it was brief and that was more than 10 years ago, so with the prompting from a TSLL reader recently who shares her home with her husband and pets, sans children (similar to myself, sans the husband), I wanted to update and share with you how to clean and maintain your home throughout the year so that when Spring does roll around you don't feel overwhelmed by the 'spring cleaning' fever that often arises. And I completely get it. It feels good to freshen up the entire house, but I don't have the time and energy to do so all in one swoop once a year. Rather, what makes sense to me is a steady, smart approach both in how and what I clean and maintain to avoid large repair bills due to lack of attention.
Let's take a look at the list, and I will provide again, but this time the updated version, the free printable PDF schedule at the end of today's post/episode.
---
1.Begin with a home and its contents that you actually use and need
In other words, this is a one off, not a regular practice, but something to keep in the back of your mind after you tend to it when considering bringing in new items to the home. Ask yourself the following question:
"The stuff you own has to help you create the life you want. And if it doesn't, why is it in your home?" –Peter Walsh
As I look around my own home, small in square footage but large to the eye with its high ceilings and multiple south-facing windows letting in oodles of light, I will tend to this question room by room throughout the year. Honestly, nothing is on a schedule now when it comes to this permanent editing as I have edited quite a bit over the past four years with my move to my home and with the construction over the past three years. For example, my kitchen cupboards and drawers received a thorough edit during the kitchen remodel when everything was removed and stored in my guest bedroom. Nothing says, reduce and eliminate the unnecessary when you have no more floor space in your guest bedroom to put anything. Do I really need that [insert item that I have never used, not once, ever]? Below is a list of space, collections and items to seriously look at and judiciously edit:
Your bookshelves/library — Keep only the books that yep, brought you joy, but also that are sound reference books, collector items, and books you want to have on hand for any reason - to share, to recall a particular detail, but don't keep books just to have more books. They bring more weight, take up more space, collect dust and reflect you inaccurately should anyone scan your book collection.
Your linen closet(s) — bedding, dining, bathroom, cleaning rags, entertaining, blankets, etc.
Kitchen cupboards and drawers — as you go through this process, especially in the kitchen, keep a notepad with you, listing any items you know you need more of because one or two is not enough as they tend to be in the dishwasher or utilized when you need to use them again, or any item you simply need. Be stringent with yourself about letting go of items that just take up space, don't do an effective job and need to be let go. It will make finding what you need when you need it far easier and make cooking in the kitchen more enjoyable.
Any drawer or cupboard where you store anything — in other words, know what is in your cupboards and don't use them to store things you never use. It is okay to have an empty cupboard. Say that again, and don't be tempted by the need to fill it.
Clothing and coat closets —The seasonal wardrobe assessment is a great idea and goes more quickly each time as you get to know and love what you have in your closet. The coat (and I should probably add the outerwear accoutrement drawers/bins/shelves) closet will need to be cleaned and edited less frequently, but make sure you know what you have, have what you need and donate the rest.
Épicerie/Pantry —Listen to/Read episode #109 — the 34 Must-Have Items for Your Home Épicerie, then read this post - 9 Ways to Organize Your Kitchen, Improve Your Health and Help Out the Planet
Tea/Coffee Cupboard —In episode #7 of Season 3 of The Simply Luxurious Kitchen cooking show I share in the video a peek into my tea cupboard and how I organize it.
Candle Cupboard/Closet — The suggested idea of designating an entire closet/cupboard to candles was the Petit Plaisir of episode #280. Assess what candles you have, what candles have never been used and why, donating those you will never use, and making a plan to shop and welcome in the ones you love when/if they go on sale, otherwise purchasing when it best fits your budget and often purchasing more than one to stock up.
Bathroom drawers/cupboards/medicine cabinets — In your primary bathroom and any guest or powder rooms, be diligent and toss whatever is not used, has expired, etc.. As well, make a note of what you always need, what you are out of, would like to add to your toiletries to enhance your daily skincare and body care rituals and routines.
Your furniture (chairs, rugs, tables, beds, dressers, desks, mirrors, shelves, lamps, etc. - large and small) — let yourself dream and be very honest with yourself. Where do you feel most at peace, comfortable, cozy, relaxed, productive, etc.. Based on what the function of the room is, do you feel what you desire to have created with your furnishings? Admittedly, once you have your list of what you need but don't have yet, it may take time. Have the patience because once you know how you want to live and feel in your home, the waiting is easier until you find and/or save up for what you know will fit perfectly in that particular space. Be a bit ruthless in letting go of items that don't serve a helpful or comfortable purpose and vow yourself to not just purchase filler items - an ill-made side table. Get creative with what you have to hold space until you have the ability to welcome into your home what you have on your list.
Now that you have clarity that you either have what you need, or know what you need and have let go of the rest, you have let go of some stress, alleviated some unwanted burdens on your ability to relax when you arrive home and are ready to more swiftly and intentionally clean your home regularly without it becoming overwhelming, and maybe even a bit enjoyable. ☺️
---
2. Daily simple habits that reduce the amount of weekly and monthly cleaning
When we are at the point of burn-out even the simplest task of picking up after ourselves can be taxing. I can remember more nights than I want to admit while I was both teaching and blogging that I was too tired to entirely pick up the kitchen after cooking dinner before I went to bed. I literally needed more energy and going to bed was a necessity over cleaning the kitchen. Don't worry, I would without fail, clean the kitchen in the morning, but that was a task that didn't help to begin the day well. Stepping into a clean kitchen, a clean home each morning is a wonderful way to start the day and I knew that, but I did not have the energy to make it my regular practice on certain days of the work week. All of this built up to show me that I needed to make a change, so I share all of that with you to acknowledge, you may have an extremely busy schedule, so much so you cannot tend to these tasks listed below each day, but when you do make the necessary breathing room in your life to tend to these habits daily, it has a beautiful ripple effect of reducing stress, increasing clarity and giving you the ability to make better, more constructive decisions so that you never find yourself in such a schedule again.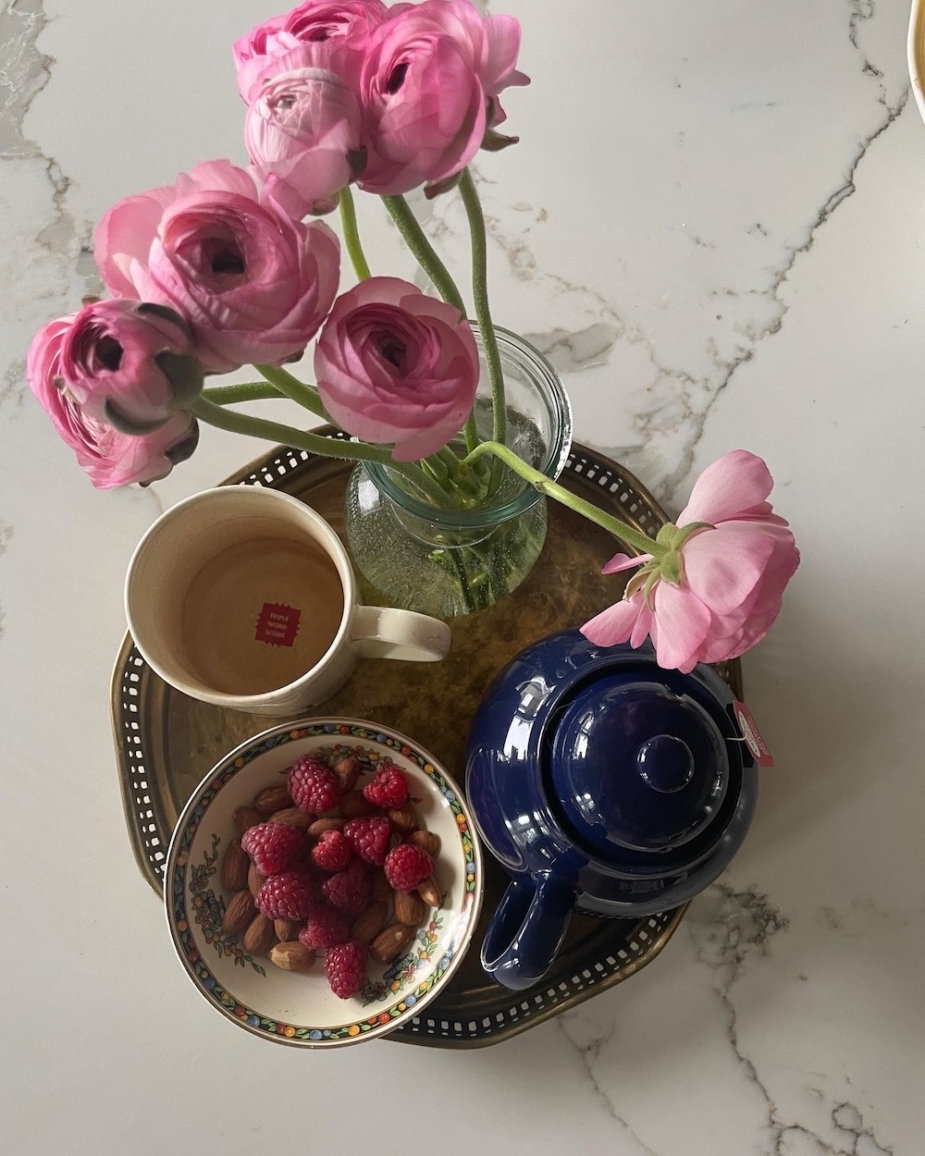 Okay, so what are the daily habits? In order of the day's events:
Clear the bedside table(s) of anything such as water glasses, opened books (close and restack neatly), etc., so it is neatly organized when you return to bed in the evening.
Make the bed
Empty the dishwasher (if you ran it at night)
Clear the table after breakfast (and after any meal), placing dishes in the dishwasher, not just in the sink. Run the dishwasher when full, or nearly full but on an eco-saver wash.
Wipe the kitchen countertops after each use of the kitchen.
Empty the trash when it is full.
Empty any recycling bins when they are full to their exterior destination for pick-up on their scheduled day.
Upon receiving/picking up the mail, immediately recycle any flyers/mailers/magazines you don't intend to read/use; open all letters and recycle the envelope and any contents you don't need.

Place all mail you need to address in a designated basket or holder in the main room where you look at your mail. I do this in my Boot & Basket room and have a basket on the wall that is used for just this case (tour the room here). When it is time to pay bills or tend to business, I take the basket into the office.

Place your keys in the same spot every time you walk over the threshold of your home from outside.
Have hooks on the wall as necessary and/or enough hangers or bins in the coat closet/mudroom for your outerwear, dog leashes, scarves, umbrellas. Immediately deposit the items in their designated spot when you return home.
Have a designated basket/bin for your reusable grocery totes, preferably near the kitchen and/or near the door you exit when you head to the market/grocery so that you don't forget them or lose them.
Fold up blankets in the living room, snug, reading nook upon leaving the space.
Resituate/Plump the pillows on any chair or sofa you sat in upon leaving the room.
Clean as you cook: in between steps, not just after the meal is completely done.
Return tea trays or food trays back to the kitchen once you have finished relaxing. Don't leave it to be picked up later.
Vacuum as necessary throughout the week. I have a Dyson wireless stick vacuum which makes it super simple to grab, swoop across the floor and pick up any dirt or dust the pups may have brought in from a walk, pick up crumbs from the dinner I just made and with ease place the vacuum back in the closet. Once I purchased this vacuum (2019) I have come to enjoy cleaning a bit more because there is no tedious cord, no bending over, light-weight and dare I say, it almost feels magical how easy it is to tidy up. This keeps the house clean throughout the week and lets us live our lives as well. Here is a link to the one I have.

A note about what you receive with the investment of purchasing Dyson vacuum cleaners as it was a step up for me price-wise and I pondered it for a while:

The customer service is spectacular, swift, knowledgeable and helpful for any question I have had to learn the basics. Also, with a two year warranty on the product, it wasn't until four years later that my battery needed to be replaced, and it was easy to do with their customer service. Free shipping and a warranty on the battery. Simple video tutorials for how to replace and install once it arrived. The customer service has sold me as a lifelong client as their products are high quality, high functioning and help available when I need it at any time.

If you work from home, tidy up your desk top/office at the end of each workday, prepared for a clean slate the next day. Make sure to have a presentable garbage bin (small) in your office. I use one from The Citizenry, and while my style isn't no longer available, they still make many small baskets that are perfect for a waste basket.
---
3. Choose one day during the week, an afternoon or morning (early or late), that you can designate 1-2 hours to clean
Now, again, I am not someone who enjoys cleaning, and when I used to write this task in my planner, I sighed a bit because I would have rather been doing something else, prior to retiring from teaching, it would have been just having more time to relax at my home, now it is time to create, to explore, to be with my pups without a vacuum or a cleaning rag/mop in my hand. However, #3 on this list is a be a misnomer because you don't have to do all of the same cleaning tasks each day of the week, rather you are going to alternate a few. Let me explain.
It was an aha moment for me the first time I hired a cleaning service to regularly clean my house: they came every other week. And I thought to myself, how can I possibly wait two weeks to have my house cleaned? After all, for years I had attentively cleaned my house each Friday after work, no matter what I was up to later the evening or how long my week had been. Well, what I discovered was that if you clean it well every other week AND tend to the daily habits shared above, your house will be just fine, and you will be less stressed and have more free time.
What to do each week (every other week tasks designated as such):
Vacuum everything - the floors, hardwoods, carpets, rugs, upholstered furniture, pillows, window trims, etc.
Clean the stovetop (aka the hob). Get some good dish soap and water, some stainless steel cleaner if necessary (I use EZBrite as it is environmentally friendly)
Wipe down the fronts of the dishwasher, refrigerator (use EZBrite for these as well if they are stainless steel), cupboard fronts, and around the handles as they tend to get the most dirty from being touched frequently.
Every other week: Wipe down doors, near the handles to remove prints, etc.
Every other week: Dust (I used to do this each week. It is unnecessary.)
Every other week: Mop all floors. I used to do this each week, but no longer do. If it was a particularly dirty week, I will mop, but so long as I vacuum regularly, remove my shoes and wash the paws of my pups when we return from a dust-filled/mud-filled walk, the floors stay presentable until the following week.
Welcome fresh flowers into the house - between 1-3 small bouquets placed in the living room, bedroom, dining room, foyer or office, I either pick them up at Trader Joe's or source them from my own garden during the warmer months, sometimes picking one up at the farmer's market.
Clean/wash bed linens. Air dry the sheets to ensure they last longer, especially linen sheets - NEVER put them in the machine dryer as it is too harsh of heat.
Wash any regularly used towels - bathroom and kitchen.
Clean bathrooms that receive regular use, this can be done every other week depending upon how heavily the bathroom is used. For bathrooms used occasionally, monthly is fine.
Clean mirrors and windows/glass doors, removing fingerprints as necessary.
Go through the refrigerator, assessing prior to heading out for your weekly grocery outing.
Wash your dog/cat food dishes.
If you have a microwave (I do not), clean inside and the front window/door.
Clean switch plates for regularly touched light switches.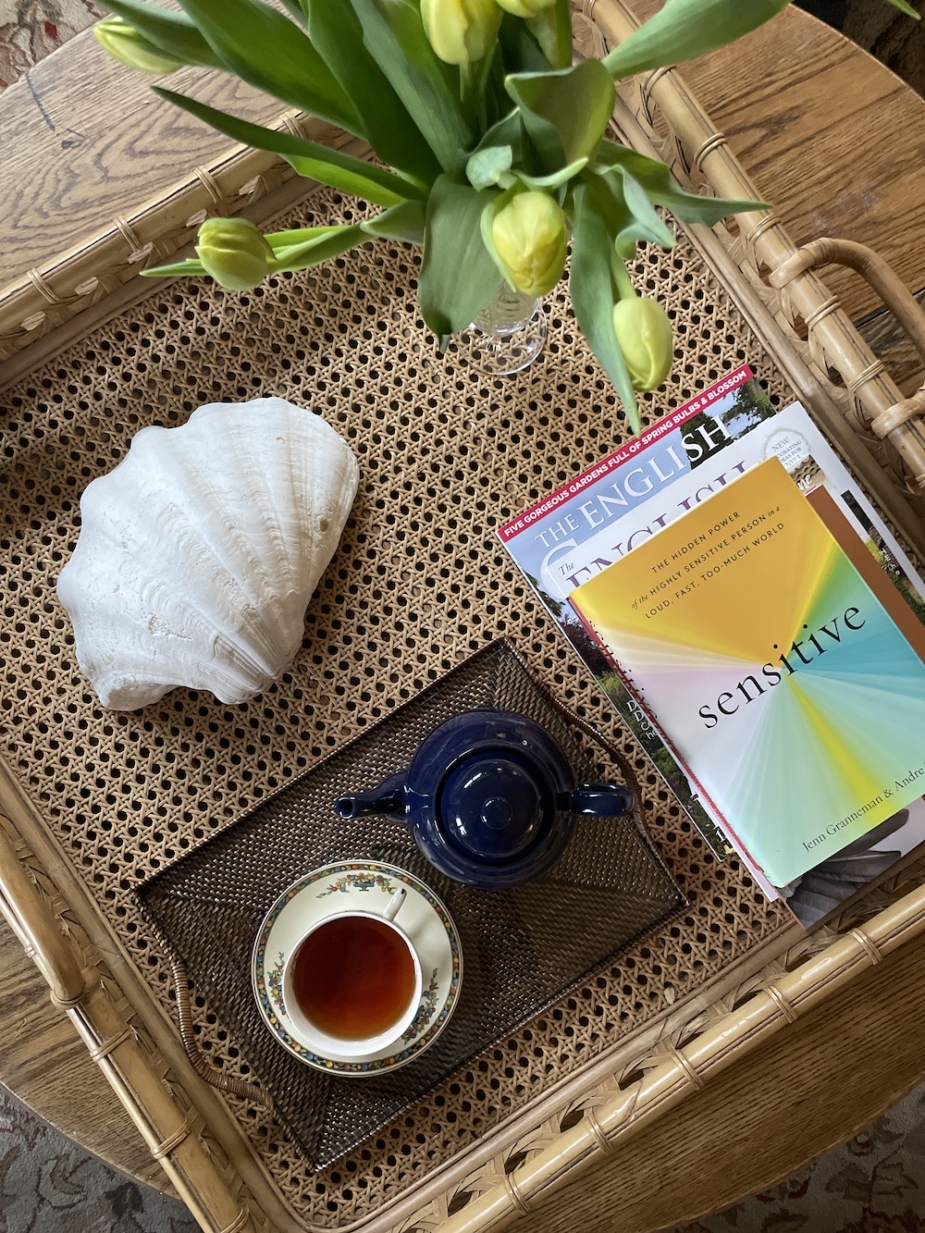 ---
4. Quarterly/every 3 months/Seasonally
Many of the items on this list will come from tasks shared in #3 that don't need to be done as often depending upon how you live, or need to be done more frequently that are listed below in #5.
Thoroughly clean all trash canisters/recycling bins
Dust lamps, shelves, any place that can collect dust that you can't reach easily, or isn't seen or used regularly.
Dust computer screens - this may be done more frequently, but at least every three months.
Launder all blankets used in the living room or in snugs/reading nooks.
Clean/dust/wipe down items in trays and vignettes on top of console tables, dressers, coffee tables, etc..
Store seasonal décor in a clearly labeled box or bin and place where it doesn't distract and is out of the way (garage, attic, storage space).
---
5. Twice a Year, during a day or couple of days that you have energy, so ideally after a day you have been able to rest
One time of year I tend to many annual or semi-annual tasks is during the week between the years, that final week of the year when I am able to have time to myself and just rest, then be energized to tidy up which always feels good upon going into a new year. Here's the list:
Clean all windows – inside & out.
Flip the mattress
*Clean and reorganize the pantry, this happens at least once a year, sometimes twice. As I become more clear about what I need and organized to refill when I run out as it happens, I have found tending to this once a year is enough.
Thoroughly clean the refrigerator - remove the drawers, the lining on any side shelves, and clean, clean, clean. If you have been assessing your fridge's contents each week, this won't be a difficult task and should only take about 30 minutes.
Clean oven thoroughly
Launder pillows - I cover my pillows with liners (aka pillow protectors) and then place the pillowcase over the top of those. This helps to protect the pillow itself.
*Wipe baseboards and moldings - this can also be done once a year depending upon the work you have had done in your home, how often you leave your windows open, etc..
Clean the kitchen range hood.
Clean the filter in your dishwasher.
Clean any bird feeders (this can be done more often if you have an active bird café).
Clean under and around any furniture that isn't regularly vacuumed or moved.
Clean the garage thoroughly, editing as you go.
Have the sprinkler system (if you use one), turned on in the spring and winterized in the fall.
Cover/Remove vent covers - for winterizing and then come spring remove and store.
Exterior hoses, watering cans, non-frost proof pots in the garden - drain all water and store.
Replace the water filter in your refrigerator or other water dispensing device (filter dependent).
Clean gutters - this may need to be done only yearly depending upon the amount of debris that potentially can fall into your gutters. I tend to do this in the spring and the fall.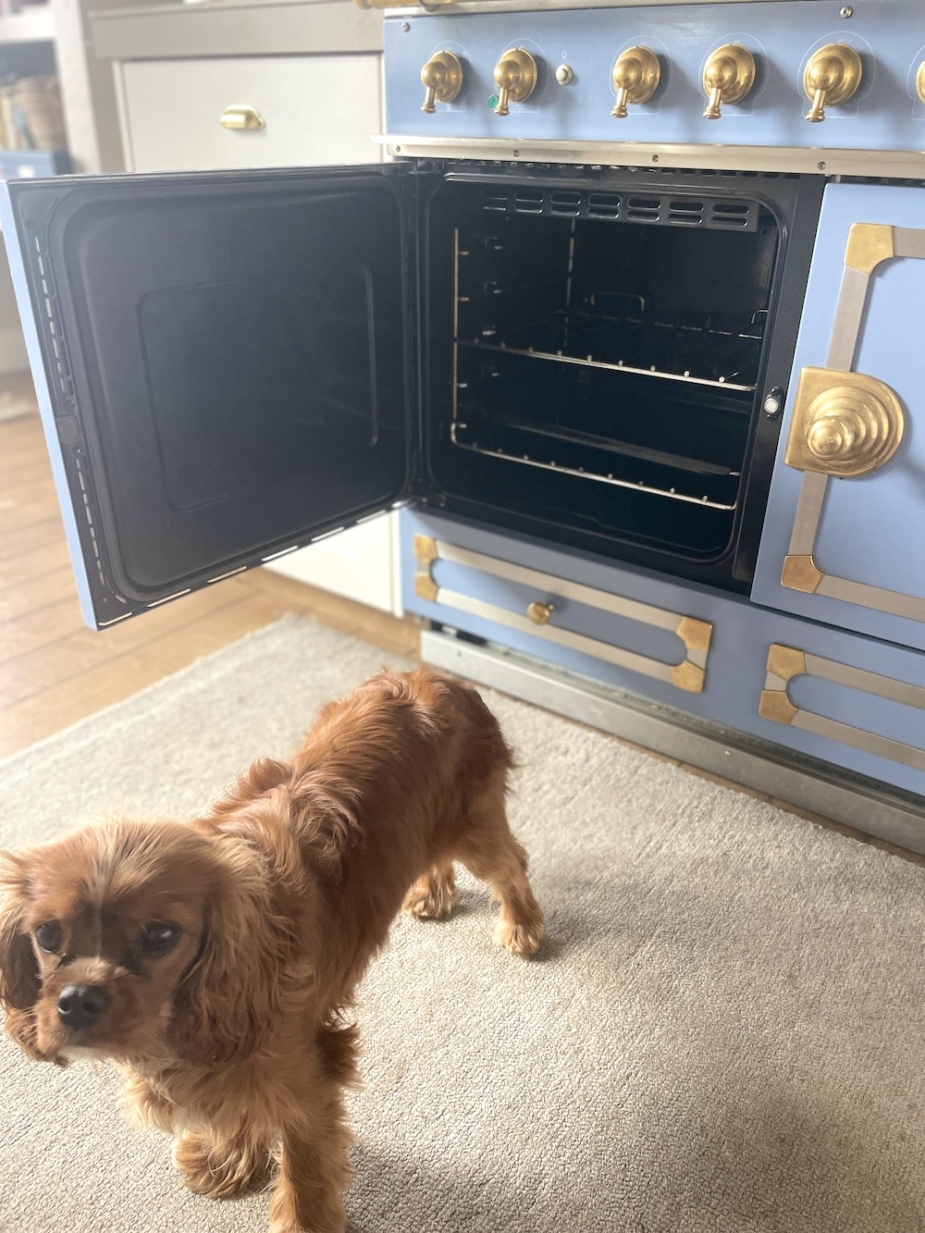 ~Nelle was my helper cleaning the interior of my stove recently.
Learn more about why I chose Le Cornue for my stove here.
~
---
6. Yearly as the time is right on the calendar/season for each task and your schedule
The yearly tasks will be dependent upon your home, climate, and other variables, but whenever you tend to what you need to, choose a time that works with your schedule, budget and the best time of year to tend to this task, if it requires, for example, you to be outside.
Service HVAC - this will prevent any surprises during the winter or the summer when you want to be able to trust your heat source or cooling source is able to work properly.
Clean your fireplace if you have a traditional wood-burning fireplace.
Deep clean any carpet and rugs, either done by a professional or on your own.
Have any curtains or hanging fabric cleaned.
Clean upholstered furniture (I sometimes do this twice a year depending on how heavily used each particular piece, and I do it myself with an all-natural cleaning product the cleaning company that used to clean my house recommended - Nurturals.)
Clean around dryer vents and any vents in your home (above your stove, for example), where they leave the house on the exterior as well.
Clean porches/balconies deeply, typically I do this in March just before I place my furniture back outside after being stored in the garage.
Test and/replace smoke alarm batteries - write the date on the battery when you insert a new battery so you know how long it has been in use. This will help you decide if you should replace it as no one wants to be woken up in the middle of the night by a dead battery.
Optional and dependent upon the city ordinances: Have your water back flow tested by an approved business (this is something we have to do in Bend if we live in the city limits).
---
Phew! Okay, just looking back at this list may seem like a tremendous amount; however, when what you are taking care of are items and spaces in your home that bring you comfort, calm and repose, it becomes motivating to keep them at their best which is why I began with #1. When we remove what feels like a burden because we never use it, it simply takes up space or holds memories we don't want to revisit, then tidying up does become more of a chore. Once #1 has been taken care of, and you spread out all of these tasks over a year, it actually isn't that bad at all. In fact, while compared to the list I wrote in 2011, this list is quite extensive, due to the fact that I have a far smaller house (nearly half the size) than I did when I wrote the previously list, all that I do is far less and done far better which ensures that I can space out the time between tasks or when I do them more frequently, not have that much work to do.
Compiling this list occurred on a wonderfully rainy day here in Bend which gave me much time to reflect on a year's worth of responsibilities, but also, as I wrote each one, I was also expressing gratitude, thankful to have a home to care for well. Which leads me to my final idea for creating more enjoyment of the task of caring for our homes, why not name your home? I know it may sound silly at first, but when we humanize the space that gives us life, safety, security, comfort, nurtures love and care, it reminds us that is more than four walls and in a way, a part of our 'family' so to speak, and that too helps in providing an internal motivation to care for it well.
And with that to ponder, wishing you a wonderful start to a brand new season with Spring's arrival next Monday, the 20th. 😌
~Click here for the free PDF TSLL Cleaning & Home Maintenance Schedule~
~Learn more about the benefits of becoming a TOP Tier Member.
SIMILAR POSTS/EPISODES YOU MIGHT ENJOY
Petit Plaisir
—Palais des Thé's Herboriste (herbal/tisane) Thés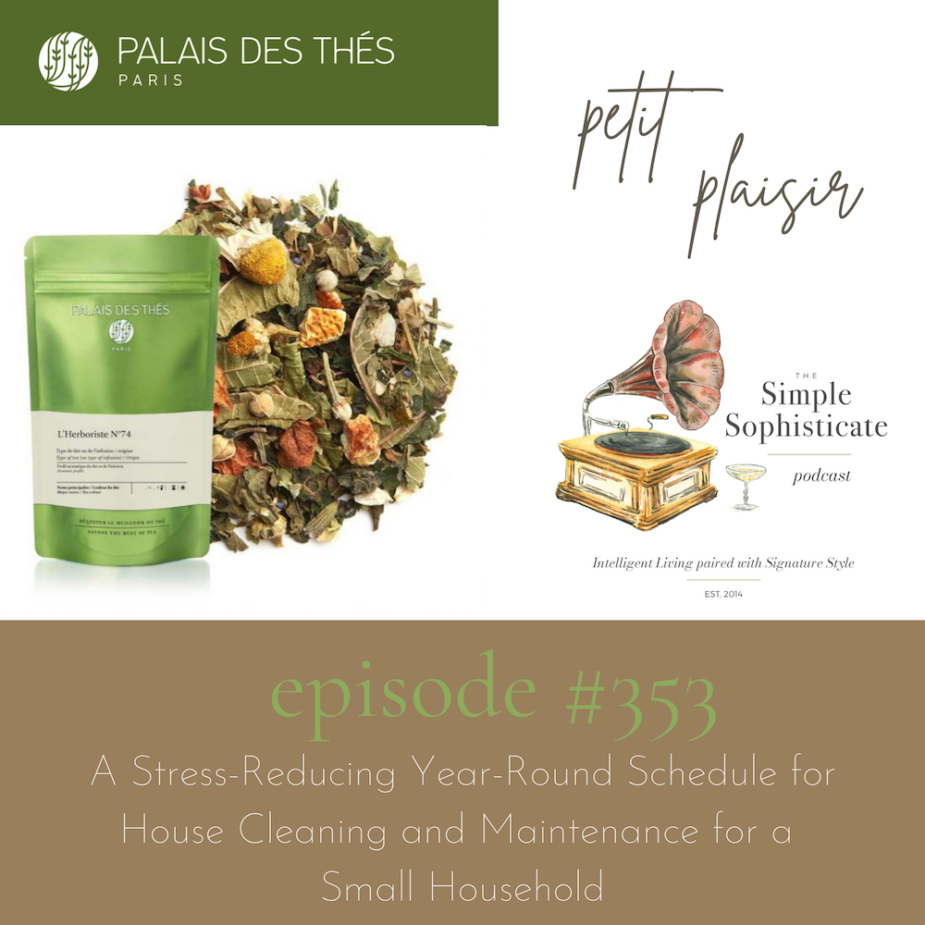 ---
Tue, 22 November 2022
345: 13 Simple Ideas for Adding Luxury to Your Home, Part Deux
The concept of luxury at its core is what brings you comfort.
A space, piece or item that brings ease, calm and perhaps a sigh of letting go and being able to fully relax and savor the present moment. In 2013 I shared a list full of ideas exemplifying what true luxury is; the items on that list are worth exploring as we become more in tune withwhat luxurious living is. It is important to note that a fundamental element of what constitutes something as being luxurious is the effort and dedicated intention to bring your idea to fruition. In other words, you have taken the time, expended the effort, energy, investment, so that when whatever it is that has been reached (tangible or intangible), you appreciate it and will by no means toss it aside blithely for the next 'new' or 'better' model, version, trend, etc.
When it comes to decorating our homes to create luxurious living spaces, while most certainly, luxury when it comes to interior design can be expensive, it need not always be that way, and it is important to note that size - a grand, large abode doesn't guarantee the space will be luxurious if the details are not tended to well.
To walk into a luxurious space, small or large in scale is only part of being truly luxurious; it is when you engage with the space, live in it, sit down in the chairs, sleep in the beds, pour yourself a hot cuppa, that you then discover whether or not the home is truly luxurious.
In today's episode/post I want to tend to those simple ideas that when you tend to them can elevate the luxury in a room immediately upon a guest or yourself living in the space.
Three years ago, I began this series with a post sharing 10 Simple, Significant Decor Ideas to Add Luxurious Touches to the Home inspired by interior designer Cathy Kincaid's new book at the time, The Well Adorned Home. And as you will discover in that list, while the simple touches may be investment decisions, they significantly elevate the luxurious presence of the room, beckoning the inhabitants to relax and stay awhile.
In part two (deux) of this series, I am sharing 13 ideas that while simple are also quite affordable and don't require a contractor or even the expert eye of an interior designer (all except #12). There is something almost impossible to describe with words but felt by our nervous system when we step into a decorated space that to our eye is luxurious, as well as to our other senses. Immediately there is a noticeable decrease in our stress levels, dopamine may even be released, and we let our guard down and sigh, exhaling a deep breath as though we are 'home', we are safe, comforted, we have found a place to unwind and be rejuvenated.
---
Tue, 8 November 2022
344: The Importance of Investing in Key Décor Items and What Items Are Worth Investing In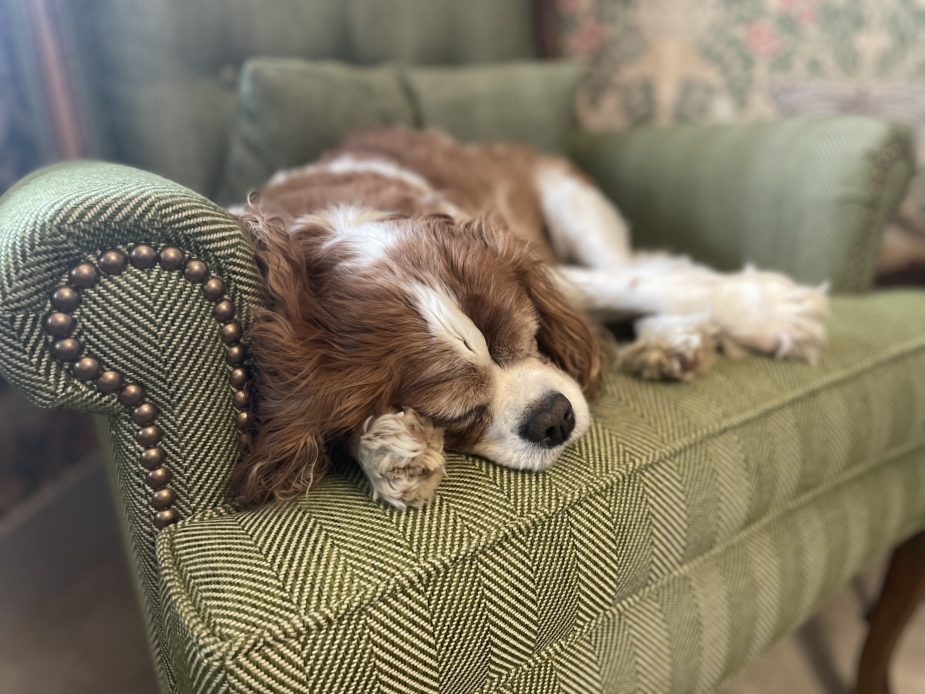 "I am sure there are [trends], but I don't really like them because I think trends come and go very rapidly." —Nina Campbell
Creating a sanctuary takes time.
But it need not take the same amount of time each time you set up a new home.
Similar to getting to know ourselves, unconsciously from day one we may be drawn to certain tastes, preferences, aesthetics, etc., and this is where we can begin both in understanding ourselves and in curating a sanctuary that rejuvenates, comforts and welcomes us home, even if the location of our home changes over the years.
However, unlike our wardrobe, the sizes of the types of furniture or décor items we are drawn to will not change, even if the colour palettes do which is good news because that means you can begin investing in the items for your sanctuary before you even have a penny in your bank account saved up for a down payment or the first month's rent.
Decorating our homes doesn't have to begin from scratch each time we move into a new home; in fact, if we are starting from scratch each time, we are wasting money, time and harming the planet (unless we are leaving all of our furniture for the new buyer). And you actual liberate yourself when you invest in quality décor pieces initially which enables you to never have to start from scratch again. Why does it liberate you, especially, you might be saying, because you just spent all of your extra money on a custom sofa for example? Well, that is exactly what today's episode is all about, sharing the many reasons why investing in key décor items will help you curate a sanctuary that is tailored to you and the life you love living.
1.Endurance to last a lifetime or at least a few decades
"[It was] good in the first place, and [is] still good today." —Nina Campbell
Similar to well-made clothing with high quality fabric, furniture that is made well from the inside out - structurally sound sofa, chairs, beds, tables, etc. will go the distance, many lasting your entire lifetime. I will include stoves in this as well because if you are someone who spends regular time in the kitchen, invest well in a stove and yes, it can last your entire lifetime.
The quote above was shared by renowned British interior designer Nina Campbell in a podcast episode in which she shared an experience of working with a client for the second time, about 10-15 years removed. Many of the primary pieces did not need replacing because they were made well. Below in #5 we will talk more about the benefit of having high quality furniture and large appliances, but generally speaking, you save yourself an extra step of having to go shopping for yet again another item. If you purchase a cheap item that looks good today, but isn't made well, no matter how many times you recover it, it will still not work nor last, or be comfortable.
The idea of starting from scratch is eliminated when you buy well, yep, paying more, up front for the first time purchase, so that you don't have to pay for it again down the road when your tastes change, or what is more likely, the piece falls apart or you realize it doesn't fit well or is not comfortable.
---
2. Sustainable
The sustainability choice in buying a quality piece of furniture or large appliance for your home ensures you won't be clogging up landfills. Mass produced furniture that is typically inexpensive also enables us to be less attached to the items and thus make the item easier to toss. Granted some may take their items to Goodwill or have a garage sale, but when you purchase furniture you love and is well made, and that you need as it provides a function in your home, you are able to keep it and use it for decades to come and also often become invested in it to take care of it well.
As I will share in #7 on our list in detail, part of why buying antiques and consignment and vintage is worth doing is because of the sustainability approach, and while it may take more time to find what you need, when you find it, again, you will become more invested in taking care of it well, thereby keeping it in your home for a longer duration.
---
3. Saves Money in the Long-Term
The price you pay for the high quality armchair today will be the cheapest price that armchair will be sold for if you were to shop for it again 10, 15, 20 years down the road. A well-made piece of furniture, if cared for well, will actually increase in value, a cheap sofa or chair will do exactly the opposite. In other words, it is not easy to plunk down a large sum of money on a dining room table for example, but if it is well made, fits your home and lifestyle, you will have it with you for your lifetime and perhaps hand it down to the next generation, only needing to have it refinished or re-stained when it exchanges homes.
Try to think long-term if you are struggling to pay the price tag of a custom Howard & Sons London sofa or armchair, and instead think about how you will be able to have a trusted and loved piece of furniture for decades to come, even being able to hand it down and doing so with it in great condition even if the upholstery changes.
~Read British interior designer Rita Konig's advice on buying the perfect sofa (Konig is Nina Campbell's daughter)
---
4. Potential to change exterior, but value is retained due to high quality craftsmanship
When you invest well in furniture you both love, as it speaks to your aesthetic tastes and lifestyle, and that is made well, as mentioned in #1, when your life changes, when your color preferences change, all you have to do is change the exterior as the skeletal, foundational components are doing just fine. Even if you have to replace and refurbish the seat cushions, you still have the well-built original frame which will save you money.
From changing the upholstery or refinishing the wood of a beloved desk, dining room table or side table, this is where you save money and time, because you already have what you love, now you are just taking good care of it, which reduces stress to have to find something that works for what you need.
---
5. Pay no mind to trends
"I am sure there are [trends], but I don't really like them because I think trends come and go very rapidly." —Nina Campbell
To repeat Nina Campbell's quote from above, as someone who began working under the wing of John Fowler, I will heed her wisdom when it comes to trends. Sure, we all have an aesthetic we are drawn too, but that is separate from a trend. Nina Campbell, for example, has a particular aesthetic that draws clients to her, but what she does is not trendy and each client's home, when complete, will be different. The difference is when an interior designer creates spaces for different clients that all look somewhat similar but neither reveals an individual, then that is trendy. In other words, an interior designer brings their expertise, but listens to the client's needs (lifestyle) and what brings them comfort and rejuvenation (personal tastes and life journey), and designs a home that reflects their client.
You want to see yourself and the people who live in your home in the interior design you create in your sanctuary. This most definitely takes time, but from day one you can begin including something you love, that speaks to you. For me, I have always been drawn to cozy, deep armchairs and sofas, wingbacks and wallpaper. I can remember going to the interior design store in our small town with my mother when I was a young girl, being able to select the wallpaper for my bedroom for the first time. I was so excited to be able to have a say in the decision making and flipping through all of those wallpaper books was a joy and most curiously good time. As well, I also know what I am not drawn too, and that also plays a role in where we begin. When we don't know, we try out things, and we learn along the way. I once thought a blue painted bathroom would be a great look, feel and aesthetic, but for me, I learned it was not. Lesson learned and carried forward to my next apartment or house.
With each home we step into, or each new redecorating project we begin, we bring with us the knowledge and experience from our past projects, homes and interiors. To be guided by a trend, as was mentioned in episode #341, is not entirely a bad thing. "If an aspect of a trend speaks to you, there is a reason, and that is how we hone our understanding of what will work for a long duration of time in our homes as we decorate for the life we love living, [but] if you are not decorating in an approach that honors you, but rather following what others approve of, and in such an approach to life in any arena – decor, fashion, life choices – this is never an approach that will lead to true, lasting contentment."
---
6. You can move to other rooms or arrangements, and expand upon what you have, rather than starting from scratch
Having furniture you love and that is well-made gives you the liberty to change where the piece is placed in your home. Perhaps a chair that was in the office now is moved to the new bedroom for guests. Or maybe the bed frame in your primary bedroom is moved to the guest room of your new home as you have one more room to furnish and as your tastes have changed, you can welcome in a new frame.
Ultimately, what you are doing is giving yourself options and saving money, reducing what you need to add to your space because you already have very nice pieces to work with.
---
7. When you cannot purchase custom yet
"I strongly believe that people may not want, or may not be able, to start again from scratch, so giving old furniture a new lease of life is at the heart of my philosophy." —Nina Campbell
When we begin furnishing our homes, beginning in college for many of us, buying new and high quality is just not possible. Often we begin with hand-me-downs from family members and that is just perfectly fine. As you begin to purchase items, you likely still will not be able to purchase high quality brand new, let alone custom pieces, so head to the consignment and vintage shops and go treasure hunting. Scour the estate sales in your new hometown, but be patient, ask questions, and don't be afraid to barter. My first antique purchase was in college, an oak pub table that at the time cost a fortune for me - $400. I still have that table and it has been well cared for and functions and looks beautiful.
Purchasing consignment and/or antiques when we can and want to is a sustainable approach as well to decorating our homes. It may take time to find what we are looking for, but remember, you can always update or adjust certain finds. If the items I made well, but the upholstery needs to change, that is easy to do, and you've saved money and helped the planet.
~Why Not . . . Shop Consignment Décor?
---
What Décor Items to Invest In
The first two items are recommended by Nina Campbell as most definitely worth investing in from the start:
Sofa — customize with your preferred fabric as well
Bed — mattress, headboard, frame, etc.
Upholstery — chairs, sofa, ottomans, benches, etc.
Window Treatments — fabric, hardware, customizing length and amount of fabric to hang properly open or closed
Flooring — hardwood or tile, rugs, carpet, etc.
Wallpaper — high quality wallpaper will hang well and simplify the process if you are doing it yourself.
Stove Top/Oven — if you cook regularly in your kitchen
Hardware & Kitchen and Bathroom Fixtures — door handles, faucets, hooks (for heavy use areas)
Decorating our sanctuary in many ways resembles putting together an incredibly large jigsaw puzzle, and over the years I have come to thoroughly enjoy putting together my own puzzle. Knowing what the right pieces are takes less time, but because I don't want a mass produced item, or know where what I am looking for might be found but it is not where I am at the moment, the time it takes to acquire these pieces takes longer, and that is okay. Because in the moment that we find and purchase and then welcome home the piece that fits just as we had imagined, it was worth it and our comfort and pleasure in our home deepens, and we become more rested and rejuvenated.
Of course the journey of decorating our homes is forever on-going just as our capsule wardrobe is and knowing ourselves and learning about the world and how we partake and engage with it, but that is the fun part of being alive, and our homes stay alive because of this regular awareness of how to live well, tweaking, adding, layering, editing, etc.
Wishing you a wonderful and most enjoyable journey of curating your sanctuary, and may your puzzle tickle your mind and bring many smiles to your days as you discover what would be right at home in your abode.
SIMILAR POSTS/EPISODES YOU MIGHT ENJOY
Petit Plaisir
~Parisian by Design: Interiors by David Jimenez by Diane Dorrans Saeks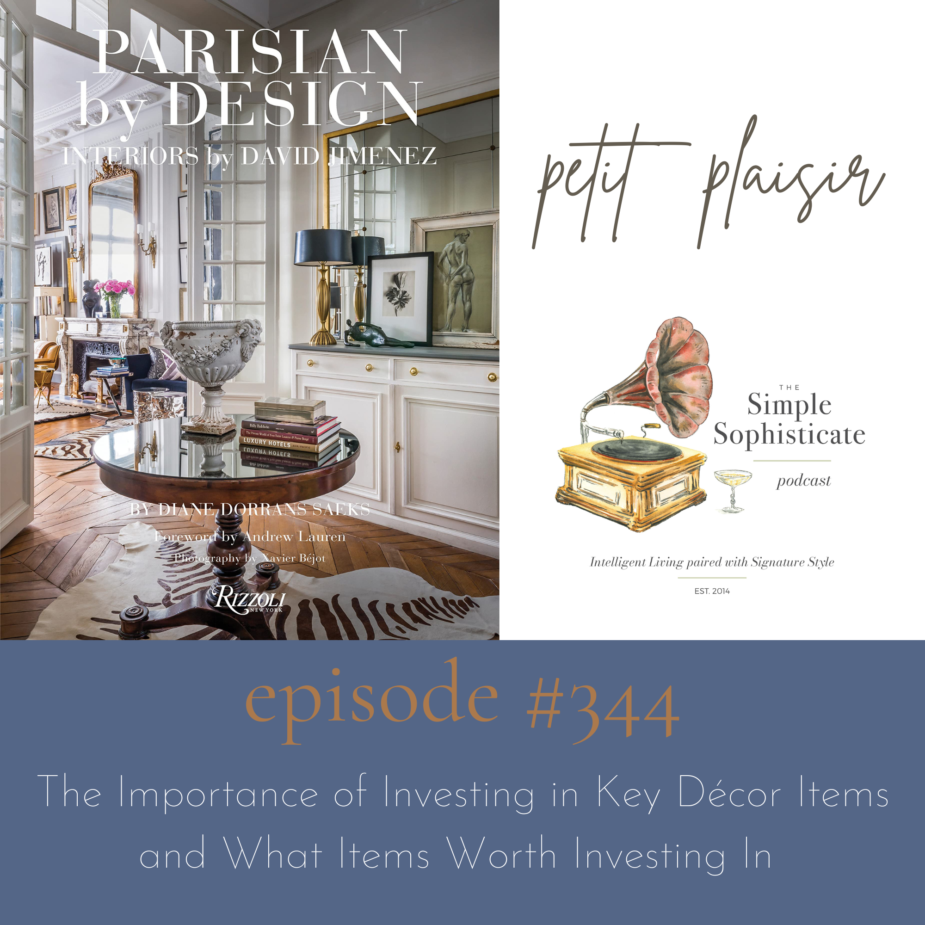 ---
Tue, 4 October 2022
341: The First 15 Key Elements I Included in My English Cottage-inspired Home, Part Un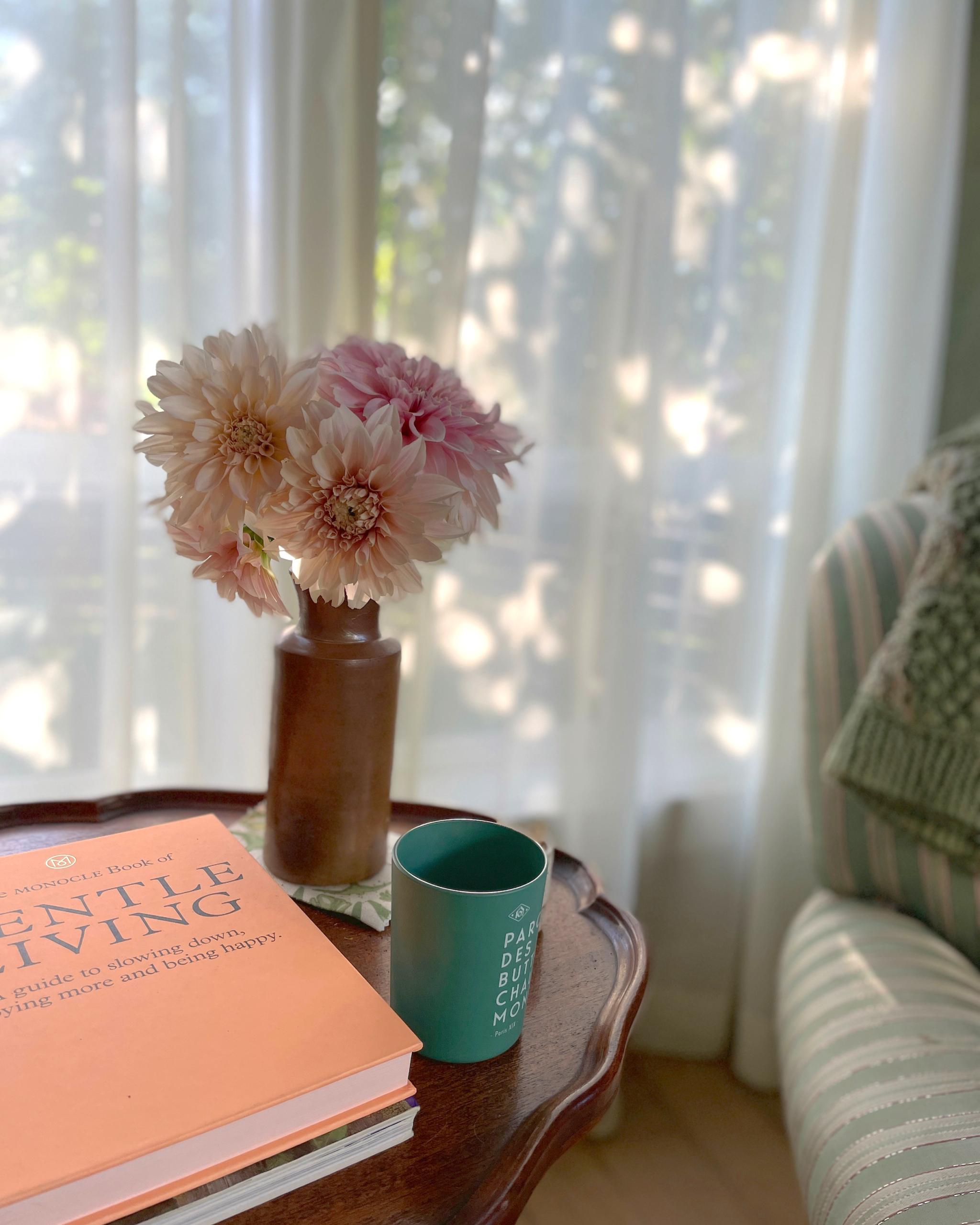 "In a simple and a peaceful cottage with a beautiful view, you will not be dreaming about the palaces or the heaven, because you already have a perfect thing!" ― Mehmet Murat ildan
To feel welcomed, to feel deeply at home in a sanctuary, to feel 'cozyed in', almost as though to be hugged without confinement and instead inspire infinite curiosity to explore and play. To me, all of these 'feels' are what comes to mind when I think of the classic English cottage, both inside and out.
Over the next many months and years, I look forward to exploring and sharing elements of the English Cottage aesthetic, the interiors, exteriors and the garden of a cottage because as many of you know, my home, Le Papillon, is what I consider to be a cottage. Perhaps it began with watching Nancy Meyers' film The Holiday and the cottage I later learned she had built especially for the movie, Rose Hill cottage, or maybe it was the interiors of the many homes profiled in The English Home magazine that I have subscribed to for over 10 years and continue to eagerly await the arrival of each new issue. Whatever precisely drew me to the English Cottage aesthetic I cannot pinpoint, but I always take notice of how I feel in a space, whether I am traveling and staying at vacation rentals, bed & breakfasts, hotels, or even at friends and family's homes. What makes me feel most at ease? What details attend to my needs to bring me comfort? Where can I truly relax and feel at home even if I am not at home? And mentally I took note, and finally, with my house here in Bend, Oregon, Le Papillon, I have been able to customize, paying attention to all of the details - grand and small that, to me, whilst adhering to the fundamental components of English cottage, create a sanctuary I feel at home, deeply at home when I am here.
There are oodles of interior décor components that contribute to creating the English cottage aesthetic, so I wanted to begin with where I began and what is in my own home, Le Papillon. Below I will be sharing pictures and images that offer the vignette, a close-up look at the details discussed here in today's episode/post, and for each image, you will have the option of clicking through to tour the entire space and how I pulled it together (explore becoming a TOP Tier Member to gain exclusive access to all tours of my home, Le Papillon). As shared in the title of today's episode/post, this is part un, and I look forward to sharing many more elements that are in my home in future postings/episodes.
First to begin with the history of the English Cottage and Cottage Garden. As Christopher Lloyd and Richard Bird share in their book about Cottage Gardens, "It has come down to us through the ages [to be] a bountiful yet regulated informality." While they are specifically speaking about the cottage gardening approach, the same can be said for the interiors as well. Everything that is chosen is thoughtful, intentional, but it may not appear to be so to the untrained eye. They go on to say, "[The Cottage and Cottage Garden] has evolved through common sense, combines need with enjoyment and is entirely unpretentious."
With that definition in mind, let's take a look at the first 15 Key Elements I included in my English Cottage-inspired home, Le Papillon.
~Please note, while I give quite a bit of detail in the written post below, I also share even more in the audio version, so please do feel free to tune in wherever you listen to podcasts.
1.Ignore all trends of the moment at any moment
"Ultimately, good taste is a considered point of view, and the courage of conviction even in the face of dissent." —Fiona McKenzie Johnston
Before we dive in to today's topic, it is important to differentiate between classic English cottage and Cottagecore, the latter becoming a booming décor trend during the depths of the pandemic, but they are not the same, and the latter is a trend. Similar to the more recent trend that began on social media, the Coastal Grandmother style (both décor and fashion), a trend; however, if something offered by either one of these trends speaks to you, hold on to that. Explore that element and that becomes part of your good taste suggested above in the quote.
The problem with adhering to a trend is that by definition, it will go out of style, and a new trend will replace it. The primary (perhaps more unconscious) reason both of these trends rose to popularity when they did has a lot to do with the times we found ourselves: we were seeking comfort, we were seeking something that brought us calm and certainty during some of the most uncertain and unprecedented times we have ever seen across many different generations. This is not a bad thing. Again, if an aspect of a trend speaks to you, there is a reason, and that is how we hone our understanding of what will work for a long duration of time in our homes as we decorate for the life we love living. Secondly, regarding the problem with trends is that you are not decorating in an approach that honors you, but rather following what others approve of, and in such an approach to life in any arena - decor, fashion, life choices - this is never an approach that will lead to true, lasting contentment.
So we let go of trends and dare to trust that what we know makes us feel good, feel at home, even if magazines or social media says 'huh?', and what we also do, and this is key, is understand how good design works. The reason I mentioned the need to not just acknowledge what speaks to us about a trend, but also explore it, is because we must understand the décor principle that makes such a decor detail work in that particular way. We'll talk about this more in #2, but I have always been drawn to the expertise mixing and matching of prints the English seem to know how to do intuitively, except I know it is learned, and so I took online décor classes and discovered exactly what works and why, along with many other insider tips and tricks, before I invested in items I wanted to have in my home for a lifetime.
---
2. Wallpaper, prints, large and/or small
The power of wallpaper with prints is that it is an illusion to the eye and actually makes the space feel larger than it is. Unlike with solids either regarding wallpaper or your typical paint job, a solid wall of any color stops the eye. We will talk about this more with upholstery as well, prints while beautiful and artistic, also serve the powerful and necessary purpose in what typically are small in square footage/yards that cottages are.
Long-time readers of the blog know I have wallpapered multiple rooms in Le Papillon (six rooms as of this posting), and I have done so all by myself. I didn't begin by doing this task on my own however, but am grateful I had a good teacher. So yes, you can wallpaper on your own, just make sure, as I share in this detailed post, you purchase quality wallpaper, and you are half-way to creating an amazing space.
With that said, sometimes the wallpaper will be the guiding detail that determines all other decisions in the room, such as my guest bathroom below. It was my dogged determination to find a space in my house to bring the classic Willow Bough print by William Morris, one of his first creations in 1870, and so when I decided on my guest bathroom, all of the other details had to complement the room that was bathed in willow boughs. However, the wallpaper can also simply complement, and that is what I have done in my foyer by using grasscloth as it provides a warmth due to its texture, but is not the star of the show.
As well, small versus large prints, the large prints as you might imagine lead the way, but the small prints complement what the other stars in the room are. Choose the same color tone as those star pieces, but they need not be the same color, although they can and likely should play off of at least one color in the wallpaper. For example, my next project when it comes to curtains is to add roman shades to my kitchen, but as my house has an open floor plan, I need to pay attention to the colors in the Boot & Basket room as well as the dining room which are situated on either side of my kitchen, so my friend, Veronique, an interior designer, saw the green in the wallpaper, noting the color tone that I need to adhere to in order to work with the Provençal blue in my dining room curtains, and told me to find a print with some in green. That gives me direction of what to work for as the curtains will not be the star of the show, but must complement the details around it.
~Here is a detailed post of 12 British Wallpaper Companies to Know
---
3. Mixing antiques, vintage, consignment finds with new, but thoughtfully considered new pieces
This detail of cottage decorating is one of my favorites, and perhaps yours as well, the treasure hunting! Of course, and yes, we need to underscore, that clutter is never a comfort, so always letting yourself purchase what is drawing your eye just because is not a great idea unless it serves a purpose and has a home in your cottage along with being something that caught your eye. Cottages are small, and just like the cottage garden, each item does two things - provides beauty and functionality.
Part of the reason it takes time to decorate a cottage is because just because something is beautiful doesn't mean it is functional and just because something is functional doesn't guarantee that it is attractive to your eye, i.e. all of the technology and gadgets available for modern living.
Think of it as a treasure hunt and then this searching becomes more pleasurable because when you finally do come across say a newspaper rack/holder that is desperately needed to keep the papers from being strewn across the floor on Sunday morning while you cozy into your reading nook, you will also be welcoming in something that is pleasing to the eye but exercising a function that you need for a tidy home.
Overarchingly, this is why it is necessary to mix old and new items. Yes, you will likely have more old in the form of vintage, antique or consignment, but there are just some things that have to be new, certain chairs or furniture to fit the size or height of people in your home. For me, I needed a long sofa and a deep one, so I customized one as it is the star of the room, and the investment was worth it for years, decades even, of cottage style I love but also comfort I needed. (You can see my sofa in many of A Cuppa Moments video chats.)
---
4. Remove the over-head lighting
This rule is not exclusive to cottages, but rather how to create a welcoming home. Nobody looks their best under lighting from above (unless you are young and perfect and blissfully ignorant to the benefits of youth). Overhead lighting also creates a harsh effect that is not warm nor soft on the eye. Yes, there will be places in the home or in your working areas depending upon what work you will be doing where overhead lighting is necessary, but even then, customize it so that you can dim it to your preferred brightness.
The only two places I have overhead lighting that go full-tilt bright are in the kitchen and the garage. And in my kitchen, my overhead lighting is on a dimmer. In fact, all of the new light fixtures I have put into my home during my 2-year renovation/customization are on dimmers (advice from British interior designer, Rita Konig - always put lights with dimmers when installing the electric outlets). Even if your home has overhead/ceiling/can lighting, do what I do, and don't use it and better yet, take the lightbulbs out so that they are never used by mistake. This sounds extreme, but you want to feel comfortable in your house, so add the lamps (we will talk about this in a later point below) that create the lighting you want that is in your control; this possible with table lamps, floor lamps, picture lights and semi-flush, pendant or chandelier lighting.
---
5. Relinquish the idea of perfection and avoid matchy-matchy
The beautiful puzzle of the English cottage is that when it comes together delights me to no end, and it is the ability to match seemingly different prints and colors in a manner that fits together perfectly, as though they were meant to go together. How do they do that?!
First, let's talk about avoiding the matchy-matchy. It is completely understand why people (and I count myself among them) do this, it's safe and it doesn't 'break' any rules or is not harsh to the eye. However, if you are decorating your cottage, you have broken the rule because a cottage is meant to look almost accidentally put together when really it was quite intentional, but there is a playful element, a daring element that reveals a bit about the inhabitants, what you love, what makes you smile, where you've been, your favorite color, etc.
Avoiding the matchy-matchy doesn't mean you can't do it everywhere, but when it is what you rely on in every room, it doesn't reveal you. For example, I have two pairs of matching lamps, one in my living room and one in my primary bedroom. For me, they create balance, a solid, subtle foundation because they are placed (especially the living room lamps) in a space that has a lot of different prints, details and non-matching furniture.
So essential, use matchy-matchy not to play it safe, but when it actually provides a value for the décor aesthetic you are trying to create in the cottage. Which brings me to letting go of perfection. A cottage never looks partnered off or symmetrical, but yet it feels balanced. How do you do this? It is easier to learn this skill by looking at whole room pics, so I highly recommend picking up copies of The English Home magazine, but you might have two armchairs (as I do in my reading nook), but they don't match and have entirely different prints. To the casual eye, this appears imperfect and off balanced, but its in balance because they have the same color tone, and that tone is married in the curtains that stand between them. I still have two chairs, but they don't visually look the same, but have the same 'weight' to the eye.
The perfection is what you want to let go, but what you create that establishes the balance will be perfect to you.
"Be faithful to your own taste because nothing you really like is ever out of style."—American interior design Billy Baldwin (1903-1984)
---
6. Ottomans
A cottage beckons you to sit down and relax. How do we create an aesthetic that speaks this language? Well, ottomans play a powerful role in the symphony of details in a cottage. I once had two friends come to dinner, a couple, and when they walked through the foyer and into the open-plan, after I asked them to pick any seat they'd like to sit in, they said, "I cannot choose, they all look so comfortable. Each one is asking me to sit down and relax." That is what I hoped I could create. That was the goal even if the English cottage style isn't their preference, there is a feeling I want to create for everyone who walks in, and that is the feeling when it comes to choosing my furniture.
Ottomans by nature ask you to put your feet up on them, to essential stop doing, and just be. There are so many different styles and sizes, so have fun finding the right ones (yes, plural) for your home. As I look around me, I can count four ottomans or hassocks (smaller and lower to the ground) that are in my house. They all perform a function, but their fabric or finish also work in the space aesthetically. One matches the chair it is paired with but it also is the hassock so my pups use it as a stepping stool to climb up into the chair. I will admit an error on my part because I have another armchair and purchased its matching ottoman. I love having the ottoman, but moving forward I might someday have it reupholstered to not be so matchy because there is too much of that one fabric in that corner. This is how we learn, and if we purchase quality pieces of furniture then down the road when we want to change it up, all we have to do is reupholster, not purchase an entirely new piece. Saves money and is a sustainable approach to decorating.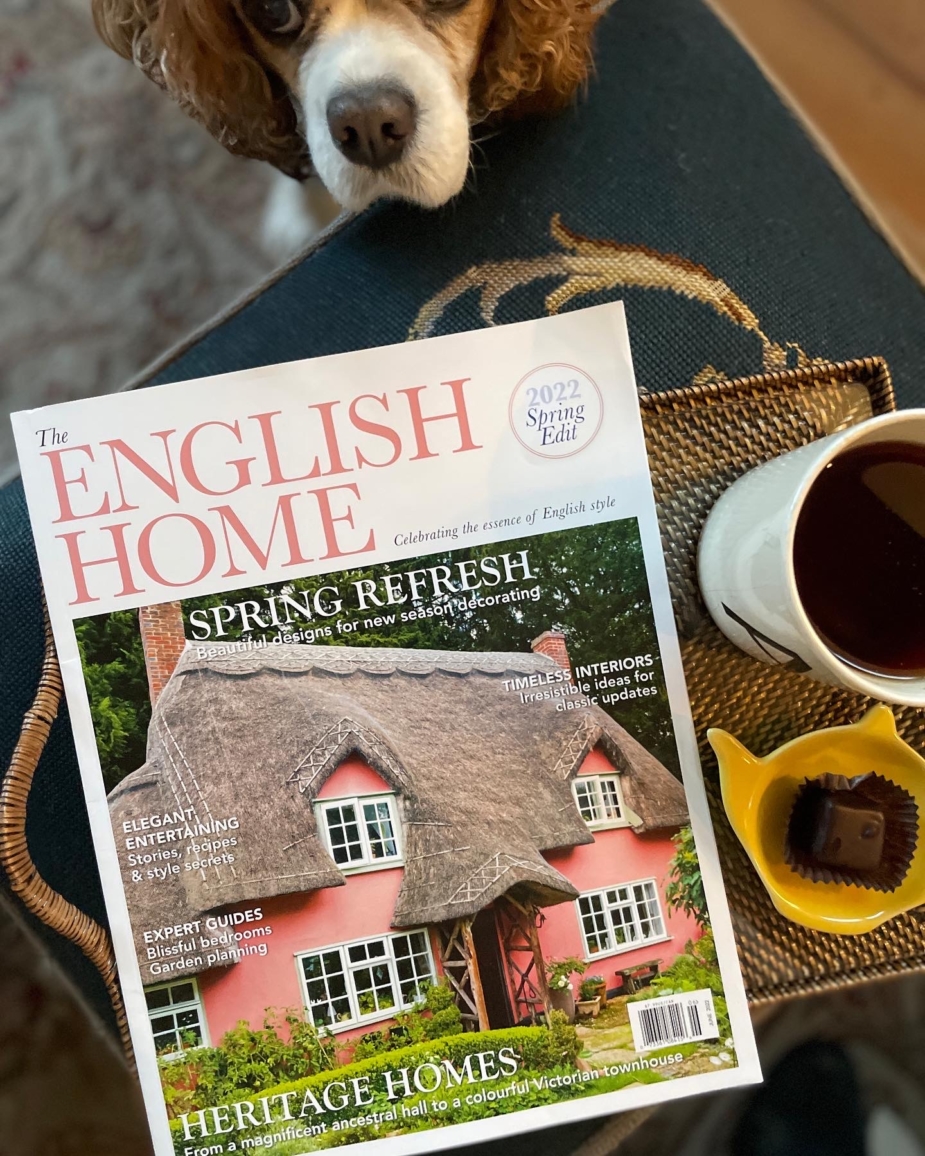 ---
7. Reupholster furniture you love
Speaking of reupholstering. ☺️ One of the best arguments for purchasing high quality furniture is because of what we just talked about in the conclusion for #6. Likely your tastes will evolve a bit or a lot, but when you have a favorite well-made piece of furniture, you can have it for life. The upholstery may change, but having an ideal cozy chair or sofa or dining room chair is near priceless for an item that you will have to pay well for.
I have reupholstered a chair I inherited from my late Great Aunt and Uncle's home, a chair made in the 50s, had the cushions redone as well as the fabric to one that worked in my office, and each time I look at it, yes, I love the look, but it also holds many wonderful memories that make me smile. I have also purchased consignment furniture that I love structurally but not the fabric (often this will save you money because sometimes the fabric is what is keeping it from being purchased), and had it reupholstered (my office chair for example that you can see in September '22's A Cuppa Moments).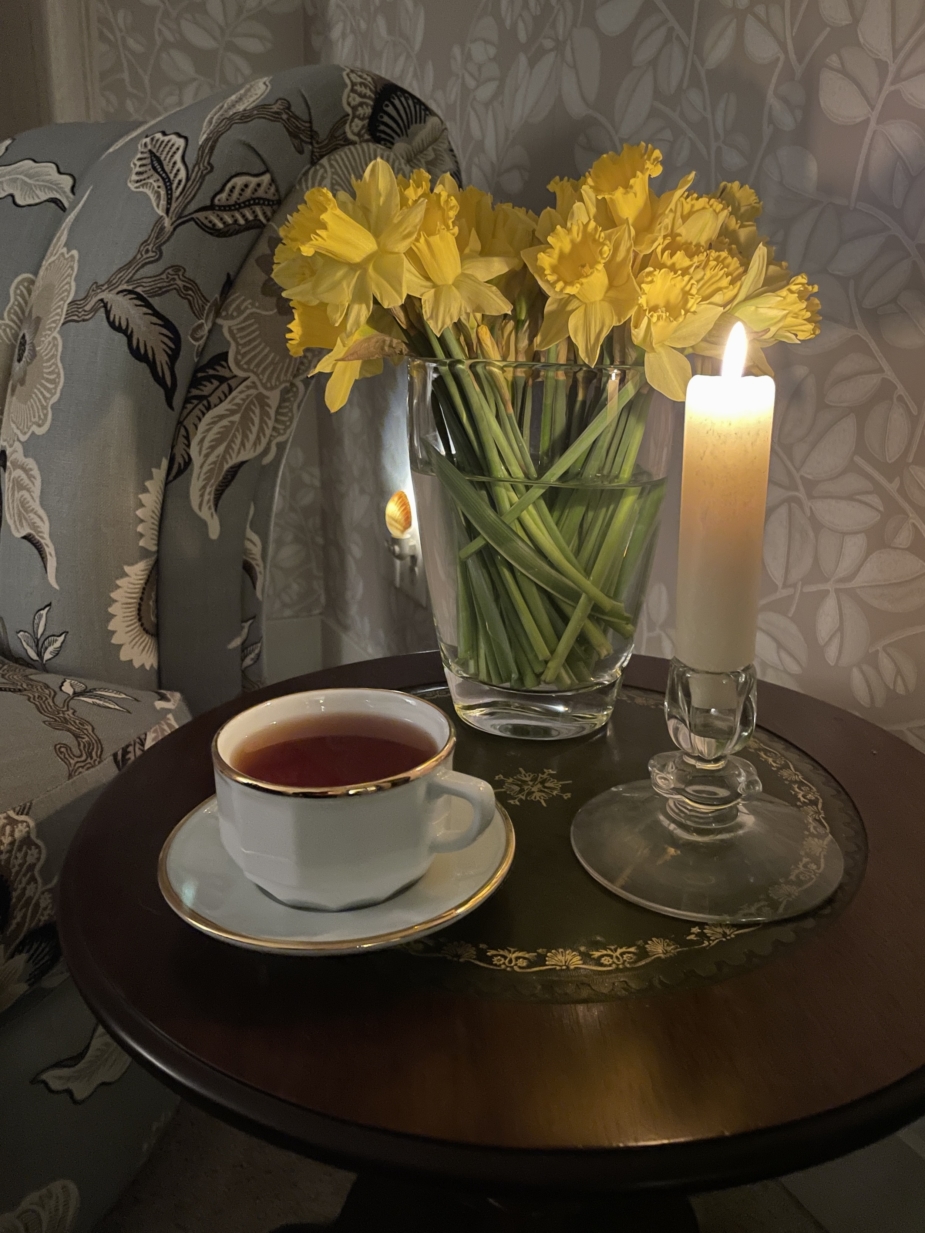 ---
8. Have fun selecting or customizing your pillows, put them nearly everywhere
I once heard a man, he happened to be American, but I think that is important to note, say he would never want pillows anywhere in his house (he had recently finished entirely remodeling his house). Indirectly, he was insinuating that they were feminine and he didn't want to appear 'weak'. Long story, but needless to say, I wanted to say (but bit my tongue), you are missing the purpose of pillows dude. Admittedly, when pillows are used just to 'look good', then yes, by all means get rid of them. I agree on that, but there is a purpose to having pillows if they are well made and in the right shape for the piece of furniture they are placed in.
For example, on my George Sherlock sofa, which is incredibly deep, you cannot sit upright without having a large 22" square pillow behind you, and it must be a somewhat firm pillow. So over the past summer, after more than a year of figuring out which fabric would work best in the space of my living room, I had six 22" square pillows made with five different fabrics. They serve a purpose - the ability to sit comfortably, can be rearranged if you want to lay down, and they also are covered in fabrics that work with the sofa and the space.
~Tour my primary bedroom and learn about the three different sizes of pillows I chose and why I chose them.
---
9. Curtains, tall, complementary curtains for rooms of cozy-ing-in
There are a variety of different curtains to explore adding to your cottage, and I look forward to touching on many of them in future postings, but today I would like to share with you where to add tall drapery in your cottage: anywhere you want to relax and unwind. Tall curtains, some ceiling to floor, but at least as tall as you and likely taller, and then draping to the ground, soften the space, enable you to change the amount of light that streams through, and finish a room. What rooms am I talking about? Bedrooms, reading nooks, some bathrooms - near a soaking tub perhaps, dining rooms. Keep in my all that was shared about fabrics and mixing and matching prints above, as the same rules apply to finding what is the best fabric for your curtains.
~Learn more about the wool, semi-sheer curtains in my primary bedroom.
~Discover why I chose the linen curtains that hang in my primary bathroom.
---
10. Table lamps, invest and have fun
As shared in #4 above, once you have removed or no longer use the overhead lighting, you need light coming from somewhere if you don't have enough natural light, and this is where table lamps and floor lamps come in. Of course pendant and chandelier and semi-flush work well also, primarily in the kitchen, entry/foyer, mudroom, hallways, offices, but additionally to all of these rooms and especially to living rooms and bedrooms, add light that is at slightly above eye level when you are sitting, then add a shade that works in the space aesthetically. Don't feel you have to use the shade that the lamp comes with if that is the case.
One rule of thumb Rita Konig teaches is wherever someone can sit down, make sure they have a place for their drink and light to read. Again, add dimmers if that is an option with your lamps, but this design detail has been a conscious choice upon moving into Le Papillon, and I have now added 3-4 lamps to the previous other lamps I have had for many years, some I have since changed the lamp shade to work in their new space.
---
11. A fireplace, wood or gas, adorned with thoughtful classic, signature attention
If you are fortunate to have a fireplace in your cottage, whether it is a traditional wood-burning or a gas fireplace, even if you don't use it very often or at all, decorate around it thoughtfully keeping all of the ideas shared above and below in mind.
I recently redid my mantle around my gas fireplace because it was modern in its aesthetic. I changed out the title, using a classic cottage choice - Delft tile - added a wooded frame and even added two scones because again, following Konig's advice, wherever you are going to sit, have a place for a drink and lighting to read a book, as I have two chairs that sit next to the fireplace, I needed a place for a lamp and there is not enough for a table, so I placed the light in the form of scones by each chair.
On top of the mantle, be thoughtful, trying not to clutter, but don't let it be too sparsely adorned either. Have fun, and change it up when you are inspired to do so which leads me to #12 . . .
---
12. Strike a balance of intentional bountiful decor, yet not excess
Sometimes cottages without an understanding of how to create cozy without clutter can become overwhelming in too much upholstery or too many 'cute' details. That to me is claustrophobic. Be bountiful by the way of, avoid being minimalistic, and so long as each item fits the two requirements - beautiful and functional - you won't have an excess.
---
13. Invest in a quality goose or feather down sofa
I mentioned above that I have a George Sherlock sofa. This was a big investment item, but after having lived with a consignment sofa that was not well made for many years and before that a sofa, the best I could afford at the time, for 15 years, I wanted to purchase a lifetime sofa that was both comfort and aesthetically appealing in the cottage aesthetic that I love, so I invested and customized with fabric that works in my space. What does that mean? Plush fillings of down and feather to the firmness of my preference and a structure that will last my lifetime. I may reupholstered at some point waaaay down the road, but I will always keep this frame. It is sturdy and provides the comfort (i.e. space and length) that I need for someone who is tall and hosts dinner parties where many people need to find a seat in a small space that is my house.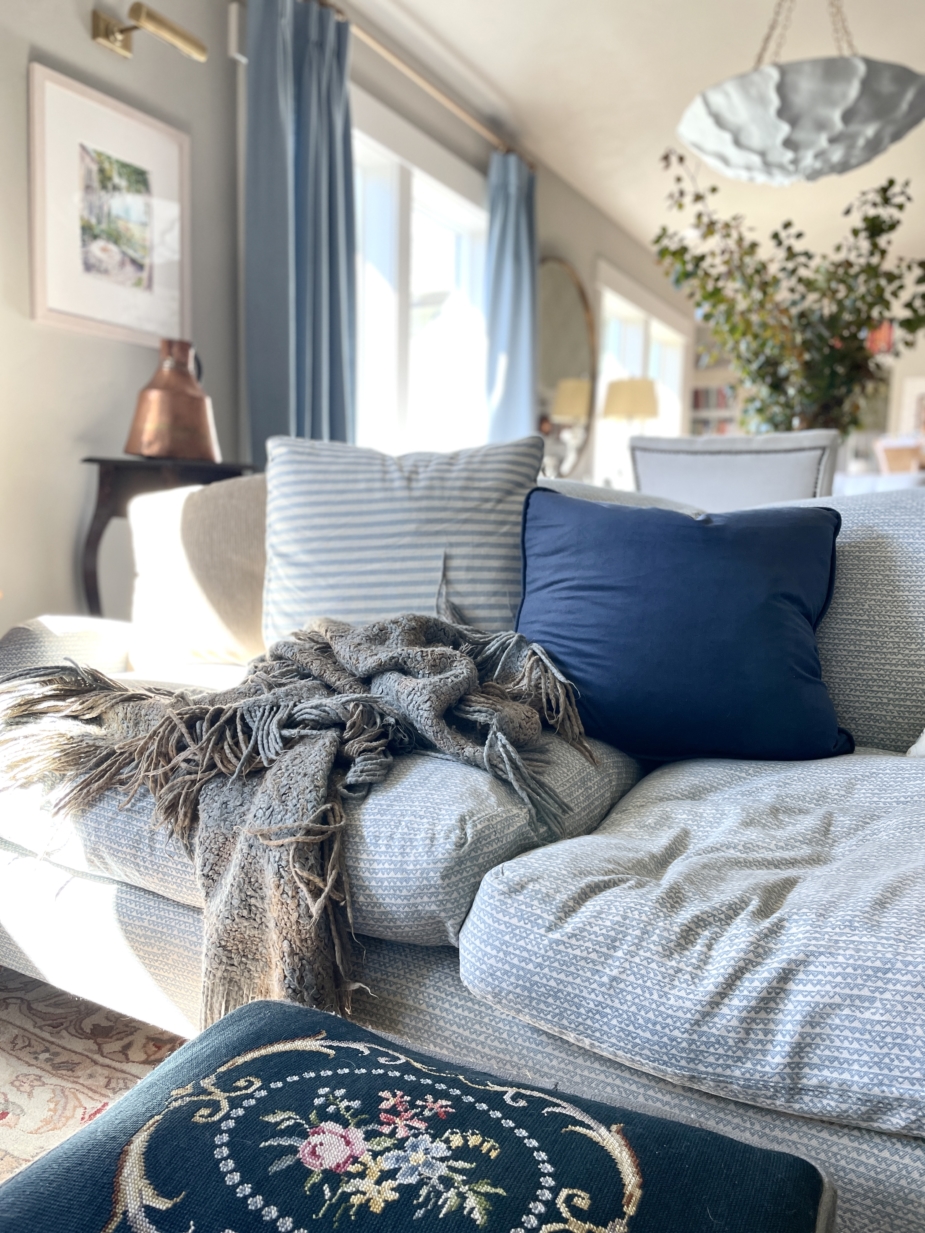 ---
14. Upholstered chairs of all types
The upholstered detail is a must, but not everything needs to be upholstered. This is where that balance must be struck. You will want some wood and hard structures - whether in the entire make up of the piece of furniture or in the feet or arms or the chair, table or sofa. Balancing soft and hard surfaces, appropriate to each space calms the eye and also communicates what the use of that space is.
---
15. Design a cottage that considers what makes your dogs and/or cats feel at home
A cottage without a pup or a kitty is like living life without smiling. Our pets are just part of what makes our cottages feel like our sanctuary. Of course there will be times in our lives when we do not have pets because we know how much they take of our heart and it takes time to grieve and know when or if we will welcome a furry four-legged companion into our lives, but either way, knowing we have a home that our pets will feel as though they are welcomed as well is part of the key essentials to decorating and customizing a cottage.
The first 'customization', as I shared in my new book The Road to Le Papillon was for my pups: a dog door installed into an existing solid door. Over the first year of my living in Le Papillon I also added a screen door to my garden porch and small fenced yard that also had a dog door, and there are so many other ideas to consider when making the human home be a pup or cat's home as well. From having cozy beds for each pet placed in a spot in the home that is with people while we go about our daily routine, creating their dining area to be inviting, attractive to the eye and in a safe but still part of the house spot where they can eat in peace, visit the water bowl at their leisure and not feel rushed, and something that is vitally important to their mental health, just as it is for humans, is to have ample natural light streaming into the cottage as much as possible.
A priority when I purchased my now home was knowing that my pups had direct access to the fenced lawn, although they are never kept outside, and can always come in through the dog door. As well, having a garden for them to toodle about in with me is as much for my mental health as it is or them as we spend many hours between February into early November (if the weather permits), sitting outside, sometimes on the porches, but also on the grass in the shade or out in the sunshine, cutting flowers for bouquets, picking berries together (the strawberry pots are our favorites), and just genuinely feel as though we have our own 'entertainment center' of sorts because we have our own garden, no matter how small it is. As I keep it organic, I know they can poke around safely, and always know which plants are poisonous should they want to chew on plants which typically is only when they would be pups.
Needless to say, a home for me is not a home, and in my case, my cottage is not a home without my pups, and it is a true joy and delight to know that they feel just as comfortable, safe and welcomed especially when we arrive home from a long trip, and I observe how they move about almost in a sense of relief to be back in their space because they are a big part of my life and joy.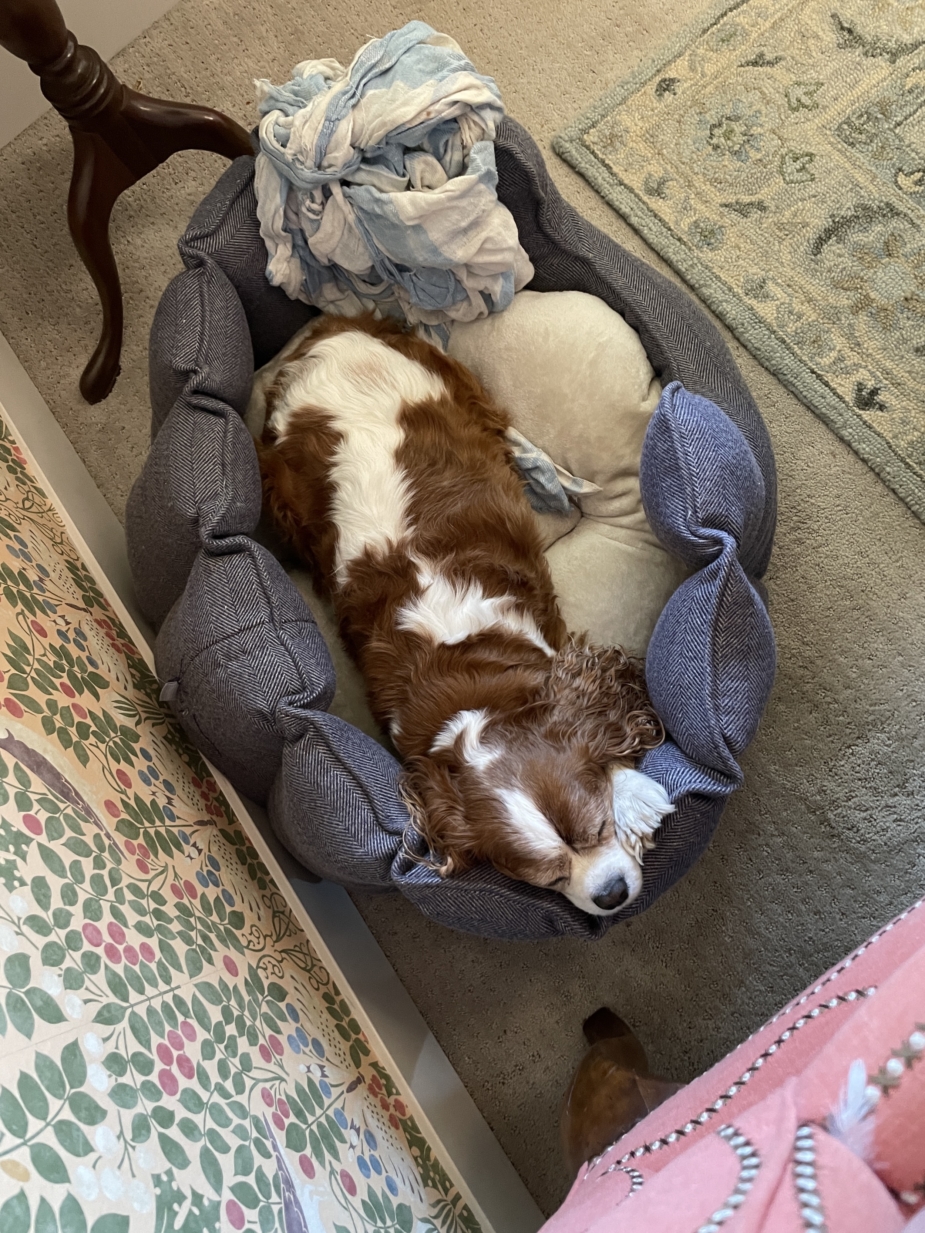 Norman enjoying his new bed as shared in the episode directly next to my office chair, so in easy reach of petting and staying apprised of where Mom (me) is going.
---
Decorating the interior of our cottage is a process that takes time, and if the goal is to create a cottage where we feel most at home, that means we must be patient. Perhaps we don't have a house that is technically a cottage but hope to one day, as I shared in this post, you can always begin purchasing items that will be perfect for a cottage you will live in some day. So many of my current pieces I use and love were purchased years ago (the tulip chair that I reupholstered for example, was purchased more than 20 years ago), and it is this time that creates the cozy, because the pieces are more than just 'things'; they hold memories and remind us of either people, or times in our lives that were pivotal, powerful and deeply personal to our life story. Such a feeling cannot be purchased on demand to create a cottage that is our sanctuary.
As I sit and type this episode/post, my two pups are snuggled up in the living room with me, yes, after one year since the passing of my sweet boy Oscar and with much thought, examination and especially consideration for what would be best for Norman, we welcomed a little girl into our lives. Not to replace, for she is beginning her own unique life story and journey just as Oscar had his and he will always be held dearly in our hearts. I will be gradually sharing more about her in the coming weeks and months, but if you are a TOP Tier Member, look for a proper introduction in next month's A Cuppa Moments. Now to this current moment where I find myself in my cottage on a sunny fall afternoon, my gentleman boy Norman is in his favorite chair that was handed down to me from my parents and to them from a friend, and my sweet little girl is nestled next to me on the English sofa I spoke about above draped with blankets I have had from many different chapters in my life and the pillows created after working with my dear friend Veronique and fabric from a small business based in England whose fabric when I saw it, I said, I will find a place for it as it brings a smile to my face when I see it. This is home. This is comfort and cozy and calm, and it took years to reach this point, but it feels as a cottage should, personal to the people who call it home, as though it is made for them to just be, nap, read, rest and enjoy the everyday.
Today's list was hard to keep to just 15 items, so rest assured there are many more items I will share that focus on the interior décor of a cottage along with the exterior and garden. I look forward to sharing them with you so that you too can create a cottage you love living your life and savoring your everydays. Thank you for stopping by and tuning in.
~Peruse all of TSLL's Remodeled Rooms here, and to view any post individually, explore becoming a TOP Tier Member for exclusive (and ad-free) access.
SIMILAR POSTS/EPISODES YOU MIGHT ENJOY
Petit Plaisir
~Chicken Schnitzel and Lemon & Herb Salad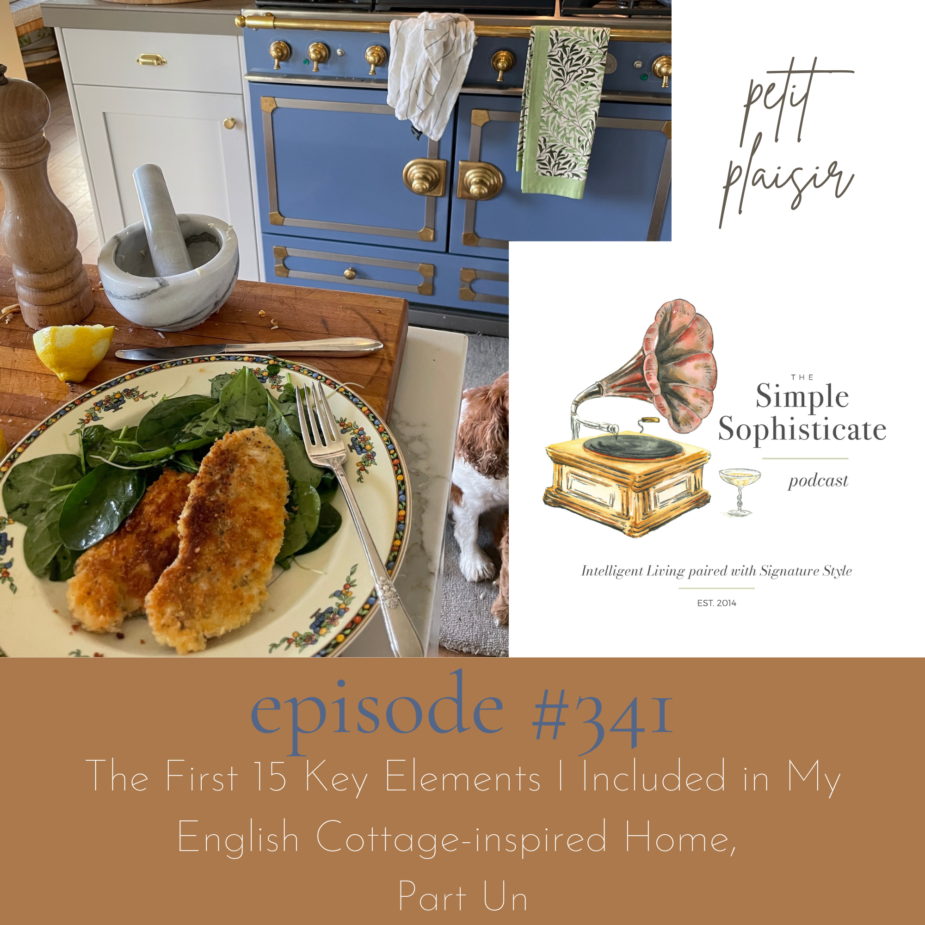 ~The Simple Sophisticate, episode #341
~Subscribe to The Simple Sophisticate: iTunes | Stitcher | iHeartRadio | YouTube | Spotify | Amazon Music
---
Sun, 18 April 2021
305: 36 Bedtime Daily Rituals and Essential Details to Ensure A Restful Slumber
Awaking without an alarm clock. Letting the body and mind in tandem wake up after having receiving the necessary amounts of sleep, my goal as I move forward in life is to have more mornings awoken only by the morning murmurs of the fresh air, the birdsong, the quiet of the house as the sun begins to gently start the day.
If you have ever experienced jet lag, you know what it feels like, what it sounds like when your body and mind to speak, asking, "Why aren't we sleeping right now?". Whether you are traveling across multiple time zones or not, your body and mind need deep consistent rest, and when we listen to and honor what we hear, we begin to live a life of healthy harmony. We are better able to manage our emotions, stay present, be patient, think clearing and so much more. Sharing the nine benefits of a good night's sleep a couple of years ago, I have no doubt you know the importance and value of a good night's sleep, but knowing and creating a space in our sanctuaries to offer a nightly restful slumber can be two different things.
Today, inspired by the completion of my primary bedroom's restyling (tour the full bedroom customizataion here - Parisian Elegance marries English Country Comfort Aesthetics in TSLL's Primary Bedroom Reveal - view before and after photos included along with all of the details, links and decisions behind the choices), I wanted to introduce next week's post with a post sharing 36 Bedtime Daily Rituals and Essential Details for a restful slumber.
To know what we need is one thing. To know how to cultivate it can be a bit more difficult to ascertain, but what I have learned over the years having never used an alarm clock during my teenage years, the daily necessary ingredient for an everyday of contentment is a good night's sleep.
Visit the full Show Notes on The Simply Luxurious Life — thesimplyluxuriouslife.com/podcast305
---
Mon, 25 May 2020
45: 10 Ways to Set Your Home Like a Luxury Travel Accommodation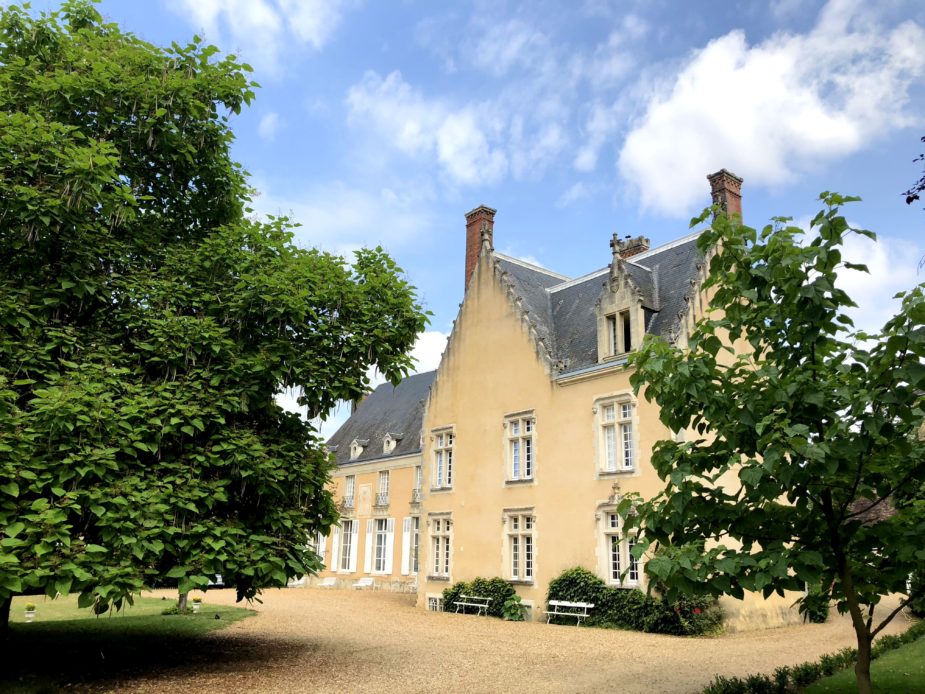 Today's episode is a favorite from Season 1 of The Simple Sophisticate.
Episode #45 was the sixth top episode of the first season and continues to be a favorite with listeners as it shares 10 Ways to Set Up Your Home Like A Luxury Travel Accommodation.
In the times we find ourselves, I thought this might be just the episode to return to as we are still spending more time at home that we had anticipated especially as summer nears. Cultivating a sanctuary that beckons us to linger and we long to return to and spend ample time in has much to do with the details. And the details, the luxurious details, need not be all that difficult to acquire and welcome into our home.
I do hope you enjoy today's episode, and look for a new episode next Monday and for the month of June.
Click here for the detailed Show Notes of the original episode and listen to the audio version above.
~The above image is Chateau de la Barre located in the Loire Valley where I had the opportunity to stay three nights in the summer of 2018. Read this post—A Traveler or Tourist? The Difference —to see many more pictures of the interiors and the grounds, as well, have a look below at more images I shared on Instagram.
---
Sun, 17 May 2020
281: 18 Ways to Welcome English Country Decor Ideas into Your Home
British country homes evoke an image of comfort, cosyness and warmth. Partly, yes, because such warmth is mandatory living in a rainy environment, but also because they look and feel like such a welcome inside hug which is given immediately when the quintessential details are tended to.
Granted the above image is not an actual cottage as it was the set designed for Nancy Meyers' film The Holiday, filmed in part in Surrey. However, I chose the above image because when we design our homes to evoke the English country charm, Meyers achieved so much of it spot-on right. From the tufted ottoman, to the ottoman itself as the coffee table of choice, mixed prints, oodles of books and exposed beams, these details, as you will see in the list below resounding remind onlookers of English country style, and in this case a cottage.
In my own home I have been perusing frequently through The English Home magazines I have saved over the years, saving images that speak to me, images that offer a similar size or design of space and offer ideas for how to create an English cottage aesthetic.
I have begun to embrace wholeheartedly #1 on today's list in both my mudroom and foyer, and I look forward to welcoming even more wallpaper into my home. Hopefully if you too are wanting to welcome decor touches of the English countryside into you home, today's list will offer plenty of ideas to choose from.
~For each of the images shared below, simply click on the image to tour the entire home from which it was included.
1.Wallpaper
William Morris is the founder of the Arts & Crafts decor movement, and with his well-known wallpaper company which began in the 1860s in England, a love for nature as well as symmetry and subtly as well as vibrant natural color are an example of beloved English wallpaper designs. There are many more of course, but wallpaper creates a cosy space, a welcoming, more personalized space.
~Want to wallpaper in your home? Read this post for detailed how-tos to a successful decorating session. ~Tour the entire Oxfordshire Arts & Crafts Townhouse: A Way with Wallpaper here.~
~Tour the entire Oxfordshire Arts & Crafts Townhouse: A Way with Wallpaper here.~
2. Wood accents
As a way to welcome nature into the formal living space, wood furniture, wood legs on upholstered furniture and regal cabinetry and shelves offer the balance of hard and soft surfaces.~An Englishman's Brooklyn Townhouse, decorated by interior designer Benjamin Vandiver. View the entire home here. ~
~An Englishman's Brooklyn Townhouse, decorated by interior designer Benjamin Vandiver. View the entire home here. ~
3. A penchant for garden and animal details
While English country homes will undoubtedly have a garden outside their doors, bringing an appreciation for nature inside will be more than common as well. Whether seen in the wallpaper with floral or animal prints, vases full of blooms, potted plants inside or a demonstrated affection for dogs in figurines or any other decor detail, the love of the outdoors is certainly a common presence.
~British interior designer Imogen Taylor's Burgundy home to which she retired. Tour the entire home here.~
4. The classic pudding sofa
Soft, plush, deep-seated and begging you to sit and stay a while. While the name may or may not have been coined by British furniture designer Loaf, the concept is iconically British - cosy, cosy, cosy.
5. Pleat, folded, rolled, padded upholstered arms
As you can see above, rolled arms on either an upholstered sofa or armchair that have gradual pleats pulled neatly over the rounded design intonate British furniture. Almost as if to signify a warm hug, such furniture provides literal warmth when you snuggle in as many days of the year are damp and cold, stepping inside a home that is cosy is all the more desireable.
~Tour the entire home in Cozying into Country Durham, English Style Abounds!~
6. Fabric covered lamp shades
Again, adding fabric to any space creates warmth, and especially in intimate spaces - bedrooms, reading nooks - the subtle, yet significant detail of fabric shades is an idea worth trying. Prints or solids, especially if the fabric is of high quality, purchasing such fabric is far more affordable for a lampshade than an entire sofa or chair.
~Tour the entire home of Tightly Tailored and Filled with ANtiques in Hampshire here.
7. Seagrass floors
British designer Ben Pentreath swears by seagrass, and if you have the opportunity to tour any of his projects, you will see they look quite nice. Adding a touch of nature, high functionality and wearability, they also, as he states, offer a lovely subtle scent. Layer with a a wool rug and you have created a warm space without excessive expense.
~View the entire home shown above in Signature Statement of Varying Chairs~
8. Ottomans as coffee tables
While there are exceptions, in the country, an ottoman is more often than not likely to be at the center of a living room or sitting room rather than a wooden table. Use as a coffee table and place trays and books, as well as always have an additional extra seat if ever necessary.
~Tour an Oxfordshire Farmhouse Regally Remodeled, with Comfort Made a Priority here.~
9. Traditional period details
While the items may or may not be old, they are a decision to pay homage to a particular period in history. Vintage chandeliers, exposed beams in the ceiling, wainscoting and wood floors are savored. Traditional lamps and the welcome of candles are chosen over canned or recessed lighting.
~View a list of time periods and their designated names.
~tour the entire Cornish Country Getaway with Touches of the Sea here.~
10. An Aga stove
Used as much to heat up the home as to cook, the Aga stove is very much a luxury item now (and yes, it is available in the states), but in nearly every interview in The English Home magazine, when they share spotlight interviews, the one detail each guests shares a English Home mustn' be without is an Aga. Just Aga. :)
~Tour this entire home, titled Let the Lighting Do the Talking here. ~
11. A mudroom is a must
Having grown up with a mudroom as we lived out in the country, the need for such a room is a must. Whether you are gardener, have pups, ride horses or generally find yourself outside often, having a space that is designated to taking off the "gear" and not bringing the dirt into the rest of the home is a typical space found in an English country home.
~Tour TSLL's newly decorated mudroom here.
12. A cabinet or designated shelf for teapots and cups and saucers
After reading yesterday's post (18 Ways to Enjoy a Good Cuppa), this decor detail will come as no surprise.
~Tour the entire home in Country Durham here. ~
13. Color abounds (and it works)
It is indeed a skill, but with time and experience and an understanding of hues and the size of patterns, it is a skill each of us can acquire.
~Tour A Cozy, Signature Bloomsbury Flat here~
14. Mixing small and large prints in the same space
The Spruce shares, "Large prints will be paired with smaller prints, such as gingham. Using similar color palettes in the patterns keep this from becoming overwhelming. "
~tour the entire home in A Small Yet Elegant London Flat~
15. An abundance of reading material
Bibliophiles may just have a predilection for English country decor if not solely for their love, display and admiration of books. In so many of the photos of today's post/episode you will see books, and that is not by mistake or exception.
~Tour this entire Bibliophile's Dream House here.~
16. Built-in bookshelves
And since we are talking about books, the English country homes are designed with storing books in mind. Built-ins are part of the decor and not only in the library or living room. Notice in bedrooms and even in kitchens, there are spaces for books.
~tour the entire home here in Finding Balance with Colors & Natural Textures in North Kensington~
17. Rugs
For warmth, to cover old floors or stone floors, layers of rugs on seagrass, rugs are a mainstay and frequently seen in English country homes.
~Tour the entire home in A Welcoming Home in Wiltshire, England~
18. Climbing roses or vines on the exterior of the home.
While this final decor detail is outside of the home, it is still attached to the home, so I thought I would include it. Stepping into an English garden is an entire new post/episode, but yes, a vine of some sort whether it be a rambling rose or wisteria or clematis, is a must for English country homes.
~
David Austin's Gertrude Jekyll English Climbing Rose
~
Personally, I am smitten and have been smitten for some time with the English country decor approach. Creating a cosy, welcoming home for the inhabitants and any guest who is invited inside rests in paying attention to the details shared above - texture, layers, welcoming in touches of nature, not being afraid to mix up and discover what actually can match and creating spaces for everyday pastimes you love.
Enjoy the journey of adding English country touches to your own home wherever around the globe you call home.
~View all of TSLL's British-Inspired Decor posts here.
Petit Plaisir:
~The English Game, Netflix
~The Simple Sophisticate, episode #281
---
2020 TSLL British Week Posts
---
---
Sun, 1 March 2020
278: 14 Ways to Create a Happy Home
At the core of a happy home is a home that works for those individuals the four walls surround and keep sheltered and safe. Once the essentials are in place - a roof over our heads, walls to keep us warm/cool, then it is the inhabitants' responsibility to cultivate a sanctuary in which each person feels they belong and loved for being their true selves or having the space to understand who they are as they grow and evolve. Whether you share your home or not, both require clarity and willingness to be honest about the needs to live your best life and if you live with others to enable them to do the same without short-changing yourself or compromising too much.
If these steps sound familiar, you are right. Maslow's Hierarchy of needs builds on top of each of the necessities shared above. First we must have our phyiological needs met, then a feeling of safety before we can find belonging and feel and recognize love. Following the third step, once we have a home to feel free to just be, our stress levels drop, our health improves and strengthens and we find we think more clearly and thus make better decisions which leads to the opportunity to strive and try new things giving a boost to our confidence along our journey which builds the fourth tier - our self-esteem opening the pathway for us to have the choice to become self-actualized, the fifth and final tier.
Interior designer and author Rebecca West's new book Happy Starts at Home, which was just released in the states last month, takes the approach to decor that it is far more than the aesthetics, but rather thoughtful decor decisions that marry function with and supporting each person reach their goals which includes feeling welcomed and at peace in the present.
"The truth is your home can directly improve your well-being and contentment. It can help decreease your stress level and increase your happiness." —Rebecca West
What I was drawn to with West's book is her underlying definition of happiness is contentment which is something we talk about often here on TSLL. Contentment is something that has the capability of being steady day-in and day-out regardless of the events of our days - good, bad or just blah. In fact, when you are content, you rarely have blah days at all and when you do have bad days, you can confidently move through them and the good days are elevated even higher. How awesome is that!
While we must build contentment within ourselves, our homes play a critical part in supporting this contented state of going about our lives. And in even better news, our home decor need not break our budget. Just as it takes time to get to know ourselves, depending upon where we are in our life journey when we begin to cultivate our sanctuary, it will take time to understand how we live well, and what is needed to enable our best life to be enjoyed everyday.
Today I'd like to share with you the takeaways from Rebecca West's book that caught my attention as I am in the middle of customizing my home and making sure it works for me.
Visit the full Show Notes on The Simply Luxurious Life — thesimplyluxuriouslife.com/podcast278
---
Sun, 13 October 2019
264: How to Cultivate an Elegant Home in the 21st Century
"Elegance is not something that adds stress or difficulty to our lives — quite the contrary. True elegance . . . means confidence in who you are and what you love, grace in how you handle yourself, and openness to the best in others." —interior designer Timothy Corrigan in his new book The New Elegance: Stylish, Comfortable Rooms for Today
In many ways, Timothy Corrigan's defition of elegance is a cousin to simply luxurious living.
An understanding of what speaks to you, what you need to live your best life and how to dance with the world in which you are a citizen, partner, friend and community member, is a skill and a gift that we can all welcome into our lives. And when it comes to our decor, Corrigan describes in his new book succinctly and vividly how to welcome your own unique elegance into your sanctuary.
Today I would like to share with you Corrigan's insights into cultivating an elegant home accompanied by a handful of decor images found in his new book. Having had the opportunity to peruse and read his new book which along with home tours also includes his expertise delineated clearly and specifically for Scale & Proportion, Symmetry, Architectural Details, Impactful Surfaces, The Layered Look, Art & Mirrors, The Power of Color, Mixing Elements and more tips and ideas for becoming your own interior designer, I hope you find a guiding compass of confidence to step into your own home and make the changes or updates that would align with your unique exemplification of elegance.
~Note: Upon reading Corrigan's latest decor book, it was brought to my attention that his previous book was An Invitation to Chateau du Grand-Lucé: Decorating a Great French Country House (2013), and I must say, as a Francophile who loves French country homes, I quickly put it on my wish list. That one looks to be a lovely read full of inspirational decor ideas as well.
Why Add Elegance to Your Home?
"Elegance adds immense pleasure to life. To seek elegance — in your behavior, in what you wear and surround yourself with —is a treat you give to yourself and, almost inadvertently, share with those around you."
Depending upon how you most enjoy spending time in your home, you will invest in different ways. If you are someone who enjoys cooking and sharing your meals with others as a way to bring them together, then investing in a kitchen that is best suited to how you cook enabling you to do so effectively will not only bring pleasure to your life, but provide the opportunity to share with those you invite into your home.
In this way, elegance is a reflection of your true self to the world that you invite to cross the threshold of your home. It is not about one-upping or showing off, but rather cultivating a space that dances with you and the life you love living, a home that supports you through your journey and also enables you to soar. In other words, you are not burdened by your home when you choose to cultivate elegance, but rather nurtured.
Can Comfort and Elegance Exist Together?
"Comfort is not antithetical to elegance, but rather its support and backbone. No one can feel truly elegant (at least not for long) if he or she doesn't feel at ease."
When we talk about comfort, there is an underlying presence of security, thus enabling the inhabitants to fully relax and breathe deeply in their own space. Corrigan speaks to this need for security being at the underlying roots of all of his designs, "The notion of feeling cocooned, protected and pampered . . . is the one effect I consistently try to accomplish . . . an innate feeling of safety."
Each one of us will define a sense of security slightly or significantly different depending upon how we most enjoy living our lives, but either way, knowing what that definition is for ourselves is a crucial key to decorating a home that is our place of refuge.
If books nurture you, then make sure you welcome them into your home in a way that pays them reverence. In other words, let them be seen, let them be scattered if that works best for you so that you have a book wherever you may sit down to relax, let them be orderly if simply seeing them brings you a deep sigh of relief, but either way, welcome books into your home. The same can be said for any pasttime, lifeline or hobby that brings you joy and comfort - musical instruments, photos from your travels, flowers from the garden, I think you get the idea. Go forth and bring your world into your home, and then the elegance begins to flourish.
How to Live with Beautiful Items in an Elegant Home
"The secret to avoiding polishing silver is not to put it away, but to use it everyday — then you won't have to polish it . . . " [in other words] "use what you have. Use it all. Use it now. Few things are sadder than piles of exquisite porcelain and china hidden away in a cupboard, or a large house in which many of the rooms go unused."
From the porcelain teacups picked up along our travels to the china set handed down from your parents from your grandparents, use these beautiful, story-telling items regularly and often.
I will ease your mind right now and say, yes, you will break one at some time and be heartbroken, but it was being used and loved and appreciated and that how memories remain with us - the repetition of their story dancing about in our minds. And each time we use the item, the memory becomes more vivid and less likely to be forgotten if we wish it to be remembered. We cannot strengthen such a memory if we do not use the items.
Case in point, I purchased a teacup and saucer on my trip to Devon two years ago. I only have one, and if I break it, well, it's gone. There is nothing that will replace it, but because I have used it so much (see it here), not only do I have pictures of it in use, but I have used it so frequently, I can describe in detail that mug and all of those wonderful memories come rushing back.
How to Use Each Room in an Elegant Home
"Each room has a specific purpose, guaranteeing it will be used. And if something you own doesn't work for you, give it away. If a room doesn't function for the way you live, change it to make it work for you."
Similar to letting go of limiting beliefs and ways of life, so too can assuming a room must be the room the architect or previous owners planned it be and used it for.
Case in point, when I when through my-now-home the first time with my real estate agent, he noted that the small room close the rear entrance would make a great office, as it was wired to be so (internet cables, etc.). Immediately, in my mind, I said, nope. This will be a mudroom. Well, and here again, I would make it a mudroom that would serve my lifestyle and be in many ways, a rear foyer to the home as I will enter it each and everyday from the garage.
"Too often, we succumb to visions of how we want to live —in a sleek, white space, a country cottage, or a grand manse — then we feel bad when we can't live to those fantasies . . . Never buy into a trend."
As we go through our lives and if we are paying attention to when we are soaring and what helps it to feel this way, we come to realize what we need in our life's routine to feel not only grounded and secure, but comforted and strengthened. Such knowledge guides us through the decorating and appointing of each room's purpose as well.
Budget and Elegance
"Great design is not about the size of your space or the budget you spend. It is a reflection of knowing who you are and what makes you comfortable, and living confidently and happily with the objects you choose to assemble."
My apologies for using my own journey for my examples, but quickly, many readers may remember that my previously own home was 2600 sq feet. Since then I moved into a rental four years ago that was under 1500 sq feet, and it was through living in nearly half of the space that I realized what fit me and my life the best. Now, I will also share that during my first year of teaching, I rented a cottage that was 500 sq feet in Minden, Nevada. That, while thoughtfully designed to make for a cozy and safe home, was too small for my life. But again, we learn as we go.
My new home is just under 1600 square feet, perfectly tailored to my life and the life my boys need with a small, but not large yard. There will be times in our lives when we have a choice and other times when we do not, just as we may be making less money than we would like to live the life that would be more comfortable. However, along the way, we can live with elegance.
I have found that my time living in rentals — NW Portland, Nevada, NW Bend and even in college — has given me time to experiment, but also explore new ideas (remember that red wall I talked about in my first book? yep, that was a rental, and while I loved it for one year, one year was long enough). Each time, wherever I call home, I have been determined and in a variety of expected and many unexpected ways successful in creating a sanctuary that let me relax and unwind no matter no how much or how little money I earned each month.
~POST TO READ: 7 Simple Ways to Create a Sanctuary
Invest in Quality for a Home of Elegance, But Mix and Match Price Points as Well
"You should always buy the best-quality items you can afford, but not everything in a room needs to be expensive. A mix of items of different prices, different eras, and differing qualities is far more appealing."
From mixing antiques with yard sale finds, custom furniture with shabby chic family hand-me-downs that you will never want to let go, knowing how to marry these two ideas is a skill that becomes easier with time.
Much like wearing a quality pair of shoes with a simple pair of jeans and a tee, finished with a tailored blazer, the balance needs to be struck to work well and exude the elegance you seek. Not everything needs to be new or antique, but it needs to speak to the function you require in your life as well as be perceived by you, the inhabitant of the home, as beautiful. Maybe it tells a story that you never want to forget - a framed photo for example or playbill from a play you saw with your grandmother when you were young - or maybe it was an item you saved up for over months, even years, and serves as a reminder of your journey. Whatever you choose to welcome into your space, never forget that quality will last and memories can provide a comfort of confidence when you look about your home.
The Gift of Cultivating a Home of True Elegance
"I can assure you that spending each day in beautiful rooms, rooms full of personal items and objects you love, will bring meaning and solace to your life, satisfaction, and even joy."
Wanting to spend time in your home is the goal. Weekends need not be for escape from our home and everyday life when we create a space that we love spending time in whether we are with others or alone.
The decoration of our homes will take time, but with a map of what to look for, a reason for why you want to bring items into your sanctuary and what you want (and need) your sanctuary to do each time you return home, will make the puzzle you are working on bringing together much easier to complete.
---
~SIMILAR POSTS/EPISODES YOU MIGHT ENJOY:
~22 Tips for Creating a Grown-Ups Living Space
~Why Not . . . Shop Consignment Decor?
~episode #260, 10 Simple, Significant Decor Ideas to Add Luxurious Touches to the Home, Part Une
---
Petit Plaisir
~Derry Girls, Season 1 & Season 2, on Netflix
---
Sun, 15 September 2019
261: 5 Ideas for Welcoming the Seasons into Your Home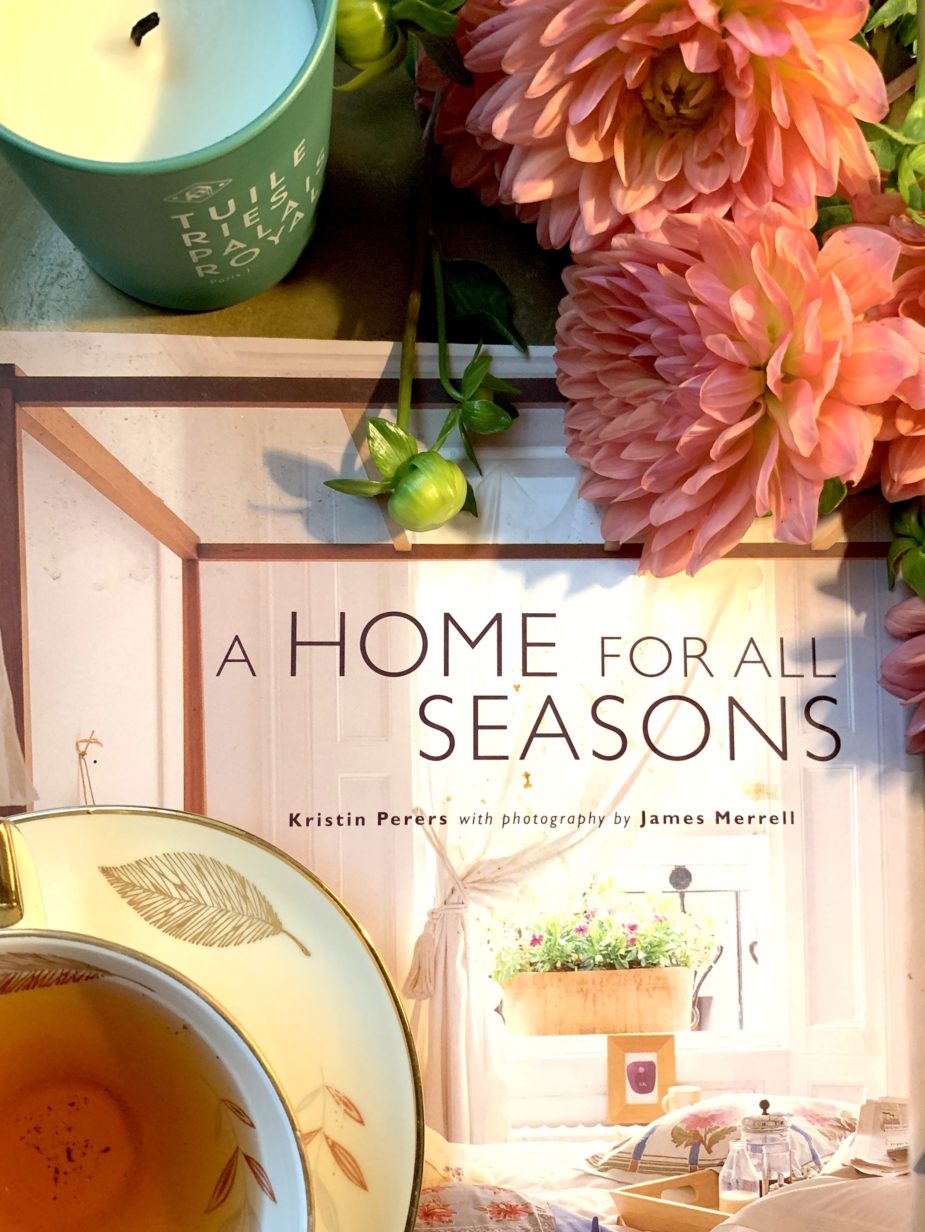 "A home should reveal the personalities of its inhabitants. At its best it should be a portrait of who you are . . . Look at your house as an artist would and have fun creating vignettes as a painter would a still life." —Kristin Perers, author of A Home for All Seasons
Fall will arrive next week on the 23rd and spring for the southern hemispheren on the same date. The changing of the seasons, as I recently shared in an interview on the Synced Life podcast, is a consistent and dependable way to be present in our everyday lives.
By choosing to be present during each season we are acknowledging that its presence in our lives is evanescent, fleeting and in three months' time will transition into something different. Waiting nine more months is necessary to experience the gifts of each season. Simply knowing the reality, we have all the more motivation to revel in the gifts of each season.
Last month TSLL reader Tracy emailed me and introduced me to Kristin Perers' book, A Home for All Seasons which was released quite a few years ago. But as one might imagine, since we have the same seasons each year, it is a classic of a book to refer to every three months - if nothing else, to serve a reminder for ample inspiration.
Perers suggests that when we decorate with the seasons, revolving with them, we make our home feel much more alive and dynamic, but at the same time, reflective of the home's inhabitants. And in so doing, we improve the quality of our days as our moods due to our emotions are elevated with each day we spend in our sanctuary.
Below are a handful of ways to decorate and adorn seasonally as inspired by Perers' book.
1.Let the seasonal blooms make their statement
Whether you pick up your blooms at the farmers' market or from your yard and garden, appreciating the daffodils in early spring, the peonies in late spring, mums in fall and dahlias in late summer, remind us to savor until the blooms are no more.
2. Textiles - slipcovers, curtains, table linens, bed linens, pillows
Depending upon what you have in your home that is upholstered, if you have slipcovers, changing the type of fabric if not the color as well is a way to eagerly begin a new season as well as care properly for the linens you have.
3. Determine the focal points of each community room (living room, dining, kitchen, etc.), and change or decorate it differently for the seasons.
For example, if your fireplace is the focal point, adorn the mantle with seasonal details. If your dining table is the focal point, either with table linens or blooms, choose what you place on top of it to align with the seasons.
4. Create space to contemplate the beauty of nature
I love this suggestion that Perers makes, and while she suggestions physically bringing things in from outside and placing them about the home to prompt us to ponder nature's beauty, I think as well it would be delightful to create somewhere in the home where you can look outside and be cognizant of what season it is. For example, my parents have a sun room in their country home, and with each season my mom will rearrange the furniture: spring - space is made for young seedlings in preparation for planting in the coming months; in summer, ample seating is the preference as it serves as a wonderful place to soak up the sun when stepping outside due to work projects inside is not possible; autumn and the arrangements and bouquets change; and in the winter, the holiday tree is adorned for the festive, wintery season. All the while, we can see outside to observe and celebrate the beauty of the outdoors.
5. Give the bedroom special attention
While making sure to attend to all four of the previous items above for our bedrooms — different blankets, duvet covers and pillow covers for the bed; seasonal blooms for the side table, etc. — always keep in mind the power of a space we inhabit, especially in such an intimate fashion as our bedrooms. Here are a few ways to welcome the changing of the seasons in our most intimate room of our sanctuary:
Different candle scents for each season
Intentional framed photos or artwork to inspire your most current dream.
Linen curtains in the summer, and while selecting the same hue, choose a heavier fabric for late fall and winter to add warmth.
Different robes and sleepwear for each season.
~Discover and learn more about Kristin Perers' book A Home for All Seasons
---
SIMILAR POSTS/EPISODES from the Archives You Might Enjoy:
~Why Not . . . Prep for a Great Fall?
~10 Ways to Welcome Spring: An Opportunity to Start Fresh
~Why Not . . . Savor the Reason for the Seasons?
Petit Plaisir:
~Papier hardback customized notebooks (UK site; French site; Australian site; German site)
~TSLL post: Why Not . . . Make Lists? 20 Lists to Keep in Your Everyday Life?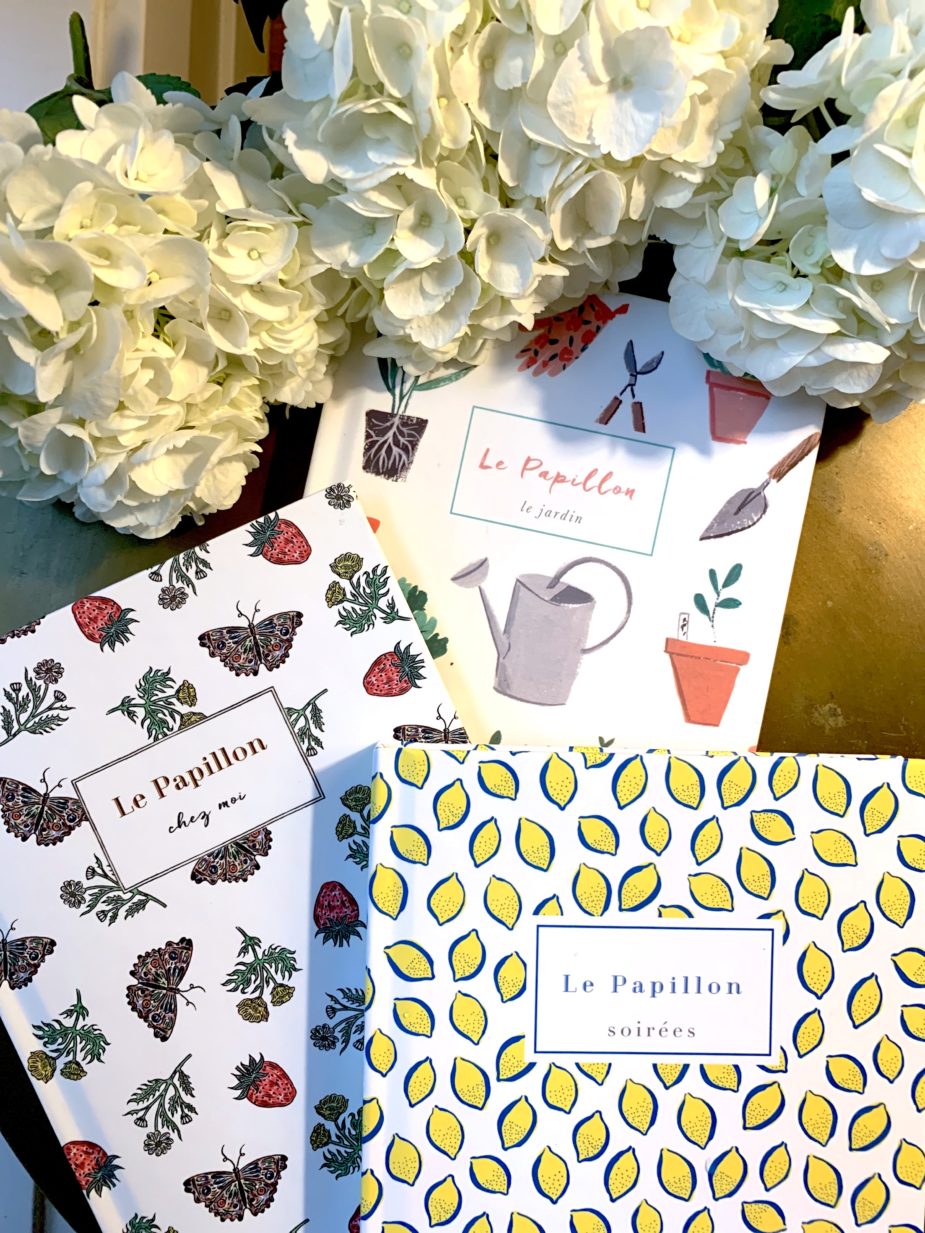 ---
~Check out the second season of The Simply Luxurious Kitchen, the cooking show!
~
~The Simple Sophisticate, episode #261
---
Sun, 8 September 2019
260: 10 Simple, Significant Decor Ideas to Add Luxurious Touches to the Home, Part Une
Over the next couple of months I look forward to sharing many different decor ideas. I have titled today's episode/post as part une because there will be more to come. I am not sure how many at this point, but with many wonderful decor books being released this fall, I am enjoying perusing through them all, and want to share what I have discovered.
The first book that inspired today's episode is Cathy Kincaid's The Well Adorned Home: Making Luxury Livable. There may be a second post/episode inspired by her book as she shares an abundance of inspiration, but these are the first ten takeaways that captured my attention.
Advice from Cathy Kincaid:
"Everyone wants to have nice things, but houses are meant to be lived in and I'm insistent they feel cozy and appropriate for clients and their lifestyle."
Buy the best you can afford - furniture, design elements or accessories - not for investment or resale projections, but rather for quality and timelessness.
Lighting sets the tone and determines if there will be a cultivated inviting ambiance - mirrors and chandliers are included in lighting as they cast their own light in their unique way.
Edit, edit, edit
"Take time, relax and enjoy the work"
Create some tension with color and discover how to match colors imperfectly, creating some tension.
Let's take a look at 10 decor ideas discovered in Cathy Kincaid's new book. I have included a handful of images from the pages, and I have a feeling there will be another episode including even more of her expertise.
Be sure to tune into the podcast episode for more conversation on each of the following ten ideas for simple, yet significant decor ideas to add luxurious touches to the home.
1.Add classic moldings to the room to raise the ceiling (so to speak) and incorporate a regal touch
2.Expand a small space by using one pattern throughout
"Most people think that pattern will overwhelm a room. That can happen if a pattern is used piecemeal, but the opposite is true when there's continuity." — Cathy Kincaid
3. The Power of pairs
Especially in small spaces, to avoid the cluttered look that can happen with too much eclectic charm, include pairs of chairs, nightstands, etc.
4. Balance pattern and solids
If the walls have a statement patterned wallpaper, choose solid upholstered furniture and visa versa.
5. Choose comfortable dining room chairs (i.e. upholstered ;)) to encourage your dinner party guests to linger.
6. Select bespoke lampshades to add a signature touch.
7. Include a luggage rack in your guest room
Often our guests room is smaller than other rooms, or the closet is already being utilized. Adding a standing, foldable luggage rack conveys a warm welcome in a functional way.
8. Include some open shelves in the kitchen to provide ease of access for frequently used dishes, oils and spices.
9. Convert a beloved table into a kitchen island or work space by adding either a cutting board top or marble top to the surface.
10. Layer rugs on top of one another to make the room feel larger
Place a neutral rug on the bottom, which will be the largest, and then a print or pattern that is smaller on top.
As I go about examining and considering how to add my own signature to my new home, as well as follow Cathy Kincaid's advice to make sure it creates a cozy home that fits with my lifestyle, I look forward to sharing what I discover. Click here for Part Deux - 7 Décor Ideas to Add Signature Simply Luxurious Touches to Your Sanctuary
~ The Well Adorned Home: Making Luxury Livable by Cathy Kincaid
---
~SIMILAR POSTS FROM THE ARCHIVES YOU MIGHT ENJOY:
---
---
---
Petit Plaisir:
~The Great British Baking Show, Season 10 (Netflix!)
---
Sun, 10 March 2019
250: How to Create a Beckoning Sanctuary That Reflects Your Journey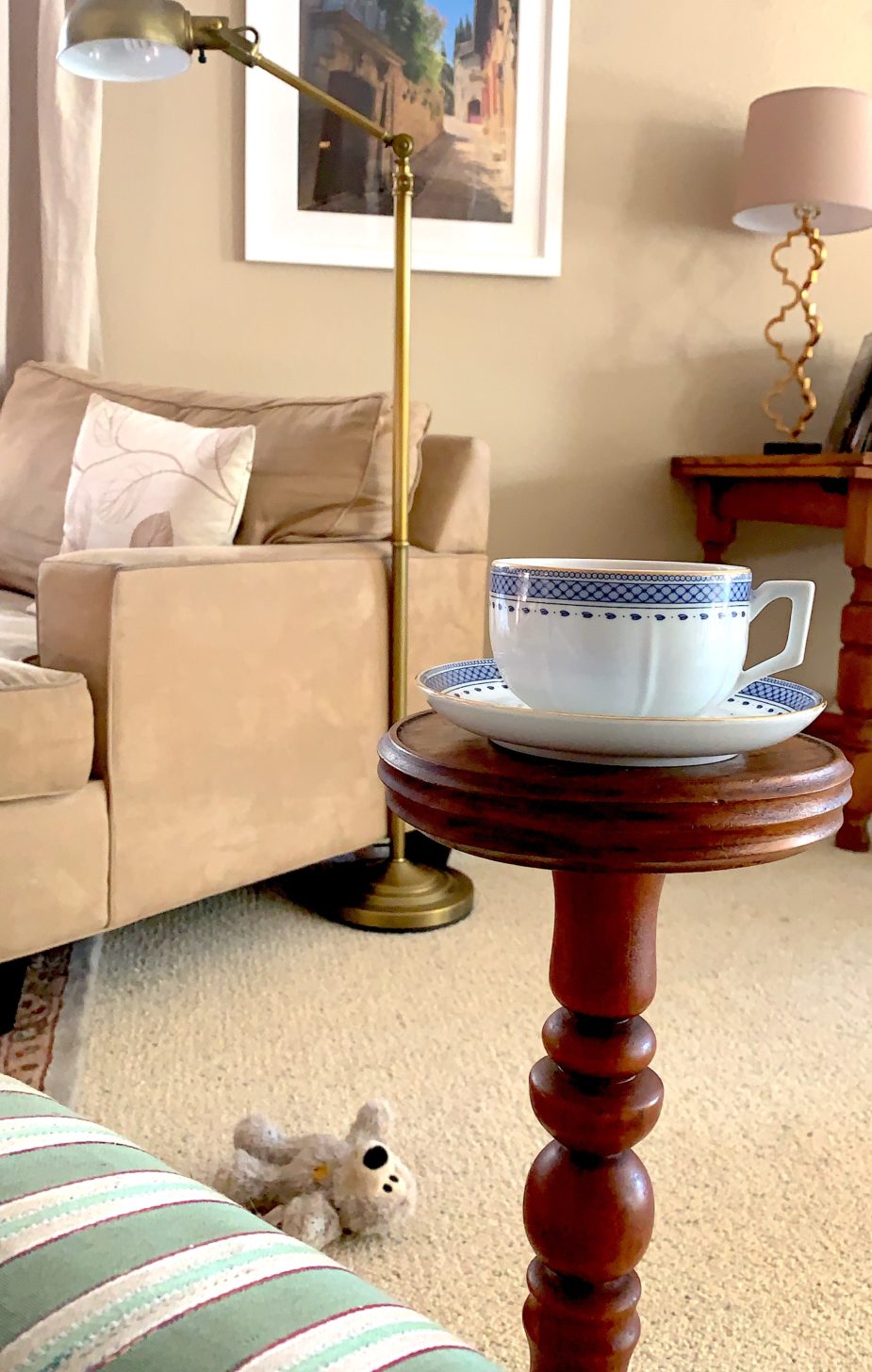 "Never decorate all at once. 'When you do it all at once, you make mistakes,' explains Fredéric Amico. Take your time trying out different pieces, and never settle." —Architectural Digest's Clever (new online destination for decor ideas, quoting French actor and artist Fredéric Amico (view his Paris loft here)
Our wardrobe, our mind, our relationships all ebb and flow, grow, migrate, wander and progress as much as we choose to let them, and our sancturaries need not be any different.
Reflect upon your childhood bedroom and the first time your parents gave you permission to decorate it as you pleased - paint color, linens and all (or maybe you took the initiative all on your own). Then graduate to your first home away from home - perhaps your dorm, perhaps an apartment. Then remember the next home and the next as your life began to unfold.
I can remember vividly during my junior year in high school wielding a paintbrush, ushering in a double bed, selecting the wallpaper for the accent wall and reveling in my very own "grown-up" sanctuary. Then college arrived, and it was with my first apartment sophomore year that furniture was needed, and much was cheap and yard sale must-have finds, but there were treasures that I brought with me from my childhood home - that black rod-iron bed, dishware found at an unexpected estate sale, pictures that held dear meaning. And then the first "adult" apartment during graduate school, living on my own - daring to paint an entire wall red and framing everything in gold. It reflected my choice at the time, and having a choice and a home that was all my own, felt liberating. Never before have I painted a wall red - it took three, at least, coats to make it as I had hoped. But I don't regret it for a moment.
Since then, the homes I have rented or owned have been unique unto themselves, but one detail always remains constant, the woman living within the four walls - me.
Even so, each home of which my paycheck has paid the monthly mortgage or rent, has gradually evolved to reflect more of what has shaped me and influenced me and inspired me to become the person I am today. And as much as we, okay, maybe this was just me, moreso especially in my earlier years of homeownership, may want our homes to come together immediately to reflect the aesthetic we desire and see in our mind's eye, our most authentic sanctuary will be a reflection of patience, of thoughtfulness and of careful selection.
Not all of us have the luxury of being able to live in a home we love for decades, and others might state that it is a luxury to be able to move frequently based on curiosity and opportunities, but either way, we can take what means the most with us to our next home. So that no matter where we go, our journey can be reflected within the four walls of our sanctuary.
Today I'd like to share with you ways that you can begin to decorate your sanctuary to not only reflect your journey which will offer comfort and confidence each time you cross the threshold, but also be welcoming to most importantly the inhabitants, but guests who are invited to visit as well.
In last Wednesday's post, I shared eight small, but unique ways to add your signature to your sanctuary, many of which, as you will discover, reflect my journey thus far over the past 40 years. And today I'd like to share less of the specific things to include and more the concepts to consider when deciding what should hang on your walls, fill your rooms and welcome you home.
1.Does it warm your heart and lift your spirits?
Ask yourself this question when deciding what pictures, paintings, souvenirs, etc. any item that doesn't perform a function, but rather only adorns a wall, tabletop or shelf, to display.
Being reminded of what you are capable of, being reminded of the love that was felt and expressed, being reminded of a dream that came true, all of these reminders are helpful and healthy to have in your home especially on those days and during those moments we need comfort and confidence.
2. What function does it provide?
Being clear about the function that an item provides - literally or figuratively (i.e. a candleholder, a vase, a settee, a bench (literal); painting, particular coffee table books, throw pillows (figurative) — clarifies in your mind why you are considering it for your home. If the reason is because it is the color of the year, or my favorite influencer has one, unless your signature for decor is trendy, perhaps find a deeper purpose for welcoming it into your home. But if instead, the reason is to provide warmth, to lift my spirits, to hold my favorite bunch of flowers and fit perfectly on that particular tabletop, then by all means, welcome it into your home.
"Have nothing in your home that you don't know to be useful or believe to be beautiful."—William Morris
With points #1 & #2, it may appear that I am simply further describing what William Morris has taught decorators for years, and if your interpretation of the quote is similar to mine, then you are in good company, but for me, it goes deeper. What does beautiful mean?
Beautiful must go deeper, beauty can only be present if it fits the two criteria above in a more visceral part of our well-being. There are many items that are beautiful - from traditional to modern designs, art that speaks volumes from contemporary to acclaimed icons, but if it doesn't mean something to you, if it doesn't have a story as to why it spoke to you, then let someone else welcome it into their home.
I am continually editing my home, just as I am my closet, and with more evaluation, comes more removal of items that were bought at the spur of the moment, out of preceived need. Gradually, those items, if they don't possess both of the criteria above, are replaced by items that do, and the home's decor begins to feel more symphonic.
Speaking of symphonies, there is more criteria to consider when bringing it all together in your home.
3. Cost per true value
Similar to cost per wear, but slightly different, cost per true value is how much it costs to acquire the item while taking into account the value it will add to the overall quality of life over the amount of years you expect to own the item.
In other words, the antique dining table that costs $1000 and would fit perfectly in your dining room. No more need for separate tables, more dinner parties, more opportunity to share your passion for cooking and your partner's passion for convivial conversation about the guests' favorite topics. Many would way this is priceless and others would say you can do the same thing around two nondescript tables pulled together, but this is where the decision will be different for each person: What do you want to invest in? What is it that brings you and those you love great enjoyment and peace of mind?
Some of the items we bring into our homes will be treasure finds for pennies of what they are actually worth, or maybe not worth anything at all to anyone else, but priceless in our eyes. Whatever you choose to invest in monetarily, simply remember to ask the "cost per true value" question and answer it for yourself. No one else's opinion (unless they are paying for it or a partner in the household) should matter.
4. Consider the decor that spoke to you on your travels
So many of TSLL readers/listeners of the podcast are travelers to all sorts of amazing places, large and small, far and near on the globe. Often it isn't until we see, and then sometimes live with temporarily through staying in vacation rentals, a particular decor idea that we realize how excellent of an idea it is or how much it makes us feel at home even when we are far way.
As I shared in my post last Wednesday, one decor idea I would have never known about or considered was to use linen tablecloths as curtains. Perfect! And with my love of linen as it reminds me of France and my travels to the south and north of the country, the curtains I now have in my home not only serve a much needed function, but they also bring back fond memories.
5. Does it tell a story that you want to welcome into your home?
I have an antique English draw-leaf table that was the first dining room table I ever owned (you can see a bit of it in the above image on the far right). I purchased it in college after saving up $400 for it and have had it with me ever since (here is a similar one from One King's Lane). No matter what size my home, I have always made a spot for it. Currently, it holds my record player which suits it perfectly as it brings the music and the news into my home.
As well, a chair from an individual who you knew or have known and simply remembering who they are makes you smile when you look at the piece furniture even if there are a few tears in the upholstery is a keeper.
Not everything in our homes will have long stories that will make your heart smile, but gradually, once we have what we need to live sufficiently, we can be thoughtful and careful about what we wish to bring into our sanctuaries. Often it actually becomes easier because we know precisely what is not only needed but also what would be cherished.
6. Include custom art or upholstered items with beloved fabrics from your travels or the past
Whether you are a painter or someone has painted or illustrated something for you, framing it gives you an original piece of art. Playful or serious, seasoned artists or first-timers, the art we display can share a glimpse of your story to those you invite into your home as well as remind you of what you care most about.
As well, choosing to upholster old furniture, or cover pillow or make blankets with fabrics found like traveling or found like going through your family's attic are unique and signature ways of adding a decor idea that can't be purchased in a retail store.
Transforming a house or an apartment into a home is a creative journey and revelation of our truest selves in many ways if we want it to be. Recognizing the power of communication and comfort and confidence that can transpire simply with the decor choices we make is a tool we can put in our toolbox to improve the quality of our lives. It is a process that requires patience, but one day when you least expect it or aren't looking for it or trying to achieve it, you will find yourself sitting in that one particular spot in your home, passing the time doing something you love either on your own or with someone you love and you will feel the most at home you have ever felt. Such a feeling is not because your home is complete (it never will be), it is because you have curated a space that enables you to relax, recharge, share yourself without saying too much or saying just the right amount in each room of the home and knowing you did what you could with what you had.
It is my hope that you experience such moments often no matter where you are along your journey. Because, if my experience has taught me anything in each of the homes I have inhabited, it is possible and it only gets better with each step forward along the journey.
~SIMILAR POSTS YOU MIGHT ENJOY:
~21 Parisian Decor Ideas from Ines de la Fressange's New Decor Book, episode #228
~22 Tips for Creating a Grown-Up's Living Space
~How to Create Surroundings for Everyday Contentment, episode #219
Petit Plaisir:
~Mary Berry's Country House Secrets, four episodes on BritBox
~learn about each episode here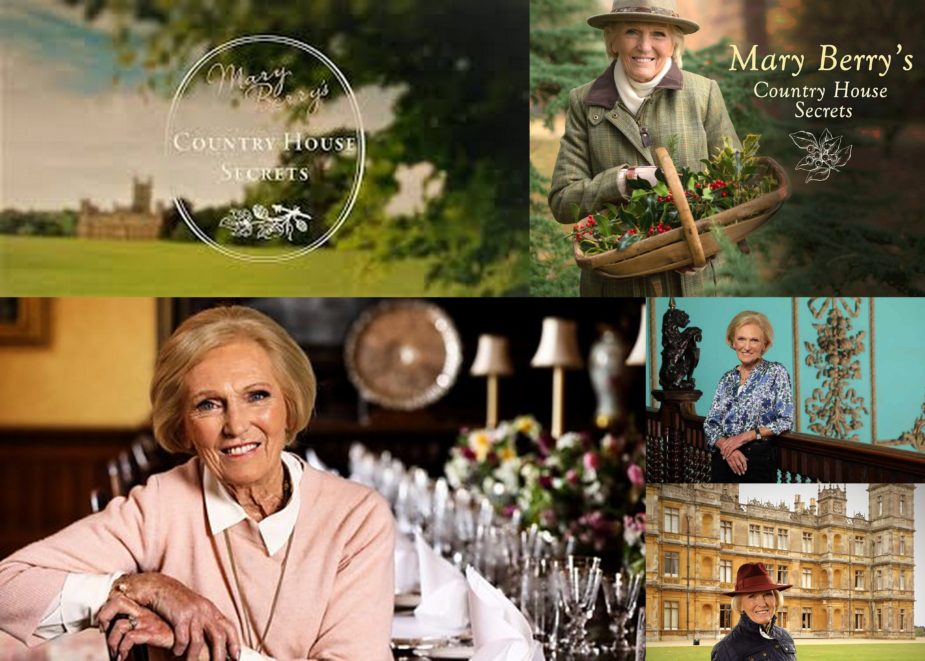 ~The Simple Sophisticate, episode #250
~Image: an everyday moment captured in my living room, complete with a dog toy left on the floor - learn more about the photo in this post.
---
Sun, 7 October 2018
228: 21 Parisian Decor Ideas from Ines de la Fressange's New Book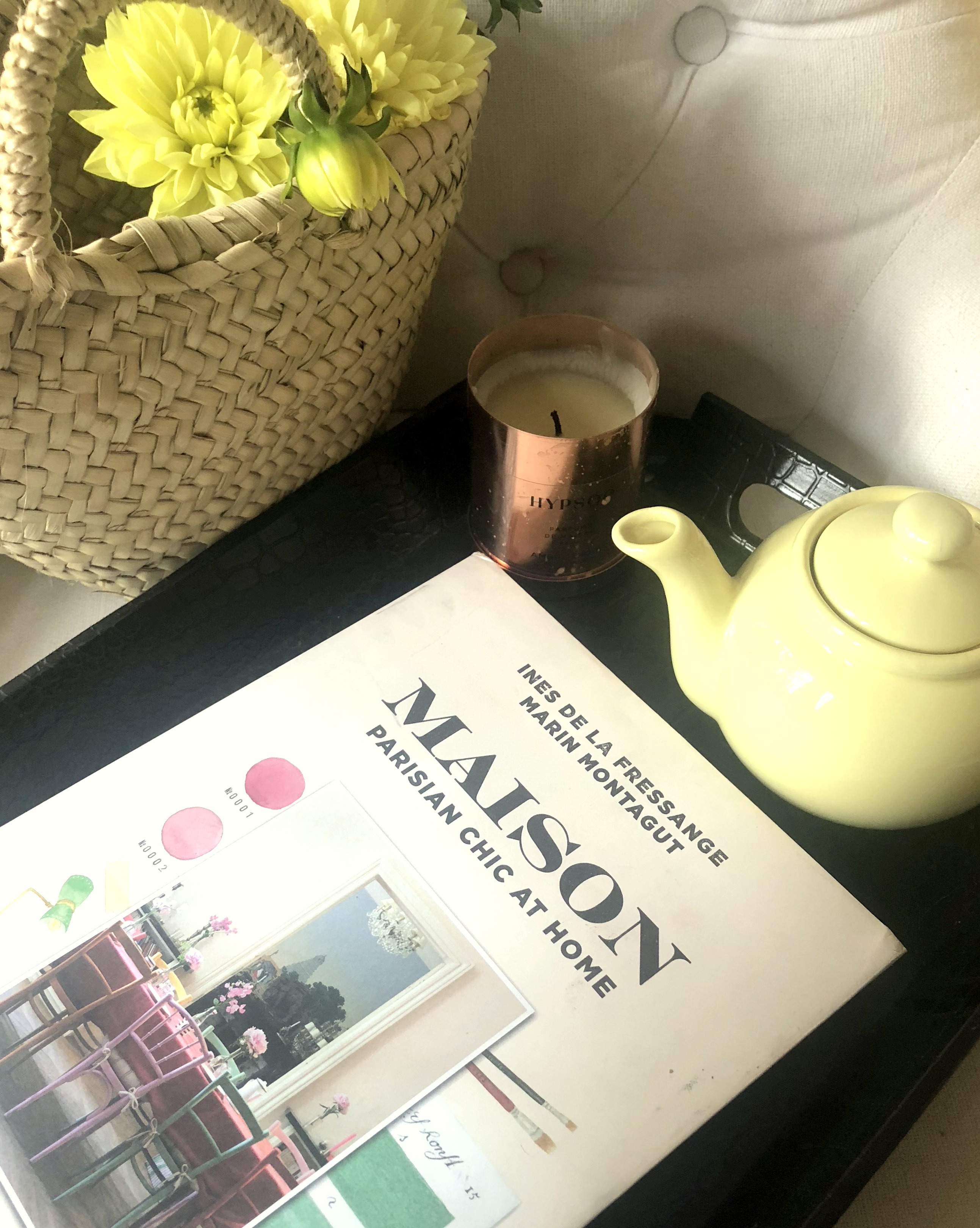 Home sweet Parisian home, whether you live in Paris or not.
Ines de la Fressange is stepping into the sanctuary with her new book Maison: Parisian Chic at Home (see my profile posts of her previous style books here, here and here), and along with her co-author Marin Montagut, they are both taking readers inside their own homes in Paris as well as inside 13 other Parisian apartments (the founder of Sézane, the duo behind the French decor and candle company Astier de Villatte, just to name a few).
With the opportunity to review a copy prior to its release just this past Tuesday, my decor curiosities are deeply inspired as while there are many reoccurring themes that must be Parisian go-to decor ideas, there was much reaffirming of the ideas I saw this past summer both in Paris, but also throughout the countryside. Many of which are simple and inexpensive ways to add your signature style to your sanctuary whether you rent or own.
I have created a list of 21 decor ideas found throughout the book, and if more than just a couple of these ideas speak to you, I highly recommend picking it up as the photography by Claire Cocano is intimate and brilliant, and the insights from the homes' inhabitants are insightful and offer even more creative ideas.
Most importantly, and this was something I spoke with a handful of people while I was in France, the goal with Parisian and even French decor, is not about achieving perfection. Rather it is about creating a sense of bienevue (welcome) to whomever enters, a sense of ease and the ability to live and live well amongst the four walls (and perhaps a terrasse). From the details of essentials in the kitchen, to the touch of the outdoors with ubiquitous bud vases, simple, thoughtful decor takes time and is unique to each individual who lives in a space.
1.Welcome a variety of textiles
Velvet, linen, hemp, damask silks are recommended by Ines de la Fressange for use on cushions, mattress toppers and other details about the home.
2. Add the light of candles
Recently a reader asked about my favorite candles, and I am happy to share. I couldn't agree more with this decor suggestion as while having flattering and welcoming light from lamps is a wonderful idea, the natural movement of a flame is a lovely complement. Below is a list of my favorite candles:
3. Use your "Sunday-best" tableware every day of the week
Whether the handmade ceramics you love or the treasures you found at a brocante while traveling or a secondhand shop by perusing, use them and enjoy how the presentation when you sit down to dine elevates the flavor (it really can!).
4. Collect old, slender glass bottles for single cut flowers
I am gradually adding to my collection and loving what I am finding. And even better, it saves money as you don't have to buy a full bouquet.
5. Use straw or raffia baskets (French market totes) in various sizes for storage
In the book, you'll see a picture of Ines' home closet in which she has multiple baskets storing socks (large), make-up and accessories (small).
6. Collect tools of your creative craft
Painter and co-author of Maison: Parisian Chic at Home, Montagut, collects painter palettes and arranges them into a collection or scene in his living space. Often found at garage sales for pennies, they would certainly provide much conversation and color in a home.
7. Keep your eyes open for details to add to your home
Perhaps it is an old farm door to add to your kitchen épicerie or tiles for a backdrop, you never know when a unique and signature find will be discovered.
8. Create a backdrop for everyday life
As shared about Ivan Pericoli and Benoît Astier de Villatte's apartment - their decor approach, is to welcome antiques (they need not always be expensive, perhaps more readily found in Europe, but such can be the case here in the states - secondhand shops often have many gems) and create a reading nook, a welcoming kitchenette, use beautiful ceramic dishes for everyday uses such as displaying fresh fruit, etc. to elevate the everyday experience.
9. Choose vintage lighting fixtures
I tend to always look up and around when I enter a space and upon seeing signature lighting fixtures cannot help but smile. It is the attention to such details that reveals something lovely about the inhabitant that tended to the decor.
10. Collect and pair or group demijohns
I saw many demijohns during my trip this past summer, and three of them were beautiful arranged in Sharon Santoni's cottage in which I stayed. Often they are sold with their wicker cover, but after removing the wicker, the green brilliance (there are many sizes and clear glass as well) adds a touch of life and elegance, as well as simplicity to a room.
11. Welcome handmade or handcrafted items into your home, especially your kitchen
While functional, these items are often quite beautiful and can be easily displayed for eyecatching decor.
12. A wall with many mirrors for multiple perspectives
Multiple homes featured in the book had a wall or a portion of a wall full of many different sizes of mirrors - one in a bathroom and the other in a living room.
13. Glazed terra-cotta jugs and carafes
Multiple purposes can be found in Provençal finds such as glazed terra-cotta jugs and carafes for wine, water and olive oil as they make a lovely presentation on the table as well.
~Olive & Branch Profile post
14. White walls, colorful decor
Morgane Sézalory, the founder of Sézane (France's leading online clothing company - see my most recent post on their fall collection) swears by a white palette (walls, ceiling, etc.) and lets the rest of her decor be thoughtfully colorful.
15. Collect vintage tableware and display it, don't hide it.
If you have plates, a tea/coffee set or anything made of ceramic or porcelain that you love, why not put it on display? Use it, of course as well, but when not in use, allow it serve as your decor as well.
16. Old wooden cutting boards are both functional and beautiful to display in groupings
Wooden cutting boards seem to be just about everywhere online - Food52, Esty, etc., and if you are looking for trays or additional surfaces to cut upon as well as serve food, this idea is a wonderful way to create a decorative touch as well as function on-demand.
17. Paint doors or window frames black and juxtaposed with green foliage
Depending upon the exterior or interior wall color, one apartment featured in the book had a beautiful black door with brilliant green wisteria draped about it during the summer months. The contrast was impressive.
18. Multiple bud vases filled with seasonal foliage or blooms
Sharon Santoni demonstrated this idea beautifully in her guest cottage this summer, and it immediately captured my attention. I love the uniformity of having the same varietal, but each having their own vase.
19. One long, open shelf in the kitchen for everyday essentials
Depending upon the layout of your kitchen, and if you do not have cupboard space, adding a single, long, shelf above your cooking space with beautiful brackets to hold it place is a simple way to add decor and function.
20. Select beautiful, simple glass storage containers for your food, and don't hesitate to use them as decor.
As I shared this past January, German Weck glass jars in oodles of sizes and shapes were my winter investment as I organized my kitchen cupboards; however, any glass container with a lid can enable you to store beautiful your food. Keep your eyes open and mix and match.
21. Add a globe
According to the book, globes are making a comeback in the world of decor - small or large, with ornate stands or simple, artistic bases, if the addition of a globe speaks to you, now is definitely the time to start hunting for one.
Whether you are a Francophile or a lover of signature style in your home, as you can see, it is the individual's tastes that will make the home beautiful. Having grown up with a mother who would take me to garage sales, and on other treasure hunts for the home, I thoroughly enjoy the details that I have welcomed into my sanctuaries over the years. Along with travel, when we have patience with the process and refrain from buying the same thing everyone else is buying from a big brand store, we share a piece of ourselves with not only our guests who cross the threshold into our homes, but we remind ourselves on a daily basis what inspires us and thus keep our creative side perpetually piqued and comforted as well.
To pick up your own copy of Ines de la Fressange's new book, Maison: Parisian Chic at Home, click here.
~View all of TSLL's French-Inspired podcast episodes here.
~Tune in to TSLL's new vodcast - The Simply Luxurious Kitchen
~Learn more about TSLL's Weekly Newsletter
Petit Plaisir
Trailer of Season 1
Trailer of Season 2
~The Simple Sophisticate, episode #228
~Subscribe to The Simple Sophisticate: iTunes | Stitcher | iHeartRadio | YouTube | Spotify
Sponsor of Today's Episode
the first 50 Simple Sophisticate listeners will receive a free Le Mystere makeup bag-
---
Mon, 21 May 2018
209: Adding French Touches to Your Life and Space at Home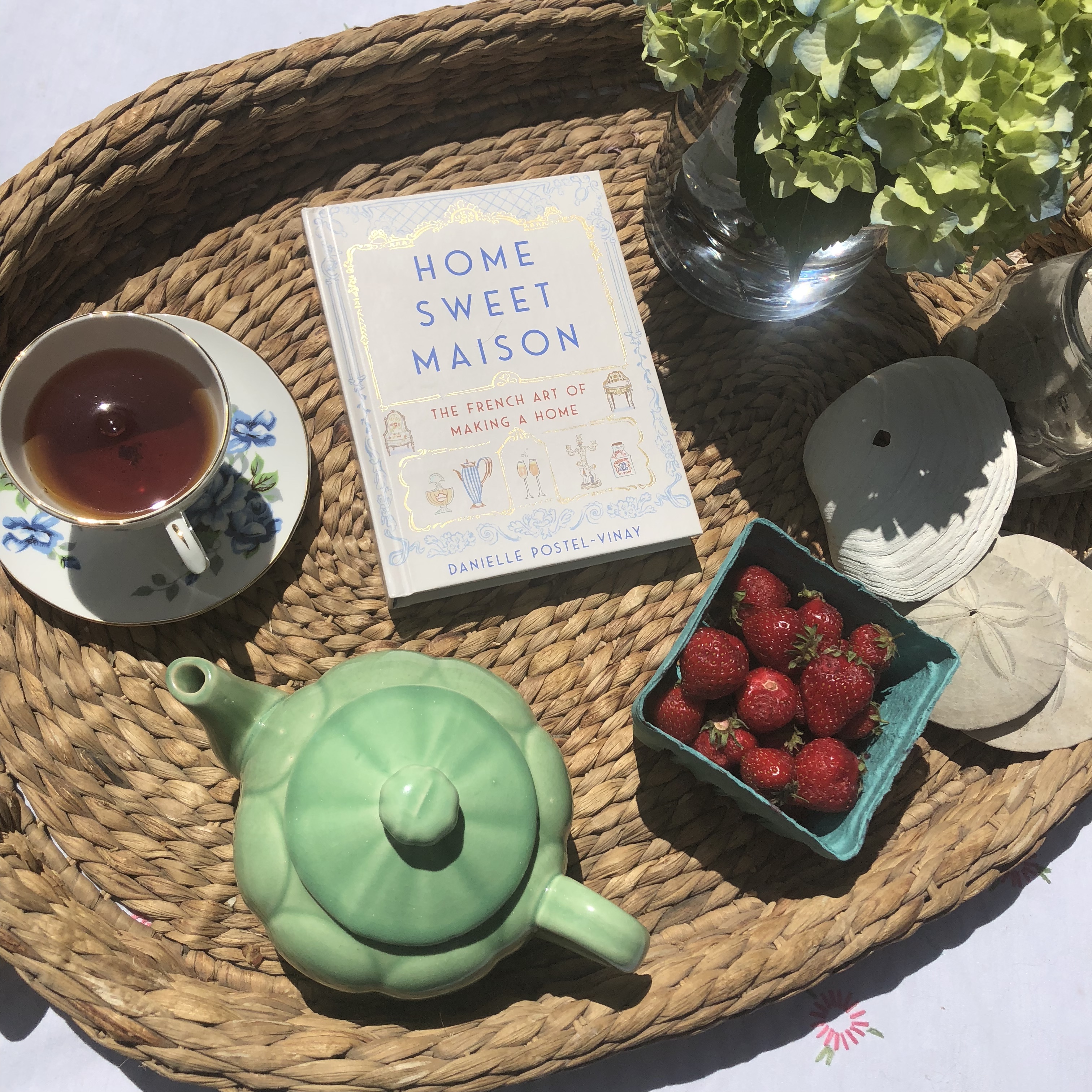 ~The Simple Sophisticate, episode #209
"Your home knows your past, it directs you toward your future, and it gives you the comfort of ritual. There is nothing on the planet that knows you and nurtures you like a home. You simply need to give it the tools to take care of you." —Home Sweet Maison: The French Art of Making a Home by Danielle Postel-Vinay
Whether we've lived in our home for years or only months, tending to our sanctuary is a near priceless gift we can give ourselves when it comes to our inner peace and well-being.
Earlier this year author Danielle Postel-Vinay's new book Home Sweet Maison was published offering readers a tour of a home, room by room and how to incorporate what she has incorporated as inspired by the French culture and her French husband.
The book is a personal journey, exploration and revelation of how by turning our attention to harness the power of our homes, we, as she shares in the above quote, give ourselves a most wonderful and powerful gift to elevate our everyday and ultimately the overall quality of our lives.
Today I have selected 10 ideas that captured my attention, but there are many more within the pages of her book. As she shares in her introduction, "Take what you like and reject what you don't until you create a French-influenced home that is perfect for you."
1. Create a thoughtful entry/foyer
Make it unique. Introduce yourself to the world as this is where you greet the world and the world greets you. Choose a shelf or small table top to display your "memory theater" enabling guests to pause, look around and get to know you, if even to create a bit of mystery about the inhabitants. Your personal story and hints at dreams for the future can also be revealed. As well, make it functional - a coat rack or stand - to immediately allow guests (and yourself) to enter the home and begin to relax.
2. Give each room a purpose
"Fluid spaces introduced by the open floor plan [by Frank Lloyd Wright] create a sense of endless freedom and light in your home, the appearnce of unity and togetherness. But I wonder if this appearance of togetherness translates to actual togetherness?"
When we choose to give each room a purpose, we also communicate to ourselves the ideals we aspire to, a place to practice our values and share them with those we love. Whether it is the dining room being a space to gather tech-free and stay in touch with the lives of those we share the home with or our bedroom (la chambre) in which we share with most intimacy those welcomed into our personal sanctum, similar to our sartorial choices communicating without saying a word, our rooms communicate, encourage and support what we hold dear.
3. Embrace hunger and dine together at designated times during the day
Postel-Vinay sprinkles anecdotes of her French husband's foray into American cuisine and approach to food. Between the larger portions and not waiting to eat until a specified time so everyone can gather and the food can be appreciated, he encourages and reminds how feeling hungry is not the same as feeling starved. Hunger is not bad, he reminds. In fact, it elevates the appreciation for the next meal when it is time to sit down and enjoy.
4. Celebrate the food that has been prepared
Similarly to the point above, her husband is dismayed by the Americans' lack of appreciation for the food that was thoughtfully and with great time created to be enjoyed. An appreciation allows for an understanding of where food comes from and how it was prepared enabling diners to slow down, consciously enjoy the the food and thus not overeat. I also applaud this approach as it nudges us all to eat well and intelligently. In other words, what is it you enjoy about the food? What are you tasting? And you can then carry this into the kitchen to better understand how food is made, prepared, seasoned and its full flavor brought to the table.
5. Encourage all to participate and all topics to be discussed
While some may adhere to the edict of not talking about politics or religion at the table, I would propose, it is how we talk about these topics at the table that ensures that thoughtful, yet still impassioned conversations on any topic can be had. When we ignore our audience and choose to commandeer the table as our bully pulpit to share our opinions, then we have relinquished respect for fellow diners, but if instead we engage in thoughtful, elevated, conceptual conversation, all people can consider, some may learn, some may accept and some may rise to the challenge to offer another thoughtful opinion demonstrating that so many ideas have many shades of grey.
As well, Postel-Vinay shares that the French encourage all guests at the table to speak, even the children. Practicing conversation and listening skills, but also demonstrating how to participate in a conversation which leaves no one out and recognizing when someone is monopolizing the conversation is a life skill for any situation involving effective communication.
6. Cultivate a boudoir (which is not the chambre, or bedroom)
"a place of refuge, somewhere to go when the world [is] too cruel, a safe place to let one's guard down"
I too learned more accurately what a boudoir is I mistakenly equated it with the bedroom. But while tangent to la chambre, it is the room or space which leads or precedes the bedroom. Perhaps the lounging area of private gathering complete with a chaise lounge or dressing table or a meditation room off to the side of your master suite; however you want to decorate your boudoir is up to you. The key is you. While Postel-Vinay shares, such rooms are not found as much anymore in France; however, to create a space in our homes for "personal retreat" and a space to "reflect your personal taste" seems to be a worthwhile return to the past.
7. Keep the bedroom private
In other words leave the bedroom off the home tour.
8. Choose neutral high quality cotton sheets for bed linens and avoid of fancy patterns
Simple, timeless, sensuous and beckoning. Our bedrooms need to be a place of refuge, escape and where restorative slumber takes place. Here is a detailed post about curating a bedroom for comfort and tranquility.
9. Choose a boutis quilt for summer bedding covers
Often found in the south of France, Provençal traditional quilting offers boutis "in which a thin layer of cotton, silk or wool batting is covered on both sides with thick cotton fabric, then quilted."
10. Take the television out of the bedroom
For sleeping, reading and intimate moments with your partner. That's it. That is all that is needed. Keep it simple, keep it brilliantly lovely and a space you look forward to returning to at the end of the day.
~SIMILAR POSTS FROM THE ARCHIVE YOU MIGHT ENJOY:
~11 Ways to Make Any Home Your Sanctuary, episode #105
~How to Set Up Your Home Like Luxurious Travel Accommodations, episode #45
~22 Tips for Creating a Grown-Up's Living Space
~Submit ASK SHANNON questions for the June 25th episode (email by June 12th)
~Stop by on June 13th for the reveal of TSLL's 2nd book and the beginning of preordering.
Petit Plaisir: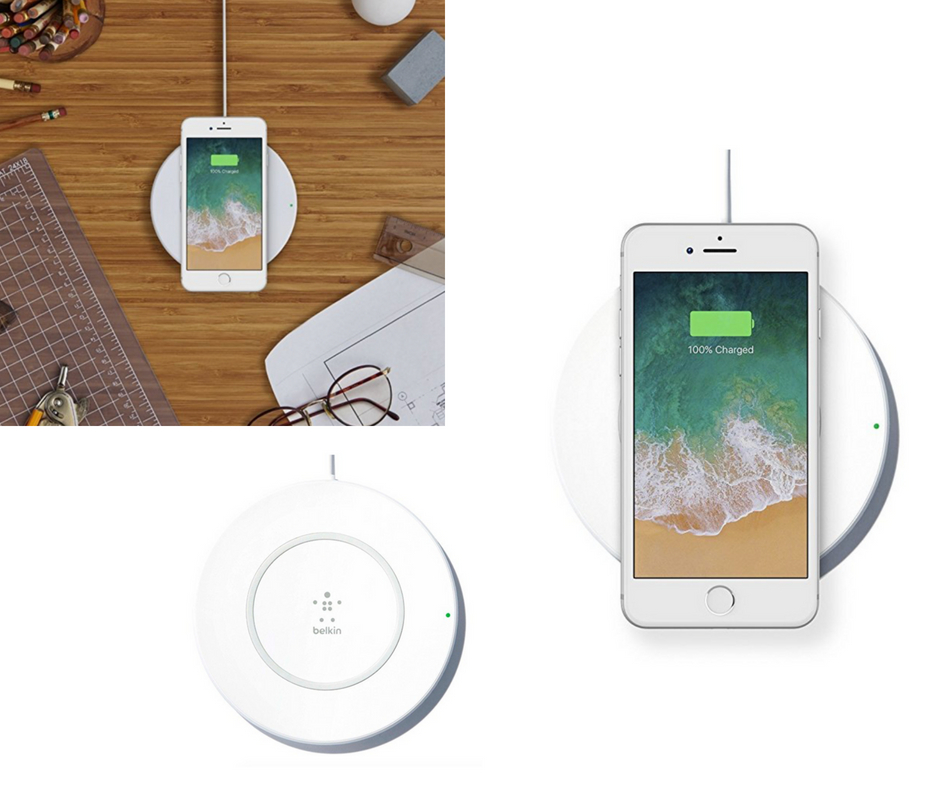 ~SPONSORS of Today's Episode:
Troos skincare & apothecary - www.troosskin.com

promo code: SIMPLE for 30% off your purchas

HelloFresh - www. hellofresh.com/sophisticate30

promo code: sophisticate30 to save $30 off your first week
---
Mon, 30 May 2016
105: 11 Ways to Make Any Home Your Sanctuary
Whether you own or rent, whether your place is large or small, even if you've lived in your space for decades or only a few months, these 11 simple tips will make your home your new sanctuary all without calling a contractor or breaking the bank.
In this week's Petit Plaisir, discover a book that will improve your sleep and improve the overall quality of your life: Arianna Huffington's new book The Sleep Revolution: Transform Your Life One Night at a Time
---
Mon, 24 August 2015
56: Interview with Frances Schultz
Author, blogger and decor expert Frances Schultz's new book The Bee Cottage Story: How I Made a Muddle of Things and Decorated My Way Back to Happiness is the focus of today's discussion. And while the premise of the book is all about how she restored her 1920's East Hampton's cottage, it also part memoir as readers discovery her journey to arrive at the place she is today, fulfilled, content and full of wisdom.
Topics of happiness, meditation, authenticity and yes, even decor are discussed.
In today's Petit Plaisir, I share my top 10 decor tips and ideas from the pages of The Bee Cottage Story by Frances Schultz.
---
Sun, 12 July 2015
45: 10 Ways to Set Up Your Home Like a Luxury Travel Accommodation
If you've ever wanted to bring the comfort and luxury home with you after traveling and staying in lush living arrangements, whether a luxury hotel or vacation rental, in today's episode you'll discover 10 simple and inexpensive ways you can live a little more luxuriously right at home.
In this week's Petit Plaisir Shannon reviews the film The Woman in Gold the film and shares her experience visiting the Neue Galerie where the original Portrait of Adele Bloch-Bauer I hangs.
---
Sun, 22 February 2015
26: How to Style a Bar Cart
If you enjoy living simply, but also enjoy entertaining from time to time, a bar cart is a wonderful, efficient way to combine style and function without the fuss. In today's episode, specific styling tips are shared on how to style your bar cart for your lifestyle whether it be a morning display full of pastries and tea, an evening of wine or a fully stocked mixed drinks bar, tune in to see why you may just want to add one to your sanctuary.
---